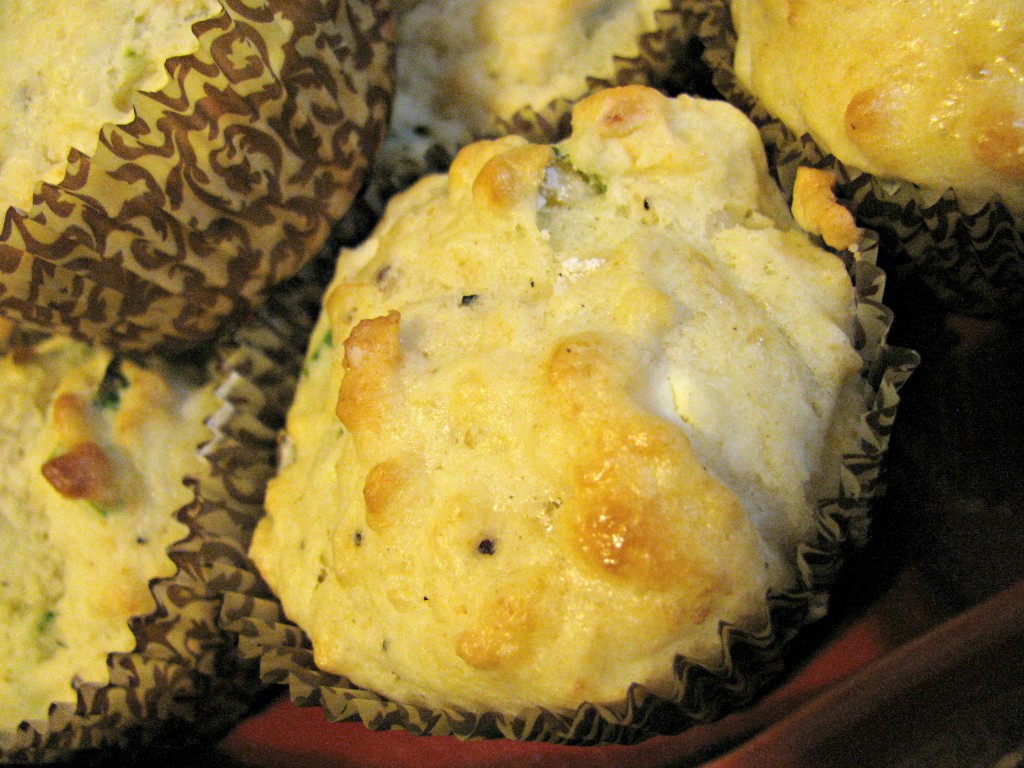 Oh, hello, blog!  I feel like we haven't talked in a while.  I've missed you!  How's things been?
It's hard to believe it's been three months since my last post, but the truth is that I barely stopped to breathe in all that time.  Alex and I packed up and moved across town in late August, and spent the better part of September settling into our shiny, new pint-sized apartment.  And then, in October, we spent a lovely week and a half in the Deep South visiting nephews and siblings, spending time with parents, relaxing on the beach… and getting maaaarrrrriiiieeeeeed!
Yep, I'm sporting a new name, a new ring, and fancy new digs… and that's to say nothing of a new role at work and a new puppy (which we haven't actually found yet, but give it a week or so…).  All the newness can be a bit overwhelming, which is probably why my diet lately has focused largely on eggs– familiar, comforting eggs.
It started in September when Alex had rehearsals for three consecutive nights, two weeks in a row.  Even though our new neighborhood is flush with delicious restaurants offering exceptional takeout (Korean, Vietnamese, Thai, you name it), what I really wanted on those nights alone was something homemade, even if I had to make it myself.  A couple of times I made something fairly elaborate; one night it was butternut squash soup with a smoky bacon grilled cheese, and another night it was pan-seared salmon with herb-roasted potatoes.  But mostly, it was eggs.  I even took advantage of my alone time to learn how to poach eggs; my favorite dinner I came up with was leftover potatoes topped with a poached egg and cilantro: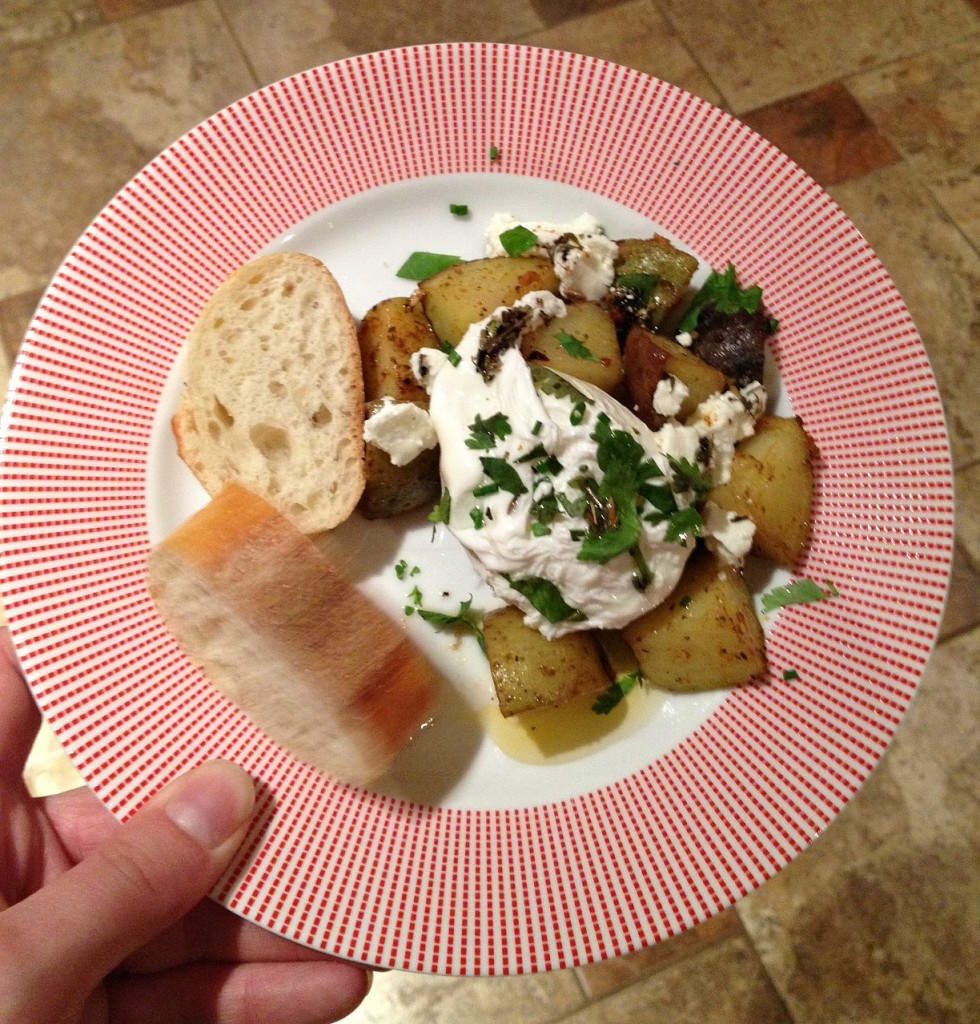 Then, after that was all over, Alex and I took advantage of a few free hours on Sunday afternoon to put my egg-poaching skills to work.  We made an amazing brunch, which, in all fairness, was entirely Alex's idea and almost all his doing– all I did was poach.  The potato hash in the picture below, which Alex made, was the best I've ever had.  I'm not quite sure what all was in it, but there was definitely sage involved… YUM.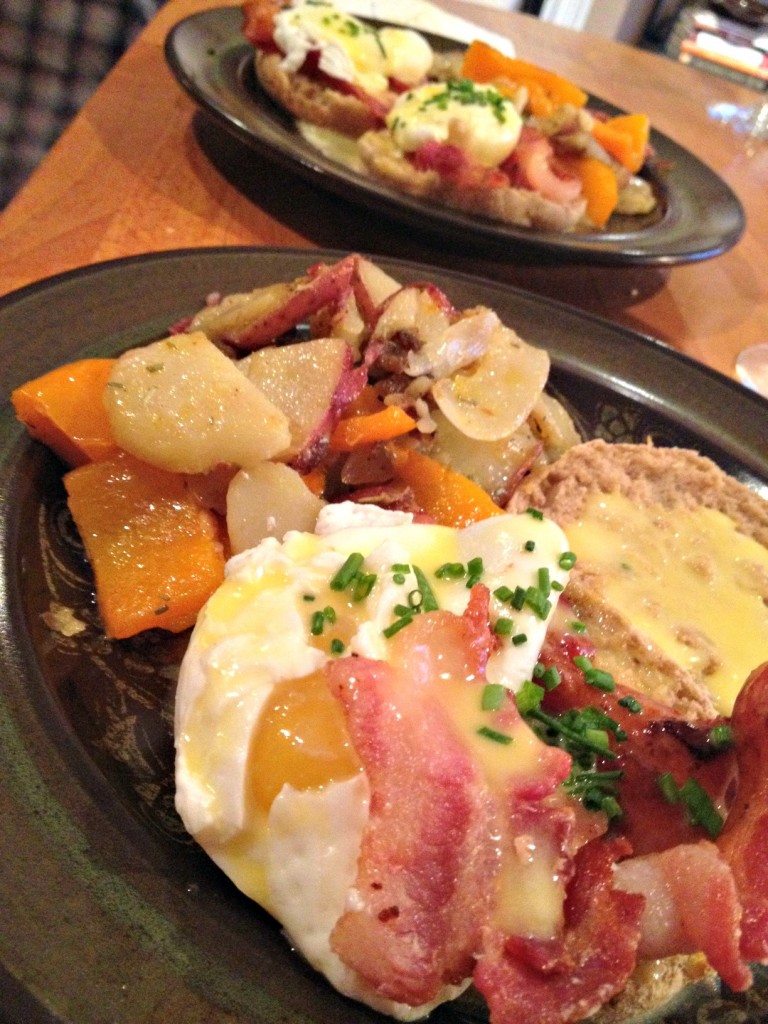 The best eggs I've had since my last post, though, were the ones I ate with Alex and our roommate Sarah back in August, just before we started moving preparations.  We all found ourselves with the same day off work– probably the first time that had happened in the two years we all lived together– and decided to celebrate with a giant brunch which we all made together.  The eggs were delicious, but as you might have guessed from the title of this post, that's not what I'm going to show you today.  I'm going to share instead the muffins we ate with the eggs: soft, buttery muffins with tangy goat cheese and green onions.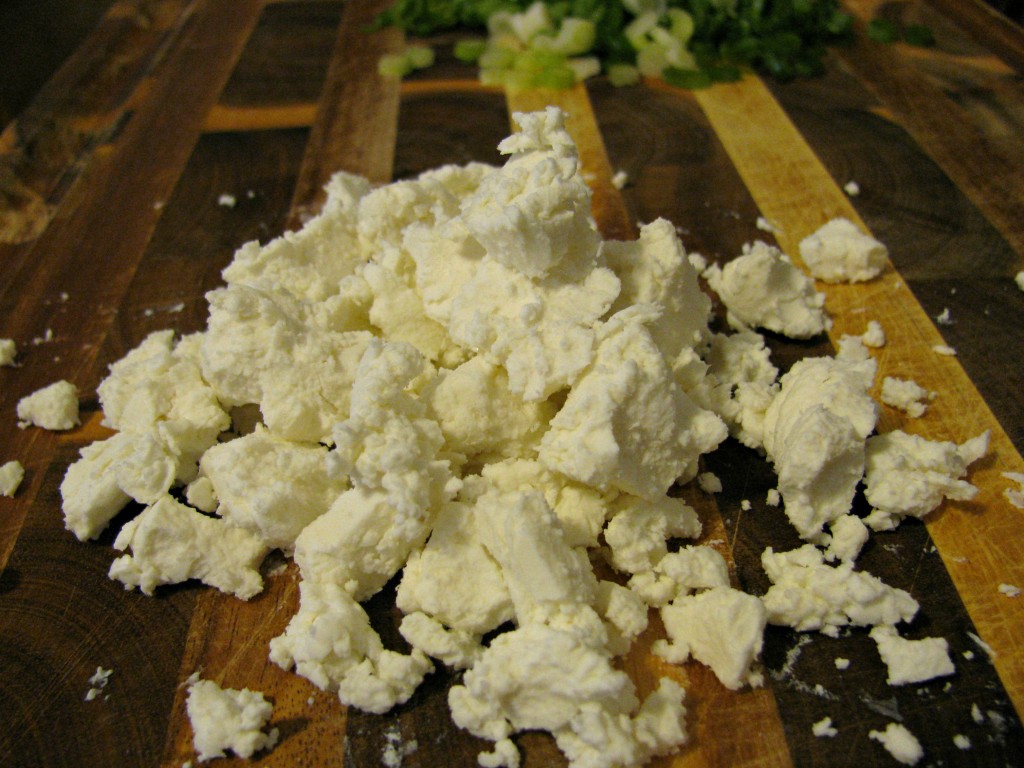 Any recipe that starts with a mound of goat cheese crumbles is bound to be a good recipe.  Pretty much any unflavored goat cheese will work in this recipe, but I have one request to make of you: please, please, please don't buy pre-crumbled goat cheese.  Really, why would you?  Crumbling is what goat cheese does best; you can just give a chèvre log a funny look and it'll fall to pieces before your very eyes.  If you buy pre-crumbled stuff, you're less likely to get a quality product, and you'll probably end up paying more for it.  So just buy a solid log and crumble it yourself.  Do we have a deal?  I'm just looking out for you, that's all.
Aside from the goat cheese and scallions, these are pretty basic muffins.  In fact, the recipe comes from a cookbook that offers one basic muffin mix followed by five chapters of variations.  Maybe that's why I love muffins so much: once you master the basic formula, you can feel free to alter as you please.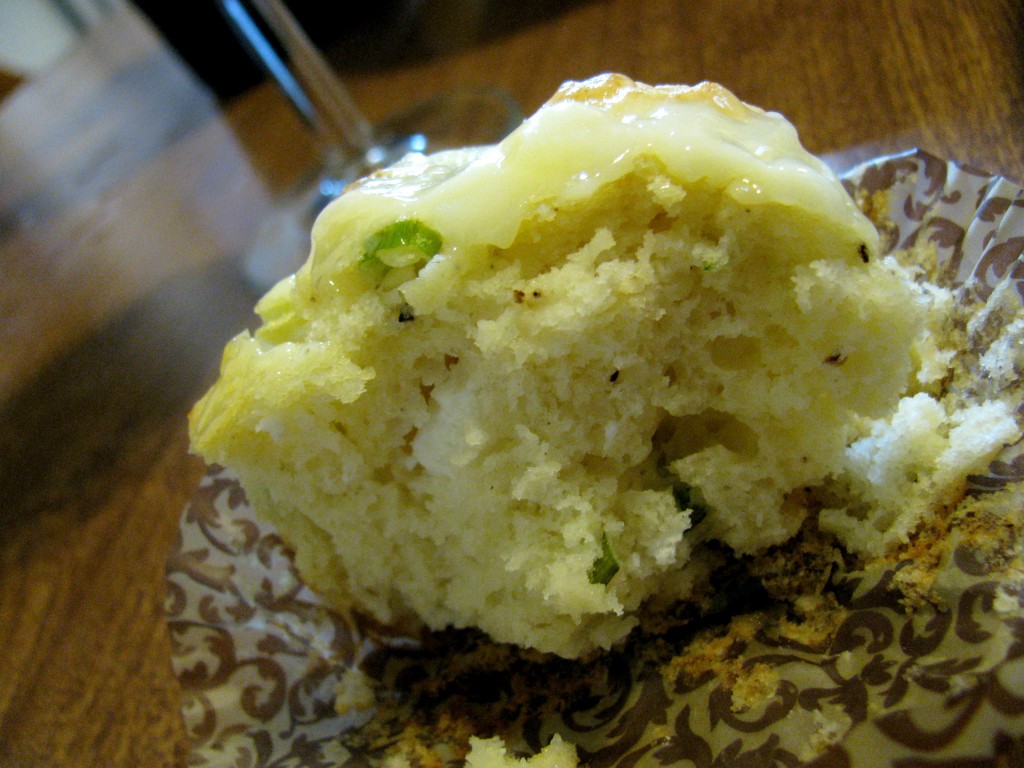 These muffins are just perfect to go with a savory breakfast.  The batter is made with buttermilk, and its tanginess plays off the chèvre perfectly; meanwhile, the punch of onion flavor just begs for slices of crispy-chewy bacon and runny yolks.  Isn't breakfast just the most wonderful meal?
Of course it is, especially when breakfast includes mimosas.  Just look at how happy the prosecco cork is: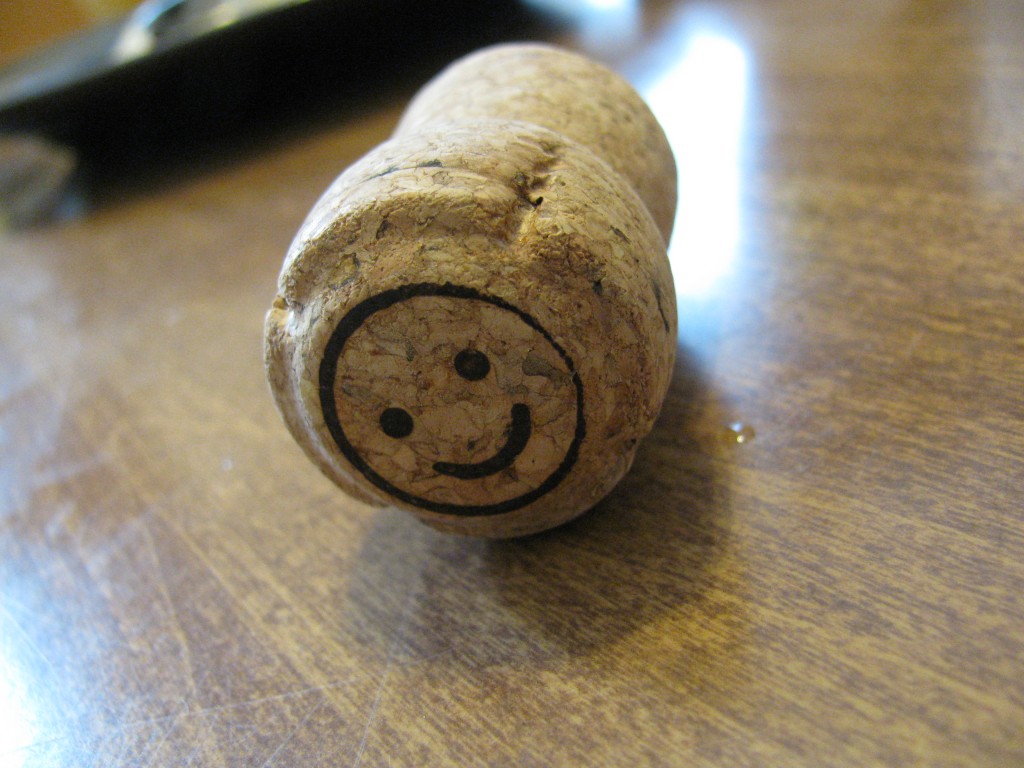 Incidentally, that's exactly how happy I am to be back on this blog.  I'll have more deliciousness coming your way soon– pinky promise.
Goat Cheese and Scallion Muffins
from 1 Mix, 100 Muffins
2 cups all-purpose flour
1 Tbsp baking powder
1/8 tsp salt
freshly ground black pepper
about 1 cup thinly sliced scallions
6 oz goat cheese, crumbled
2 large eggs
1 cup buttermilk
6 Tablespoons melted, cooled butter
Preheat the oven to 400°F.  Line a 12-cup muffin pan with paper liners.
Mix together the flour, baking powder, salt, and pepper into a large bowl.  Stir in the scallions and goat cheese.
Lightly beat the eggs in a large pitcher or bowl, then beat in the buttermilk and melted butter.  Make a well in the center of the dry ingredients and pour in the liquid ingredients.  Stir gently until just combined, being careful not to overmix.
Spoon the batter into prepared pan.  Bake for about 20 mintues until well risen and golden brown.