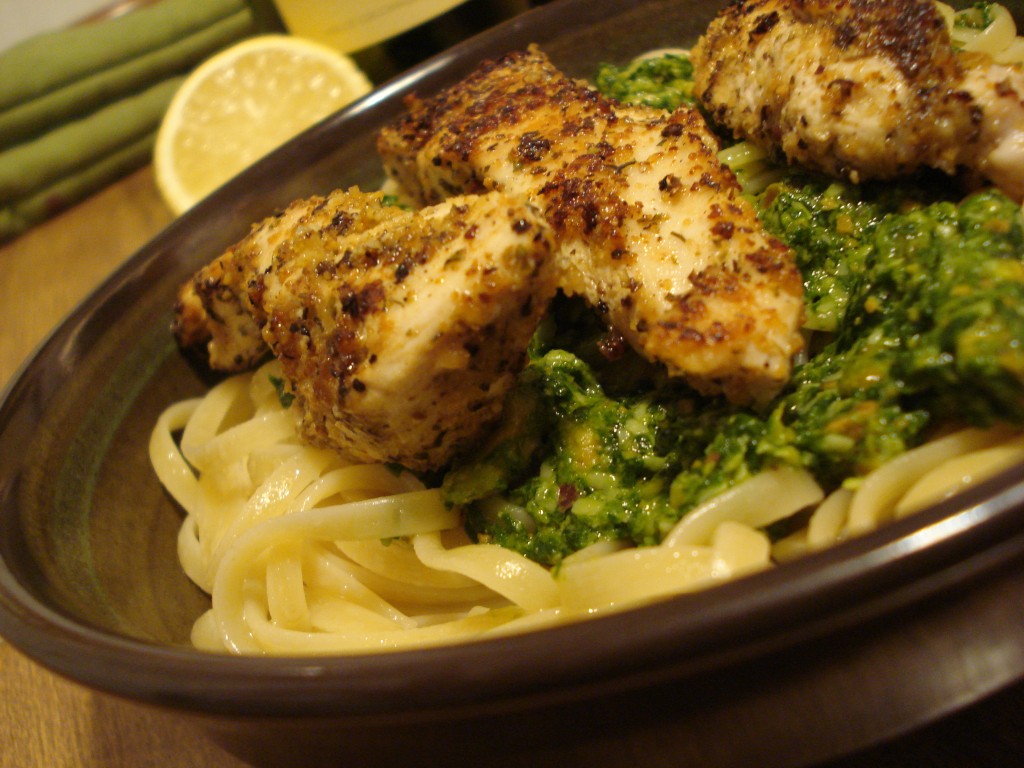 I lost my job recently.  I had been aware for a while that times were tough, that the economy was bad, that meaningful work was hard to come by… but there's nothing quite like job loss to drive that point home.
On the day I was let go, I came home, poured myself a glass of wine, drew a hot bath (and dropped in a Lush Butterball bath bomb), and sank in.  I've been at peace with my whole situation ever since that bath.  Naturally, it helps that I have parents who will not let me starve or end up on the street, and it helps that I had a part-time job waiting in the wings.  But I still think there was power in that bath… and this dish reflects that experience.
With a buildup like that, you might expect this post to be about some decadent dessert with an unreasonable amount of frosting (which would admittedly be great), but it's something more than that.  This pesto is not only delicious, but nourishing and restorative.  It's full of good, healthy, green things; it's a breeze to prepare; and it's incredibly satisfying.  I can't even count the number of times I've made this in the past half-year, and it never, ever gets old.
I've borrowed pretty heavily from Joy the Baker for this recipe (Joy, you're the best), but I've made a few significant changes from her version.  I use pistachios rather than cashews, I cut way back on the garlic (apparently a certain boyfriend doesn't appreciate strong garlic breath), and I change the proportions of the ingredients—namely by eyeballing everything.  Also, during late spring and early summer, I'll switch the garlic cloves for garlic scapes.  When they're in season, do whatever you can to get your hands on some of these– they're incredible.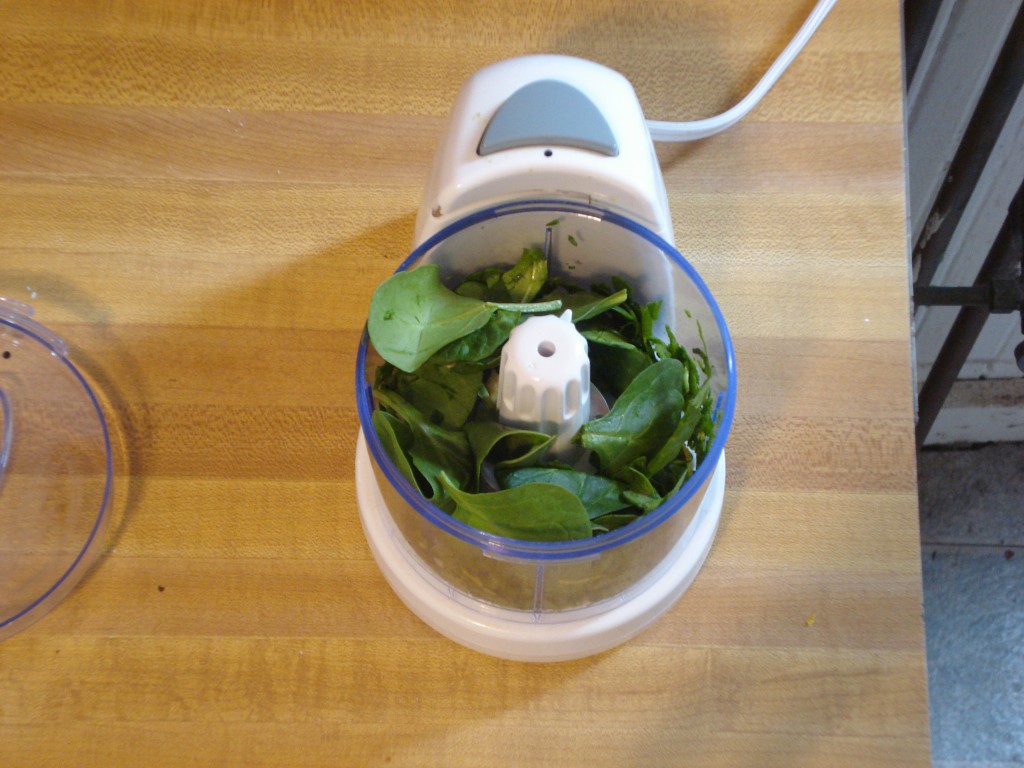 I start by packing my mini-chopper with spinach, grinding it all down, then filling and grinding again.  Add a fraction of a garlic clove (or more, if you're daring) on the second grind.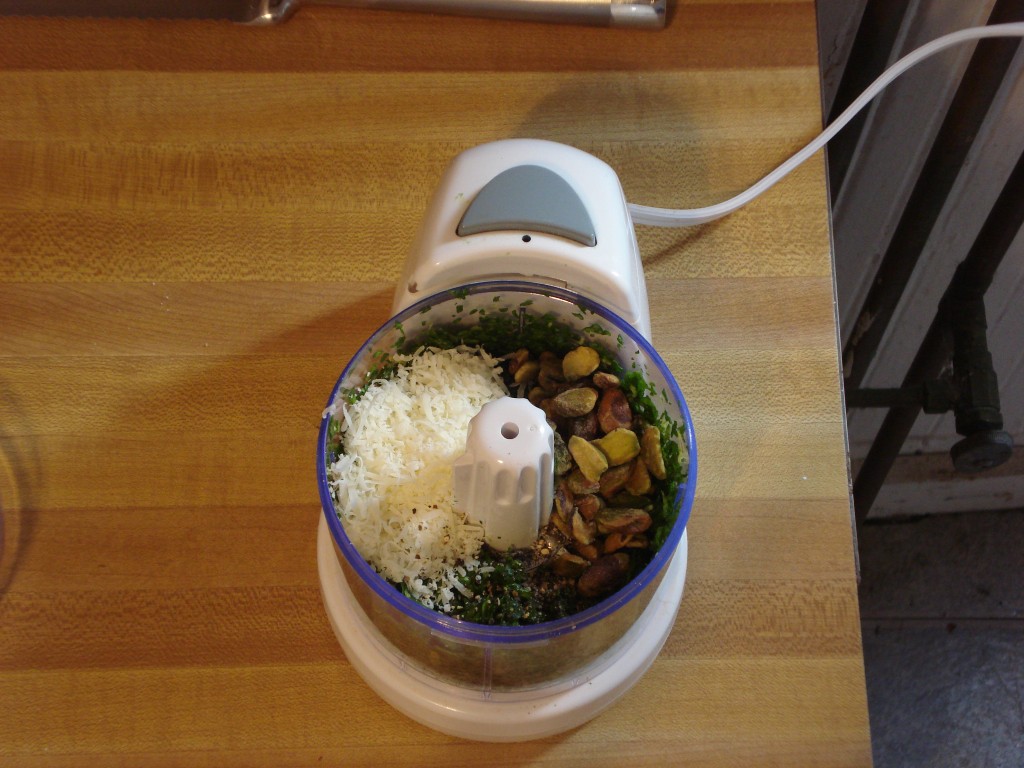 Next, add a handful of pistachios, some lemon zest, and some parmesan.  I've always had a hard time with lemon zest; using a fine grater just makes a mess, but cutting off strips of zest doesn't quite do the trick.  Well, this time I think I've figured it out.  Take your lemon and zest the mess out of it on the fine grater, and then immediately grind the parmesan with the same grater.  The cheese will help to push the lemon zest on through.  Voila.
After you've ground the nuts, cheese, and lemon into the spinach, add a bit of good-quality olive oil (I probably use a quarter cup or less) and grind again until it looks like you want it to.  Scrape it into a bowl, give it a taste, and decide if you want to add salt or pepper.  If it's not yet like you want it, stir in a bit more lemon juice, grind some more spinach and toss it in, or do whatever you think will fix it.  This is pretty much impossible to mess up.
I love this pesto as a dip for crusty bread, or as a pasta sauce.  If you're really feeling fancy, add some herb-smothered, pan-fried chicken strips.  Serve with wine if you like, but to tell you the truth… I like this pesto best with an ice-cold Pabst.  I eat like a queen.  I feel better about everything.
Spinach-Pistachio Pesto
adapted from Joy the Baker 
about 2 cups spinach
1/2 clove of garlic
generous squeeze of lemon juice
about 1/4 cup pistachios
about 1/4 cup grated parmesan
about 1/4 cup olive oil
salt and pepper to taste
Grind spinach and garlic together.  Add lemon zest and next three ingredients and grind again.  Add olive oil and grind a final time.  Transfer to a bowl and add salt and pepper to taste.