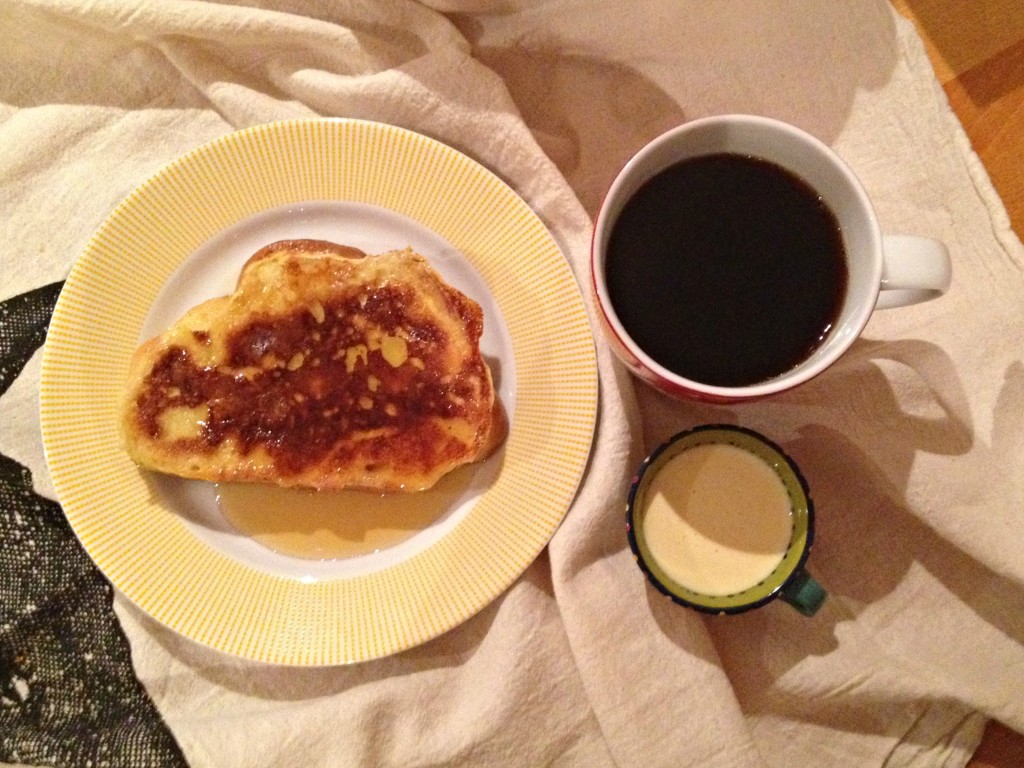 It's the day after Christmas, and for the first time in a few years, I am spending it not at my parents' house, but in Boston.  I miss my family, of course, but it's not all bad.  Alex and I spent Christmas day with our Boston family (hi Joe and Olivia!); we spent nearly the entire day in our pajamas, we cooked many, many wonderful things (most of which I will show you very soon), and we watched Christmas movies all day long.  Today has been equally cozy: a light dusting of snow covers the ground; I am, in fact, still in my pajamas; and even though Alex had to go back to work, I got to spend my quiet day at home with this little girl: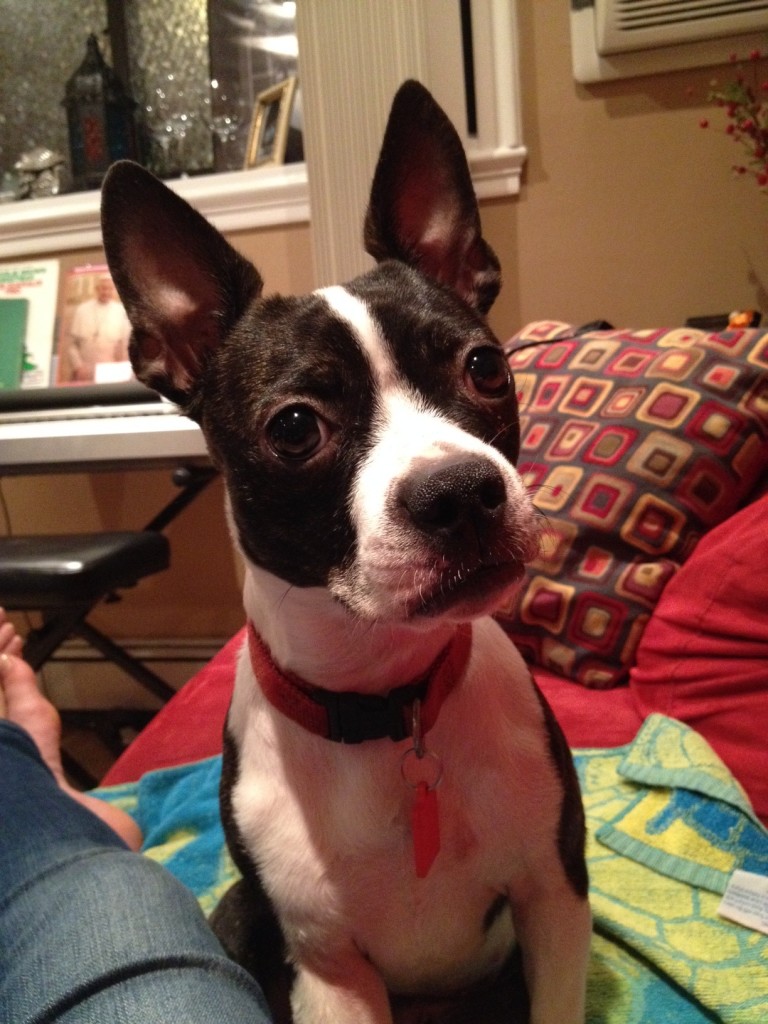 Yep, that's our new puppy, Moose.  We've had her for about three weeks, and she is an absolute doll.  Expect to see more of her on this blog from now on.
Anyway!  It's pretty rare for me to have an entire free day to spend however I want, so if I can't be in the South for the holidays, a free day is a pretty excellent perk.  And what better way to begin a day of leisure than by having exactly what you want for breakfast.  For me, it doesn't get any better than a thick slice of eggy, crispy French Toast, and it just so happens that this is one of the easiest breakfasts to make.  There's no flour to measure, nothing delicate to flip in a pan, no tricky egg-cooking techniques– just slice some bread, dunk it in custard, and slap it in a pan.  Simple.
Except for one thing… my typical method for making the custard calls for an egg, a bit of milk, some spices, and a drizzle of heavy cream for richness.  And this morning, I had no cream.  Yes, I could have just left it out.  French Toast without cream is still pretty delicious.  But it seemed like a shame to settle for a lightened-up breakfast on a decadent pajama day, so I poked around the fridge for a minute, trying to think of some way to make my breakfast appropriately indulgent.  And then it came to me: EGGNOG.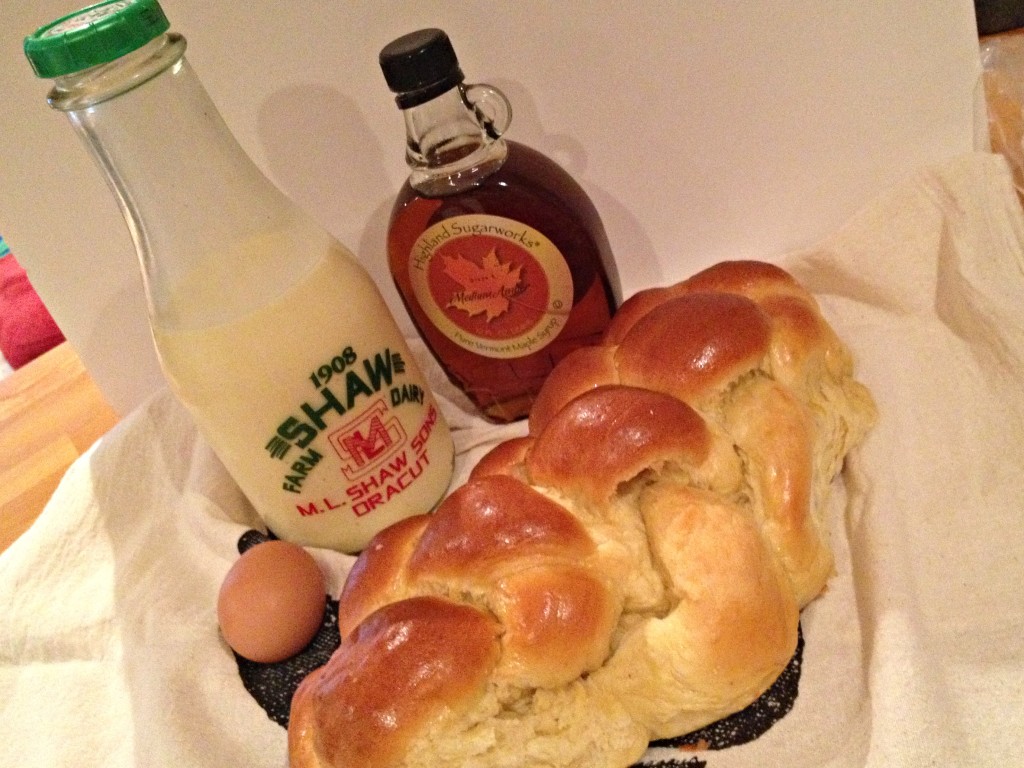 It was perfect!  What is eggnog, after all, but a sweet, drinkable version of French toast custard?  Is it just a coincidence that both eggnog and French toast are typically served with sprinkles of nutmeg and cinnamon?  I think not.  It was absolute destiny.
Sidenote: the eggnog in my fridge came from Shaw Farm, a local dairy north of Boston.  I was never crazy about eggnog until I tried theirs, and now, dear lord, I'm in love.  We shouldn't talk about how many bottles I bought this season.  (Actually, we should talk about it.  I bought three bottles. Totaling 1.5 gallons.  No shame.)
For the bread, I used Cheryl Ann's challah– another favorite seasonal treat.  An egg-based bread like challah or brioche makes excellent French toast, but most any non-flavored, non-seeded bread will work.  It actually helps if the bread is a little stale, so it will soak up even more of the custard, but you certainly shouldn't hesitate to use fresh bread if that's what you have.  I also like to use neutral-flavored oil in the skillet instead of the usual butter; that's a Molly Wizenberg trick, and it makes the outside of the toast extra-crispy.
So, armed with all my ingredients, I mixed up the custard, dunked the bread, and you know the rest of the story.  It was quite possibly the best French toast I have ever had– so delicious that I seriously considered making it again for lunch.
I didn't make it for lunch.  Not today, anyway.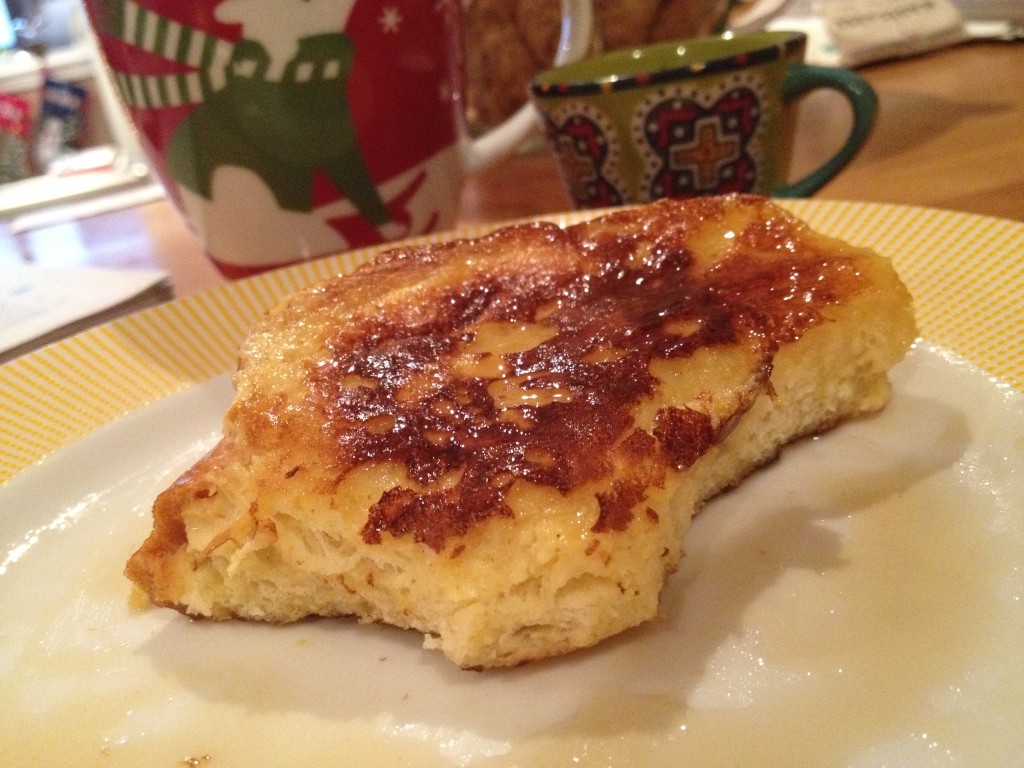 Eggnog French Toast
serves 2
1 egg
1/3 cup eggnog
1 drizzle pure vanilla extract
1/8 teaspoon cinnamon
1/8 teaspoon freshly grated nutmeg
2 thick slices of bread (preferably challah or brioche, but most anything will work), cut about 1 inch thick
about 1 Tbsp canola oil
maple syrup, to serve
In a bowl shallow and wide enough to hold your bread slices, mix egg, eggnog, vanilla, and spices. Place bread slices in egg mixture; let soak for a full minute, then flip bread and soak the reverse side for another minute.
Meanwhile, heat the oil in a skillet over medium heat.  When the oil loosens up and spreads across the pan, add the bread.  Cook for about two minutes on each side, until the toast is golden brown and crisp.  Serve with a drizzle of maple syrup and a steaming mug of coffee… and a tiny cup of eggnog.