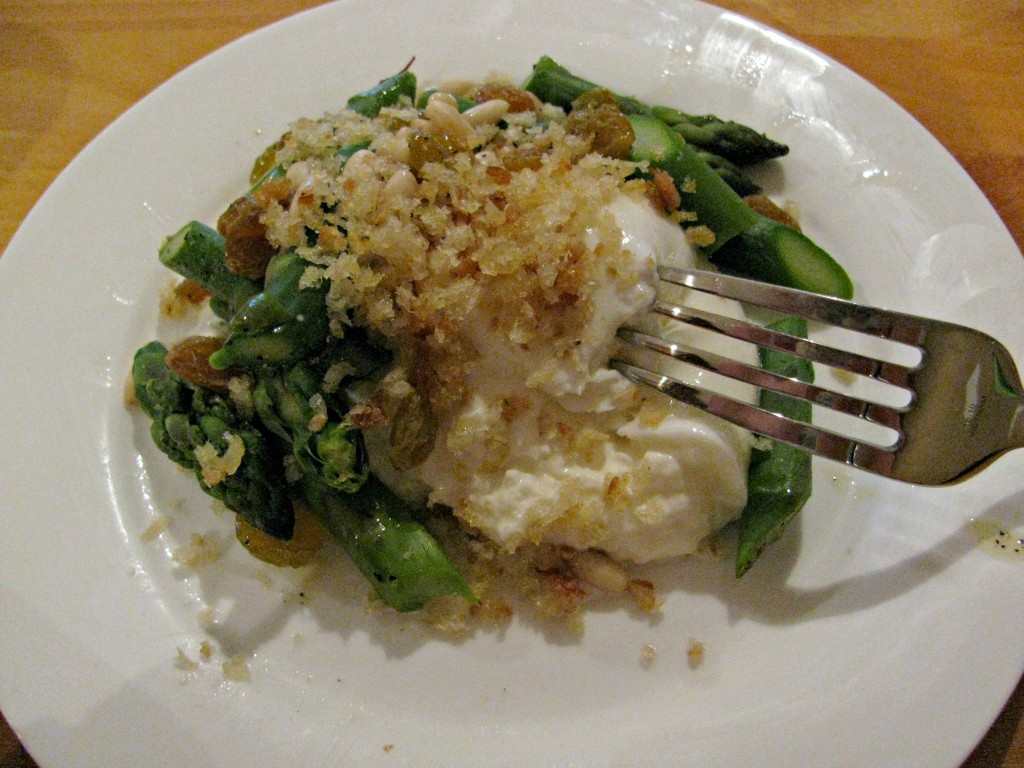 I want to start this blog post by saying a big ol' thank you to my workplace and my boss– without my job, my lunch today would never have happened, and I don't want to imagine a world in which I had not just eaten this dish for lunch.  It's always good to be a cheesemonger, but today the rewards were exceptional.
Firstly, I likely wouldn't have come across this recipe if my boss hadn't bought me a copy of the excellent cookbook The Cheesemonger's Kitchen, by Chester Hastings, to keep in my work station.  And if I had found my way to the book anyway, I probably wouldn't have been compelled to try this recipe had my job not afforded me the opportunity to fall in love with burrata.  If you've always wished that fresh mozzarella were somehow more rich and creamy than it already is, then burrata is the cheese for you.  It's a thin mozzarella ball stuffed with strands of pulled curds and heavy cream; when you cut it open, the filling slowly spills from the mozzarella pouch and forms a creamy sauce which mingles with everything else on the plate.  When I tried burrata for the first time on its own, I thought it was tasty but unimpressive.  But when paired with other foods– wow.  It is the stuff dreams are made of.
I know– at first glance, the ingredients list for this dish might seem like a mixed bag of things that wouldn't normally go together.  I'll admit I was a tad skeptical, too, especially about the raisins.  But they turn out to be the perfect addition, and since they're briefly reconstituted in warm water before being added to the asparagus, they lose the chewy texture that might otherwise clash with the rest of the components.  All the flavors and textures complement each other perfectly; the creamy cheese plays off the sweetness of the fruit, and the al dente asparagus and toasted pine nuts add textural contrast.  It's deliciously balanced and perfect for lunch or a pre-dinner salad.
Best of all, it comes together quickly.  The asparagus is quickly blanched, then drained, cooled, and sliced into segments.  Toss the asparagus with a handful of toasted pine nuts, the raisins, a teensy bit of crushed saffron, a drizzle of good olive oil, and a bit of salt and pepper.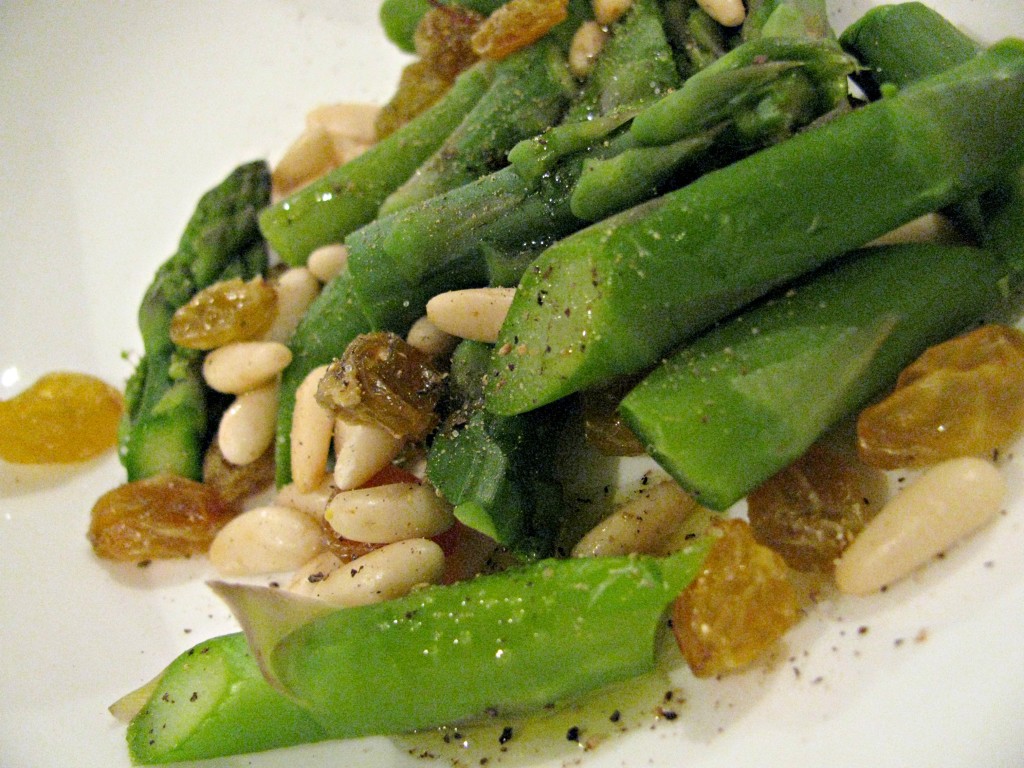 Add that to the burrata and you'd have a really delicious dish right there… but the frosting on the cake, as it were, is a handful of fried breadcrumbs.  If you have a blender, I'd highly recommend making your own breadcrumbs; they'll be fluffier and tastier than the stuff you can buy in the store.  In this case, I had some Pepper Jack sourdough lying around, so I tore two slices into a few pieces and whirled them in the blender for a few seconds; then I tossed a handful into a skillet with a tiny bit of olive oil and fried until they were brown and crispy.
And, with that, I had the best lunch  of the year.  Yes, it's only January… but the BEST lunch of the year.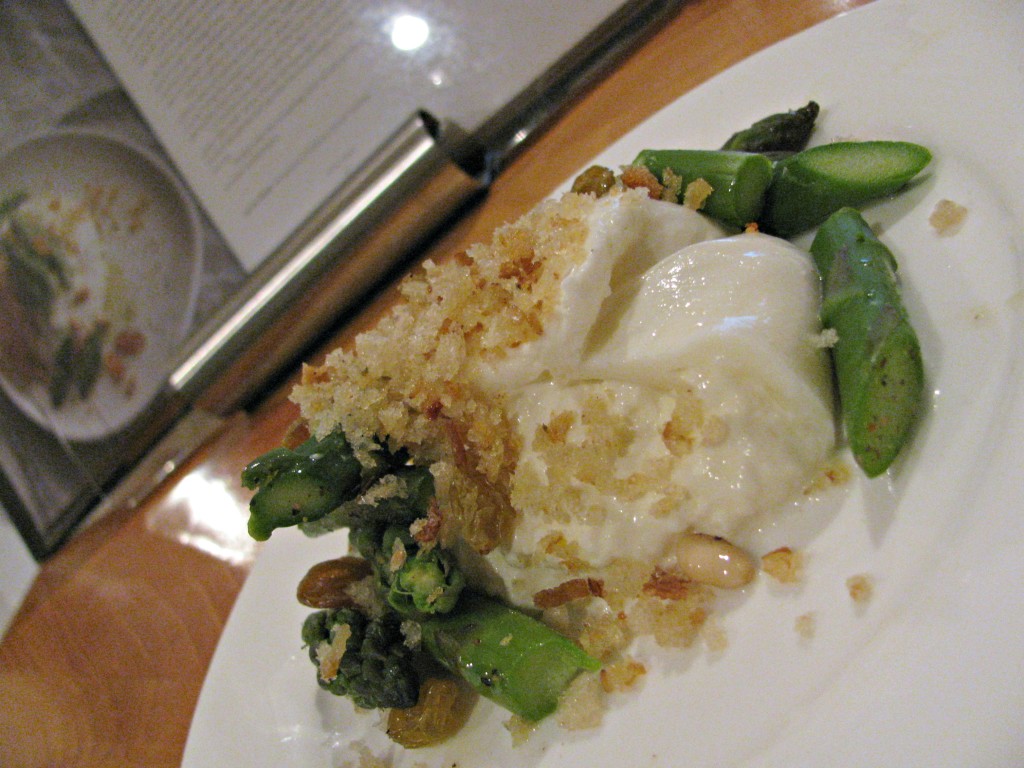 Burrata with Asparagus, Pine Nuts, and Golden Raisins
from The Cheesemonger's Kitchen
4 asparagus spears
1/2 Tablespoon golden raisins
1/2 Tablespoon toasted pine nuts
2 threads saffron, crushed
2 Tablespoons olive oil
1 Tablespoon bread crumbs
1 6 oz burrata, cut in half (reserve remaining half for another use)
Trim the woody ends off the asparagus and discard.  Blanch the asparagus in boiling water for about 3 minutes, until bright green and just starting to turn tender.  Remove from boiling water and immediately place in a bowl of cold water to stop the cooking.  Transfer to paper towels to dry, then slice on the bias into about 1.5 inch pieces.
Meanwhile, soak the golden raisins in hot water for about 5 minutes to reconstitute, then drain on a paper towel.  In a large bowl, combine asparagus, pine nuts, raisins, saffron, and 1 Tablespoon olive oil. Season with salt and freshly ground pepper.
Heat remaining Tablespoon olive oil in a pan over medium heat; add the breadcrumbs and stir constantly for about 1 minute, until golden and crispy.
Place the half burrata on a plate, cut side up, and scatter asparagus mixture on top.  Scatter breadcrumbs over that, and eat immediately.