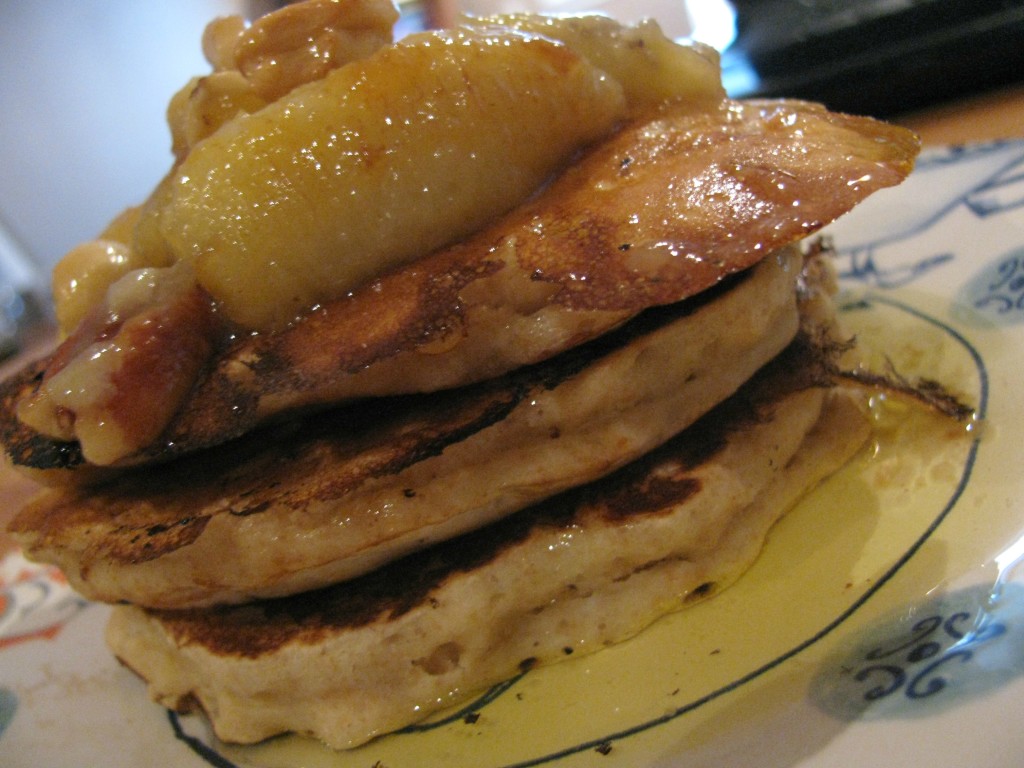 There is a diner down the street from my workplace that, I have heard, makes the world's best breakfast and brunch.  I'm inclined to believe it, since that diner is always busy, even on random weekday mornings when I pass by on the way to work.  It's hard not to be jealous of the people who have sufficient free time to go out for pancakes and coffee on a Tuesday… but then again, I can't be too jealous, since I am also capable of making knockout pancakes at home anytime I want.  And at least when I do brunch at home, there's no chance I'll have to wait for a table.  (I still haven't learned how to make a really good Bloody Mary, though… so eating-out brunch still has that in its favor.)
These pancakes are a good bit heartier than your typical diner flapjacks; they're made with a mixture of all-purpose and whole wheat flour, and they have a good handful of oats stirred in for good measure.  This gives the pancakes a more dense, biscuit-like texture and an oaty granola flavor that is a perfect match for maple syrup.  Or, even better, for caramelized bananas!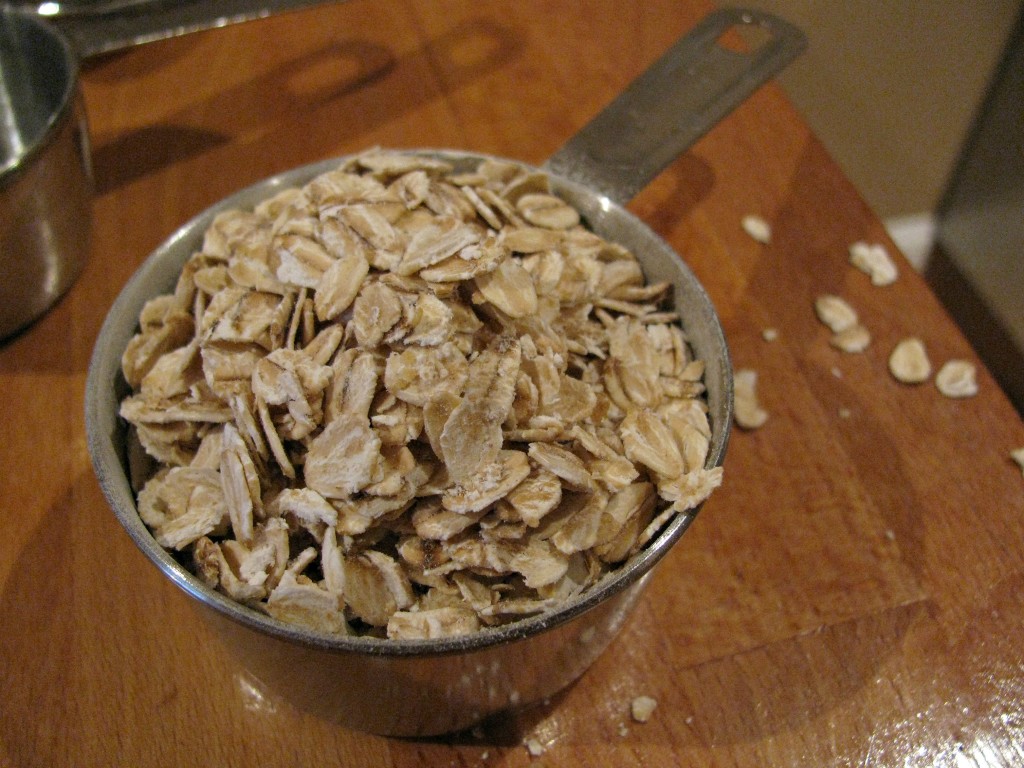 (It seems like everything is coming up bananas and breakfast around here lately.)
Caramelized bananas are the easiest thing in the world to make.  Simply melt butter in a skillet, then toss in a small amount of maple syrup and sliced ripe banana (you'll want to pick bananas that are nicely ripened with spotty peels, but not mushy-soft, since they will soften even more while they cook). After the banana slices are nicely browned on one side (after about two minutes), flip them and brown the other side.  While the bananas are cooking, the butter begins to brown, and the maple syrup mixes in with the caramelized butter to make the most heavenly sauce.  You won't even need an extra drizzle of syrup on the pancakes; the bananas and the sauce will be perfect.
Throwing some nuts in the butter to crisp up alongside the bananas is also an excellent choice.  I intended to use pecans, but I forgot to buy them… and my sad little canister of mixed nuts contained only one lonely pecan.  So I compensated with a handful of whatever was left (mostly peanuts).  Delicious, but I think pecans or walnuts would be ideal.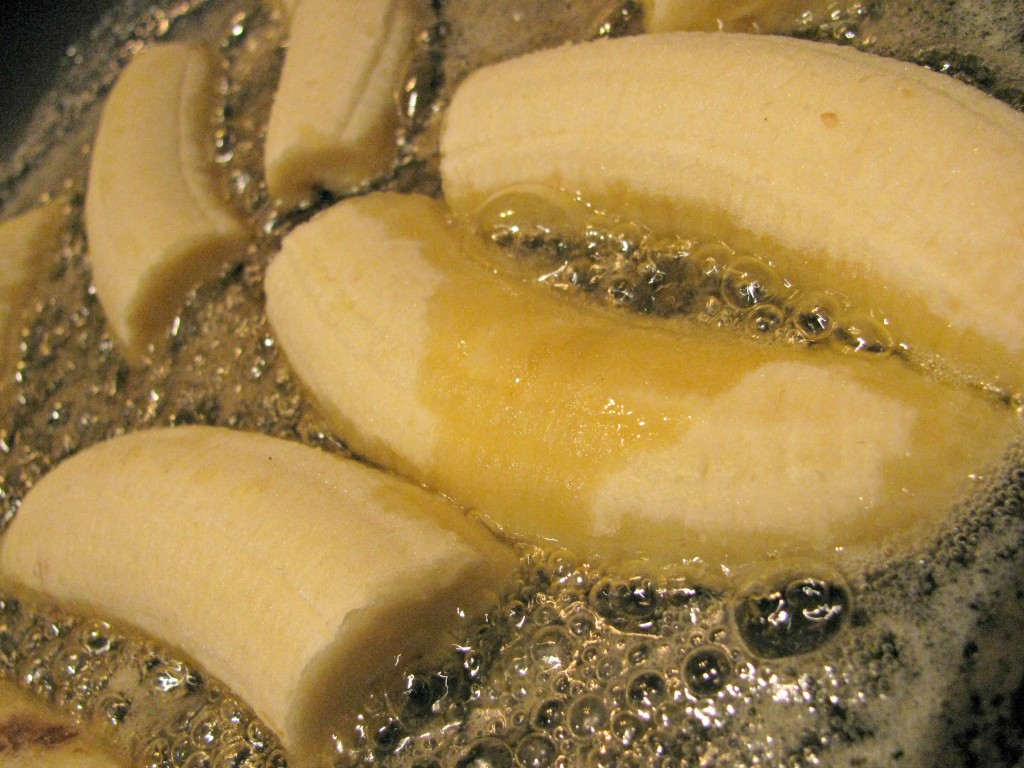 I feel like I should fess up here and admit that, again, this is a dish I made while Alex was away.  Maybe there will be an encore presentation soon… if he'll provide the Bloody Marys.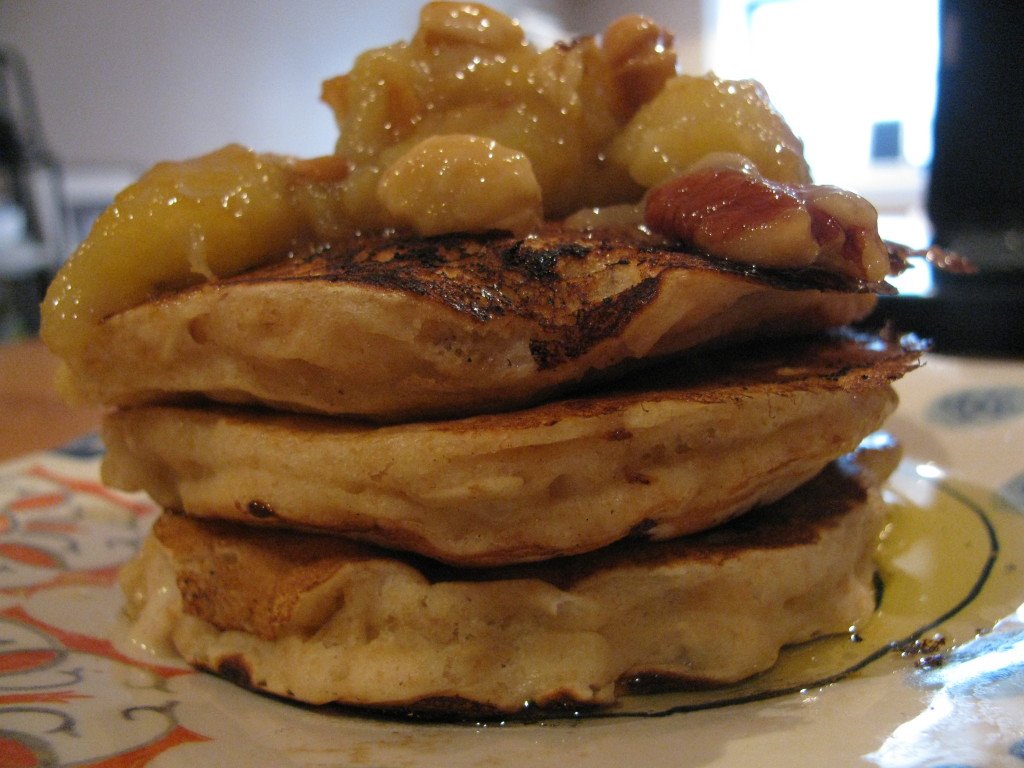 Oatmeal Pancakes with Caramelized Bananas and Pecans
adapted from The Practical Encyclopedia of Whole Foods
2/3 cup all-purpose flour
1/2 cup whole wheat flour
1/2 cup rolled oats
1 teaspoon baking powder
pinch of salt
2 tablespoons sugar
1 egg
1 Tablespoon canola oil
1 cup buttermilk
4 Tablespoons butter
1 Tablespoon maple syrup
3 bananas, halved and quartered lengthwise
1/4 cup pecans or walnuts
Mix together the flours, oats, baking powder, salt and sugar in a bowl.  In a separate bowl, whisk together the egg, oil, and 1/4 cup of the buttermilk.
Make a well in the center of the flour mixture and add the liquid ingredients; gently mix together, then add the rest of the buttermilk to make a thick batter.  Leave to rest in the refrigerator for about 20 minutes.
While the batter rests, make the caramelized bananas.  Melt the butter over medium heat, then add the maple syrup and stir.  Add the bananas and the nuts; cook for two minutes, flip bananas, and cook for an additional two minutes.  Set aside, but keep them near the stove so they retain their warmth.
Cook the pancakes over medium heat for about three minutes on each side, or until golden brown.  Top with bananas, caramel sauce, and nuts and serve immediately.