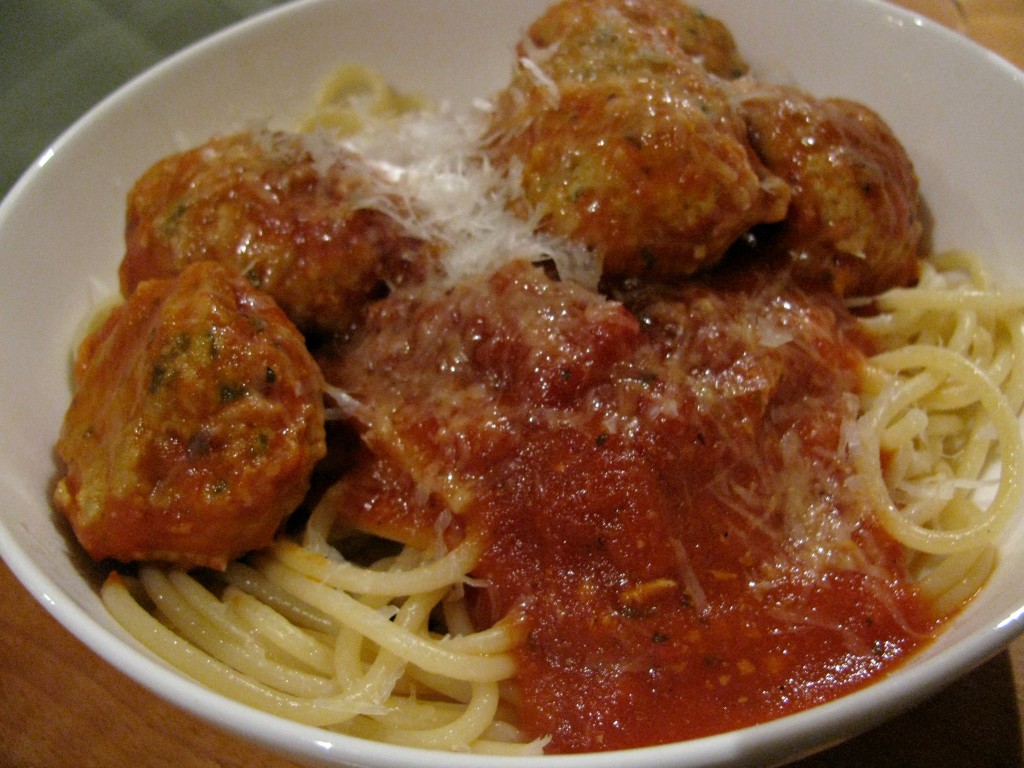 Is there anything more comforting on a cold night than a big bowl of pasta and a glass of red wine?  The benefits are endless: it's cheap (well, unless you splurge on the wine), it's the easiest thing in the world to make, and since one box of spaghetti is enough to feed an army, you end up with leftovers for days.  But the problem is, when you have nothing but cold nights for half the year, the same old spaghetti gets a little boring.
Spaghetti and meatballs probably sounds like the very definition of "same old," but it's pretty new for me. Typically, when I make spaghetti, I top it with sauteed peppers and onions and crumbled bacon.  Delicious, but… after a certain point, I just can't do it anymore. That's the cruelty of a Boston winter: it actually makes me not want to eat bacon.
Fortunately, these meatballs are super-delicious, and almost as easy as frying bacon.  The recipe is based on a Southern Living recipe for turkey burgers, and the first time I made them, it was because I had attempted the burgers the night before and totally undercooked them; I took the partially cooked patties, broke them into pieces, and rolled the pieces into balls.  They were so delicious with spaghetti that I've abandoned the burger idea completely.
The meatballs are flavored with finely minced onion and green bell pepper.  I'm usually pretty lazy about mincing, but in this case, the finer you chop the veggies, the better– unless you want to find chunks of onion in the meatballs (which I guess is fine, if you do).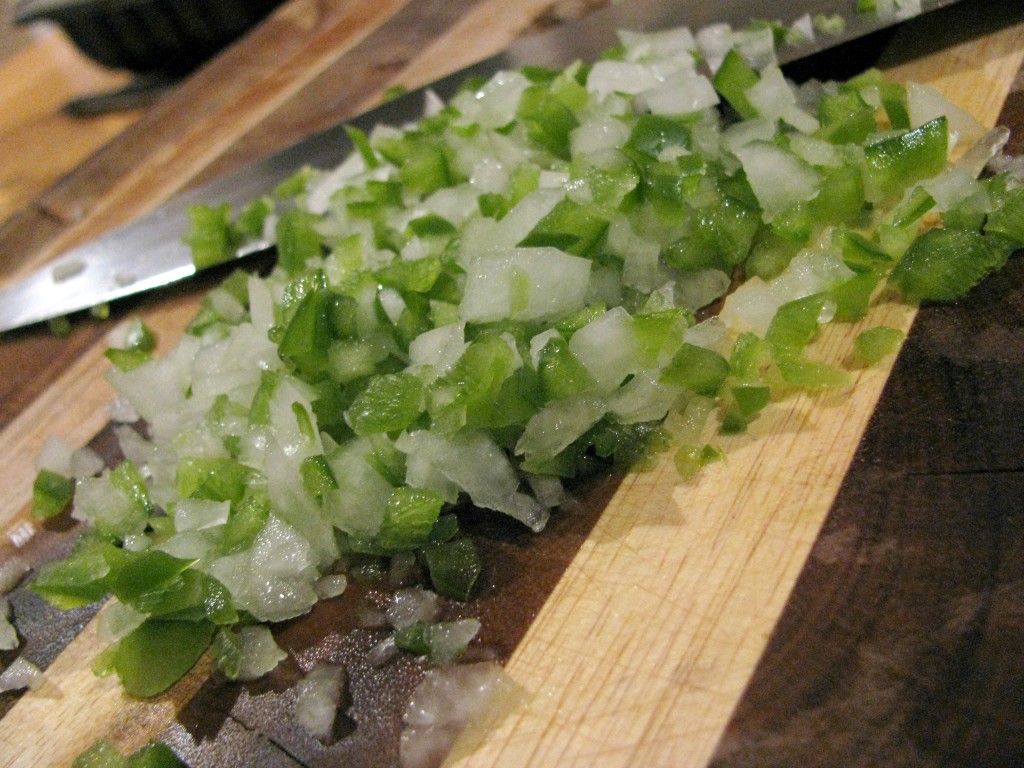 You'll also add some chopped herbs.  I used cilantro, because Alex and I are obsessed, but parsley would also be good.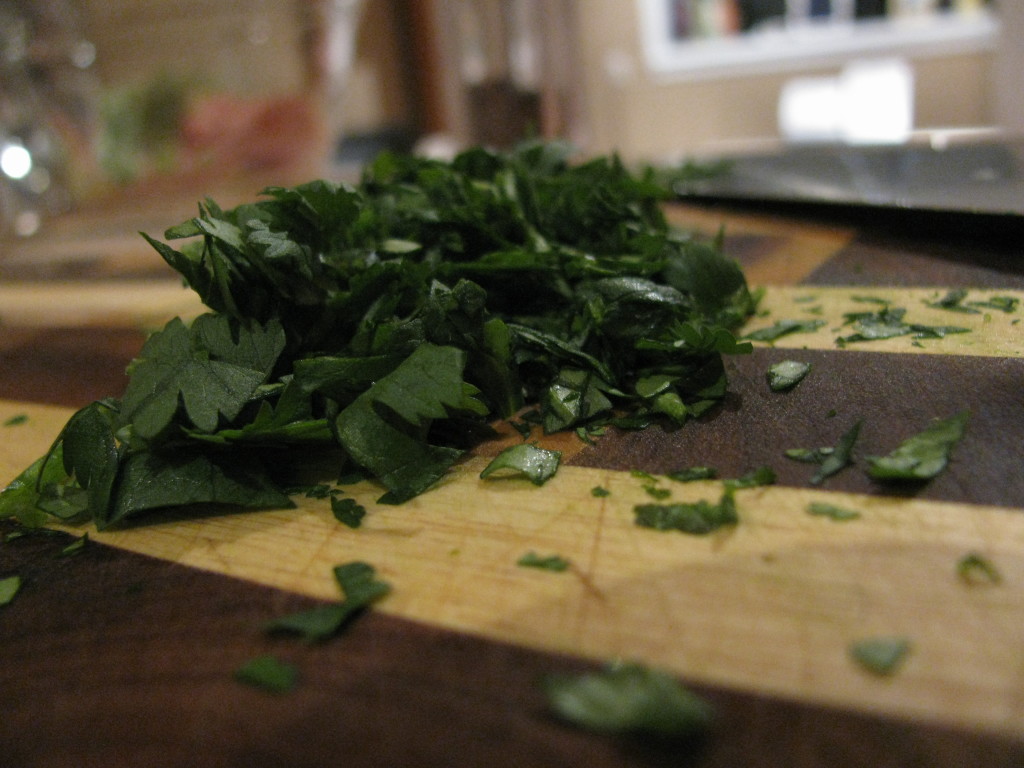 Toss in a few more ingredients (egg, breadcrumbs, the usual suspects), and you're ready to form the mixture into balls.  This is a little tricky, because ground turkey is really soft, and the mixture doesn't want to be rolled– it mostly wants to stick to your hands.  However, it is super easy to portion out meatballs with a cookie dough scoop!  (Just be sure to wash the scoop aggressively when you're done… obviously.)
While you heat your pan (preferably nonstick), put your spaghetti sauce over medium-low heat to warm.  Put the sauce in a larger pan than you normally would, since you'll be stirring the meatballs into the sauce shortly.
Sidenote: I never make my own spaghetti sauce.  I should probably learn how to do that…but in the meantime, we're really fond of Newman's Own Sockarooni.
Gently drop the meatballs directly from the cookie dough scoop into the preheated pan; cook them for a minute or two on each side, just enough to get them nicely browned.  The browning will add extra flavor, of course, but it'll also help the meatballs hold their shape.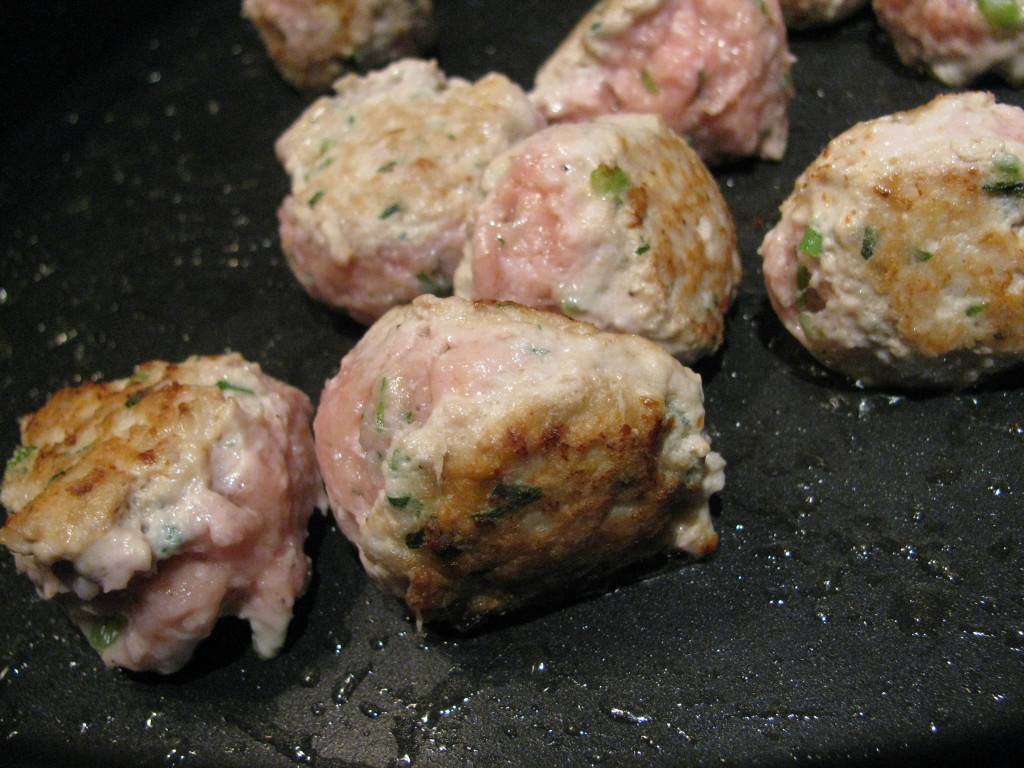 Once the meatballs are nicely browned, carefully add them to the sauce and gently stir so that they are fully coated in sauce.  They'll keep slowly cooking in the sauce while you cook your pasta, and they'll soak up all sorts of flavor from the sauce and stay nice and juicy.
So homey… so hearty.  It makes me feel like I can weather another few weeks of winter.
But if spring wanted to come tomorrow… that'd be fine.
Spaghetti with Turkey Meatballs
adapted from Southern Living
1 lb ground turkey
1/2 cup breadcrumbs (preferably fresh)
1 large egg, beaten
1 Tbsp finely minced onion
3 Tbsp finely minced green bell pepper
1/2 tsp salt
1/2 tsp pepper
1 1/2 Tbsp chopped cilantro
1 tsp dried rosemary
1 jar of your favorite spaghetti sauce
1 box spaghetti
Combine all ingredients in a large bowl and mix with your hands or a fork.  Preheat a nonstick skillet over medium-high heat with about a Tablespoon of olive oil.  Meanwhile, in a medium saucepan, heat a jar of spaghetti sauce over medium-low heat.
When the skillet is hot, use a cookie dough scoop to gently drop balls of the meat mixture into the pan.  Cook for 1-2 minutes on each side until the meatballs are nicely browned.  Transfer to the saucepan and gently stir into the spaghetti sauce.
While the meatballs cook in the sauce, prepare the spaghetti according to package directions.  When the spaghetti is done, test a meatball for doneness.  Serve generous bowls of pasta with sauce, meatballs, and grated Parmigiano-Reggiano.