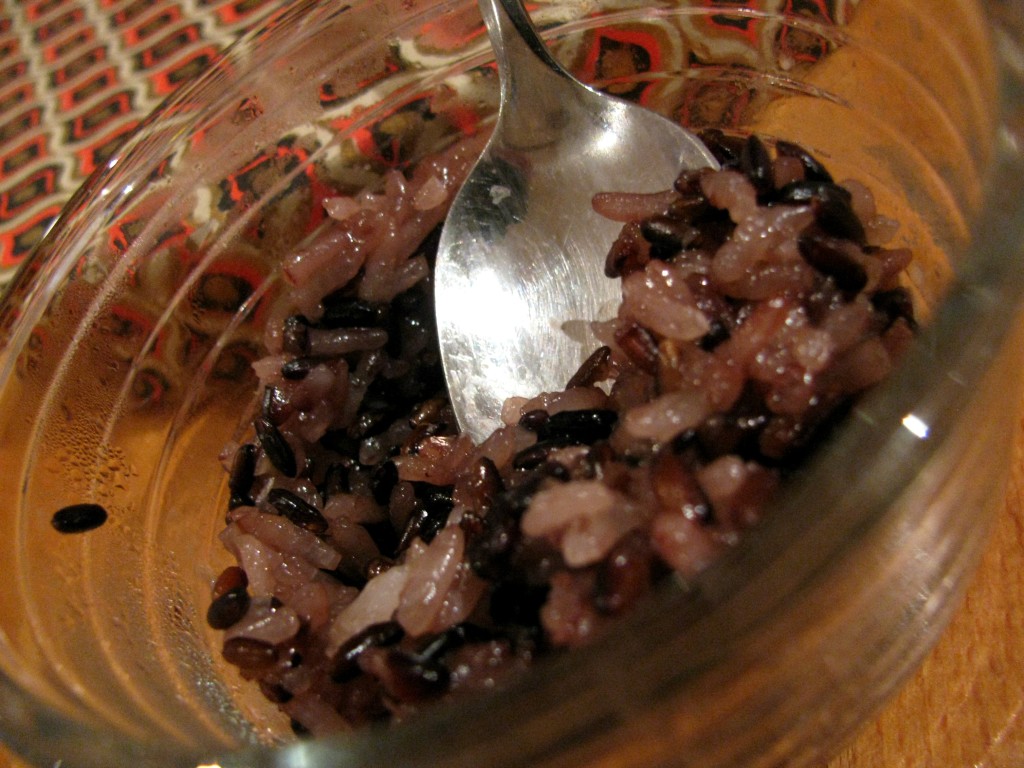 This recipe really made me ponder the meaning of the word "easy."  While rice pudding is not technically a difficult dish to pull off, can I really say it was easy if it took me two days to make it?  If it required me to track down two obscure ingredients that I would not have found if I didn't have easy access to an Asian grocery?  If it made a royal mess in my kitchen?   And if it was such a pain, should I bother to post about it here?
Well, of course I should bother, and I'll tell you why: this pudding is delicious.  I'm always fond of rice in sweet applications, and this one is exceptional.  The two types of rice involved (i.e. the two obscure ingredients), black and white glutinous rice, are naturally sweet, so only a small amount of sugar is needed.  And, because the rice is cooked al dente, the pudding has an enticing, hearty texture.  It's also infused with coconut flavor and the warmth of brown sugar, and it's filling enough to require only a small serving.  Oh, and also it's really pretty.  Just look at the raw ingredients: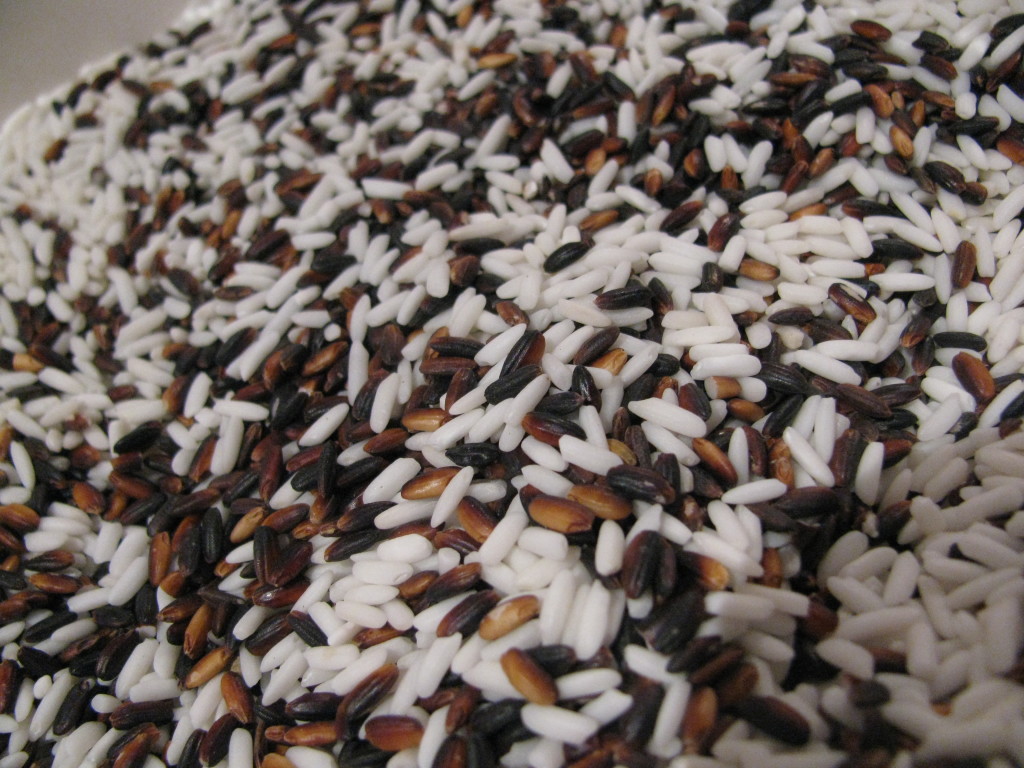 I was able to find black and white glutinous rice at Super 88, an Asian market/food court a few blocks away from our apartment in Allston.  If you have an Asian grocery in your neighborhood, that's probably your best bet for sourcing; while you can find it on Amazon, it'll cost you roughly $15 a bag… and for that amount, heck, just let me know and I'll mail you some.   (You could probably also just use whatever rice you have on hand.  The result will likely be different, but it's rice pudding–it's pretty much guaranteed to be delicious.)
As I said earlier, there is some mess, and a lot of time, involved in the preparation of the rice.  First, the rice has to soak for at least six hours, and preferably overnight.  I missed that little detail when I was first reading over the recipe; sad times.  Second, while I'm sure you could use a rice cooker, or simply boil the rice until it is done to your liking, the recipe specifies that it should be steamed and insists that the texture of the pudding will suffer otherwise.  How true this is, I couldn't say, but I can tell you that steaming rice is a tricky affair.  The easiest way, since it requires no special equipment, is to line a colander with a clean kitchen towel (a thin towel, like a flour sack, works best), fill it with the rice, and set it over a pot of boiling water.  Cover it loosely with a lid and leave it alone for about 20 minutes.  While it steams, it will form a sticky mass; you'll flip the mass over after 20 minutes and let it steam for 20 minutes more.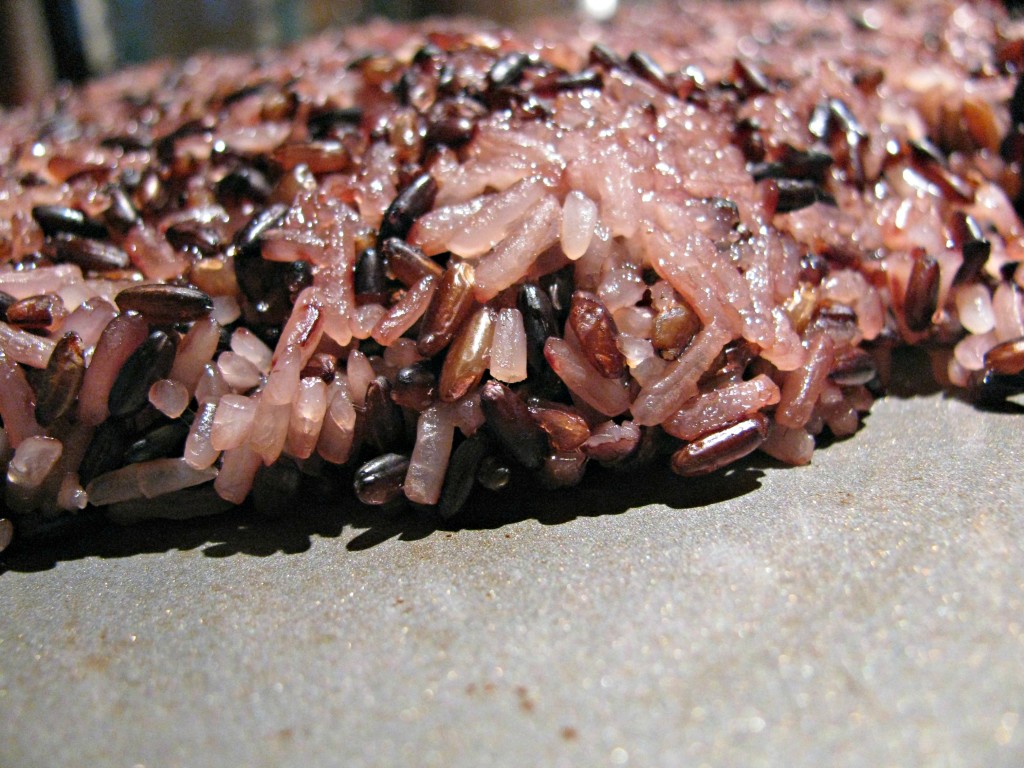 And this is where the mess comes in… once you've removed the rice from the colander, lots of sticky little grains will cling tightly to the towel.  Unless you want it clinging there permanently, soak the towel immediately in warm water.
Once the rice is removed from the towel, you're in the clear; just stir it together with warmed coconut milk and brown sugar.  There will be just enough of the milk mixture to coat the rice, leaving it beautifully glossy and smooth.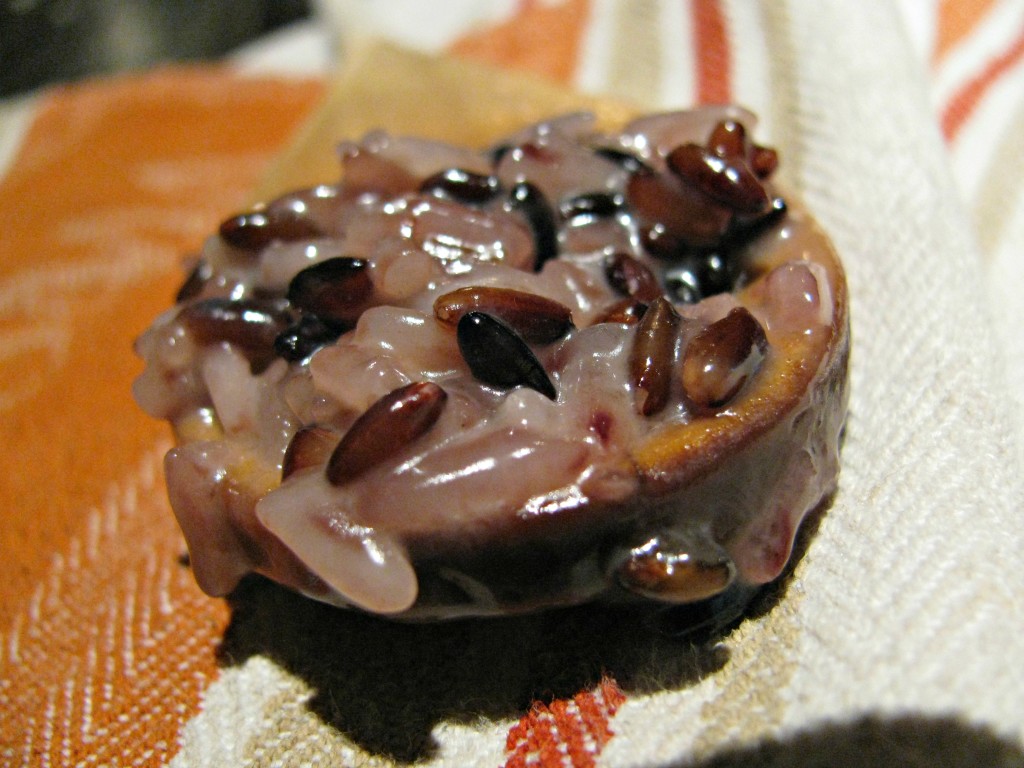 Now that I've put it in writing, this doesn't seem so hard after all.  A few days removed from the experience, I can say that this pudding is absolutely worth your time and effort.  And you had nothing to do today anyway, right?  I'd suggest whipping up some rice pudding.
Sticky Rice Pudding
from Heart of the Artichoke
1 1/2 cups white glutinous rice
1 1/2 cups black glutinous rice
2 cups coconut milk (canned works perfectly well)
1/2 cup packed brown sugar
1 teaspoon salt
Place rice in a bowl and cover with cold water; allow to soak from 6 hours to overnight.  Drain.
Set a pot of water to boil, and line a colander with a clean, thin dish towel.  Place drained rice in lined colander, and set the colander over the boiling water (make sure there is space between the water and the bottom of the colander).  Loosely cover with a lid and steam for 20 minutes.  Remove the lid, and carefully flip the rice, which will have solidified into a single mass; alternatively, stir very thoroughly with a wooden spoon.  Replace the lid and steam for 20 minutes more.  When the rice is cooked, spread it out onto a platter and let cool for about 15 minutes.
Heat the coconut milk, brown sugar, and salt in a small saucepan, stirring to dissolve the sugar and salt.  Transfer the rice to a serving bowl, add the coconut mixture, and stir gently to combine.  Serve immediately, or let it sit at room temperature for a few hours; the pudding is delicious at any temperature.