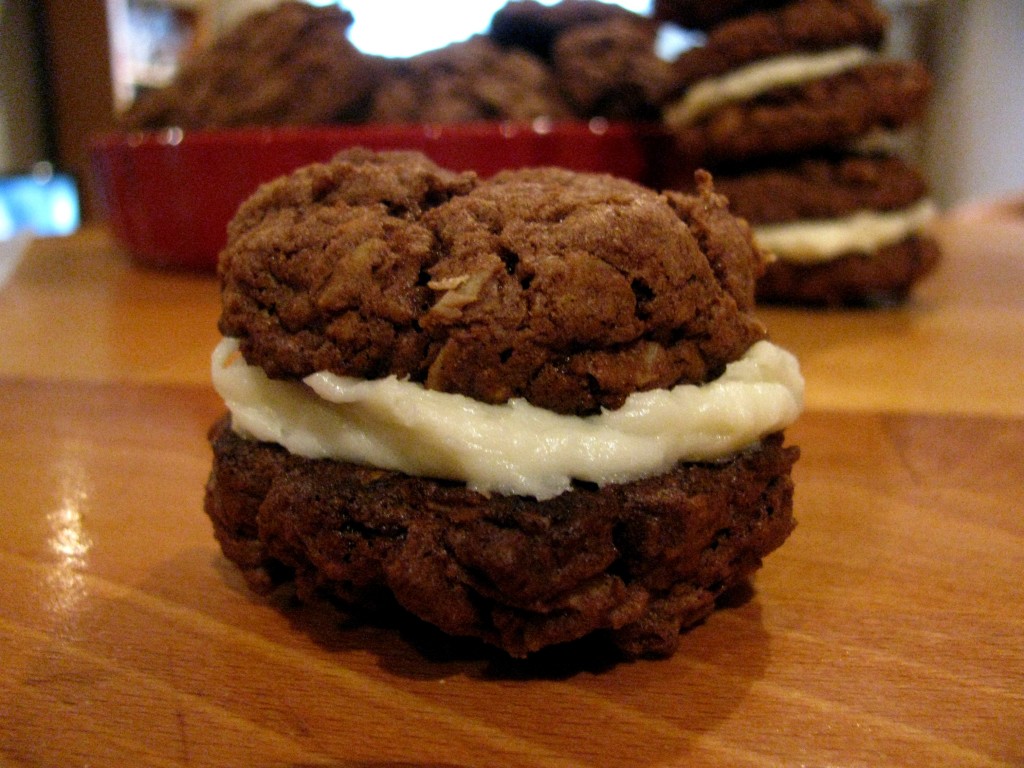 Last week I made a red velvet cake.  No, that's not what I'm showing you today, and it's a good thing, too– both of the cakes fell apart as I took them out of their pans, and I had to patch all the pieces back together with frosting.  That doesn't make for very good pictures, even if the cake tastes amazing (which it did).  But I tell you about the cake–or, more specifically, the frosting– because it was the jumping-off point for today's cookies.
When I make a cake, I like to make plenty of frosting so that I'll have enough to completely cover all the layers, but of course, that means you sometimes end up with more frosting than you can fit on the cake.  While there's nothing stopping me from just eating this leftover frosting with a spoon over the course of a few days (and, in fact, that's normally what I do), I just felt like there was probably a more practical solution this time around.  Enter the cookie sandwich.
As far as cookie sandwiches go, chocolate and cream is a pretty obvious (and excellent!) choice, but I am also extremely fond of frosting with oatmeal cookies.  I guess that's the Southerner in me, hankering after Little Debbie oatmeal cream pies.  So the only thing to do was to make a mashup of both.  I ran across these chocolate and oatmeal cookies in the Mast Brothers cookbook, which I highly recommend.  The Masts look like characters in a Coen Brothers film, and their chocolate bars in their pretty wrappers look like props in an Anthropologie display.  Not to mention, their chocolate is really, really tasty.  I was pretty sure their recipes would be equally impressive.
Because the chocolate flavor in these cookies comes almost entirely from unsweetened cocoa powder, the cookies are a touch bitter.  They also contain studs of semi-sweet chocolate, but I liked the dark chocolate flavor of the dough so much that I used less than half the amount of chunks the recipe called for.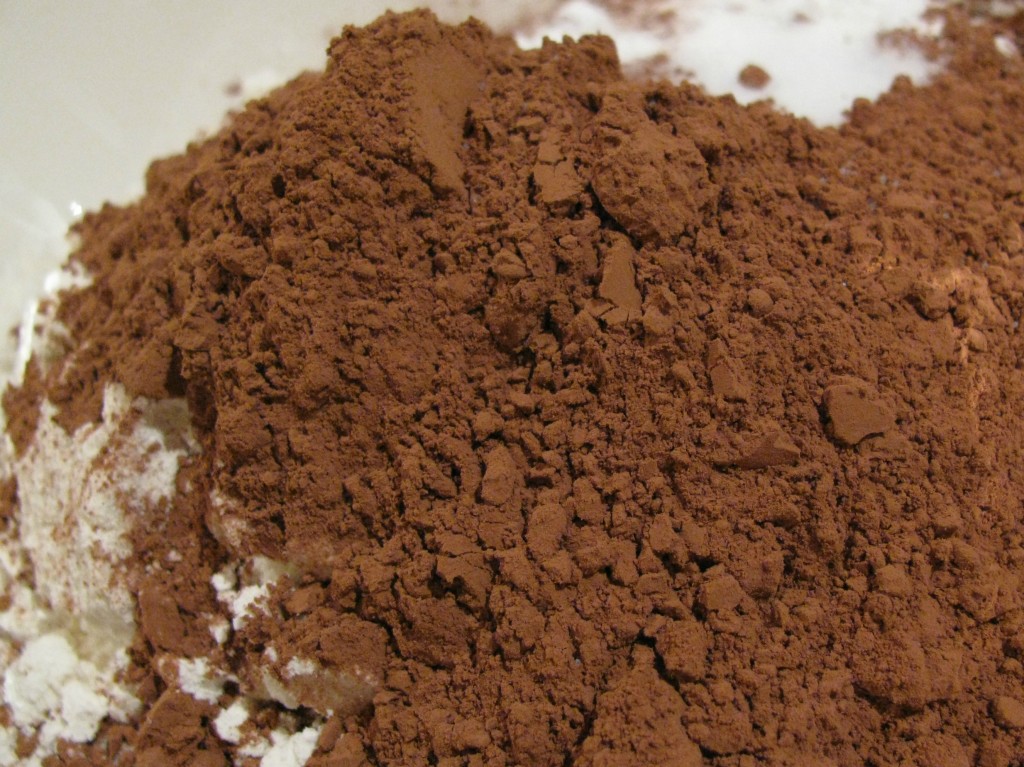 These cookies are seriously delicious.  The chocolate flavor is intense without being too dark; you get pockets of molten chocolate here and there, thanks to the chunks; and the oats add an irresistible chewiness.  They're so good they don't even need the frosting.
Whenever I say that kind of thing, it usually means I'm running a fever… but in this case I'm perfectly well.  And, of course, the fact that the cookies didn't need frosting didn't stop me from slathering a few, anyway.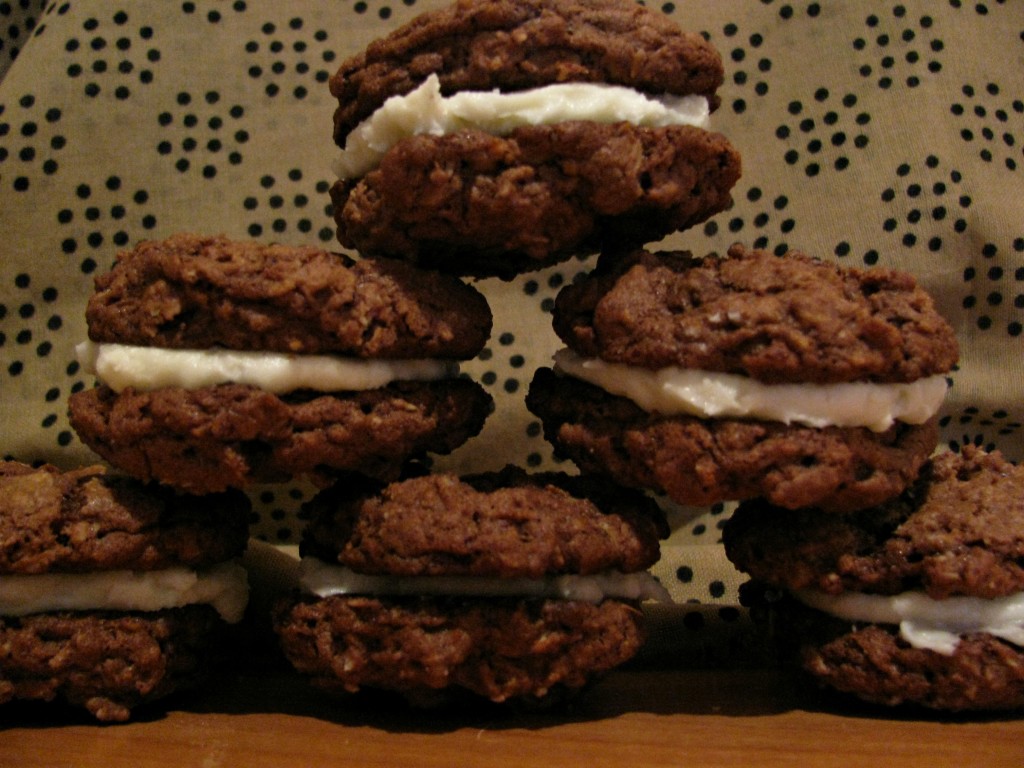 It was an excellent decision.
Dark Chocolate Oatmeal Cookie Sandwiches
adapted from Mast Brothers Chocolate
for the cookies:
1 cup unsalted butter, softened
2 cups brown sugar
2 eggs
2 cups all purpose flour
6 tablespoons unsweetened cocoa powder
2 teaspoons baking powder
1 teaspoon baking soda
1 teaspoon salt
7 ounces semi-sweet chocolate chips or chunks
2 1/2 cups old-fashioned oats
for the frosting:
1/2 stick unsalted butter, softened
4 oz cream cheese, softened
1/2 box of confectioner's sugar (about 2 cups)
1/4 teaspoon vanilla extract
Preheat oven to 350°F.
Cream butter and brown sugar; add egg and beat until combined.
In a large bowl, combine flour, cocoa, baking powder and soda, and salt.  Add the flour mixture gradually to the butter mixture and beat until well combined.  Add chocolate and oats and stir gently to combine.
Drop dough by tablespoonfuls onto a baking sheet lined with parchment and bake for about 12 minutes.  Allow to cool completely.
While the cookies cool, make the frosting.  Cream the butter and cream cheese until smooth.  Add the powdered sugar and beat until the frosting is fluffy.  Add vanilla extract.
To make cookie sandwiches, spread about a tablespoon of frosting on the bottom, flat side of one cookie, then press the flat side of second cookie into the frosting.