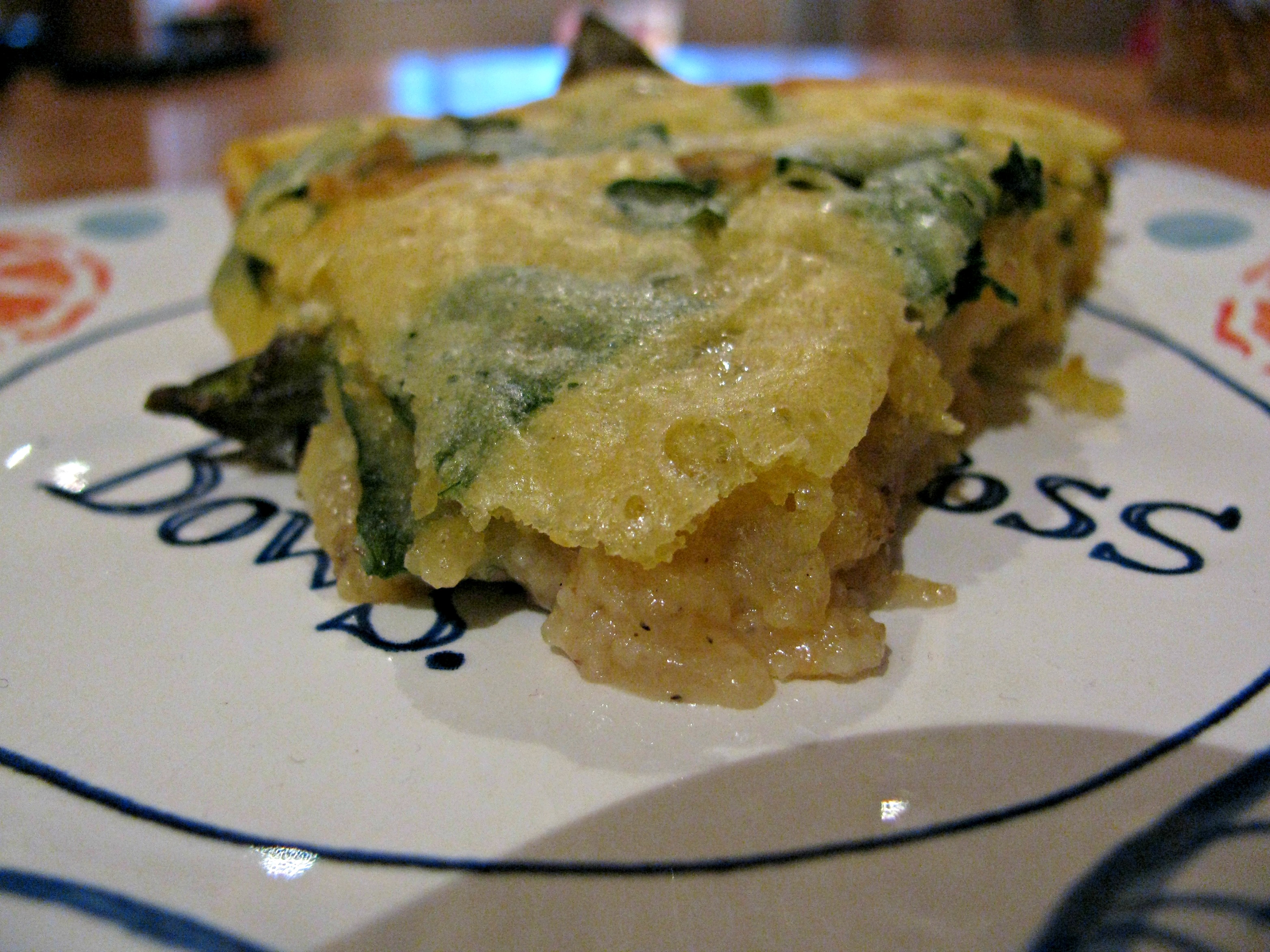 After five years in Boston, I still can't get over the fact that spring doesn't arrive until May.  In my Deep South childhood, we were already going to pool parties and sunbathing in our backyards by spring break, but here, you can't even put away your winter clothes until June; even though things start warming up in mid-April, there will always be one more cold snap, one more morning when you sorely regret wearing flats without socks.  I know this good and well, and yet, every year, there's at least one day when I throw caution to the wind and put on my springy clothes with blatant disregard for what my iPhone's weather app is telling me.
This year, Easter was one such morning; I dressed myself in my favorite fire-engine red pleated skirt, a white lace blouse, and a pair of pretty heels and strode out the door, only to wish I'd chosen a dress that looked nice with boots, under which I could've hidden a pair of cozy wool socks.  But, uncomfortable as I might have been, I was glad to look festive and cheerful for the official first day of spring (liturgically speaking).
It didn't hurt that I knew there would be Easter brunch just as soon as I could get home and change into some relatively warm clothes.  This year, I came home in between church services (Alex and all my musically-inclined friends sing at least two services on Easter morning) and made a big ol' batch of home fries (a topic for another date) and a frittata packed with bacon and spring veggies for my singer friends to enjoy.  The recipe that inspired this one had the words "crustless quiche" in the title, but… isn't the difference between quiche and frittata the crust?  If not, what the heck is the difference anyway?  And how can I distinguish a quiche from a tortilla from an omelette from a frittata?  I digress.
Ramps, wild spring greens in the same family as garlic and onions, are the star ingredient in this dish.  They are a tiny bit bitter with a big garlicky kick, and I love them almost as much as I love garlic scapes.  Almost.  Also, every time I see ramps, I think about rampion, the wild plant that caused so much trouble in the Rapunzel story.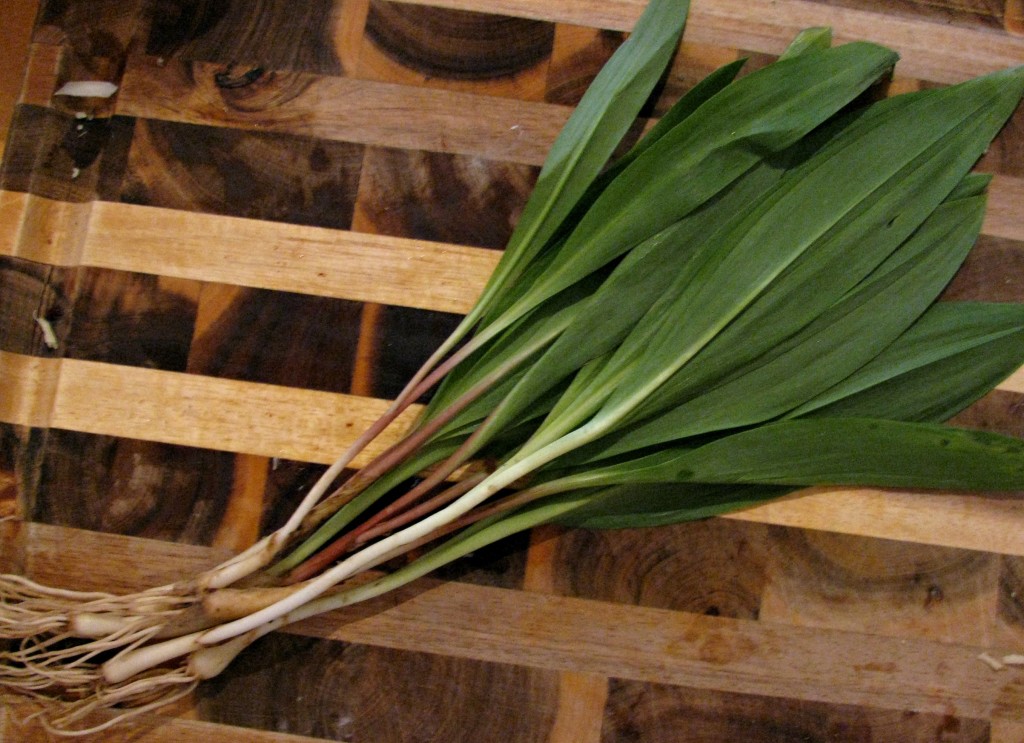 Much like a green onion, the greens and the white stalks of ramps are edible, but I find myself using the greens most often.  They're a great substitute for spinach in most any recipe.
Supporting players in this frittata include asparagus, red onion, and bacon.  Those get sprinkled in the bottom of a pie pan, and an egg-cheese-ramp mixture gets poured on top.  Alternatively, you could mix all of the ingredients together with the eggs, but I find that the bacon and veggies tend to sink to the bottom of the dish during cooking anyway… so just do whatever is easier for you.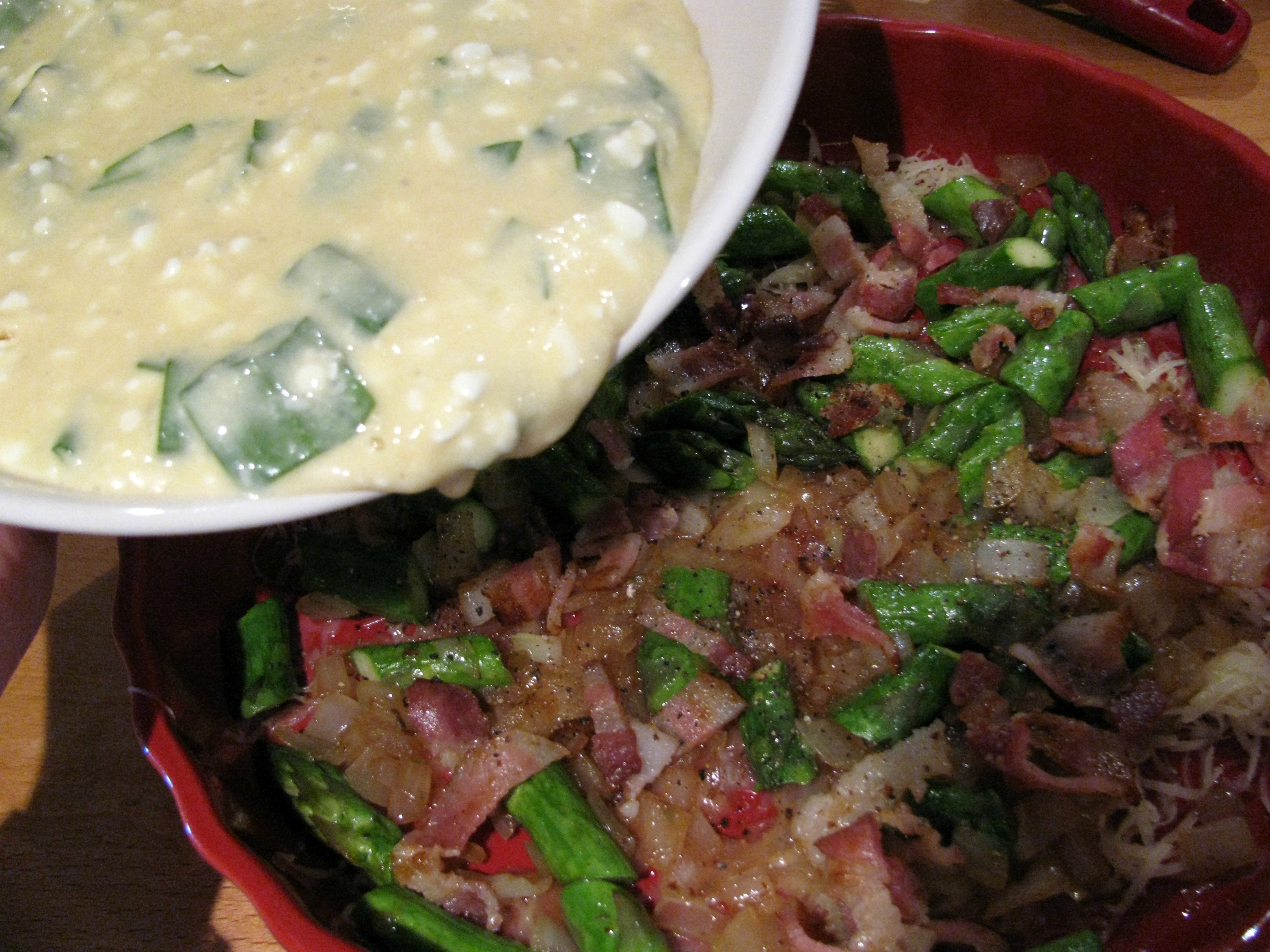 After a quick turn in the oven, you have a delicious, comforting dish that's sure to warm you up, even if you didn't have the good sense to dress appropriately for the day.  Pair with friends and Mimosas and you've got yourself an excellent Sunday, whatever the weather.
Frittata with Bacon, Asparagus, and Ramps
adapted from Cooking Light
2 slices bacon
1/2 cup chopped onion
4 asparagus spears, cut on the diagonal into 1-inch pieces
3/4 cup shredded Swiss or Emmentaler cheese, divided
about 8 ramps, leaves roughly chopped
1 cup cottage cheese
1/2 cup evaporated milk (you can substitute heavy or light cream, or regular milk)
1/4 cup shredded Cheddar or Parmesan cheese
2 large eggs
2 large egg whites
1/2 cup all-purpose flour
1 teaspoon baking powder
Preheat oven to 350°F.
In a skillet over medium heat, cook bacon until crisp.  Pour out all but about 1 teaspoon of the bacon grease, then return pan to heat and add onion and asparagus.  Cook until onion is soft and the asparagus is bright green and beginning to turn tender.
Coat a 9-inch pie plate with cooking spray and sprinkle 1/4 cup of the Swiss cheese over the bottom.  Cover the cheese with the bacon, onion, and asparagus.
Combine remaining 1/2 cup Swiss cheese, ramps, and next five ingredients in a large bowl.  Season the mixture with salt and pepper. In a small bowl, combine flour and baking powder; fold into the egg mixture, and pour over the bacon and veggies in the pie pan.  Bake for 45 minutes, or until the center is set.