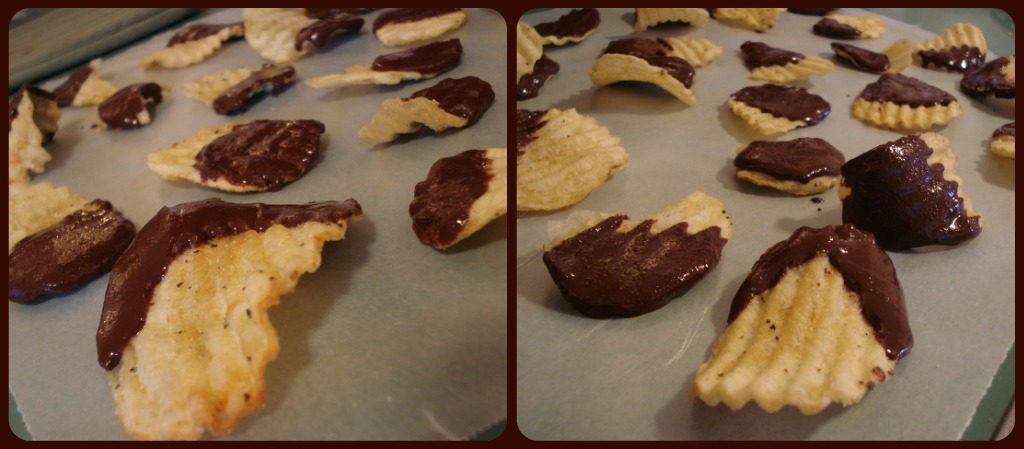 I'm going to let you in on a deep, dark secret.  When I was in grad school, in a program focused on nutrition, local food, good farming practices, and the like, I could not let any of my classmates know about this.  Maybe several of us shared this secret in common, but we couldn't talk about it.  It was just too dangerous.  To admit this was to accept the risk of becoming an immediate pariah, viewed as a hypocrite and a traitor.
Are you ready?  Here it is.
I love junk food.
I can't help it.  Yes, I hate that the system is rigged to make junk food cheaper than healthy food.  I can and do eat junk food in moderation, sure.  I eat lots of healthy snacks and balanced meals, and I am mindful of where my food comes from and how it is prepared.  I would still rather have a helping of my grandmother's squash, or a fresh-sliced summer tomato, than a piece of chocolate any day.  And I will never argue that a store bought cookie is anywhere near as good as one that's homemade, with real ingredients.  But there are just a few snack foods that I cannot abandon, however processed and additive-laden they may be.
I have a dear friend who knows this, and will almost always bring a giant bag of Cheetos to any party we both attend.  I had another friend who frequently came to my house bearing peanut butter cups.  (Enablers, both of you!)  And on nights when I am home alone, I have been known to make dinner out of a giant bowl of breakfast cereal.  I will never forget the weekend right after Christmas in 2009 when my roommates left town– I came home from my job at 9:00 every night and plopped down on the couch with a bowl of Reese's Puffs and a box set of The Office DVDs– sheer, sugary bliss.
So, imagine my delight when I wandered into Trader Joe's and spotted a shiny blue bag of… milk chocolate covered potato chips.  Oh, I tried to resist.  What could possibly be healthy about junk food enrobed in junk food?  What kind of Master-of-Nutrition would I be if I put those in my shopping basket?  Couldn't I satisfy my sweet tooth with a piece of fruit, or at least something a little less blatantly awful (at least sugary cereal involves some whole grains and vitamins!)?
Well, I gave in after about three seconds of this inner monologue.  And I'm glad I did.  Chocolate covered potato chips are a junk food junkie's dream come true.  And I'm happy to say that, with a little willpower, I've managed to buy these things a few times and limit myself to one or two chips a day (honestly, they are so thickly coated in chocolate that it's easy to stop after a few bites).
But still, I do have to admit that this is kind of hypocritical.  My shelves are filled with books about nutrition, sustainable agriculture, organic farming, the conditions experienced by the farm workers at the far end of the chain that brings me my pre-bagged snacks.  It is rare for me to indulge in packaged junk foods like these, and I am far more likely to choose a healthy alternative in the vast majority of situations, but I still can't shake the knowledge that these foods are in direct opposition to the food system I'm trying to help create.
Maybe it would make me feel a little better if I replicated this junky, junky snack food with more honorable ingredients.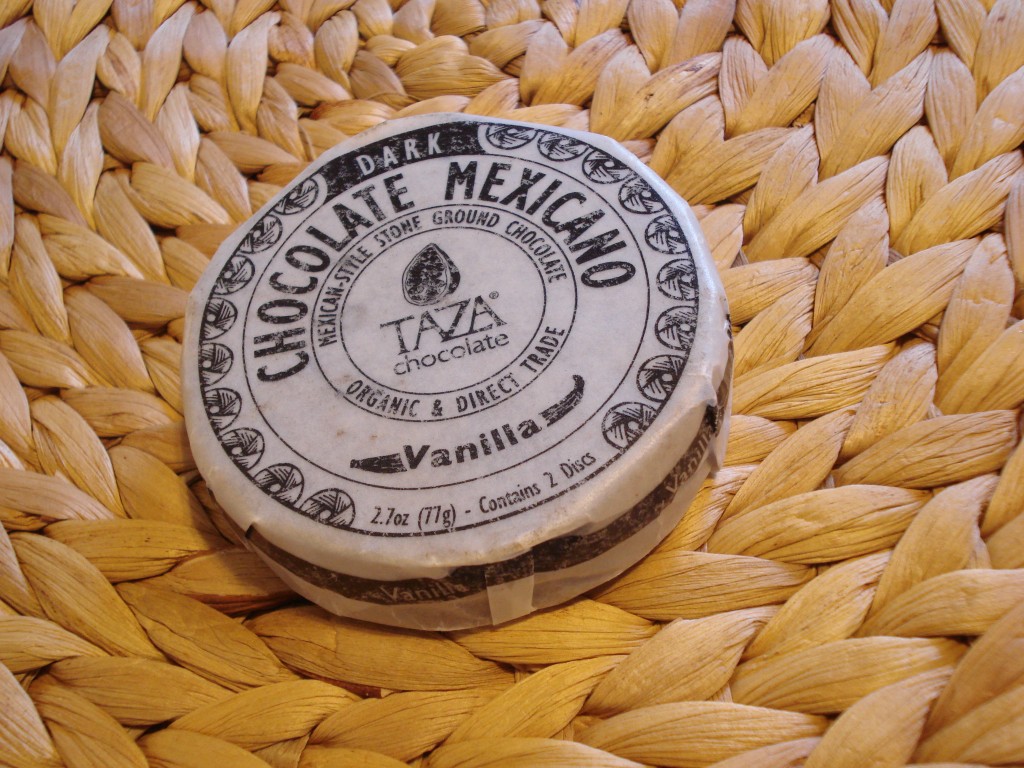 The chocolate, at least, was a no-brainer for me.  Taza Chocolate is some of the best stuff around– locally handmade, organic, and delicious.  Not too sweet, and available in all sorts of creative flavors.  I chose vanilla, as you can see.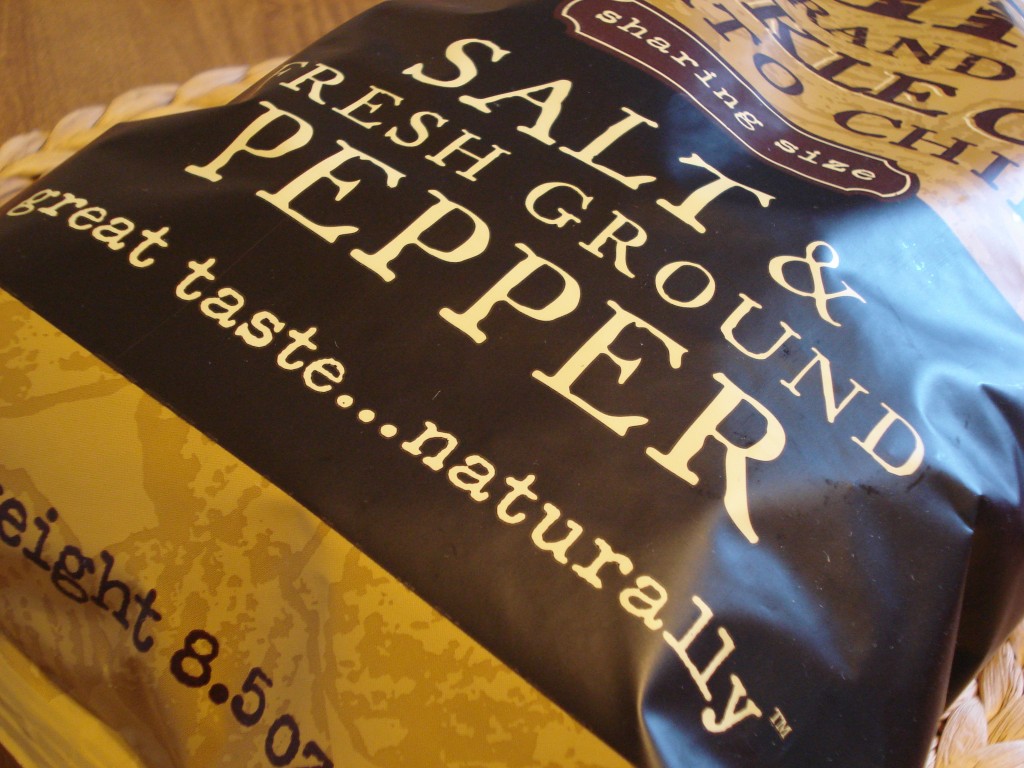 Potato chips were a little less straightforward.  I think we can all agree that "healthy potato chip" is something of an oxymoron, and if such a thing exists, it probably doesn't taste very good.  (Sunchips aren't potato chips, remember?)  But there is also sustainability to consider, and I ended up choosing Kettle chips.  This was partially motivated by the fact that they were on sale, but after checking out their website, I think I chose well.  They have some sound environmental practices, they have an eye toward nutrition, and they do a lot of community outreach.  I can get behind that.
And yes, I did choose salt and pepper flavor.  It's already a well-established fact that the sweet-and-salty combination is a winner, but I wanted to see how it would work to toss some spice into the mix.
Making these things was incredibly simple.  I just broke the chocolate into pieces and tossed them into a metal bowl, then set that bowl on top of a saucepan of simmering water. When it was nice and melty, I spooned a little bit of chocolate onto each chip, and spread it around to cover about half of one chip surface.  (Using that method instead of dunking the whole chip served the dual purpose of saving me a lot of mess and making the chips slightly healthier.  I'm going to pretend I did it all for the healthy factor.)  Then I let them dry on a sheet of waxed paper.
I have to say, I kind of surprised myself with this one.  What I ended up with was very different from the Trader Joe's variety; my chips were much less sweet, and the flavor was much more complex.  The Taza chocolate was so rich that a half-dip was completely sufficient, and the combination of the vanilla from the chocolate and the pepper from the chips was incredibly good.  I would actually be happy to serve these at a dinner party… in a teacup.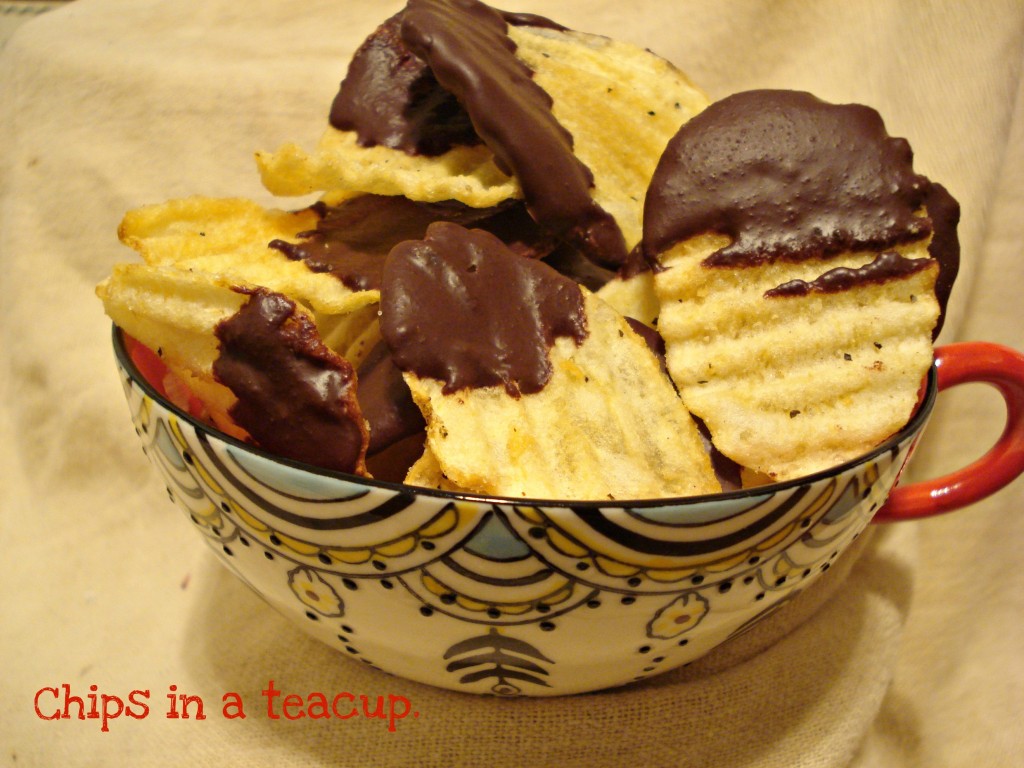 So there we have it.  It is possible to make "junk food" that we can feel good about.  Am I done with those Trader Joe's chips for good?  Quite possibly.  And I'll see what I can do about those Cheetos.