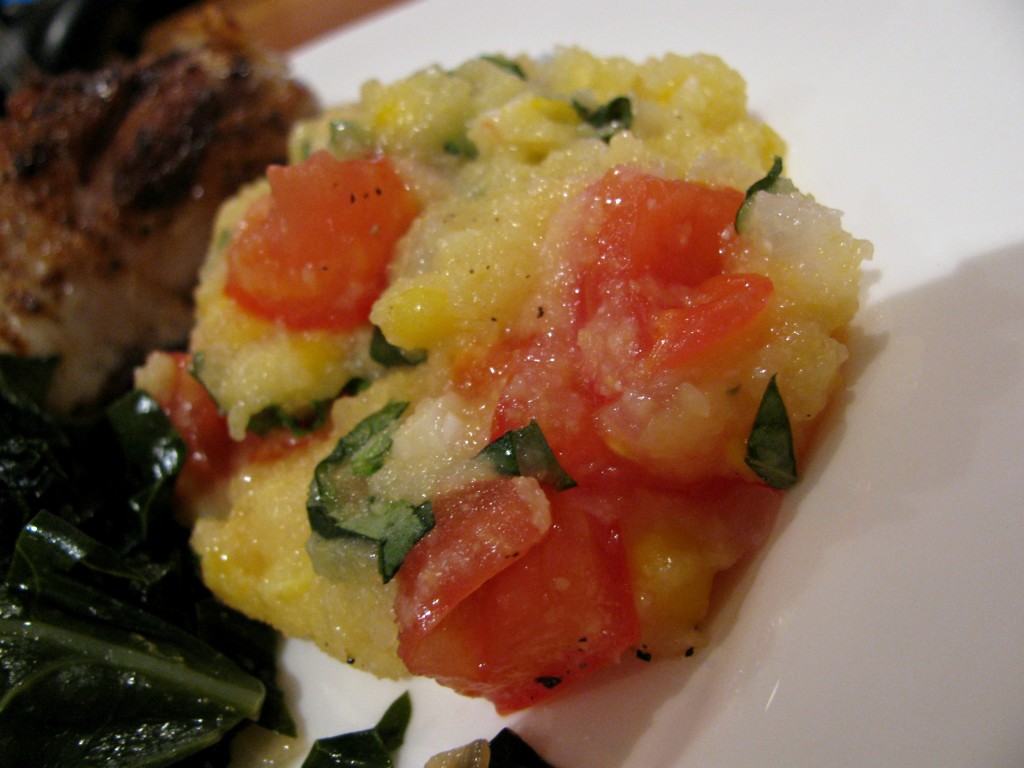 I've noticed a trend on my blog over the last few weeks: a general absence of sweets.  It's weird, but I just haven't been in the mood for dessert much over the last month or so (except for the few days surrounding my birthday, when I wanted all the cake and all the ice cream).  I'm not too worried about it, though, because it's summer (finally!), and that means summer produce.  It's still a bit early for good local tomatoes and corn, but I couldn't wait to break out this recipe again, which I've been making regularly since I first found it about six years ago.
Since scent is the sense most closely tied to memory, making this dish fills me with nostalgia.  The smell of fresh corn kernels and sliced tomatoes takes me back to my mom's kitchen, and my grandmother's; meanwhile, the fresh basil reminds me of Paul and Jan, who hosted me for a summer while I worked near their house, and who introduced me to Caprese salad.  I always think about the fact that Jan pronounced "basil" to rhyme with "battle," whereas I stick with the pronunciation that rhymes with "nasal."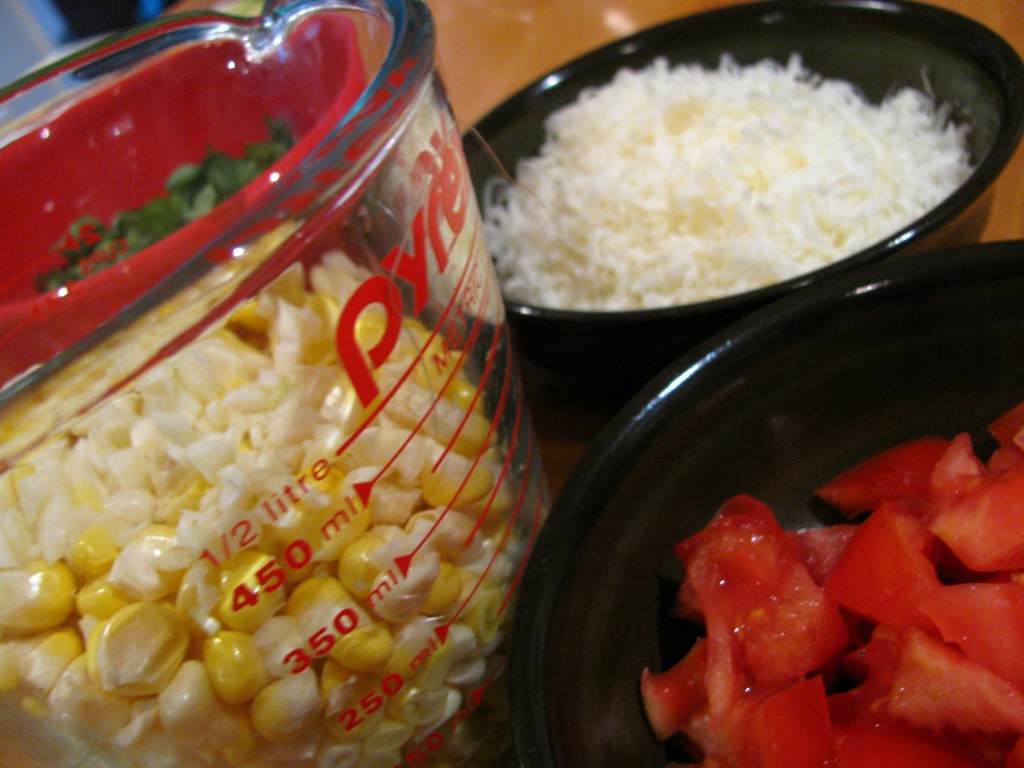 And then there's the polenta.  It's creamy and cheesy and basically just a sneaky way to eat cheese grits and make it sound classy.  While there are some differences between grits and polenta– the type of corn they're made of, the fineness of the grind, and that sort of thing– they're similar enough that if you have grits on hand and don't feel like tracking down polenta, I'd say go for it.
Also, while it seems unfair to brag about the rest of this meal without showing it to you or sharing even a little bit of it… I'm going to do it anyway, because it was the best meal of the summer thus far.  While I made the polenta, I also had a pot of collard greens on a back burner (did you know that collard greens are 94 cents a bunch?  I did not know that.  This is going to be the summer of collards for me), and Alex occupied the other half of the stove with a pan of Cajun-spiced chicken legs.  Sweet goodness, it was like being back in the Deep South.
A happy summer to you all!  I'll be back soon with a pie or something, I promise.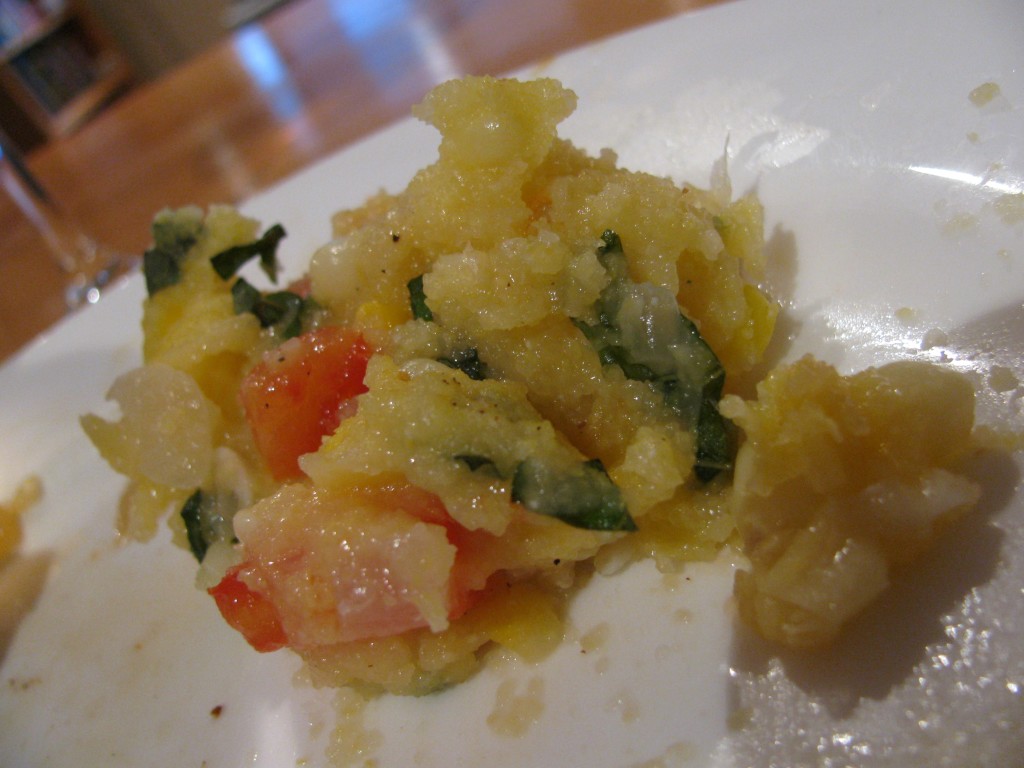 Polenta with Corn, Tomatoes, and Basil
adapted from Cooking Light
2 teaspoons olive oil
1 Vidalia onion, chopped
4 cups fat-free, less-sodium chicken broth
fresh corn kernels from 2 ears (about 2 cups)
2 garlic cloves, chopped
1 cup instant dry polenta
1/2 cup grated Asiago, Parmigiano-Reggiano, or Pecorino Romano
1/2 teaspoon salt
freshly ground black pepper
1/2 cup chopped fresh basil
1 cup chopped tomato
Heat oil in a soup pot over medium heat; add onion and cook until translucent, stirring occasionally.  Add broth, corn, and garlic, and bring to a boil.  Reduce heat to medium-low and simmer for about five minutes.  Gradually whisk in polenta, stirring constantly, and cook until polenta is thick, about five minutes.  Remove from heat and stir in the cheese, salt, pepper, and basil; gently fold in the tomatoes and serve immediately.