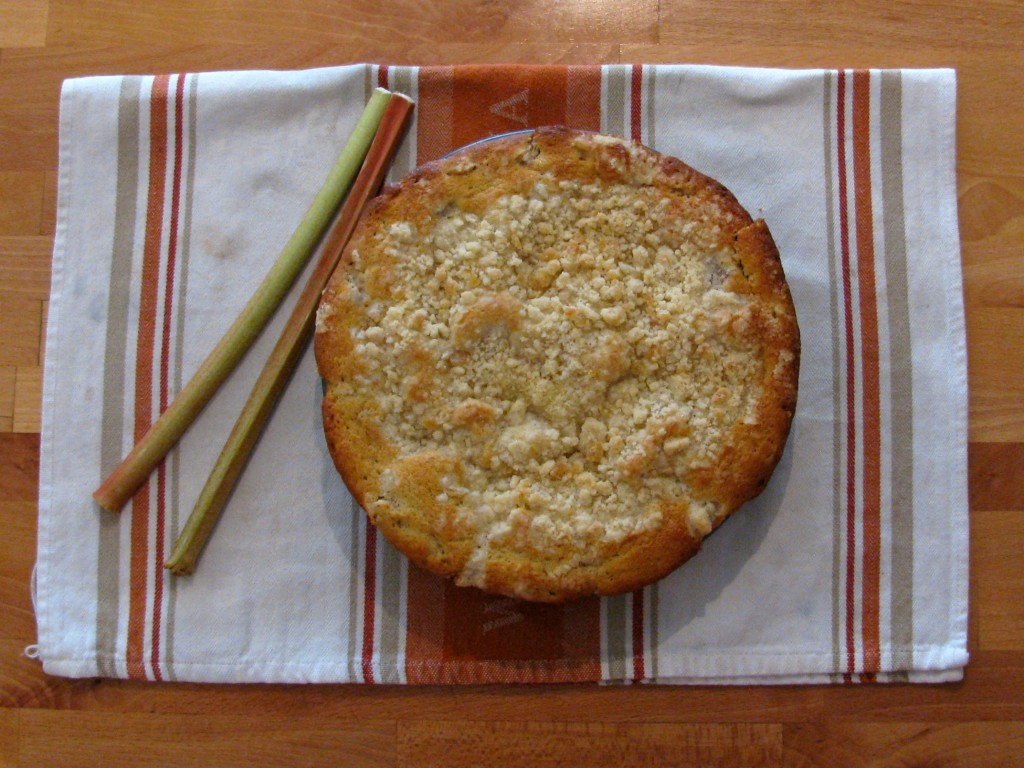 A little over a week ago, Alex and I got to meet Garrison Keillor at a lecture and book signing.  Even though I'm a good bit younger than his target audience, I grew up listening to him on the weekly radio show A Prairie Home Companion, especially in the back seat on the way home from beach trips.  The show happened to come on at about the time we usually hit the road, so I associate the show, and Mr. Keillor's voice, with freshly sunburned skin and the satisfying kind of fatigue that only comes from a day of swimming.
After a few minutes of awkward, nervous conversation when we reached the front of the book-signing line, GK signed my book: "To Alex and Jesi: Love and rhubarb and all," a reference to a bit from the show about "Be-Bop-a-Re-Bop Rhubarb Pie."  It was a thrill, of course, but it also reminded me that I have never cooked with rhubarb– not even once.  Can't have that, now can we?
I suppose a rhubarb pie would have been the traditional way to go, but this recipe caught my eye instead.  The cookbook author called this cake a "buckle," but as far as I can tell, all the term "buckle" means is that the cake is studded with fruit and topped with crumbs.  So why not just call it a crumb cake?  I suppose calling it a buckle makes it sound more rustic, but at least with a crumb cake, you know what you're going to get.
The first thing you do, even before you make the batter, is prepare the crumb topping.  Once it's made, pop it in the freezer; if it's nice and cool when you put it on the cake, it'll hold together in the oven much better.  The secret ingredient in the crumb topping is crystallized ginger.  It adds a pleasantly spicy kick, but it's chopped finely enough that it blends in perfectly with the crumbs.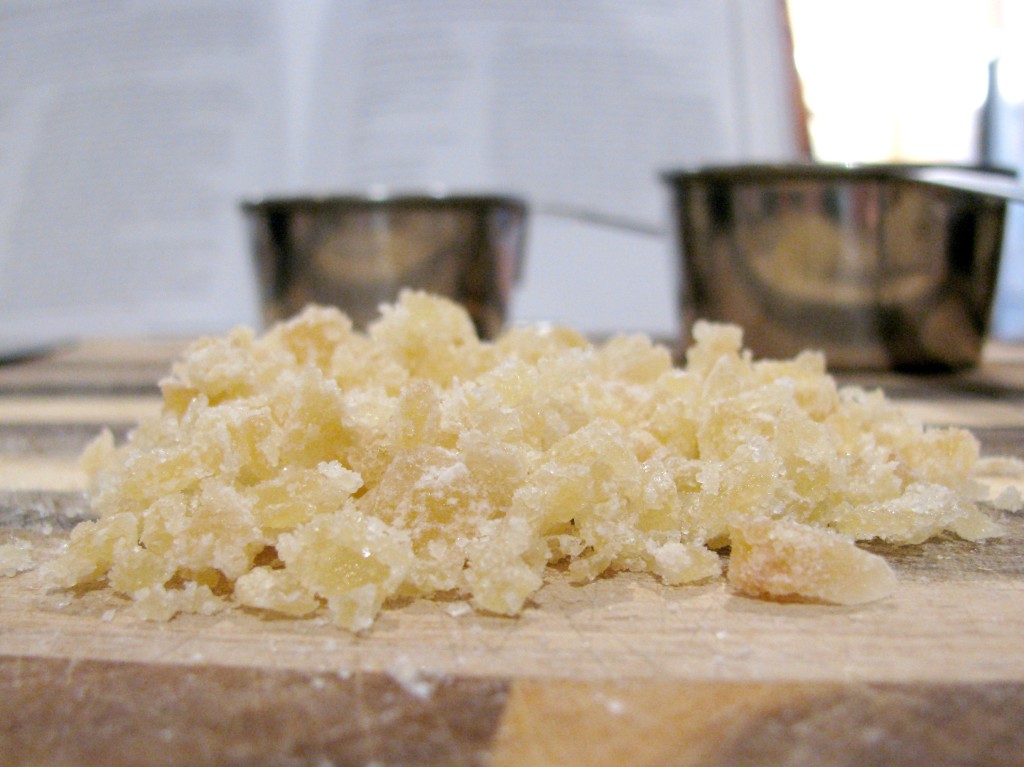 Working with the rhubarb was quite a treat, too.  It sort of looks like celery stalks, but with a reddish tinge.  It actually reminds me a lot of what we used to call Indian grass, a stalky weed with a reddish-greenish stem that grew all around our house.  All the kids in my neighborhood would pick it and chew on the stems, which kind of tasted sweet and sour– and a lot like rhubarb, as it turns out.  (I'm sure you are now having visions of me and my country friends running around the neighborhood in grubby clothes with floppy grass hanging out of our mouths– and that is basically accurate.)  Fortunately, rhubarb's sour punch mellows out a good bit once it's cooked.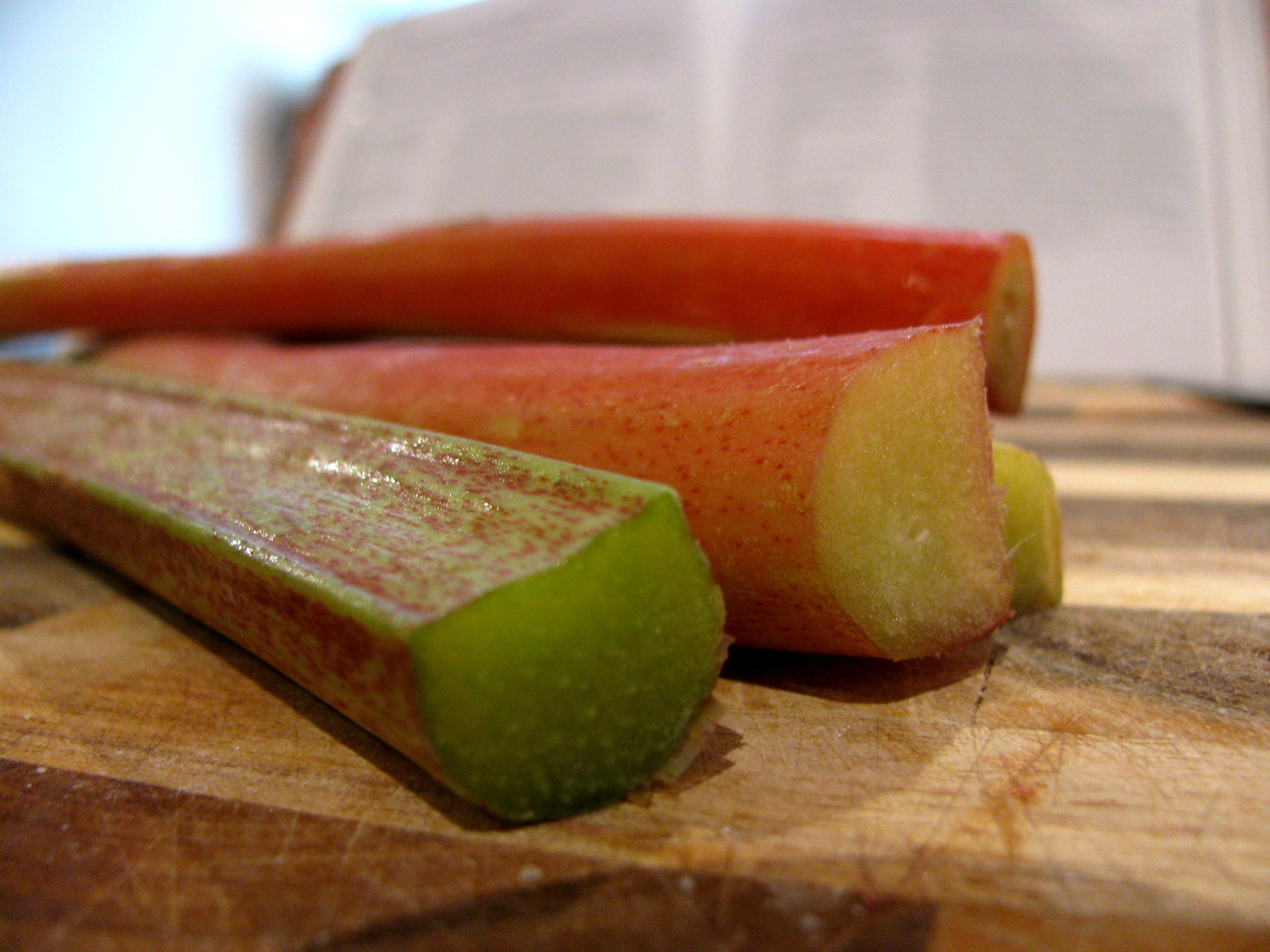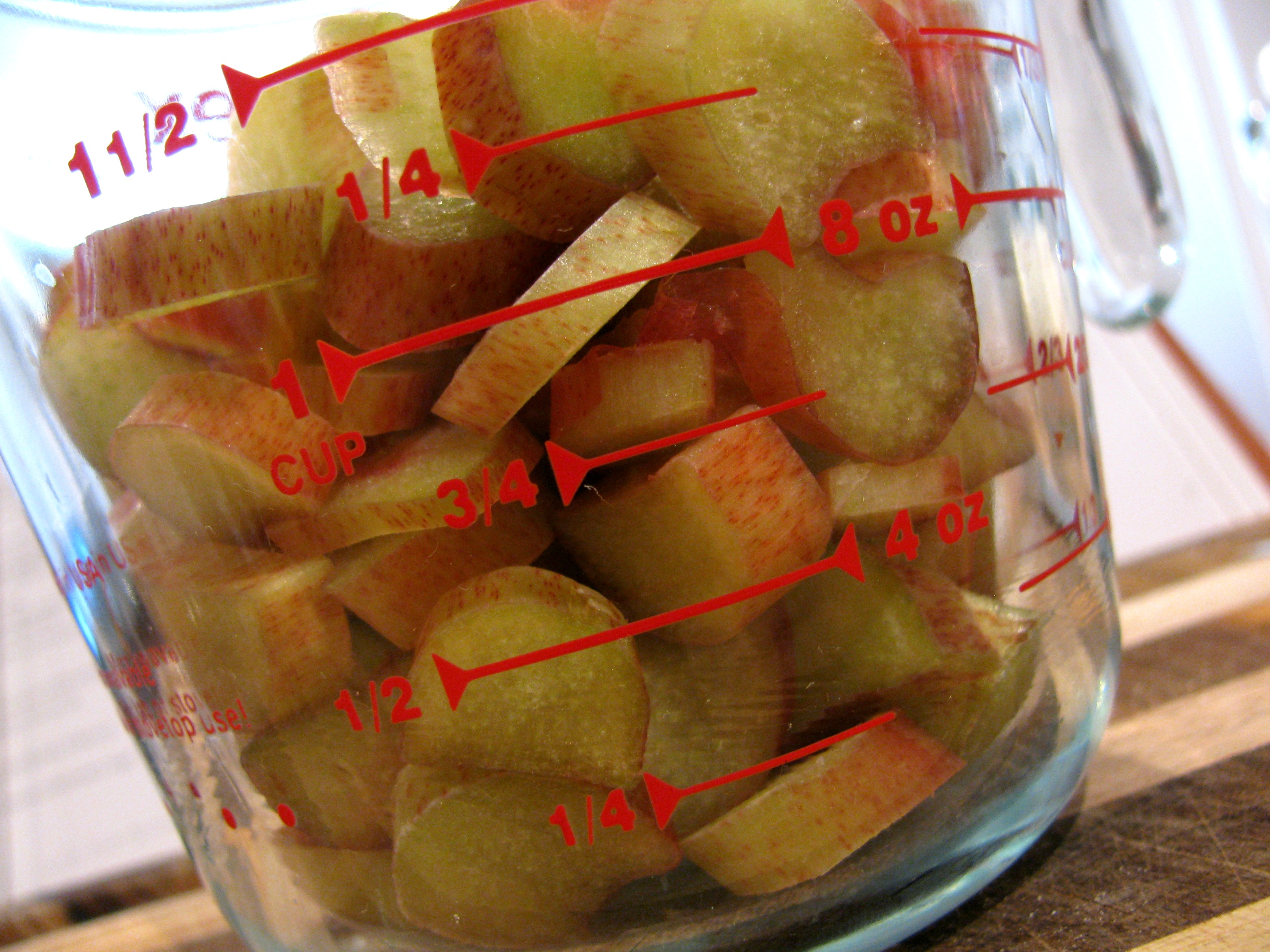 Also, have you ever read through a recipe and thought, "Wait… are you sure?"  This recipe was like that.  Once the batter was done, as I spooned it into the cake pan (the cake pan that was the exact size specified by the recipe), I noticed that the batter was coming up almost to the very edge of the pan, allowing no room for rising.  I considered reserving some of the batter and filling the pan to the usual 3/4 level, but there was something about the folksy name, "buckle," that made me hesitate.  What do I know about buckles, after all?  Turns out that all that extra batter baked up over the edge of the pan and lent the cake a beautiful rustic look, and also dripped onto the floor of the oven and filled the kitchen with the smell of burnt cake.  So there you go.  Trust your instincts.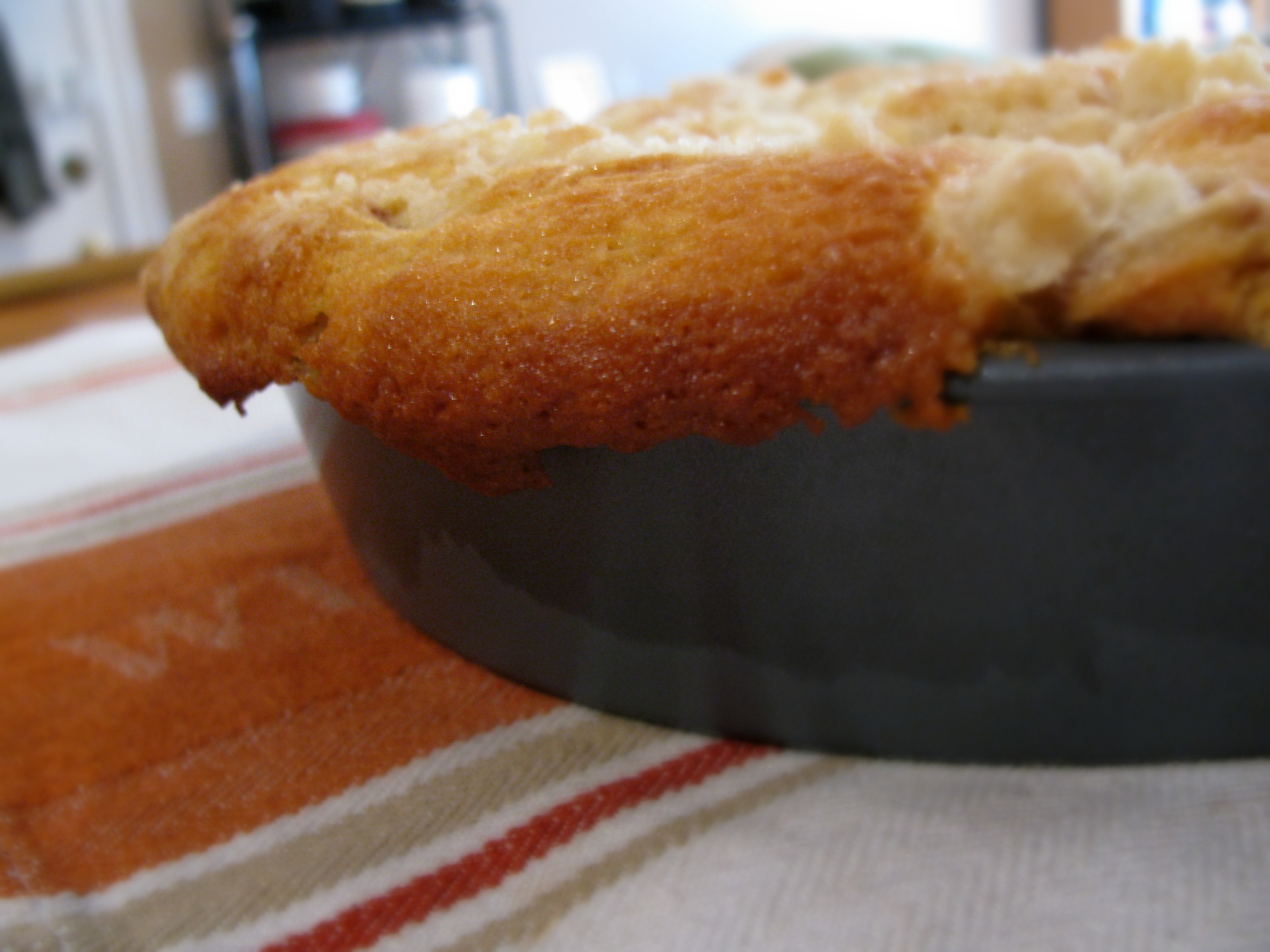 Burnt bits aside, this cake is wonderful.  It's buttery, sweet, sour, and spicy, but none of those flavors fight each other.  The crumb is light and fluffy, the topping is wonderfully crunchy, and the bits of rhubarb are the perfect accent.  The cake is good for dessert, of course, but it's even better for breakfast.  (It's basically just a large-format muffin.)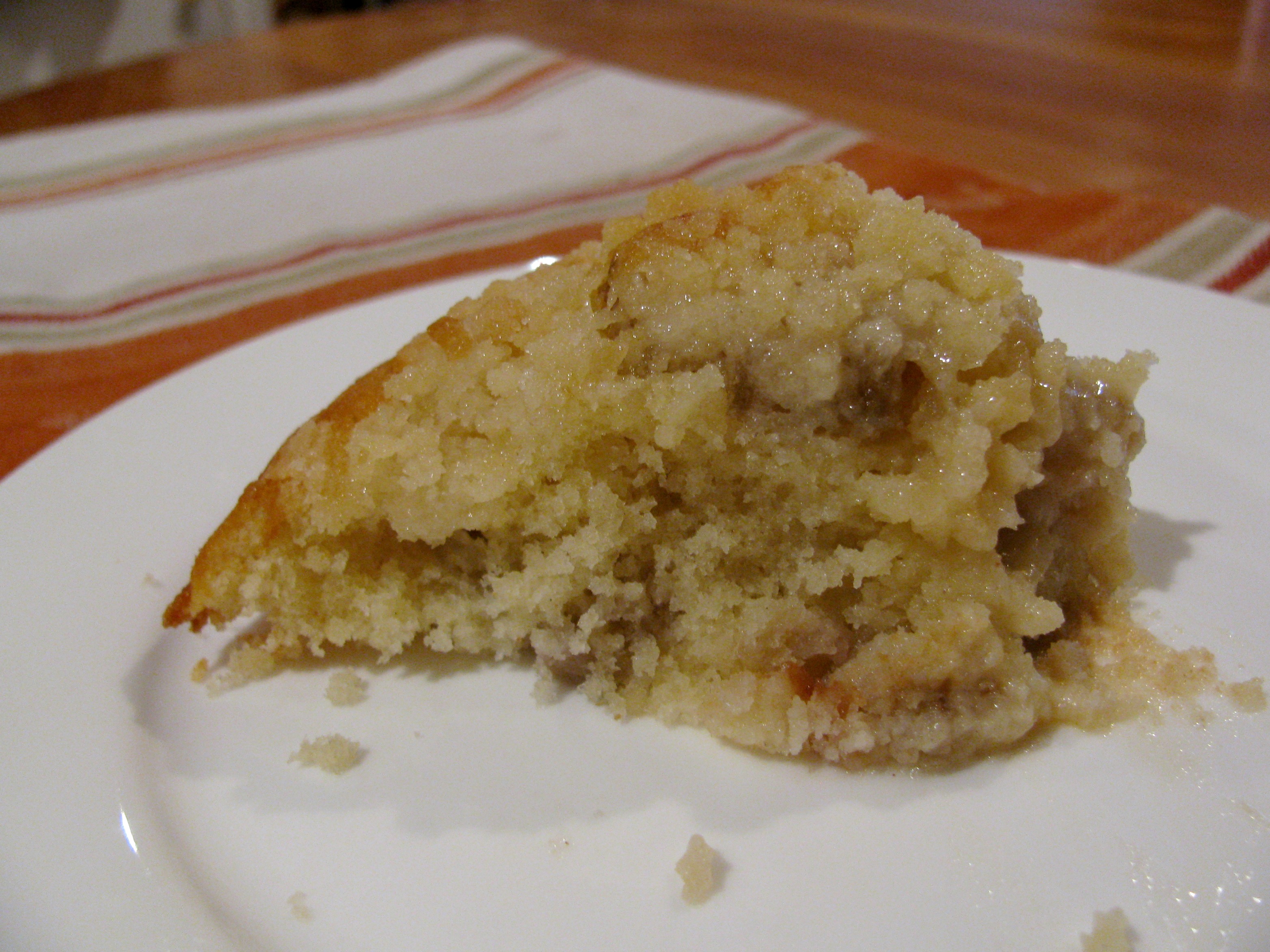 And, in the words of Mr. Keillor himself: mama's little baby loves rhubarb, rhubarb.
Rhubarb Ginger Crumb Cake
adapted from Rustic Desserts: Crumbles, Buckles, Cobblers, Pandowdies and More
for the crumb topping
1/3 cup sugar
1/4 cup all-purpose flour
1/4 cup finely chopped crystallized ginger
2 Tablespoons butter, melted
for the cake
1 3/4 cups all-purpose flour
1 teaspoon baking powder
1 teaspoon dried ginger
1/2 teaspoon baking soda
1/2 teaspoon salt
3/4 cup butter, at room temperature
1 cup sugar
2 eggs
3/4 cup buttermilk, at room temperature
2 1/2 cups sliced rhubarb, about 1 pound
Preheat oven to 350°F.  Butter a 9-inch round cake pan (or coat with cooking spray).
To make the crumb topping, mix the sugar, flour, and crystallized ginger in a bowl, then stir in the melted butter to make crumbs.  Place the crumb in the freezer while you prep the cake batter.
To make the cake, combine flour, baking powder, ginger, baking soda, and salt in a bowl.  In the bowl of a stand mixer, combine butter and sugar, and beat until light and fluffy.  Add eggs one at a time, scraping down the bowl as necessary.  Stir in the flour mixture in three additions, alternating with two additions of buttermilk (begin and end with the flour mixture).  Scrape down the sides of the bowl, then fold in the rhubarb.
Fill prepared cake pan 3/4 full of batter.  (You will have leftover batter, which you can use to make muffins.)  Sprinkle crumb topping over the cake; bake for 45 to 50 minutes, until golden brown.