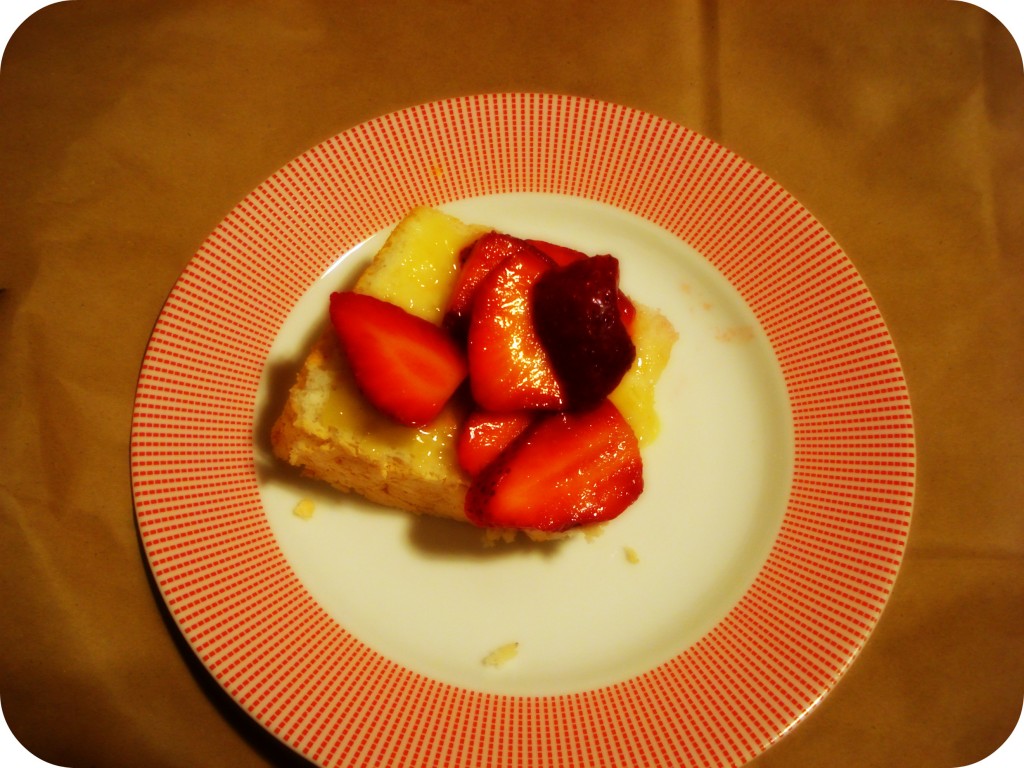 Some days I just feel fancy.  Sometimes I wake up and make pancakes for breakfast, even though I'm the only one at home.  Sometimes I wear a dress and heels to work, even though jeans and flats are allowed.  And sometimes, though I know I'd be satisfied with a quick batch of tried-and-true muffins, I just feel like making a cake that I've never tried before… and whipping up some lemon curd while I'm at it.
Lemon curd.  What an awful name for such a lovely food.  I hope you'll forgive the off-putting moniker and give lemon curd a try, because it really is one of the most delectable concoctions I've ever tasted… like the inside of a lemon meringue pie, only more buttery.
But let's begin with the cake.  I have had this recipe, and an angel food cake pan, for several years, but had never gotten up the courage to try it until recently.  I assumed it must be a difficult cake to make, since I'd only ever had store-bought versions.  Surprisingly, this cake is actually pretty simple—but it's also unlike any other cake I've ever made.
For one thing, it calls for a dozen eggs.  Yep, a whole dozen… and only the whites, which means I really need to figure out what to do with a dozen egg yolks.  And if that's not weird enough for you, you also have to fight the urge to grease the cake pan before you pour in the batter.  This is, in fact, an ideal situation for me, since I am known to forget the Pam about half the time.
So the first thing you do is combine cake flour and almond meal, and sift them together three times.  I don't have a sifter, but I do have a fine mesh sieve, which happens to be one of my most indispensable kitchen tools.  I wished for one for a couple years before I ever actually bought mine, I guess because $5 seemed like an awfully big commitment…?  I don't know what my problem is.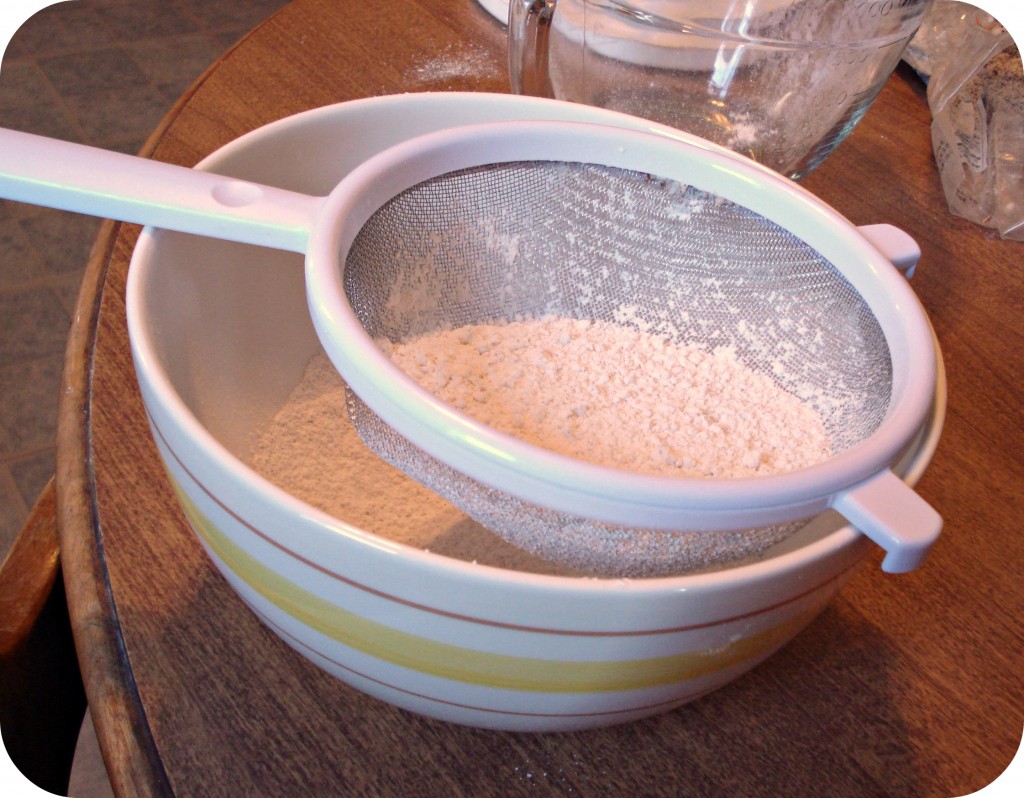 After your flour is thoroughly sifted, you whip the daylights out of your egg whites.  While I'm sure it's possible to do this without an electric mixer, I personally don't have the upper arm strength for it, so I let Bonnie take care of it… like so.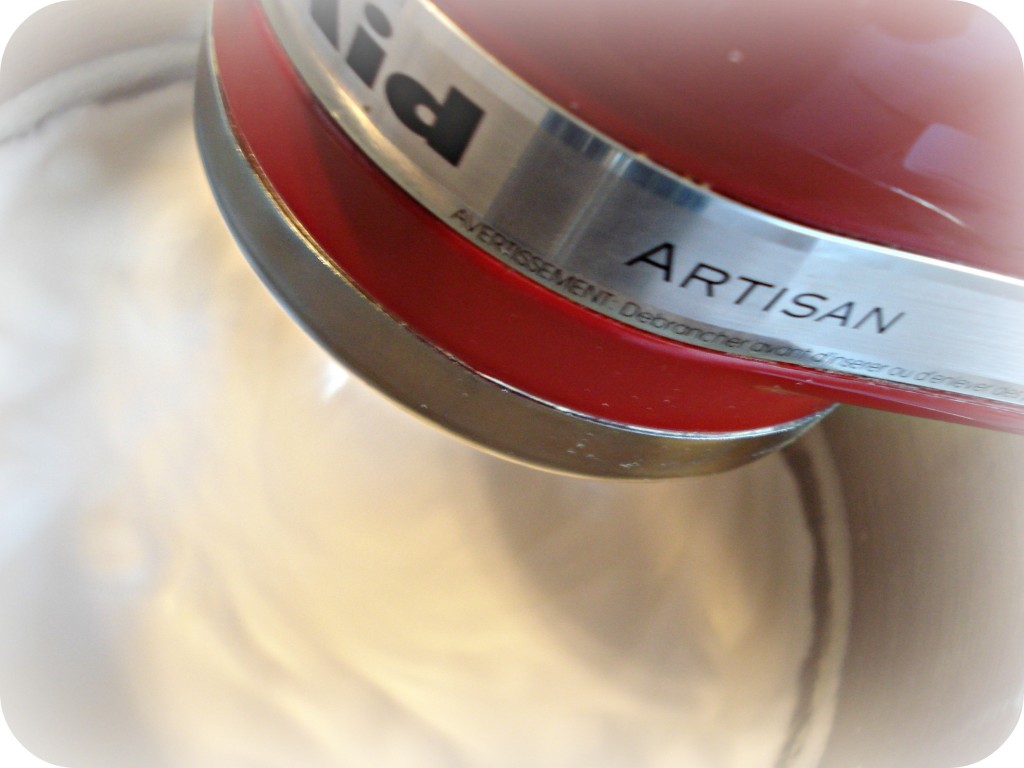 Why yes… I did give my mixer a name.
After adding the sugar to the egg whites and folding in the flour mixture, the batter goes into the ungreased pan and into the oven.  This is the perfect time to make a batch of lemon curd.
This is another easy recipe, but be prepared to juice a lot of lemons: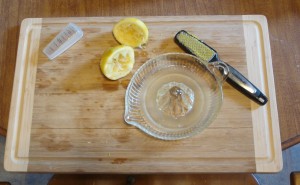 Once that's done, you just add sugar, egg, and butter, and cook over low heat until the mixture thickens, at which point you press it through a sieve to strain out any cooked egg pieces or lemon seeds that might have snuck in.
And by the time you've made the curd and cleaned up the kitchen, it's probably time for the cake to come out of the oven!  It should be golden, and a toothpick inserted in the middle of the cake should come out clean.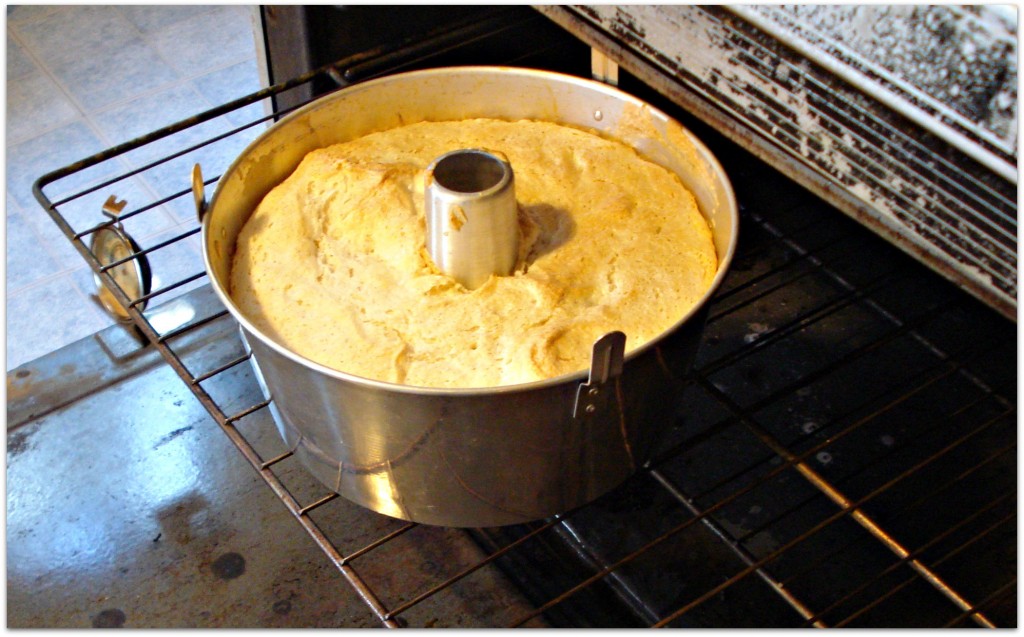 See those three feet on the top of the pan?  You'll invert the whole thing and let it sit on the counter for about an hour; the feet allow air to circulate under the cake so it doesn't get soggy.
As a sidenote, I really need to clean my oven.
After an hour, you'll carefully remove the cake from the pan, starting with the bottom, which is conveniently detached from the rest of the pan.  The outsides of the cake should be beautifully crispy, like this: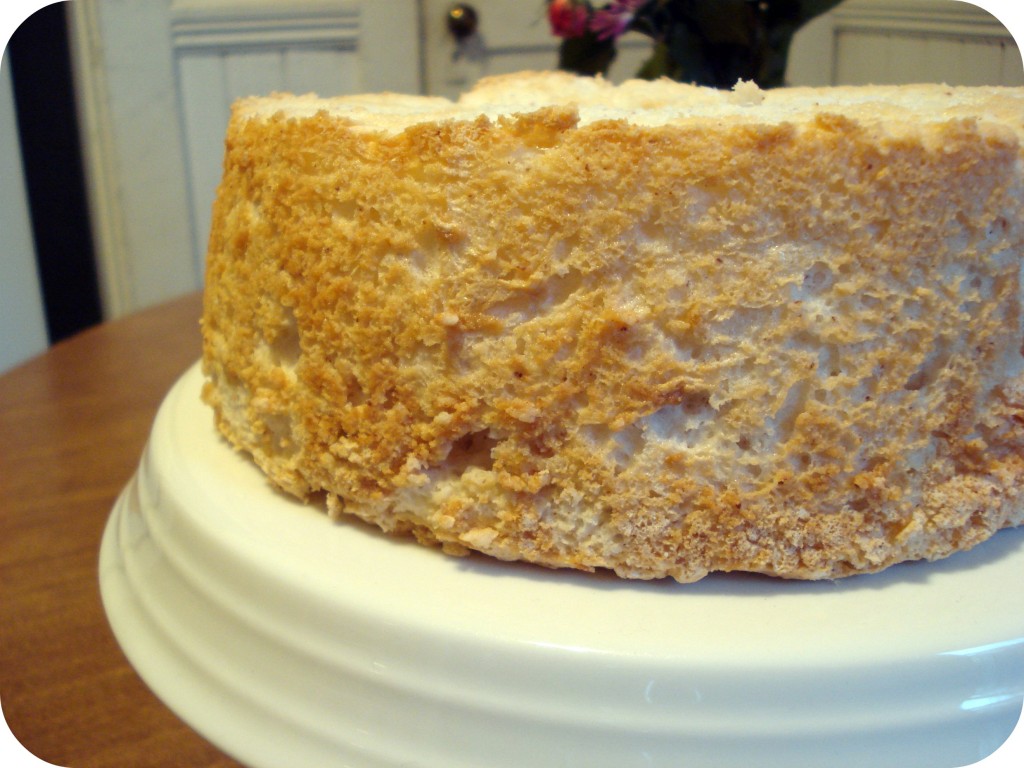 Cut a slice, spread on a layer of lemon curd, and toss a handful of sliced strawberries on top (we'll pretend they're in season).  And then you can say the four most beautiful words your boyfriend will hear all day: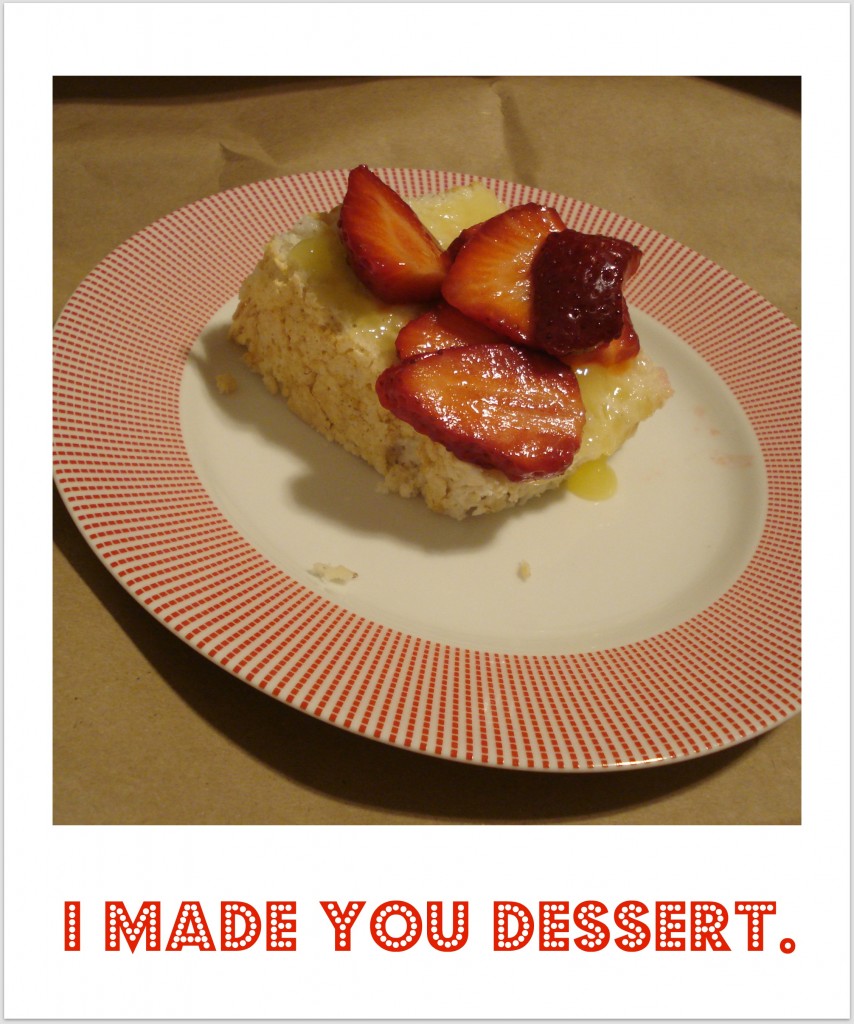 Angel Food Cake
adapted from Homegrown: Pure and Simple 
1 cup cake flour
1/4 cup almond meal
1/4 teaspoon salt
1 1/2 cups egg whites (about 12 large eggs)
1 teaspoon cream of tartar
1 3/4 cups sugar
Preheat oven to 250.
Sift together the cake flour and almond flour 4 times.  Add the salt and then sift again.
In the clean, dry bowl of an electric mixer fitted with a clean, dry whip attachment, whip the egg whites until very foamy.  Add the cream of tartar and continue beating until stiff peaks form.
With the mixer running, slowly and gently beat in the sugar.  Immediately add the sifted dry ingredients and mix just until combined.
Pour the batter into an ungreased 10-inch angel food cake pan with a removable bottom.*  As you scrape the batter into the pan, keep mixing it with a rubber spatula.
Put the pan in the oven, and as soon as you close the oven door, raise the temperature to 325.  DO NOT open the oven door for at least 15 minutes so the cake can begin rising.  Bake for 45 to 55 minutes, or until the cake is nicely browned.
Remove the cake from the oven and immediately invert the pan to cool.  Leave it inverted for at least one hour.  When the cake has cooled to room temperature, remove it from the pan, using a thin metal spatula or butter knife to loosen any areas that are sticking.
*If you don't have an angel food cake pan, you can use any tube pan, and invert the cake over the neck of a wine bottle after baking.
Lemon Curd
1 large egg
2 large egg whites
3/4 cup sugar
1 tablespoon freshly grated lemon zest
2/3 cup lemon juice
1 tablespoon butter
Whisk whole egg, egg whites, sugar, zest, and lemon juice in a medium nonreactive saucepan.  Add butter and cook over low heat, stirring constantly, until the mixture is thick enough that drawing your finger across a coated spoon leaves a mark (5 to 12 minutes).  Do  not let the curd come to a simmer.  Pour the hot curd through a fine mesh sieve into a small bowl, pressing on the solids.  Let cool slightly and refrigerate until chilled.