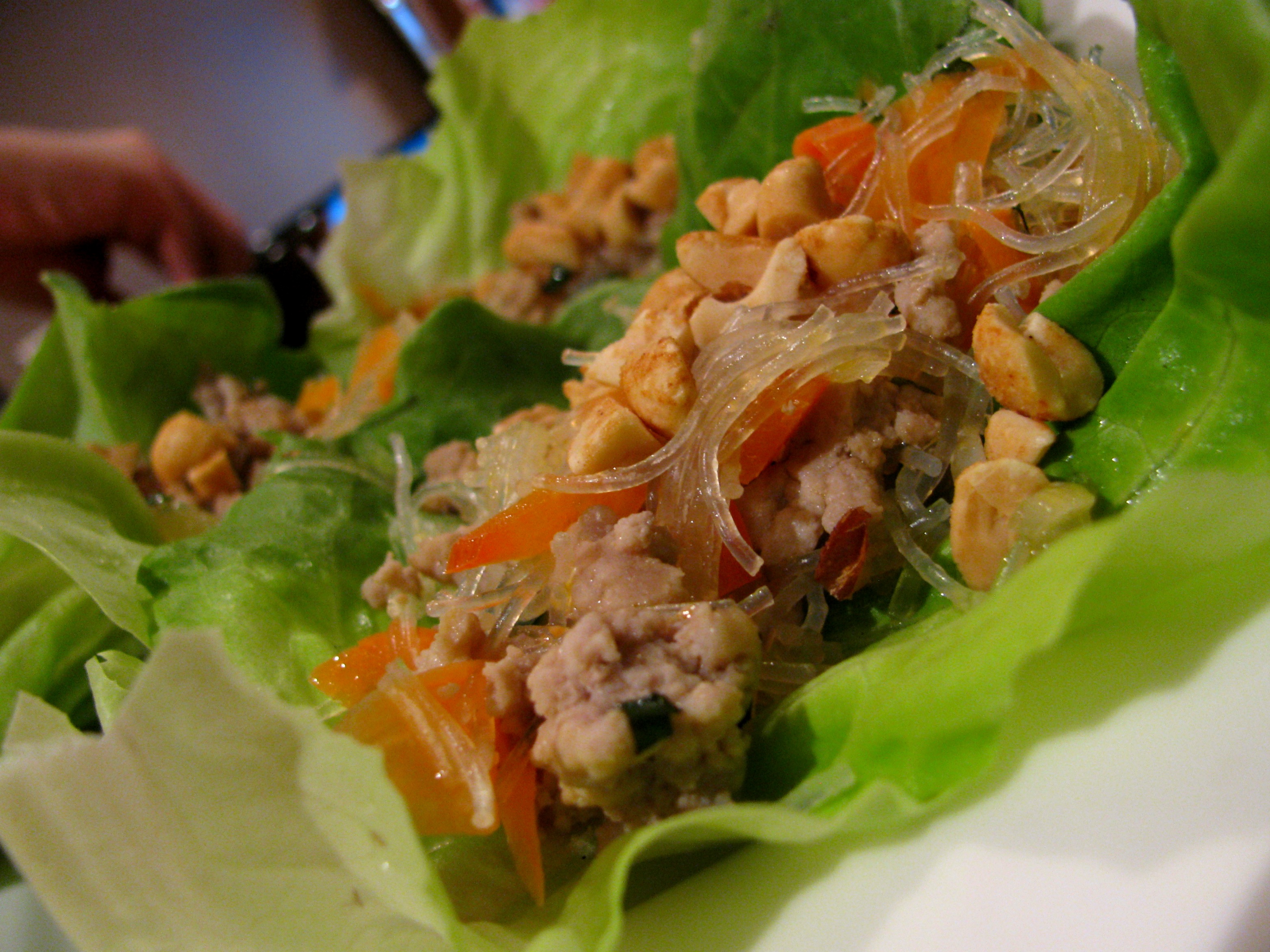 Last week, I hinted that this post would probably involve bran.  I know you're so disappointed to have these lettuce cups staring you in the face instead.
The fact is, when temperatures are in the 90s, even with an air conditioner, I feel less like baking and more like throwing together a little bit of pork and a ton of veggies in a pan and calling it dinner– preferably with cold wine on the side.  I've been making these lettuce cups for several years, and they never fail to satisfy.  And even though there are lots of steps in the process, if you make sure everything is prepped before you start cooking, the recipe is a breeze to prepare.
Part of the reason these lettuce cups are so great is because they're pretty and colorful, and that's due to the rainbow of veggies that get tossed into the meat.  The main players are carrots, red bell pepper, cucumber, and onion.  While the original recipe calls for matchstick-cut carrots, I think that kind of knife work is far too painstaking for a weeknight, so I typically just use a peeler to cut a couple of carrots into ribbons.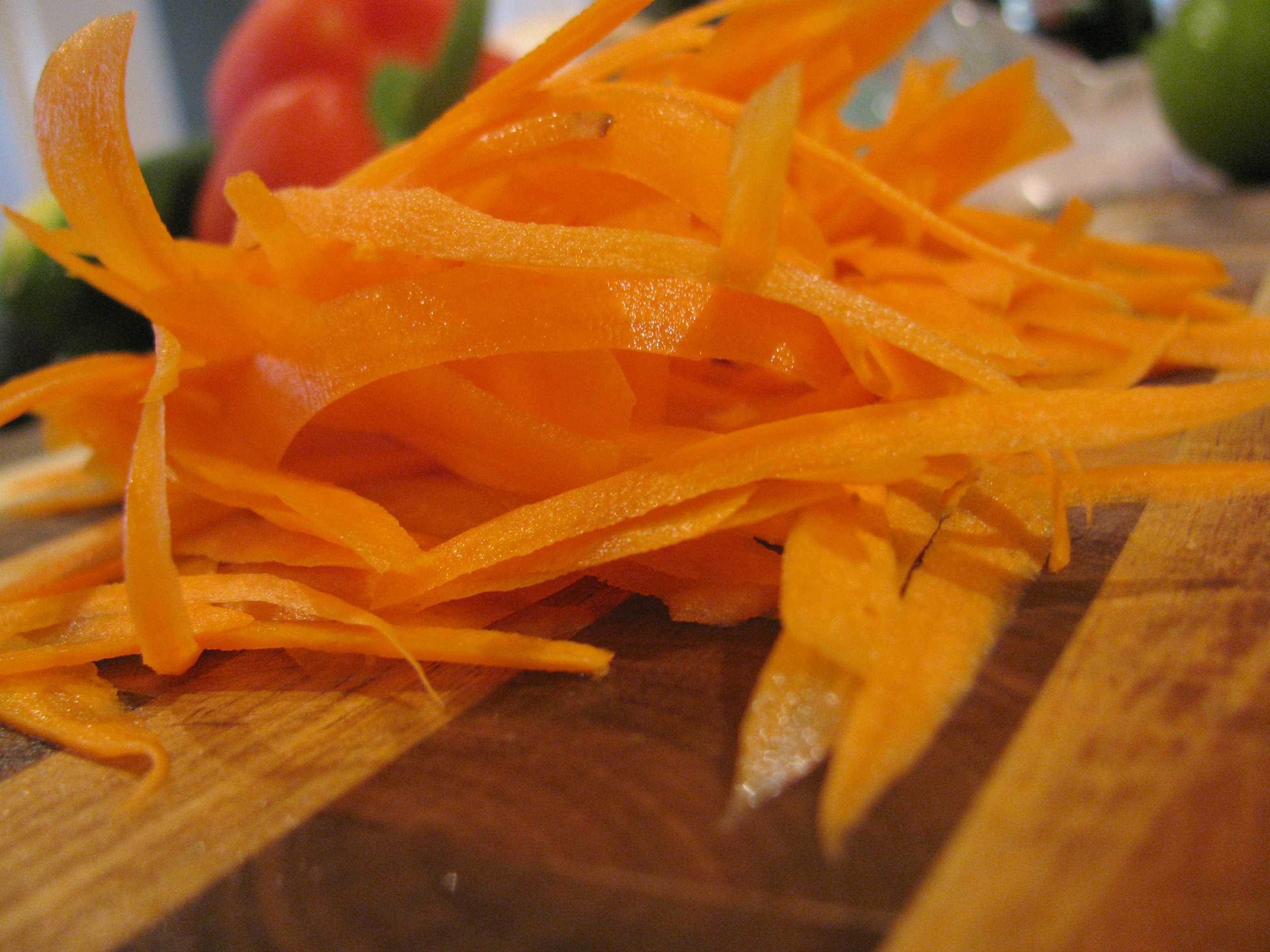 You can also get away with minimal chopping for the cucumber– keeping the pieces on the chunky side saves you work and also gives the final product some welcome crunch.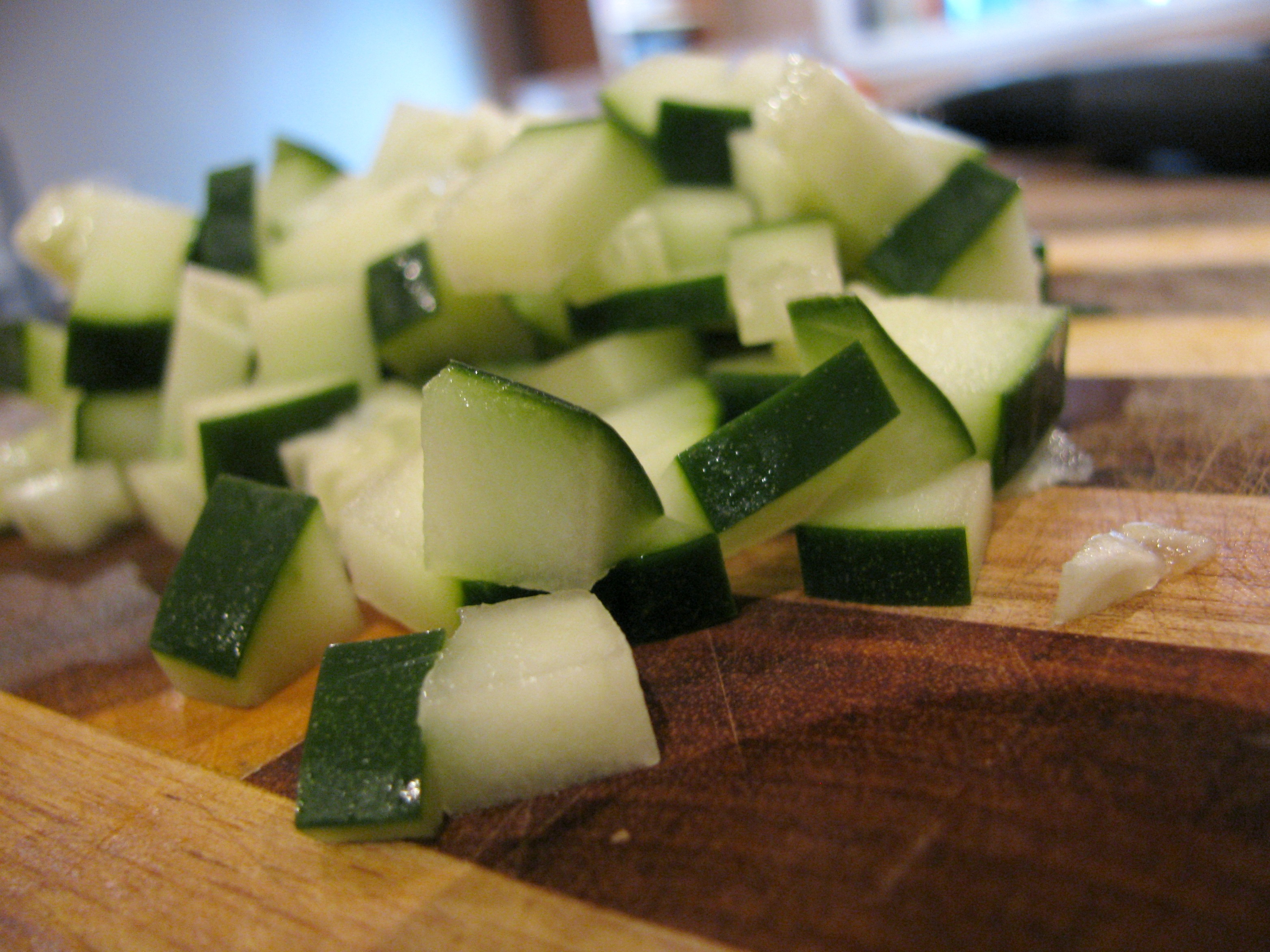 The veggies alone look like a pretty good meal, right?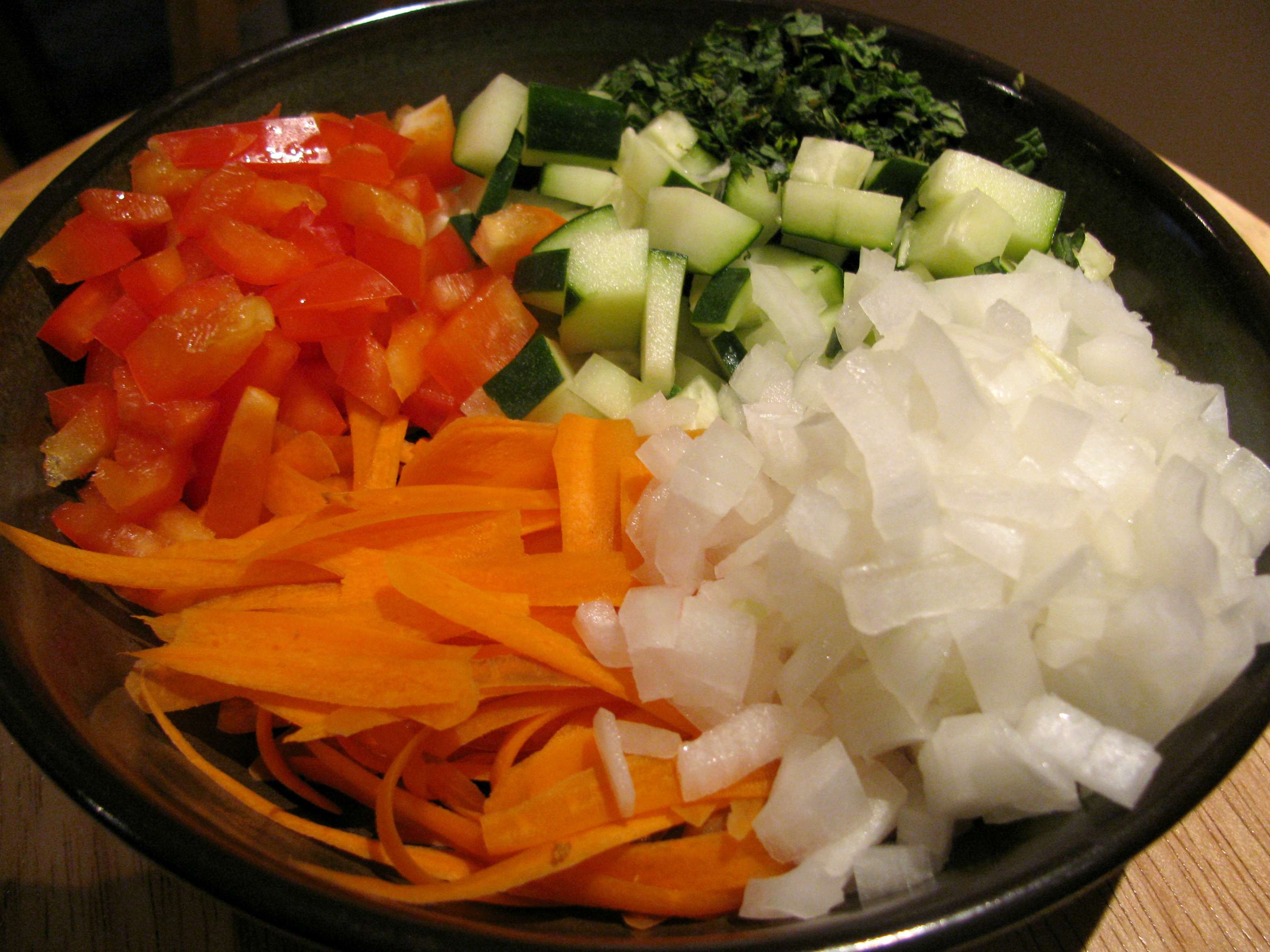 But we must resist the urge to scarf down all the raw veg.  Instead, it all gets tossed into a mixture of ground pork and garlic with a little bit of chopped fresh mint.  You'll also toss in some cooked rice noodles.  While rice vermicelli is best, I have also made do with bean threads, and even with the noodles from a Trader Joe's instant rice noodle soup bowl.  Whatever you use, you might find it helpful to snip the noodles several times with kitchen shears before adding them to the meat and veggie mixture– shorter noodle pieces are easier to stir, and they resist clumping.
Once all the ingredients are incorporated in the pan, you'll stir in a simple mixture of lime juice, soy sauce, and sugar, and toss just enough to coat everything.  Then, finally, you'll put a spoonful of the filling into dainty, buttery leaves of Boston lettuce, and– my favorite part– top each cup with a handful of chopped dry roasted peanuts.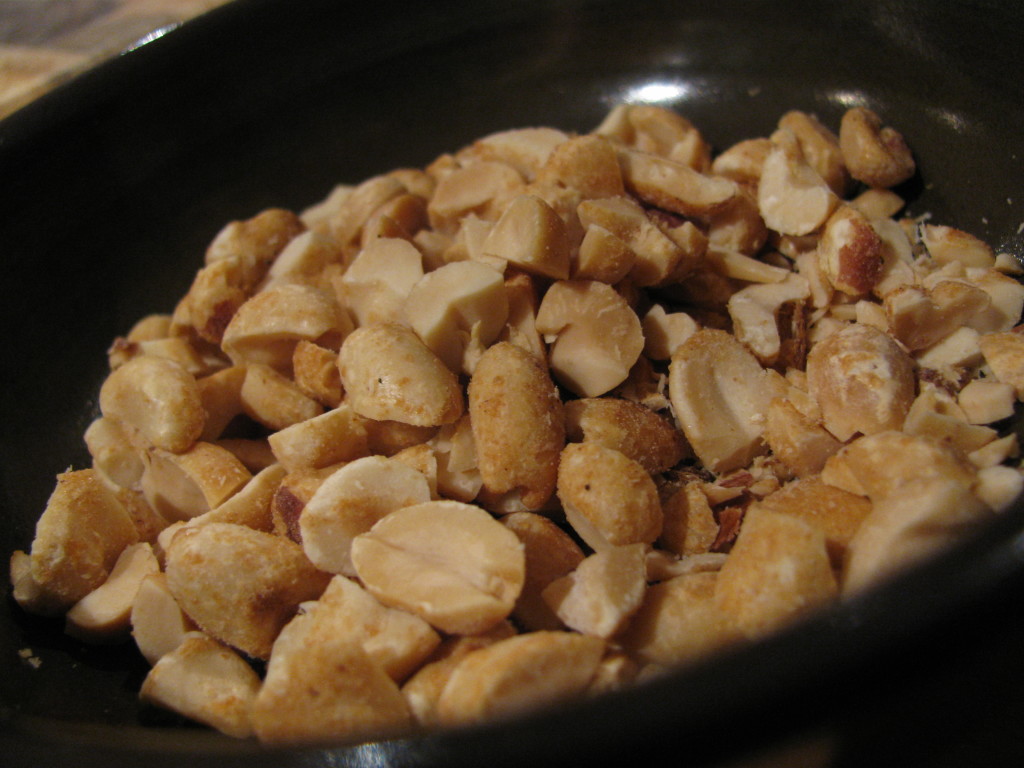 Have we talked about the fact that my hometown claims to be the Peanut Capital of the World?  Peanuts are in my blood.  Nearly every year of my life in Dothan included a trip to the Peanut Festival (and attendance at the Peanut Festival Parade); one of my elementary school classes threw a peanut butter party, at which every student had to bring a peanut butter-themed food to share (that was the first time I ever remember eating until my tummy hurt); a neighboring town houses a monument to the boll weevil, a pest that forced farmers to switch from cotton to peanuts; in college, I wrote a paper about the rich history of peanuts in Alabama.  You get the picture.  I love me some peanuts.  And they add the perfect salty, crunchy note to the lettuce cups.
These completely hit the spot on a hot summer evening following a weekend of heavy eating.  Juicy pork studded with bright, refreshing vegetables, a minty kick, and nary a carb in sight (ok, except for the noodles)?  Yeah, I'll take it.  And look how adorably handheld they are!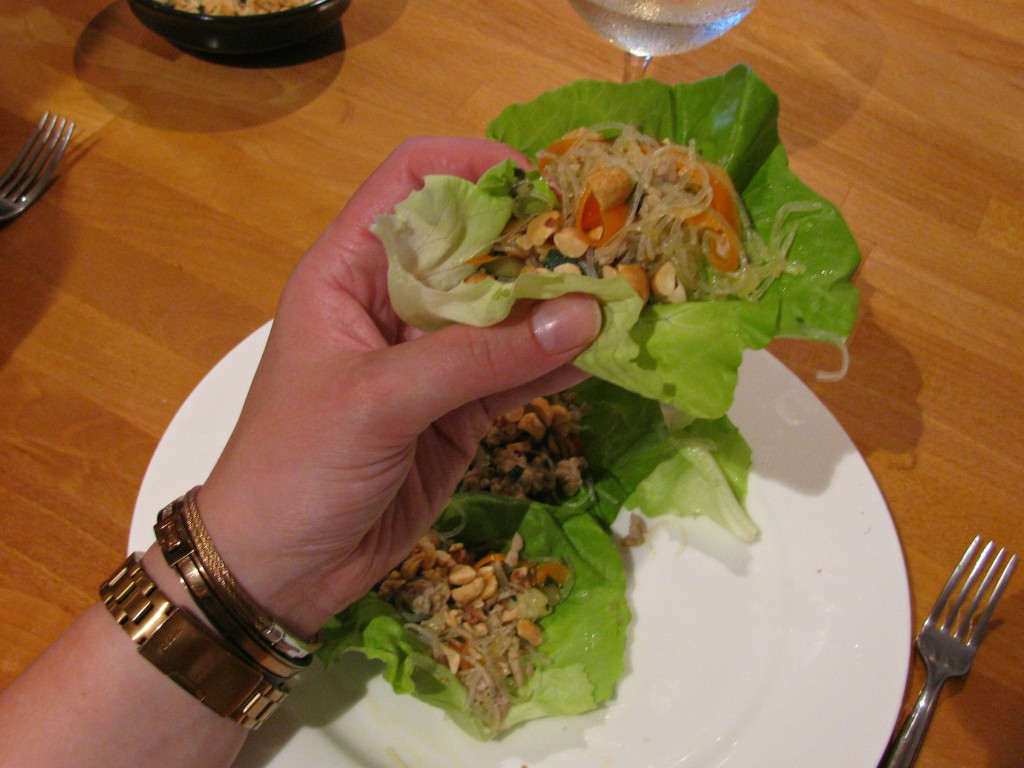 But don't think you're off the hook on the bran thing.  It'll be back for yuh.
Lettuce Cups with Pork, Noodles, and Summer Veggies
adapted from Cooking Light
3 ounces rice vermicelli
14 ounces ground pork
2 large cloves garlic, minced
juice from 1 lime
2 teaspoons sugar
2 teaspoons soy sauce
1/2 cup shredded carrot
1/2 cup chopped cucumber
1/3 cup chopped red bell pepper
1/3 cup chopped onion
3 tablespoons chopped fresh mint
1 head Boston lettuce
1/2 cup chopped dry-roasted peanuts
Cook the rice vermicelli according to package directions; drain, and snip the noodles several times with kitchen shears.  Set aside.  Combine lime juice, sugar, and soy sauce in a small bowl; set aside.
In a large nonstick skillet, cook the pork until it begins to brown, about 3 minutes.  Add the garlic and continue cooking until the pork is fully browned.
Add carrot, cucumber, bell pepper, onion, and mint; cook for about 1 minute, then add the lime juice mixture and toss to coat.
Spoon about 1/4 cup of the pork mixture onto each lettuce leaf; top with a spoonful of roasted peanuts.