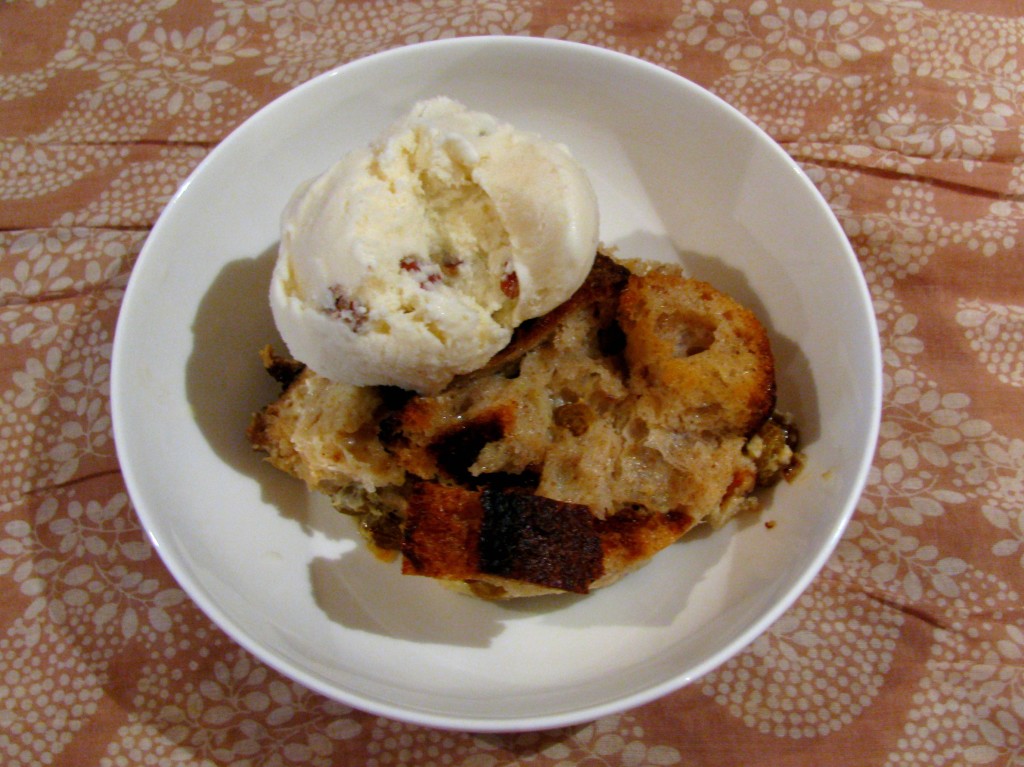 Is it too soon to come back to the blog bearing yet another recipe for ice cream?
I've had my ice cream maker for a little less than three months, and I've been using it on a near-weekly basis.  There's something so satisfying about combining a few simple ingredients, putting them in a machine, and coming back later to find a rich, silky frozen treat.  I can totally understand why there are so many small-scale ice cream producers cropping up all over the country; every time I pull a fresh batch out of the freezer, I have visions of starting an ice creamery, too (though I am sadly coming up short in the creative name department).
My most recent batch was inspired by the Jeni's cookbook, a super fun read whether you're interested in making ice cream or not.  Although I'd been considering making one of her funkier flavors– toasted rice with coconut and black tea, perhaps– I quickly changed my mind when I came across her Cognac ice cream recipe and its subsequent variations.  I was making the ice cream for Alex's return from another week-long singing engagement, and I figured the Bourbon pecan rendition would be right up his alley.
The ice cream is ridiculously good, just like everything else I've made from the Jeni's book.  But Alex and I both agreed after our first taste that it could only be improved by serving it alongside bread pudding.  (But isn't that true for most things?)  So this week's post is two recipes for the price of one.  Lucky us!
Bread pudding is currently making me feel better about impending cold weather.  It's one of my favorite desserts, and just utterly inappropriate for summer– so I am glad, at least, that the temperature drop has allowed me to bring it back into the lineup.  This time around, I decided to use a whole wheat baguette instead of the usual white French or Italian loaf, partly in an effort to be healthy, partly because I already had the baguette on hand, and partly (mainly!) because I liked the idea of a heartier, more flavorful pudding.  I recommend it, as it cuts the sweetness of the pudding significantly; however, if the plain version seems more your speed, any day-old white bread does just fine.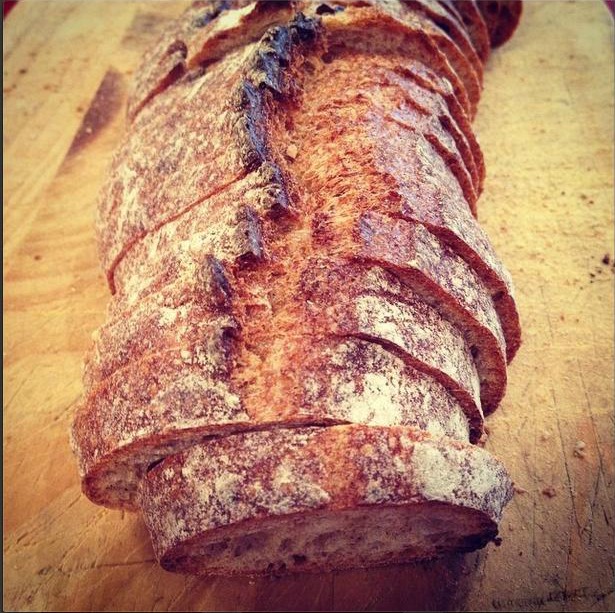 Honestly, cutting up the bread is the most labor-intensive part of making bread pudding.  The rest is super easy—just heat up some milk on the stove and pour it over the bread cubes; while the bread soaks, whisk together some sugar and eggs, and whisk that mixture gradually into the hot milk-bread soup.  But before you  pop it in the oven, you need to put the dish containing your pudding inside another, slightly larger dish filled halfway with hot water.  The purpose of the water bath is twofold: it makes the oven steamy, preventing the pudding from drying out; and it insulates the pudding, preventing the eggs from overheating and separating.  (Hooray for science!  Hooray for me telling you all that like I just knew it off the top of my head, like I didn't just Google it two seconds ago!)
And then there's the ice cream.  Ideally, you should make it a day ahead, just to ensure that it'll be nicely firm by the time you pull bread pudding out of the oven.  However, in a pinch, you could make it first thing and the morning the day you want to serve it, and you'd probably be fine.
Aside from the timing issue, the ice cream is really easy to make, too.  It's a pretty simple process of heating, stirring, and cooling the batter (but with Bourbon this time!), then churning it– but with the extra, oh-so-worthwhile step of making buttered pecans.  The original recipe only called for 3/4 cup of pecans for the whole batch of ice cream, but I say this is nonsense.  We're making two cups.  Simply melt 2 Tablespoons of salted butter (but don't brown it), then toss in 2 cups of pecan halves, sprinkle with some extra salt (you want them nice and salty so they'll contrast with the sweet and smooth ice cream) and roast them on a baking sheet until they're crunchy and a little bit caramelized.  Break them into slightly smaller pieces once they're cool, and toss them in the ice cream for the last few seconds of churning.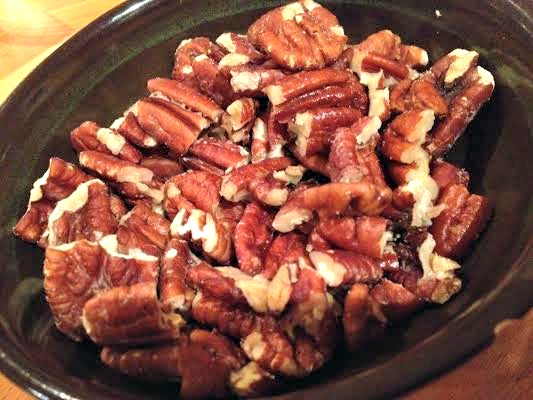 Sidenote: as you likely know, I'm a bit of a butter fiend, so naturally I used some fancy stuff for the pecans.  If you see this butter– or anything resembling this butter– snap it up.  SO delicious.  (Of course, you can use any butter you have on hand and the pecans will still be perfect.)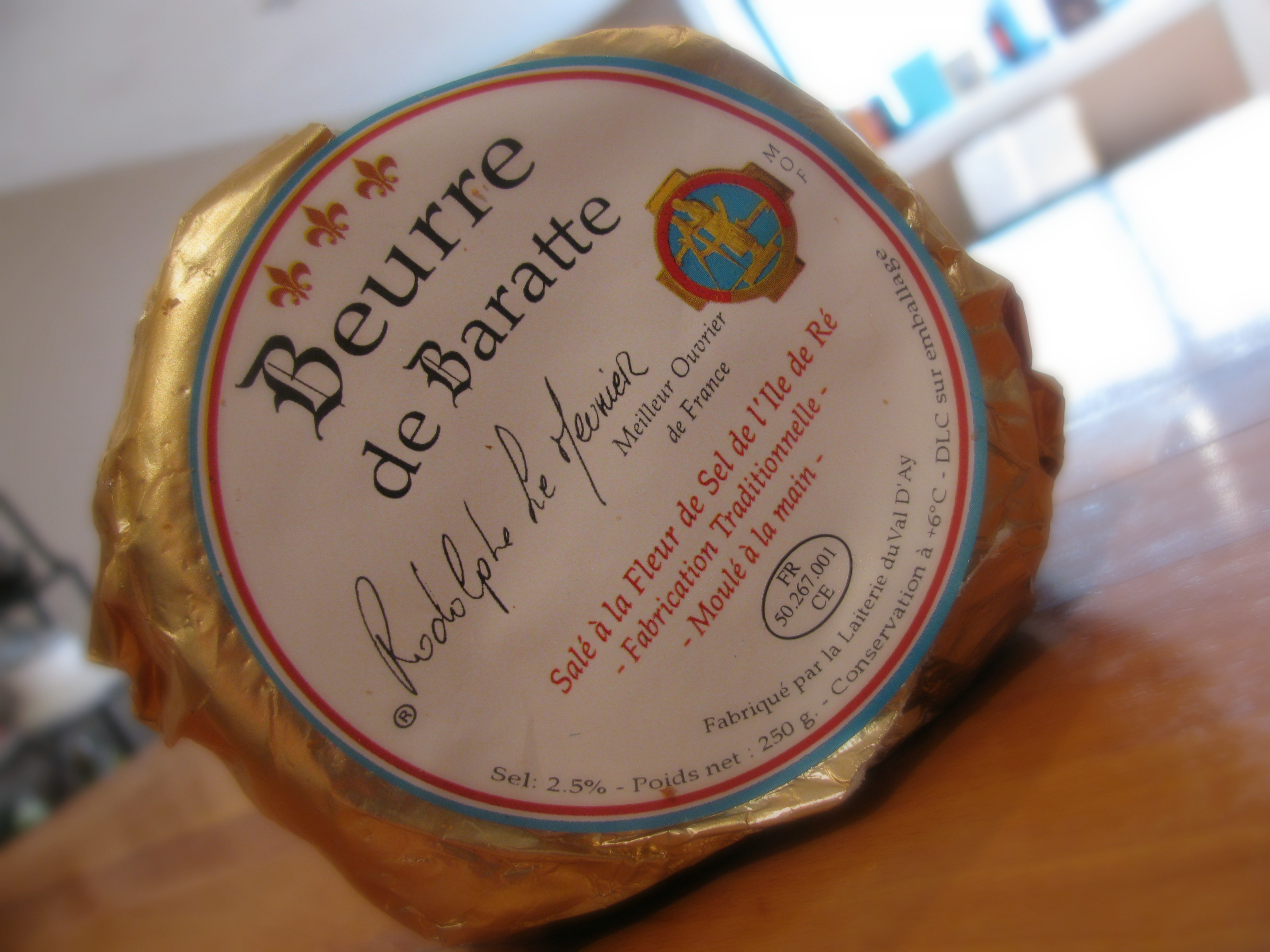 (I'm not even sure I should be telling you I have this– I'm pretty sure that it's technically not supposed to be making it through customs at the moment.)
Once your pudding and your ice cream are both ready, all that's left to do is put them together and dig in.  It's a perfect blend of textures; the pudding is crispy on top and pillowy soft underneath, and the ice cream, which is both cold and strangely warming, thanks to the Bourbon, slowly melts into the pudding, making it even silkier.
The only problem is that now there's half a bread pudding and a quart of Bourbon ice cream in my kitchen, staring me down.  Not the worst problem to have, I suppose.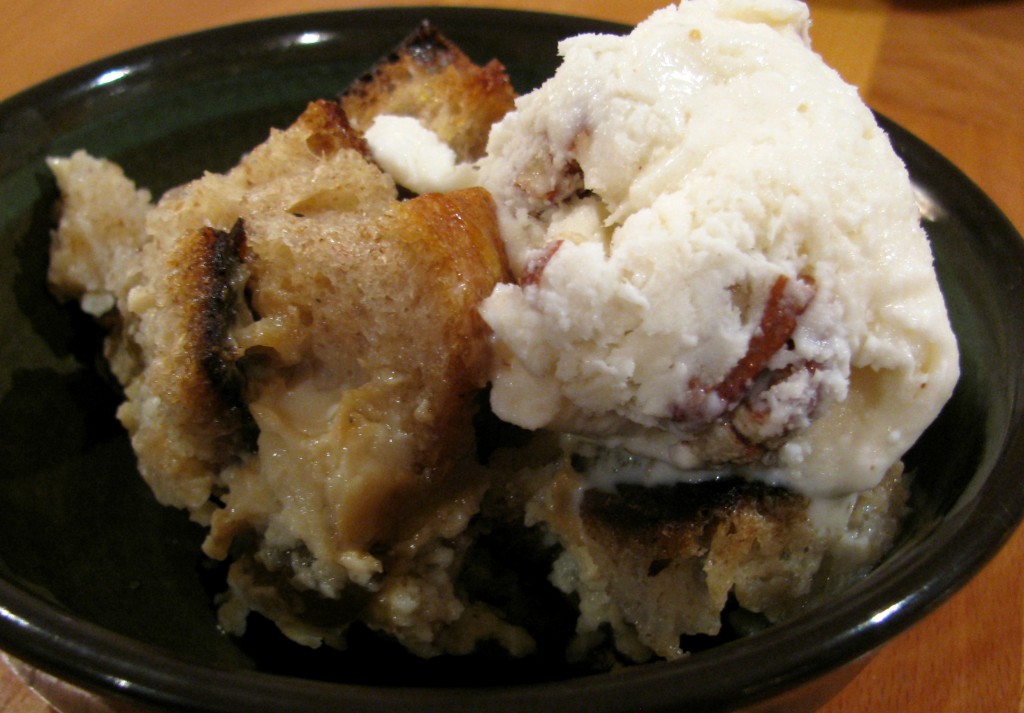 Bread Pudding
adapted from Cooking Light
1 tablespoon butter, softened
2 cups skim milk
4 1/2 cups day old bread, cut into cubes
1 cup sugar
1 teaspoon vanilla extract
2 large egg whites
1 egg
1/2 cup golden raisins
Preheat oven to 350°F.  Spread the butter onto bottom and sides of a square baking dish. Set aside.
Heat milk in a heavy saucepan over medium-high heat until tiny bubbles form around the edge (do not boil). Place bread in a large bowl; pour hot milk over bread.
Combine sugar, vanilla, and eggs in a medium bowl, stirring with a whisk until well blended. Gradually add the egg mixture to milk mixture, stirring constantly with a whisk. Stir in raisins; pour into prepared dish.
Place dish in a roasting pan; add hot water to pan to a depth of 1/2 inch. Bake for 50 minutes or until browned and set.
Knob Creek Pecan Ice Cream
adapted from Jeni's Splendid Ice Creams at Home
2 cups whole milk
1 Tablespoon plus 1 teaspoon corn starch
1 1/4 cups heavy cream
1/2 cup sugar
2 Tablespoons light corn syrup
1/4 cup Knob Creek Bourbon (or your favorite whiskey)
2 cups shelled pecan halves
2 Tablespoons salted butter, melted
1/2 teaspoon salt
Mix two tablespoons of the milk with the cornstarch in a small bowl; whisk until smooth.
Combine the remaining milk, the cream, sugar, and corn syrup in a large saucepan and bring to a rolling boil over medium-high heat.  Boil for four minutes, then remove from the heat.  Slowly whisk in the cornstarch mixture.  Return to the heat and boil for one minute more.  Remove from the heat and stir in the Bourbon.
Carefully pour the ice cream batter into a gallon-sized Ziploc; seal the bag, and submerge in a bowl of ice water.  Chill for about 30 minutes, or until completely cold, adding more ice to the bath as needed.
Meanwhile, make the pecans.  Preheat the oven to 350°F.  Toss the pecans with the melted butter, and spread evenly on a baking sheet; sprinkle with the salt.  Bake for 10 or 15 minutes, stirring once, until nicely toasted.  Let cool completely, and break into smaller pieces.
When the ice cream batter is thoroughly chilled, spin in an ice cream maker according to the manufacturer's directions (keeping in mind that the alcohol lowers the freezing point, and you may have to spin longer than usual).