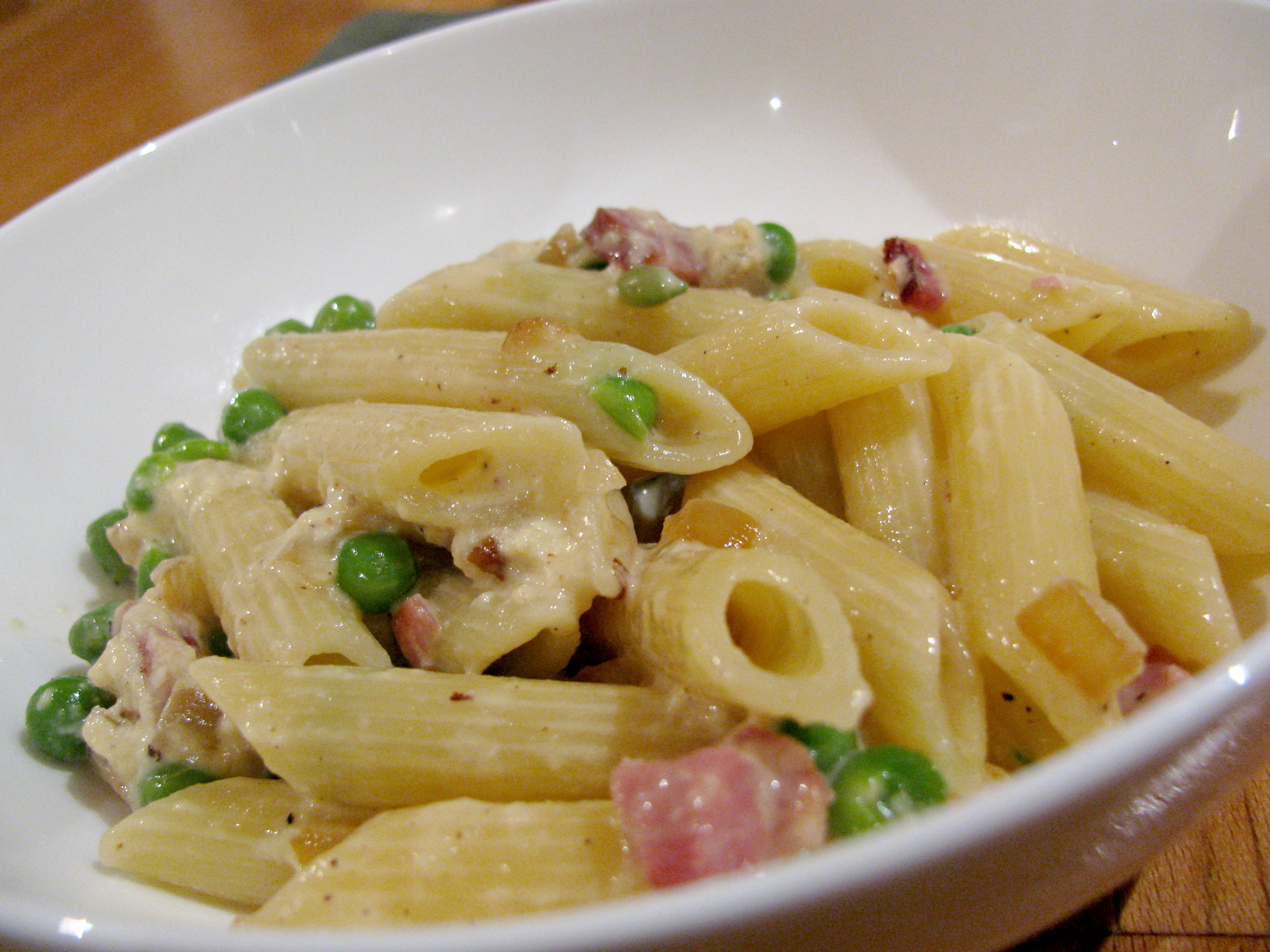 Last week Alex was in Atlanta, singing with Skylark. I've gotten used to these nearly-monthly trips, and I've even found ways to enjoy the extended periods of alone time.  Basically, I use Alex's absences as opportunities to do things that don't appeal to him at all; last week, I binge-watched season 6 of Top Chef (you know, the one that aired in 2009, the one that featured Kevin Gillespie, aka the best season ever); I made one dinner that consisted solely of soup and salad, and another that featured the insanely spicy chicken wings from Bon Chon; I finally finished watching Twin Peaks (anyone else who's seen it, call me– I need to talk it out with someone); and I spent a significant amount of time on the couch, in silence, just reading.  Frankly, the week flew by.
I only got sad one time while Alex was away, and it was the night that he rented a car and drove down to Montgomery to visit his oldest brother, sister-in-law, and nephew.  I haven't seen those guys since our wedding weekend (almost exactly a year ago), which means that said nephew is a whole year older and probably a totally different baby by now.  I found myself wishing I had access to a teleport device so I could hop over and join them for the evening.
Alex and I used to spend a lot of time at Shane and Tiffany's house when we were in college.  Anyone who has lived in a dorm can understand that dorm residents frequently need to just get out and spend some time in a normal setting, and we were fortunate enough to have family members nearby with an open-door policy.  And it certainly didn't hurt that Tiffany had food available nearly every time we showed up.  Chips and guacamole, fresh pancakes, a giant tub of Utz cheez balls— there was always something to munch on.  And if we were ever there for an official dinner, there was a pretty good chance we were eating pasta carbonara.
The appeal of carbonara really isn't hard to explain: pasta, bacon, cheese, and heavy cream– what more could you possibly want out of dinner?  Throwing in browned onions, sweet green peas, and about a pound of black pepper just sweetens the deal.  Savories the deal.  What?  You know what I mean.
I decided to make carbonara for this week's first post-Skylark dinner.  The weather's getting cold in Boston, and it's getting dark earlier and earlier every day.  It was the kind of day that just begged for comfort food– and I was all too happy to oblige.  Red wine on the side?  Don't mind if I do.
Carbonara is ridiculously easy to make.  You can cook all the components while you prepare the pasta.  First, you'll fry a few pieces of bacon in a skillet; when it's browned and medium-crispy, remove it from the skillet, pour off the fat, and then throw in some chopped onion.  The onion picks up a good bit of color from the remaining bacon bits and the fat that clings to the pan, so you'll have to go more by fragrance than by look to determine when the onion is properly softened.  Once the onion bits start to turn translucent, toss in a few cloves of minced garlic (don't put the garlic in at the same time as the onion, though, or it'll burn).  When the garlic is fragrant, turn off the heat and throw in about a cup of frozen green peas.  You're not trying to cook the peas– you're just warming them up so they don't cool down the pasta when you mix everything together.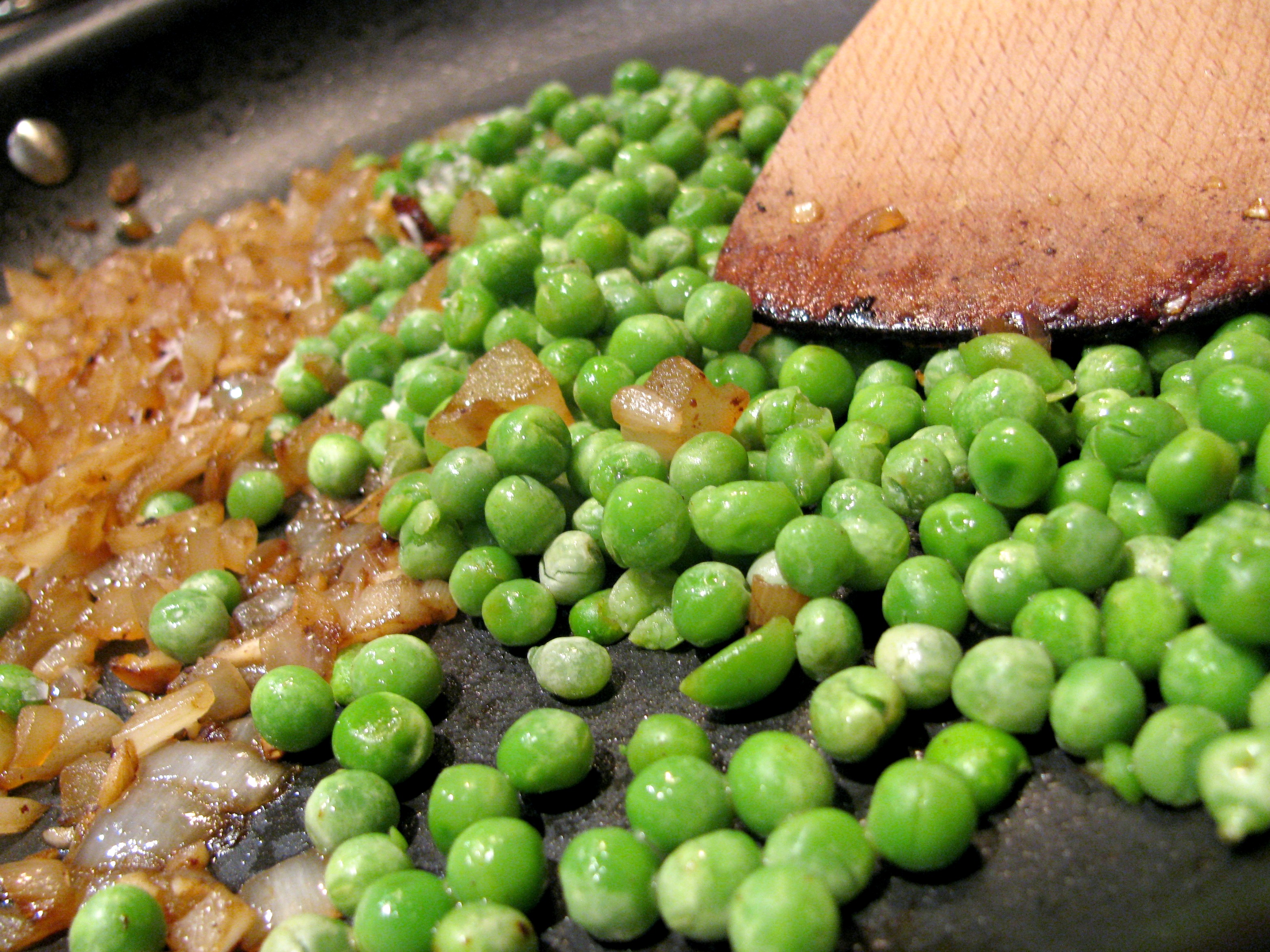 Chop up the bacon and throw it in the skillet, too.  The residual heat from the pan will keep it warm while the pasta finishes cooking.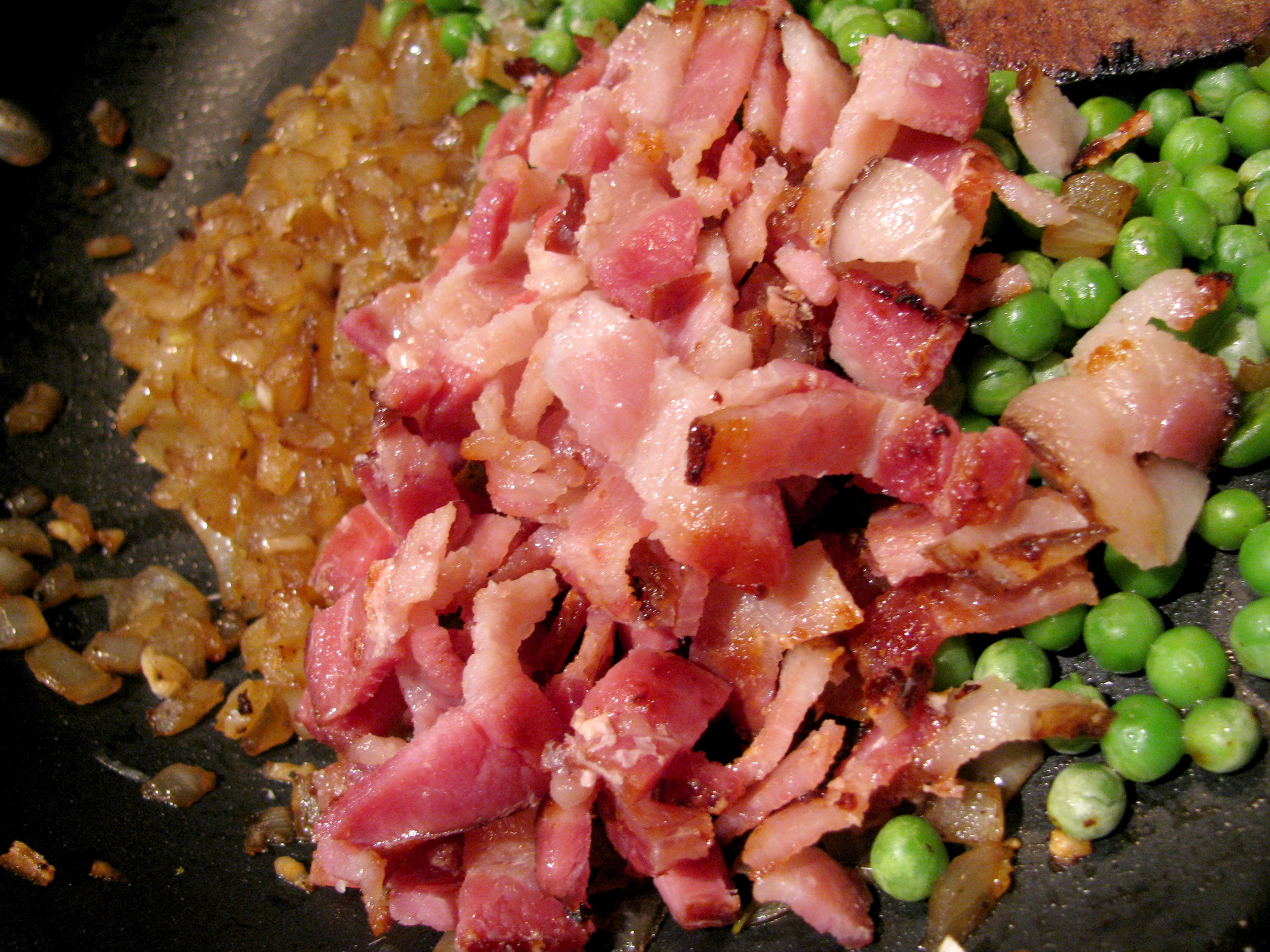 When the pasta is done, drain it thoroughly and transfer it back to the pot in which you cooked it.  Pour a mixture of eggs, cream, Parmigiano-Reggiano, salt and pepper–which you'll also have had time to prepare while the pasta cooks– into the warm pasta while stirring constantly with a wooden spoon, enlisting an extra pair of hands if necessary.  About halfway through, stop pouring in the liquid mixture and dump in the vegetables and bacon, then proceed until all the liquid is mixed in.
At this point, I like to put the pot back over medium-low heat for just a minute; since the egg mixture is room temperature at best, it tends to cool down the whole dish, and reheating everything gently makes for a more satisfying dinner.  Just make sure you're still stirring the pasta constantly while it reheats, otherwise you might end up with some cooked egg bits floating about.
And then, once everything is heated to your desired temperature and the sauce is silky, divvy it into bowls and top with an ungodly amount of fresh ground pepper.  Seriously.  I counted the number of times I twisted the pepper mill, and even after one hundred grinds of pepper into the eggs and cheese– no kidding– I still doused the final bowls with at least an extra twenty grinds.  Is that normal?  Is my pepper mill on the fritz?  Or am I just a pepper belly of the highest degree?
Hey!  You should make carbonara for dinner this week.  Invite a friend over.  Or eat it all for yourself.  Either way, it'll make your day.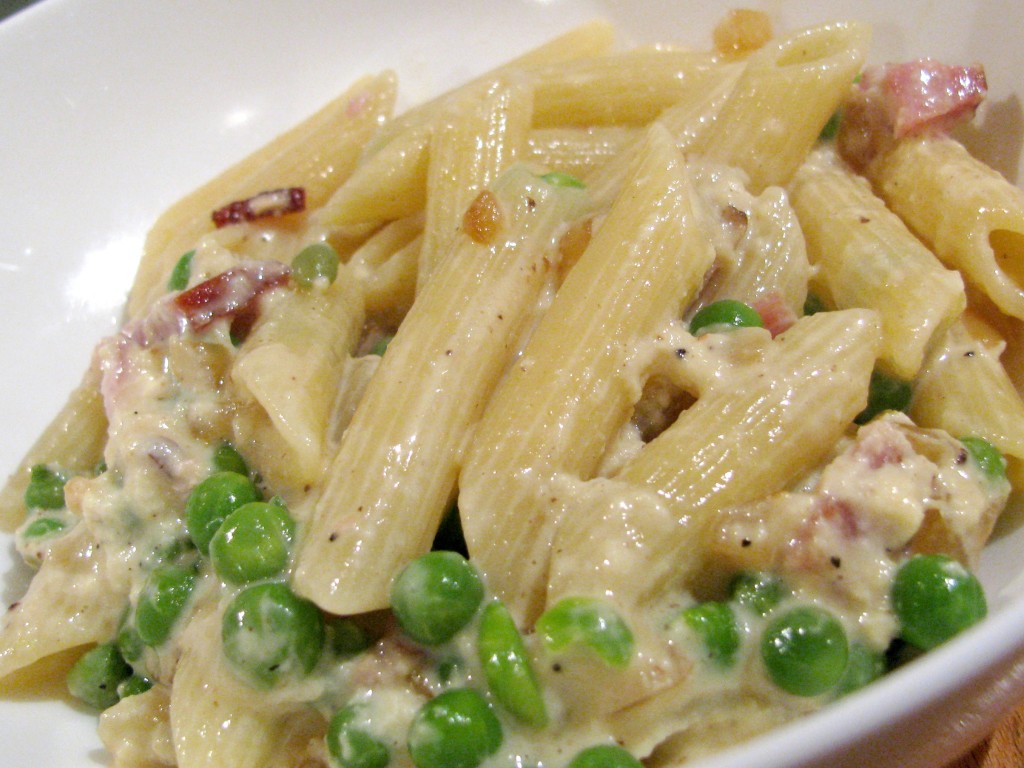 Pasta Carbonara
adapted from The Pioneer Woman
1 16-oz package penne rigate, or your favorite pasta
3 slices bacon (increase to 5 or six if your bacon is sliced thin)
1/2 medium yellow onion, diced
4 cloves garlic, minced
3 whole eggs
1 cup grated Parmigiano-Reggiano
3/4 cups heavy cream
1/2 teaspoon salt
1 teaspoon black pepper, plus more
1 cup frozen green peas
Cook pasta according to package directions.
While the pasta is cooking, fry the bacon until moderately crisp. Remove from the pan and drain on paper towels. Pour off the bacon grease, return the pan to the stove over medium-low heat, and add onion. Cook until golden brown; add garlic, reduce heat, and cook for a few minutes more, or until garlic is softened and fragrant.  Turn off heat, and add peas to the warm skillet.
In a bowl, mix together eggs, Parmesan, cream, and salt and pepper until smooth.
When the pasta is done, drain thoroughly and return to the pot. While the pasta is still really hot, slowly drizzle in the egg mixture, stirring the pasta the whole time, and stopping halfway through to add the bacon and vegetables. The sauce will become thick and should coat the pasta.
Serve immediately with generous amounts of fresh ground pepper.