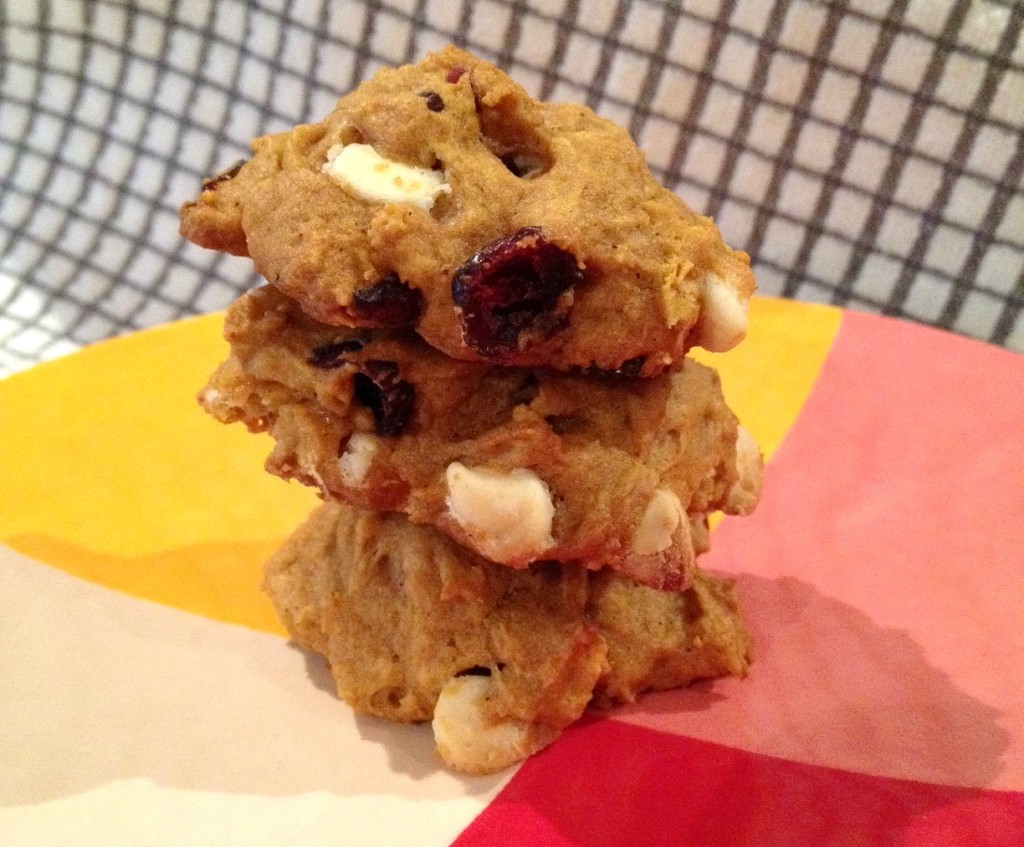 I've noticed a trend in social media over the last few weeks: a total backlash against fall in general and pumpkin-flavored foodstuffs in particular.  I love pumpkin, but I can understand this.  I remember that during my freshman year of college (2005, holy cow), the Starbucks pumpkin spice latte was basically the only pumpkin-flavored product on the market, and I wolfed those lattes down with reckless abandon.  However, over the course of a decade or so, other food producers have taken note of the success of the PSL (as Starbucks now abbreviates the pumpkin spice latte, annoyingly enough) and churned out every pumpkin-flavored product that mortal brains can concoct, from trail mix to coffee to beer to Greek yogurt (gross).  And if there's one thing people hate, it's being inundated with things, even things they like.  Maybe especially things they like.  Having a beloved food thrown repeatedly in your face flares up the "I liked this before it was trendy" feeling like nothing else can.
But overhyped or not, pumpkin baked goods are without a doubt one of my favorite aspects of cooler weather.  I'm on a personal mission this year to embrace the cold—winter won't be any warmer or any shorter if I resist it, after all—so I am going to revel in all my pumpkin pastries for as long as I can, even if the internet says that makes me "basic."
Speaking of which, if you'll allow me the tangent: this whole trend of calling people "basic" needs to die, and now.  For the uninitiated: "basic" refers to a female who is supposedly unoriginal and boring.  There are some particular fashion choices and turns of phrase that warrant the label– e.g. leggings, boots, and scarves; "I can't even," etc– and, at this point, the pumpkin spice latte (and pretty much anything from Starbucks) is completely synonymous with "basic."  I get why these things are easy and amusing to make fun of, but 1) it's lame to make fun of people based on what they wear and how they take their coffee, and 2) it basically sets up a lose-lose situation for us girls.  If you step out in riding boots and a fall scarf and order your coffee from Starbucks, you're basic, but if you wear unusual clothes and order black coffee from a independent cafe, you're a pretentious hipster.  I don't know about you, but I don't feel like spending precious energy scrutinizing my every decision to make sure it stands up to some ridiculously vague standard of fashionability, so how about we all just enjoy the things we enjoy– especially things as simple as our morning beverage and footwear choices– and stop ragging on people who enjoy different things.  Sound like a plan?
Anyway, these cookies are full of pumpkin and other treats, and you should definitely make them at your earliest opportunity.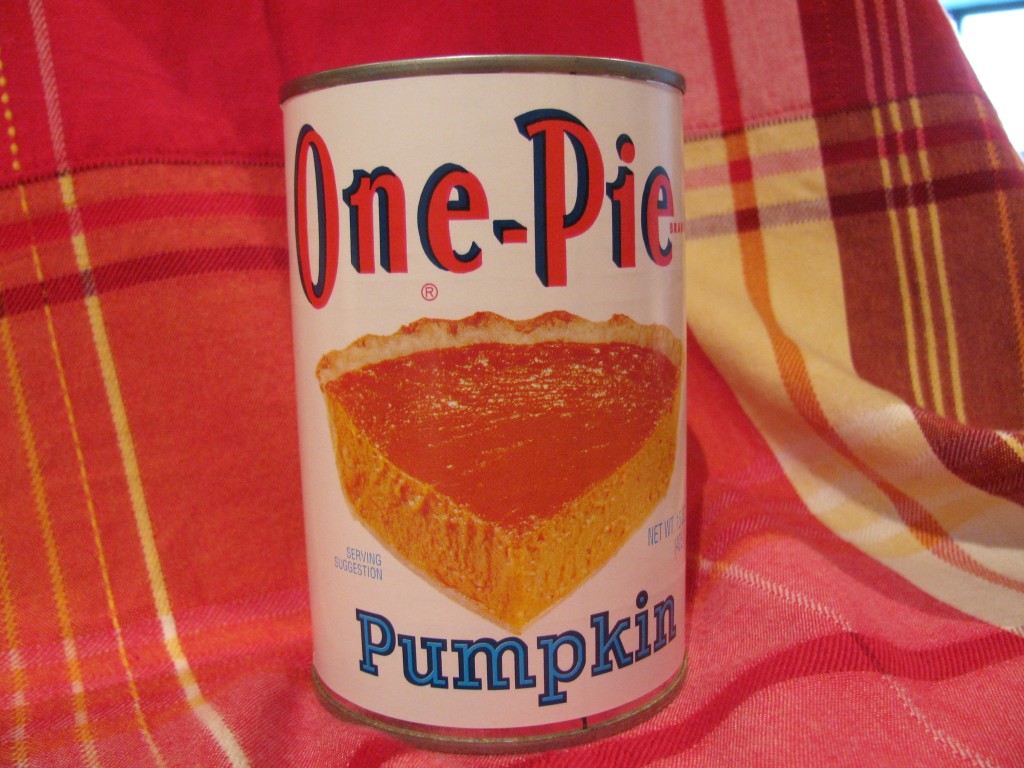 (I always buy the One-Pie pumpkin puree solely because of the nifty vintage-looking label.)
One of the best things about these cookies is that you don't have to worry about softening the butter ahead of time.  There are few things worse when you're getting ready to make cookies than realizing that your butter is still hanging out in the fridge.  For these cookies, you melt the butter in a saucepan along with the pumpkin and spices, and then mix all the ingredients together by hand.  It's such an easy recipe, and yet the results are so satisfying.  The cookies are somewhat cakey, sort of like a cross between a muffin top and a scone, and the addition of white chocolate chips mimics the frosting you might find on a pumpkin cake.  Dried cranberries add a tart edge, which keeps the white chocolate from being overwhelmingly sweet.
And I dare anyone who thinks pumpkin is stupid to walk into my kitchen while these cookies are baking and turn up their nose.  If the smell of warm cinnamon and sugar wafting out of the oven doesn't soften your heart, then I don't know what to tell you.  But then again, if that does nothing for you, well, you're probably not reading this blog anyway.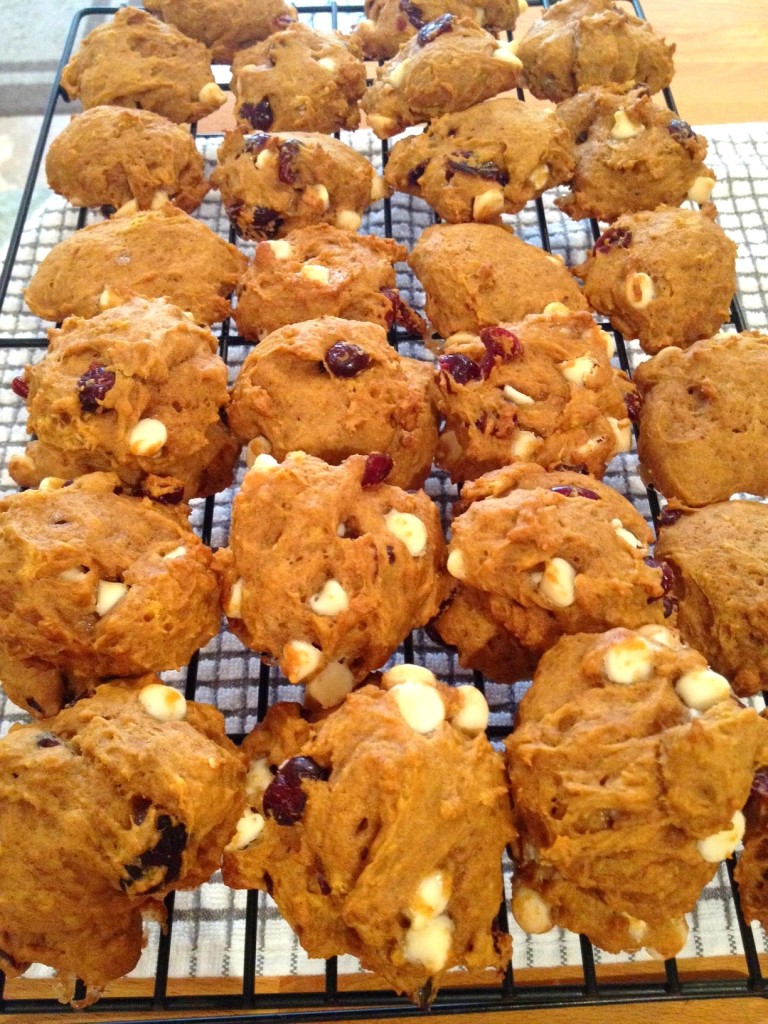 Pumpkin Cranberry White Chocolate Cookies
adapted from Homemade Decadence
1 cup canned pumpkin (if you feel like using homemade puree, do it!)
1 stick unsalted butter
1 teaspoon ground cinnamon
1/2 teaspoon ground ginger
1/4 teaspoon freshly grated nutmeg
1/4 teaspoon ground cloves
1/4 teaspoon ground cardamom
2 cups all-purpose flour
1 teaspoon baking powder
1 teaspoon baking soda
1/2 teaspoon salt
2 large eggs
1 cup packed brown sugar
1 teaspoon vanilla extract
1 cup dried cranberries
1 cup white chocolate chips
Put a rack in the upper third of the oven; preheat to 325°F.  Line a baking sheet with parchment paper.
In a medium saucepan over medium heat, combine the pumpkin, butter, and spices (cinnamon through cardamom) and heat until the butter is melted and the mixture is warmed through.  Remove from the heat and cool slightly.
In a large bowl, combine flour, baking powder, baking soda, and salt.
When the pumpkin mixture has cooled to about room temperature, stir in the eggs, sugar, and vanilla.  Pour pumpkin mixture into flour mixture and mix well with a spatula; add cranberries and white chocolate and stir to combine.
Spoon the cookie dough onto prepared baking sheet, using about 2 tablespoonfuls of dough per cookie (about the size of a ping-pong ball).  Bake for about 15 minutes, or until the cookies just start to turn golden on the edges.  Let cool on the baking sheets for about five minutes, then transfer to wire racks to cool completely.