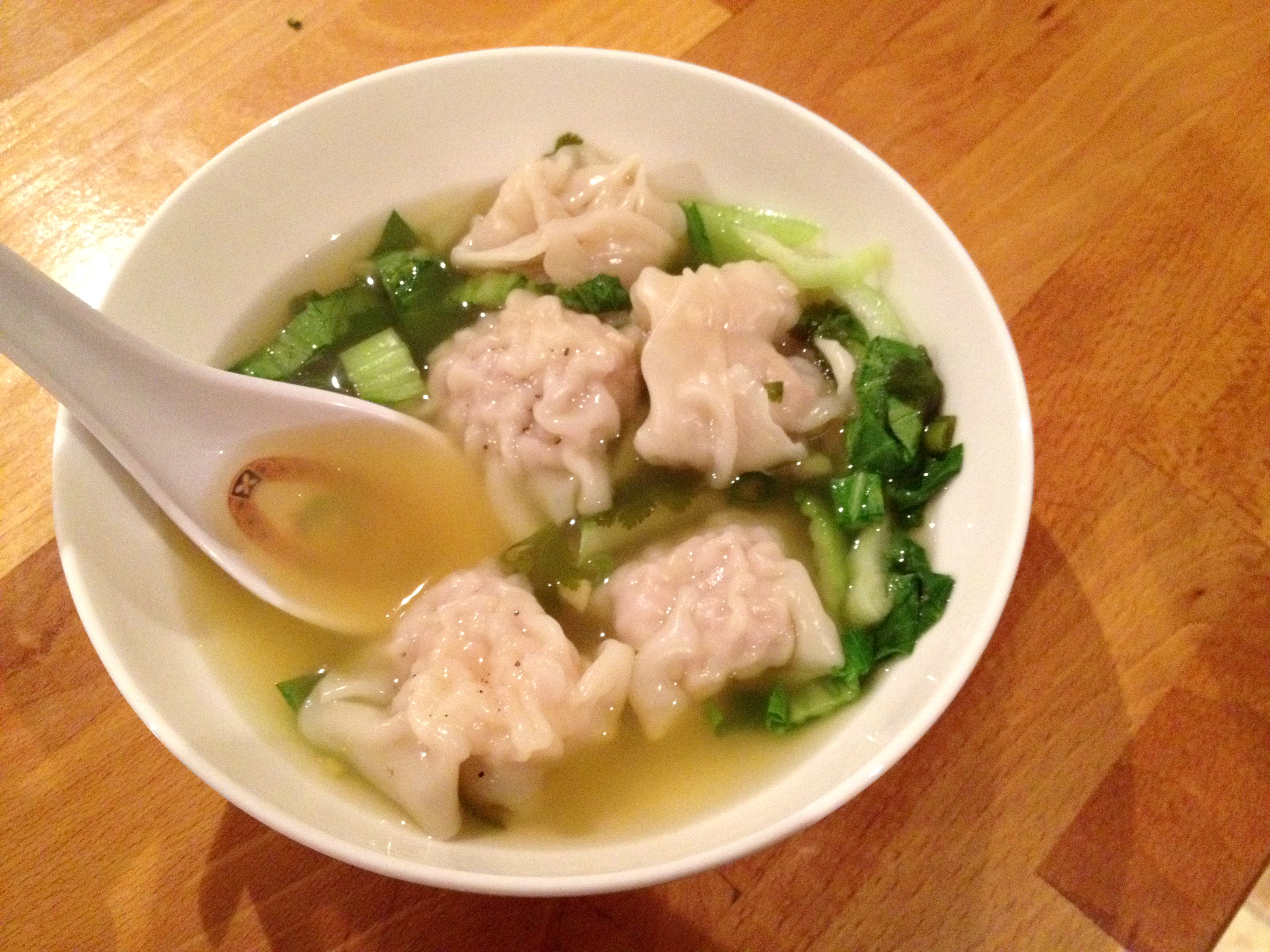 I've been watching a lot of Top Chef lately.  Not the most recent season, mind you (so no spoilers, please!)– I basically quit watching after season 6 and am just now going back to watch the rest on Hulu.  On one hand, watching Top Chef reminds me of all the reasons I don't want to cook professionally (insane hours, crazy pressure, the fact that I don't know what "brunoise" means).  On the other, Top Chef is always inspiring; it makes me especially proud of the very few chef-y things I can do, and it makes me want to jump in the kitchen and try new things.
I also enjoy learning chef lingo from the show's contestants.  The phrase I've heard tossed around most often lately is "in the weeds," which as far as I can tell, means some combination of "I'm falling behind schedule/nothing's going right with this dish/I'm desperately trying to get it done."  I'm so glad I learned this term, because that means I can tell you that lately, this blog and I have been in the weeds.  I can't even tell you how many recipes I've botched in the last few weeks (including sugar cookies, which you might think are a snap to make– but no), or how many times I took pictures of the whole cooking process and forgot to photograph the finished product.  And then, the cherry on top: my good camera is on the fritz, which is both a fact and an apology for the low quality of the photos in this post.
It's fitting, I suppose, that this post is about wonton soup.  Wonton soup is my ultimate comfort food.  It's what I want when I'm sick, it's what I want when it's slushy and freezing outside, and as I learned this week, it's also what I want when I'm frustrated.  It's a little time consuming to make, but it's easy, and it makes an enormous batch that will feed you for about a week.  That means you get to take at least one of the next few nights off from dinner preparation.  Here's how to do it.
First, get your broth going.  Making broth from scratch is not one of the aforementioned chef-y things I know how to do, so I start with boxed broth and dress it up with sliced scallions, a squeeze of lime juice, and a drizzle of sesame oil.  Let it simmer while you make the dumplings.
You'll prepare a quick filling that consists of ground pork, finely chopped raw shrimp, some minced ginger and garlic, and a few other ingredients (not pictured, because raw ground meat just ain't that pretty).  And then comes the fun part: assembly!
Lay a wonton wrapper on a cutting board, and have a bowl of water nearby.  Spoon about a teaspoonful of filling in the center of the wrapper, then dip your finger in the water bowl and wet the border of the wrapper.  Fold the wrapper in half diagonally to make a triangle shape, and press the edges of the wrapper together.  Next, wet one of the bottom corners of your wonton triangle, and press the two bottom corners together.  It'll look like this: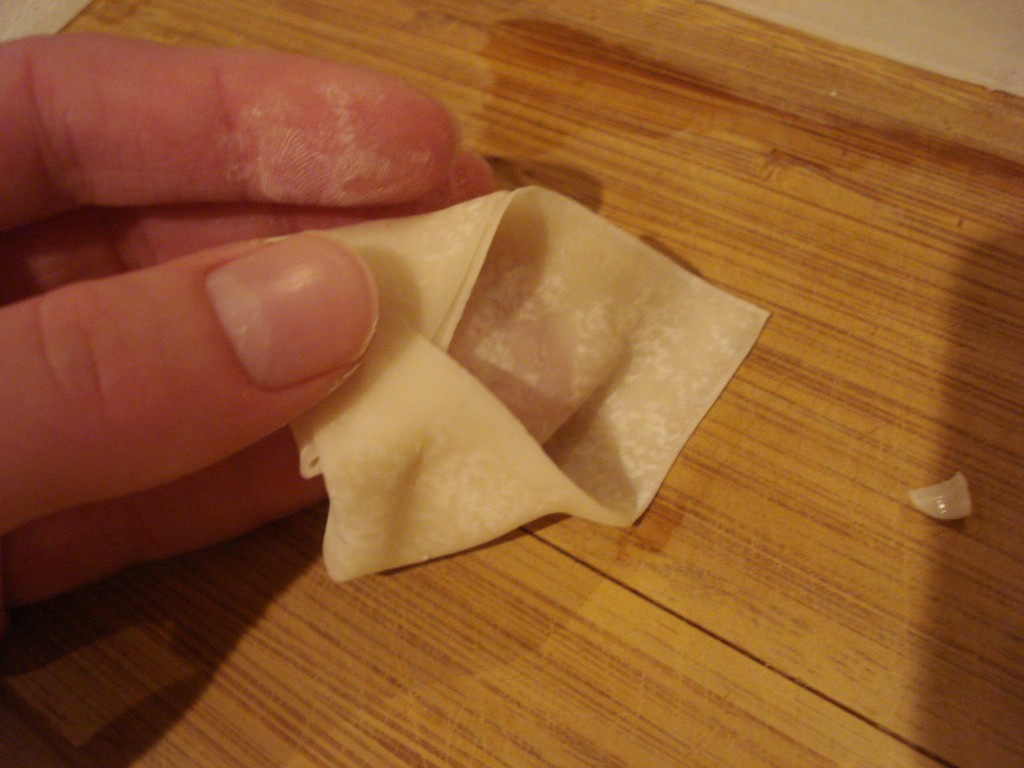 You can leave the wonton as-is at this point, but I like to fold the top corner down as well, a-like so: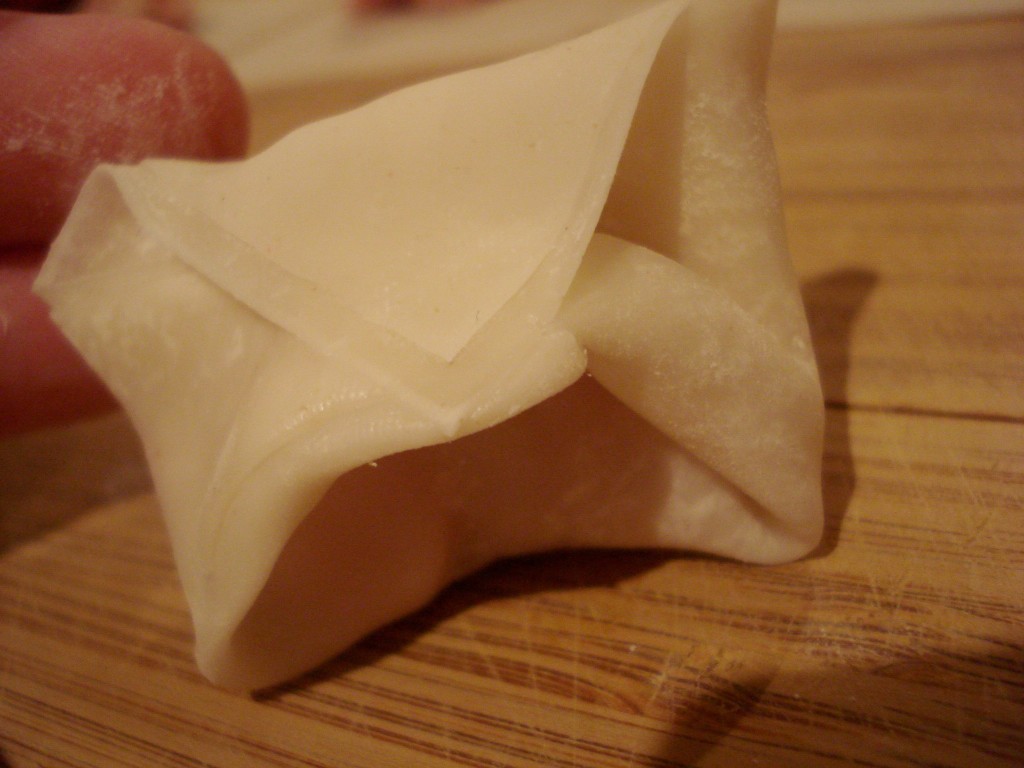 So, a fair warning: this recipe makes a lot of wontons.  Like, sixty wontons, minimum.  If you're not the type of person who enjoys repetitive tasks, definitely get a friend to help you make them.  I happen to have a certain gift for repetitive tasks; I find them relaxing and meditative.  That gift has served me well in my professional life.  Whether I'm folding an entire wall of men's T-shirts or breaking down a 20-pound slab of Gruyere into uniform pieces, I always find my hands doing the work and my mind going into a Zen-like state of reflection.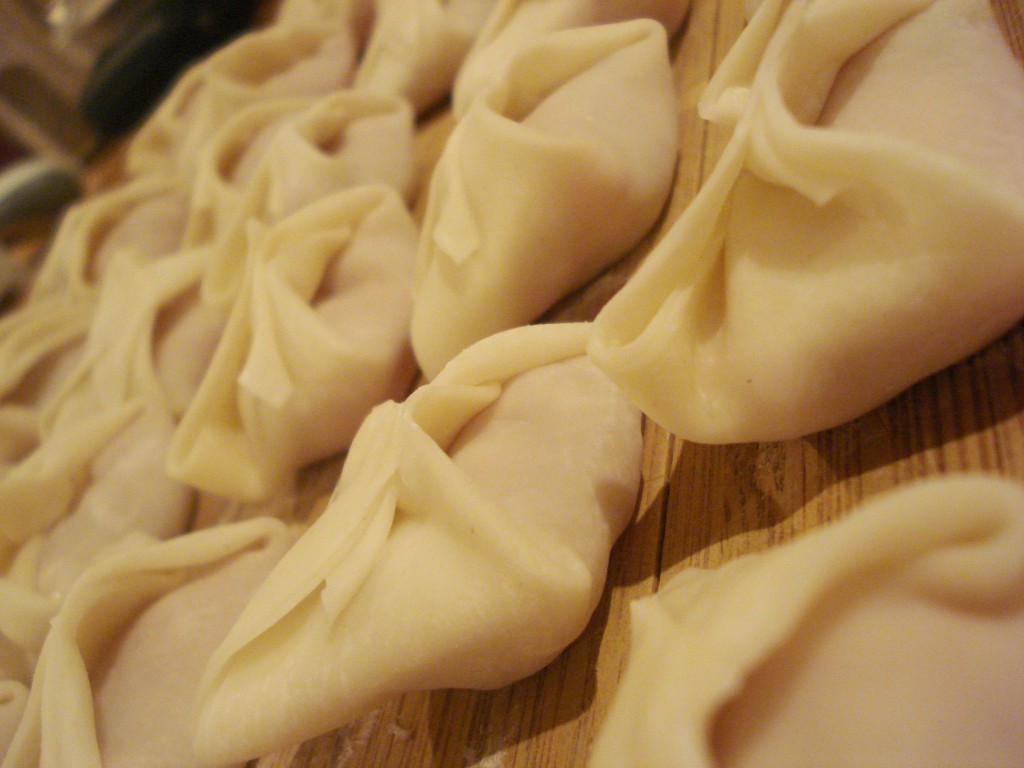 Once all your wontons are assembled (or, once you've made as many as you can stand and have stashed the remaining filling and extra wrappers in the fridge), add the dumplings to the simmering broth.  Also, throw in some baby bok choy, or if you can't find the baby ones, regular-sized bok choy chopped into bite-sized pieces.  Let it all simmer away for 10 minutes (the wonton wrappers will adhere to the filling and start to look deliciously brainy), then cut a wonton in half to check for doneness.  Simmer a bit longer if the filling is undercooked.
When the wontons are done, fill up a nice big bowl and, if you feel like it, top with more sliced scallions, chopped cilantro, and another squeeze of lime.  And then let the soup wash all your troubles away.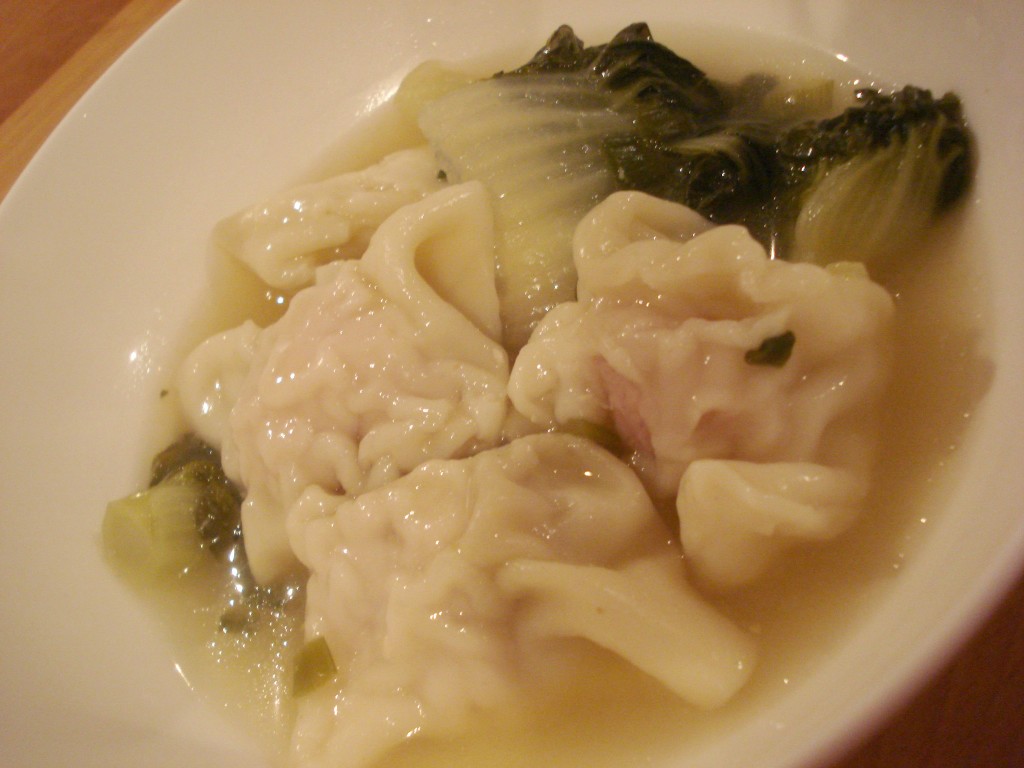 Back soon with more non-botched recipes (I hope)!
Wonton Soup
adapted from Joylicious (This blog post is totally adorable.  Go read it!)
for the broth
6 cups chicken stock
1/2 teaspoon ground pepper
1 teaspoon sesame oil
one bunch scallions, white parts only, sliced
one lime wedge
for the wontons
one-half pound shrimp, shelled and chopped fine
about 14 oz ground pork
1/2 egg white
1 tablespoon corn starch
1 teaspoon sesame oil
1/4 t salt
1 tablespoon rice wine
1 teaspoon ginger, minced
1 teaspoon sugar
1 package wonton wrappers
15-20 baby bok choy, stems trimmed, or 1 bunch regular bok choy, cut into bite-sized pieces
for garnish
lime wedges
1 bunch scallions, green parts only, sliced
chopped cilantro
sesame oil
In a medium soup pot over medium-high heat, simmer chicken stock with pepper, sesame oil, green onions, and the juice from one lime wedge.
Meanwhile, assemble the dumplings. Combine all filling ingredients (shrimp through sugar) in a bowl, stirring well with a fork to mix.  Spoon the filling by the teaspoonful into the center of the wonton wrappers.  Moisten the edges of each wonton wrapper, fold in half diagonally, and press edges together to form a triangle-shaped dumpling.  Moisten one of the bottom corners of the wonton triangle, and bring the two bottom corners together, pressing to seal.  Moisten the top corner, and press it into the joined bottom corners.
When the dumplings are assembled, simmer them in the prepared broth for 10 minutes; add the bok choy to the broth along with the wontons.  After 10 minutes, test a wonton for doneness, adding extra cooking time if necessary.  Serve soup with lime wedges, chopped scallions, cilantro, and a drizzle of sesame oil.