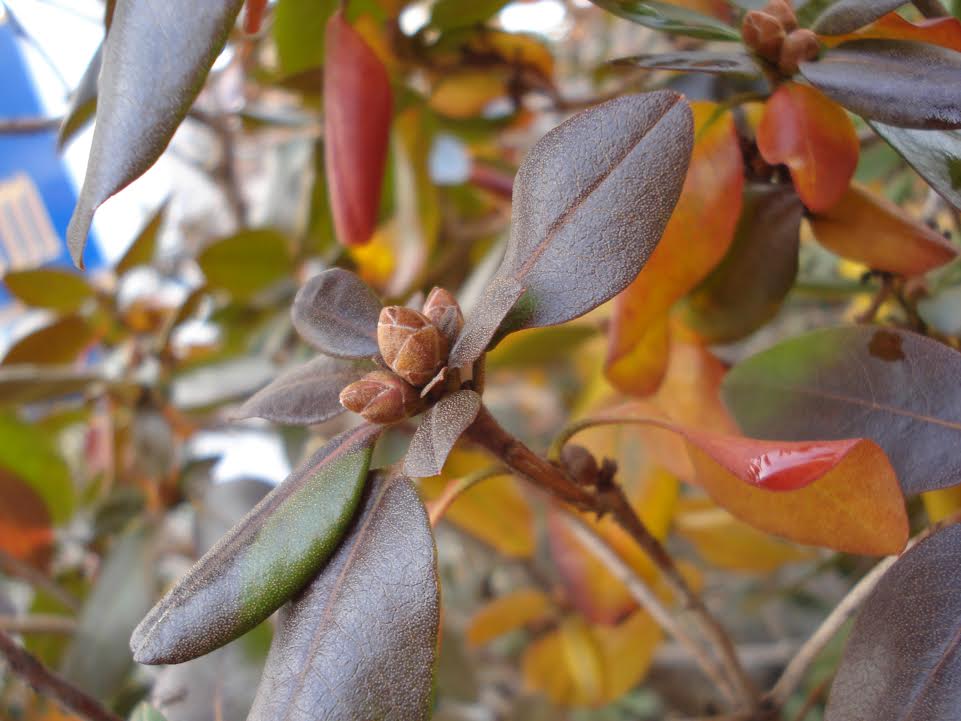 Well, hello there.  As I mentioned last week, my good camera is out of commission.  For the last little while, I've been relying on the camera I've had since college, a pocket-sized Sony Cybershot that has definitely seen better days, thanks in part to the fact that it lived in my purse for the better part of five years.  As I was clearing out space on the tiny camera's memory card to make room for an onslaught of new blog photos, I ran across the shot above.  I don't remember when or where it was taken, but I'm glad I saw fit to save it.  It could easily have been taken in the last few days in Boston, when the sky has been steely gray, but there are still small bits of color on the trees here and there.
This is a busy season for everyone, but especially for those who work in retail.  Whether you're selling clothes or groceries or something else entirely, you are absolutely going to be up to your elbows in customers for the entire month of December.  It's a fact of life, and in many ways, it's a good thing; more customers = more opportunities to show your stuff, more opportunities to hone your craft.  The only bad thing is that all that busy-ness at work reduces the energy I have to devote to non-work pursuits, including blogging, unfortunately.
So today, instead of showing you a new recipe, I'm playing along with a project started by The Shortbread, whose aim is to host food conversations among people who are not food writers.  Mind you, The Shortbread has not asked me to respond to its questionnaire, but when someone publicly starts a culinary discussion, I can't help but respond.  Let's go!
Name: Jesi Dunaway Nishibun
Date / Time / Your location: December 9, 2014; 9:22pm; the right side of a red couch in my apartment in Allston, MA
What is the last thing you ate? A heaping bowl of spaghetti and meatballs, which Alex made for me. 
What is the most interesting item in your fridge or freezer right now? Probably the most interesting thing is the vast quantity of condiment jars, but if I had to pick a single item, I'd probably choose a jar of everything bagel mustard, aptly titled Deli Dirt, from Green Mountain Mustard.
Tell me about a food that evokes nostalgia for a certain time or place for you. Thick-sliced, garden-fresh summer tomatoes sprinkled with salt and pepper will always and forever remind me of my Grandmother's kitchen table.
Talk about your favorite restaurant in your home town. Eating out is practically a sport in Dothan, Alabama, but the majority of our restaurants are chains.  My family and I used to joke (in a "just kidding… but seriously" kind of way) that it was a waste of time to eat out, since we ate so well at home.  However, my favorite restaurant for a long time was River Nile, a very cutesy sandwich shop/bakery/coffee house that started out in an adorably rustic space in our tiny downtown.  I loved River Nile so much that I worked for them between my sophomore and junior years of college (at that time, they were housed in a building right next door to my dad's workplace, so I got to see him fairly often); since my turf, the hostess stand, was right beside the bakery case, I got to eat all the raspberry-white chocolate scones that "accidentally" broke.  I'm having a hard time figuring out whether they're still in business.
What is the best meal you've had while traveling? A few years ago, Alex spent a summer in Portland, Maine, singing with a young artist program.  When I went to visit, he took me to Emilitsa, an upscale Greek restaurant, where I had a meal I still dream about. It started with a plate of housemade hummus (usually I can take or leave hummus, but this was incredible), which was followed by the best lamb I've ever tasted.  But the coup de grâce was a cheesecake made from sheep's milk yogurt, topped with cherry compote and a sheet of doily-like crystallized sugar.  Actually, can we go there right now?
What is your favorite item in your kitchen – this could be a cooking tool or something entirely non-food related. Probably my stack of mismatched salad plates.
What is your favorite image of food from a movie or book? Without question: the scene from Hook in which Peter finally plays make-believe with the lost boys.  While they scarf down an invisible feast, Peter scoops up a wad of imaginary food and flicks it at Rufio, and suddenly the table is filled with beautiful, delicious food.  I remember being simultaneously disgusted and intrigued by all the bowls of rainbow colored goop.
Describe your ideal sandwich. The Farmer's Lunch from City Feed in Jamaica Plain: a baguette stuffed with mayo, whole-grain mustard, pickled green tomato, Granny Smith apple slices, sharp cheddar, and red romaine.
What makes for great barbecue?  It's probably blasphemous to ignore the meat entirely, but for me, it's all about perfect baked beans– with ample quantities of brown sugar and molasses.
What do you like to eat when the weather is hottest? Joe's carnitas and sangria.
What do you like to eat when it is freezing cold outside? A big bowl of tomato soup and a simple salad with Dijon vinaigrette, both topped with homemade croutons.
What can you cook really well? How did you learn this dish? Describe the process. I can make a delicious, velvety butternut squash, sweet potato, and/or carrot soup with my eyes closed.  I learned it because I was trying to replicate a restaurant favorite, and I made it over and over and over in my first apartment in Jamaica Plain, often making use of whatever ingredients I happened to have on hand.
What would you like to be able to cook well? Meat.  My current title is "queen of the sides," which suits me fine, but I'd love to be able to turn out a great steak, too.
What is the best meal you've eaten for under five dollars? A pork bahn mi with sliced jalapeños from New Saigon Sandwich in Boston's Chinatown.
What has been your most satisfying food splurge? Room service breakfast on the first morning of my honeymoon with Alex.  It wasn't so much the price of the food that made it a splurge, but the sheer decadence of having food delivered right to our door, which we then ate in our bathrobes.
Tell me about an experience or person that has changed or inspired the way you eat. He'd probably be surprised to hear this, since I don't think he considers himself much of a food person, but I'd have to name Alex.  He introduced me to Korean, Vietnamese, and German fare; he instilled in me a love for burritos that continues to this day; and he taught me not to be afraid of cooking meat until it's super browned (before he came along, I was so afraid of burning food– and setting off the smoke alarm–that everything came out of my pan looking pale and flabby).
A food ethic is a set of values and principles that guide the choices you make about what to eat. Describe your personal food ethic. I'll offer two thoughts: 1) When guests show up at your house, feed them, whether you expected them or not. 2) To paraphrase from the legendary Cajun chef, Justin Wilson: "What wine should you drink with this?  Whichever one you like."