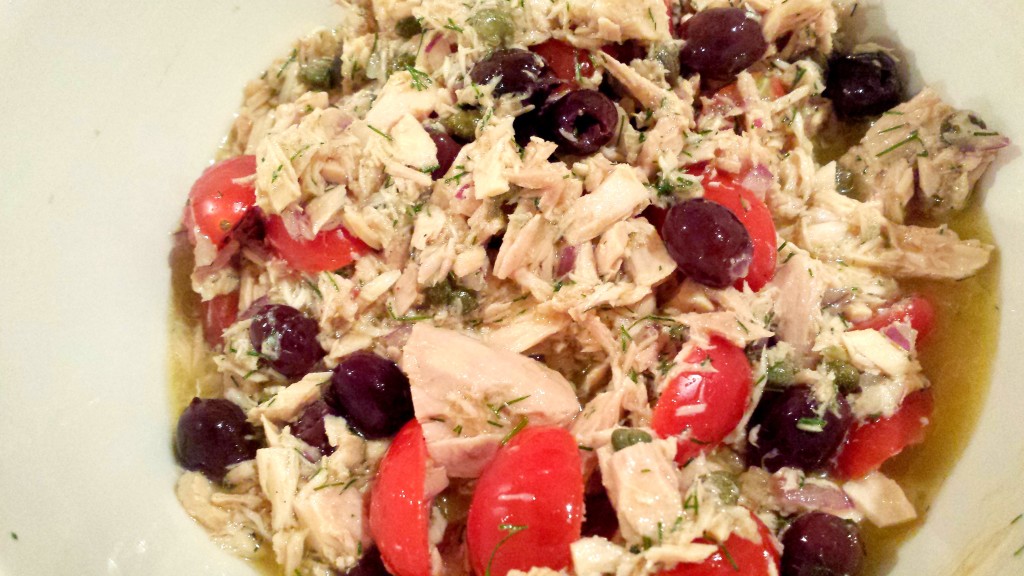 First off: I know.  It's a fairly weird move to start off a brand new year of blogging with a recipe for tuna salad, a dish with as many detractors as it has fans.  But you know what?  I love tuna salad.  It almost feels like an insult to my parents' wonderful cooking to say this, but one of my favorite childhood dinner memories is sitting around a communal bowl of tuna salad with Ritz crackers on summer nights– usually church nights, or evenings when my Dad had to make it to the racquetball courts in just an hour after getting home from work.  Tuna salad is a super-fast meal to put together, and it's satisfying and healthy (depending, of course, on the ingredients you use to dress it).  I'm sad to say that I haven't yet convinced my husband that tuna salad is worth eating, but it's been a lunch staple for me for years.
This particular recipe comes from The Splendid Table's How to Eat Supper, a cookbook inspired by the popular podcast.  My copy was a wedding present from my dear friend Heather and her parents, and the sweet notes they wrote to me and Alex on the inside cover are even more precious to me than the recipes in the book.  That said, my new year's resolution (the kitchen portion of my resolution, that is) is to cook my way through this book by year's end.  I've already made decent headway through the segment on salad dressing (so many great ideas in this book– if you're a salad lover, it's definitely worth checking out), and I cannot wait to see what other treasures are lurking in the other pages.  But for today, it only seems natural to whip up a batch of tuna salad.
At first glance, the ingredients in this recipe might seem a little odd.  With so many bold flavors in play– briny Niçoise olives and capers, potent red onions, tangy fresh dill, sweet tomatoes, sour lemon juice– it seems like all the components might fight each other.  But once they're combined and given time to marry, they all blend together harmoniously, adding up to a dish that is well-balanced, delicious, and utterly more-ish. I had a very hard time resisting the urge to scarf down the entire salad while it was supposed to be marinating.
Assembly is a snap for this dish.  First, break up about 17 ounces of drained, water-packed albacore tuna in a large bowl (the original recipe calls for three 6-oz cans, but I had a hard time finding that measurement, so I used one 12-ounce can and one 5-ounce).  Add all the dry ingredients: halved cherry tomatoes, pitted Niçoise olives (or halved kalamatas, if you prefer), capers (normally not an ingredient I love, but delicious in this salad), minced red onion, and finely chopped dill leaves.  Add olive oil and fresh squeezed lemon juice, and fold everything together with a rubber spatula, taking care to incorporate all the bits and pieces that tend to cling to the sides of the bowl.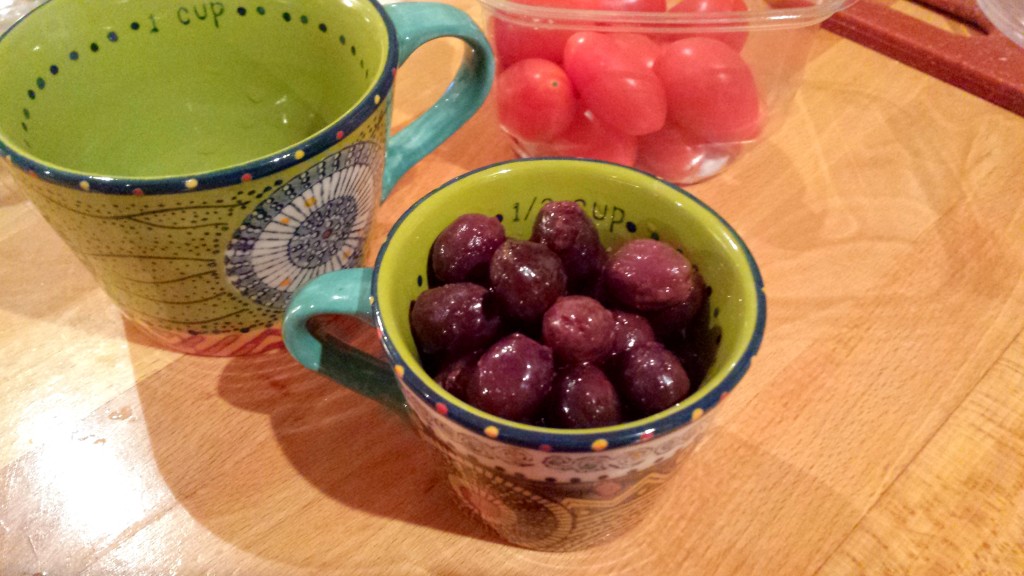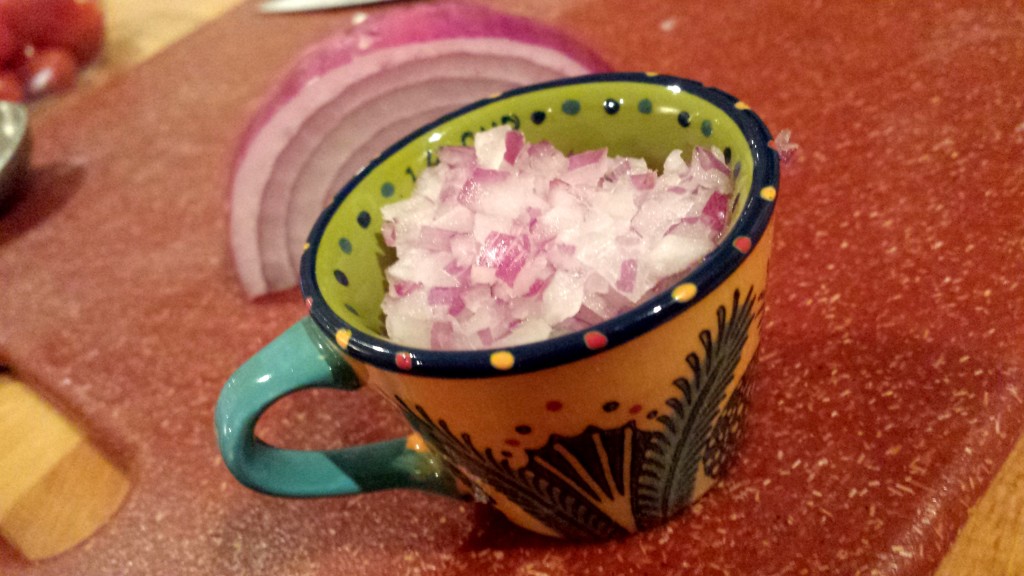 Next: taste, taste, taste several forkfuls of the mixture.  You'll likely need to add a bit of salt and pepper, but with so many bold and salty ingredients in the mix already, you'll need to know what your baseline flavors are before you pick up a shaker. Once the salad tastes like you want it to, cover the bowl with plastic wrap and let it sit for at least an hour.  If you're stuck for what to do during that hour, I suggest back episodes of Top Chef– I'm currently on season 10, the excitement of which is slightly tempered by the fact that I already know Kristen wins (Go Boston!).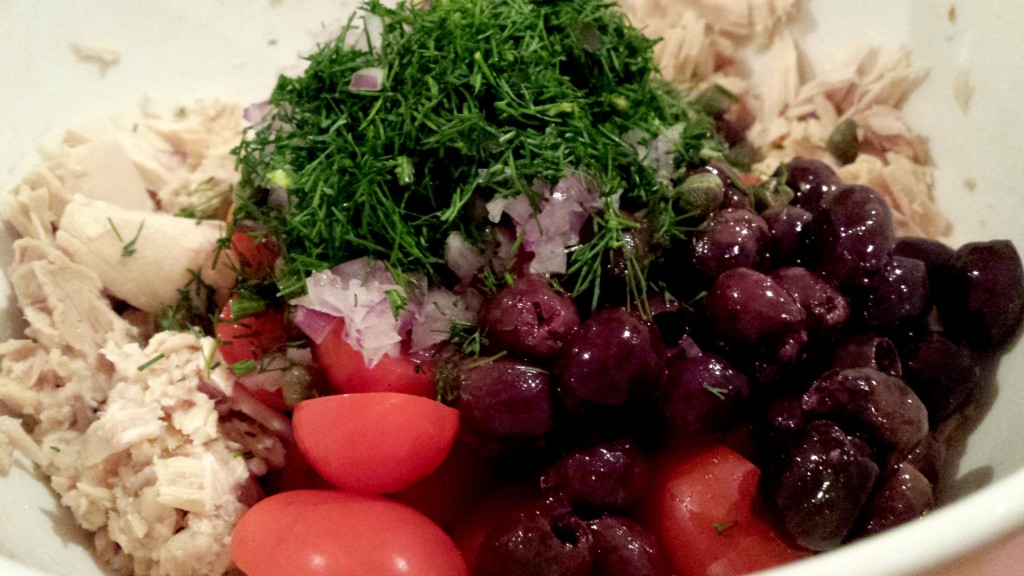 After the salad has had time to let all its components meld, pile it up on hearty bread or whole wheat crackers– olive oil and dill Triscuits are my favorite– and revel in the fact that you extracted such a good meal from so little effort.
Cheers to a new year, and many new food adventures!
Provencal Tuna Salad
from The Splendid Table's How to Eat Supper
17-18 ounces water-packed albacore tuna, drained
1 cup halved grape tomatoes
1/2 cup whole Niçoise or halved Kalamata olives
3 Tablespoons drained capers
1/4 cup finely chopped red onion
1/4 cup finely chopped fresh dill leaves
1/2 cup extra virgin olive oil
1/2 cup fresh-squeezed lemon juice
salt and fresh-ground black pepper
Place the drained tuna in a large bowl, and break it into chunks with a fork.  Fold in the tomatoes, olives, capers, red onion, and fresh dill.  Pour in the olive oil and lemon juice; taste, and add salt and fresh ground pepper to taste.
Let stand at room temperature for about an hour.  Serve  with slices of hearty bread or whole wheat crackers.