I don't think I can tell you how difficult it's been to sit in this apartment all day long with these biscuits.  Combine their enticing scent, their visual appeal, and my unstoppable appetite for carbs, and it's a wonder I've managed to eat anything else in the last seven hours.
One of my coworkers first mentioned this recipe to me the week before Thanksgiving, and it's been dancing around in my brain ever since.  Squash and sage are two of my favorite ingredients, and biscuits are always satisfying and fun to make; it seemed like an ideal project for me, but I could never seem to find the time to get it done.  However, this Christmas my mom gave me a beautiful hand-carved wooden biscuit cutter, which was all the motivation I needed.  Earlier this week, on my first "normal" day off of the year, I got to work on these biscuits first thing in the morning.
The first step in the process is to roast the squash.  The original recipe called for delicata squash, which is a good choice; delicatas tend to be on the smaller side, and the recipe only calls for a half-cup of mashed squash, so with a delicata, you'll use just about all of the flesh.  However, I forgot to pick one up at work, and the grocery in my neighborhood didn't have any, so I opted for buttercup squash. (If you're wondering what a buttercup squash looks like, you're not alone; the cashier picked it up, examined it, and looked at me like I was trying to buy an alien life form.)  You could also use butternut or acorn squash, or even sweet potatoes if you prefer.
The flavor of the squash in these biscuits is perfectly accented by the fresh sage.  A few chopped leaves go in the dough, and each biscuit is topped with a whole leaf, which gets deliciously crunchy in the oven.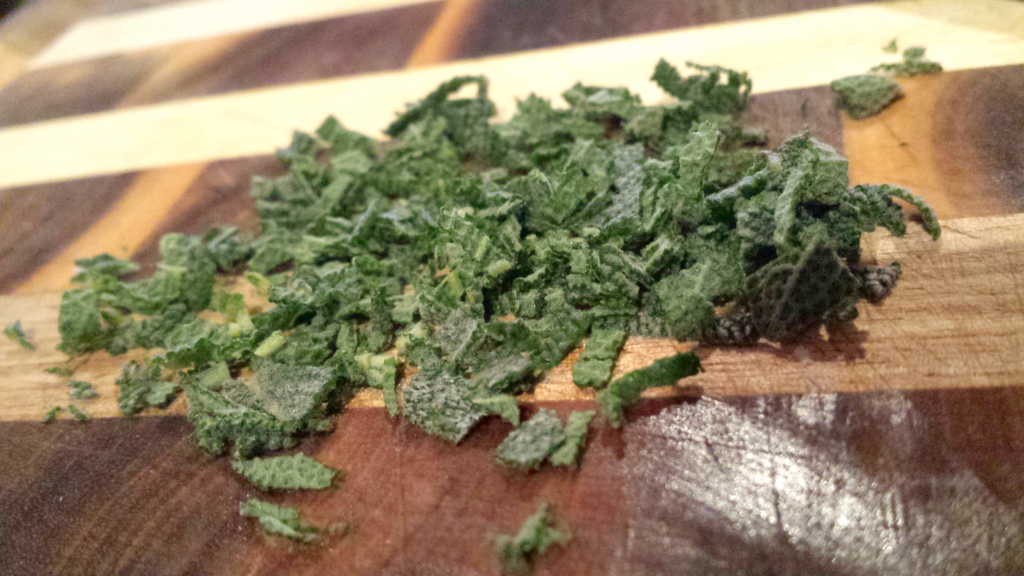 The dough for these biscuits is really easy to put together.  I tried a new trick for this batch: instead of rubbing cubes of cold butter into the flour mixture, I used a coarse grater to shred the butter.  That way it takes practically no effort, and makes considerably less mess, to incorporate the butter into the flour.  And, as my friend Sam explained to me, it keeps the butter from warming up, as it can do if you're breaking down bigger chunks with your hands.  Once the flour and butter mixture looks coarse and relatively uniform, add a mixture of cream and the cooked squash, and stir gently until just barely combined.  Turn the dough out onto a floured surface.  It doesn't even need to be rolled– you can just gently pat it into a 3/4 inch thickness with your hands.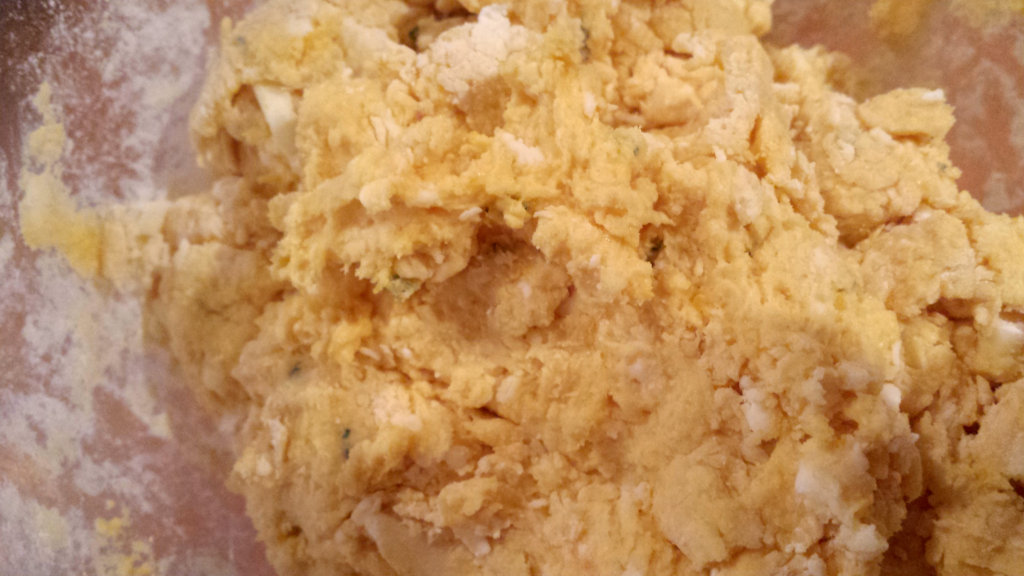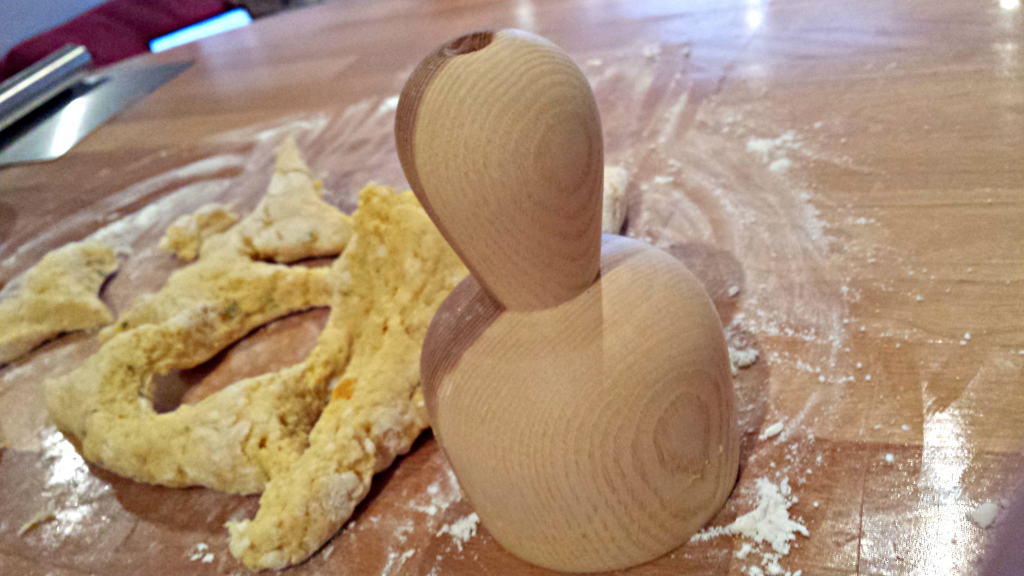 I love that biscuit cutter!  But if you don't have one, you can always use a round cookie cutter or a glass.  Or if even that seems like too much trouble, you can gently cut the dough into rough squares.
Brush the tops of the biscuits with a mixture of egg and milk– just enough to add an attractive sheen and help the sage leaves stick to the dough. Then into the oven they go!
The biscuits will fill your house with a warm, sweet, herbal fragrance that will linger for the rest of the afternoon.  They taste just as good as they smell, and they have a beautifully soft, cakey texture.  Soften some good butter, pour a cup of hot coffee, and dig in.  Try to save some for when your husband gets home (good luck).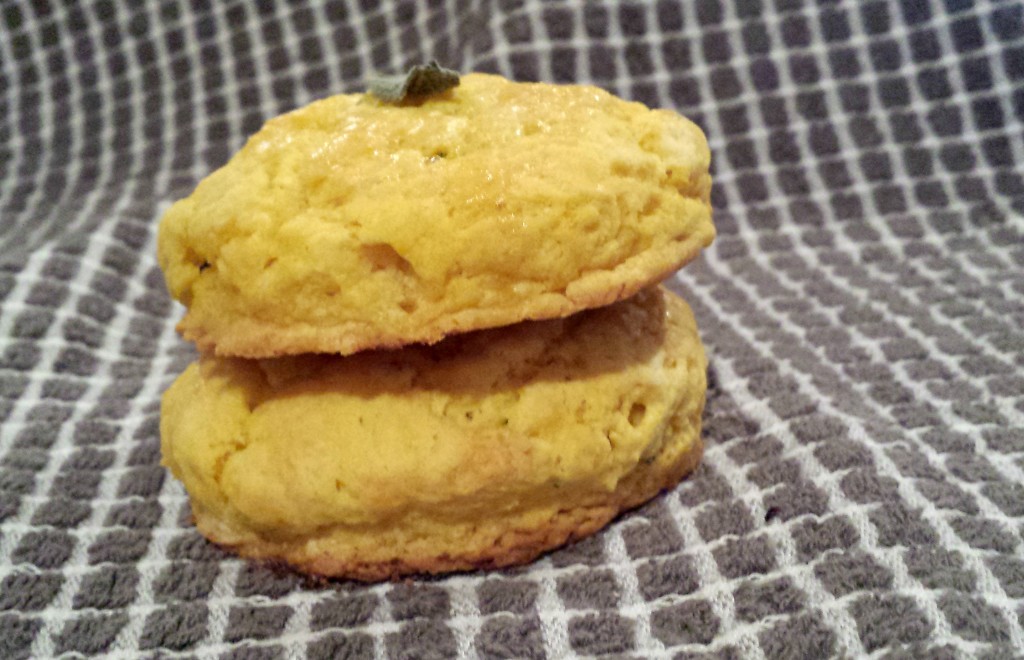 Buttercup Squash and Sage Biscuits
adapted from PBS via Kitchen Vignettes
1 small butternut squash (1/2 cup squash purée)
2 cups white flour
2 1/2 teaspoons baking powder
1/2 teaspoons baking soda
2 Tablespoons sugar
1 teaspoon salt
6 Tablespoons unsalted butter, chilled
1 small bunch of fresh sage (1 1/2 tsp. chopped and 10 whole leaves for garnish)
3/4 cup heavy cream
1 egg
1 Tablespoon milk
Preheat oven to 400°F.  Cut the squash in half lengthwise; scoop out seeds and pulp and discard.  Place squash, cut side down, on a foil lined baking sheet and roast in the preheated oven for about 30 minutes, until flesh is soft and scoopable.  Scoop out the flesh and mash in a bowl with a fork.  Cover the bowl with plastic and chill in the refrigerator for at least half an hour.
In a medium bowl, whisk the flour, sugar, salt, baking powder, and baking soda. Using a box grater, grate the cold butter into the flour mixture. Place this mixture in the freezer while you prepare the wet ingredients.
In another bowl, mix the chilled cream, 1/2 cup of the squash purée (reserve remaining squash purée for another use– pumpkin ice cream, anyone?), and finely chopped sage. Whisk together until smooth. In another smaller bowl, make the egg wash by beating the egg and 1 Tablespoon of milk together.
Remove the dry ingredients from the freezer. Using a spatula (or your hands), make sure the grated butter is fully incorporated into the flour (it should look like coarse meal). Gently add the squash and cream mixture to the dry ingredients, stirring with the spatula just until the dough starts to come together. Using your hands, lightly knead the dough in the bowl, being careful not to overhandle it.
Lightly dust a clean work surface with flour and gently press the dough out to 3/4 inch thickness. Using a 2 1/2 inch round biscuit cutter, cut out the biscuits. Brush the tops with egg wash and gently press a whole sage leaf on top of each biscuit. Place on a lightly buttered baking sheet. Bake for 12 to 15 minutes in a 400F oven, until golden on top. Transfer the biscuits to a cooling rack and serve warm.