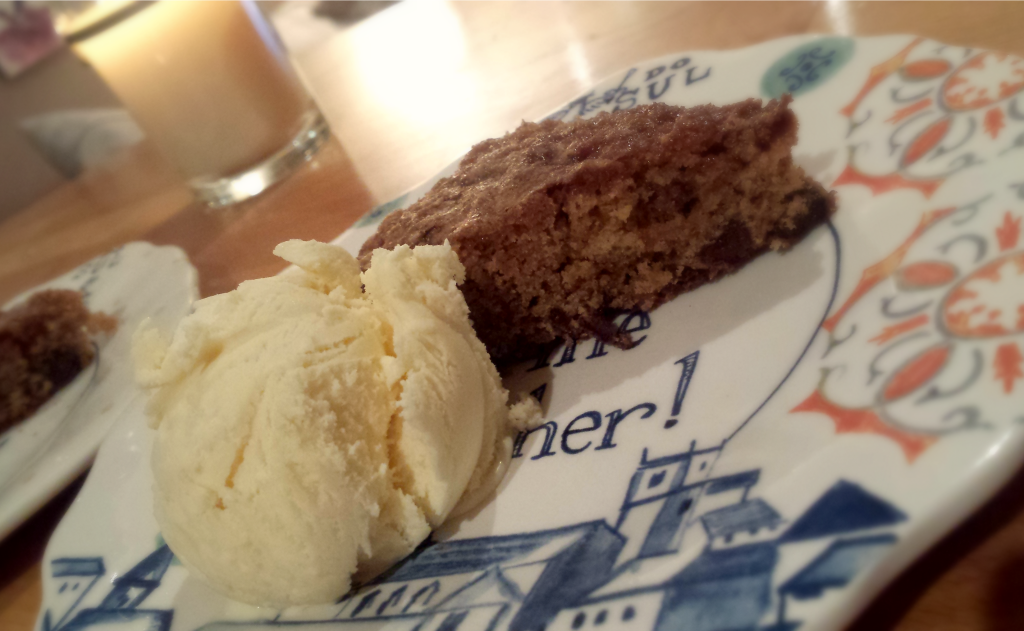 Sometime around September of last year, I realized that winter was coming– just like last year, and the year before that, and pretty much every year, come to think of it.  Knowing that there was no way to stop it, and knowing that we had no plans to migrate South (at least not long-term), I turned to the only thing I thought might help me cope: positive thinking.  Or, as I like to call it, lying to myself.  Every time I felt a chill in the air or thought about snow piles and wool socks, I forced myself to say, either silently or aloud, "It's gonna be great!  I'm so excited!  I love winter!"  I figured that if I told this to myself often enough, I could trick myself into believing it.
I'm happy to report that this trickery totally worked!  Of course, it probably also helps that I finally, finally bought a down coat (I refused for a long time because I didn't want to look puffy, but this year I decided I didn't care), traded in my clunky five-year-old snowboots with zero tread and a broken zipper for a sleek pair of L.L. Bean laceups, and stocked up on fleece leggings.  It definitely helps that my mom crocheted me three warm hats and one chunky scarf.  But beyond all that, I find that I just feel more at peace with the season this time around.  It is what it is, come blizzard or ice patches on the sidewalk.
And it's a good thing, too, because last week we got about 30 inches of snow dumped on us in one day.  Blizzards are tricky when you work in a grocery store; the day before the big show, you spend hours slinging cartons of eggs and jugs of milk to all the shoppers who are so certain the apocalypse is at hand.  And, unless the whole city shuts down as a result of the snow, you're going to have to trudge through it the next day, because grocery stores need to be open, and you work at a grocery store.  But this past Tuesday?  Helloooo, citywide travel ban, and helloooo, official snow day!  And what better way to spend such a day than making cake?
I found this recipe in Baked Explorations, possibly my favorite baking cookbook.  I hope I someday find the time to make pretty much every recipe in this book, but this time I had to choose based on the ingredients I had on hand (because, travel ban!! no stores open!).  The original recipe also calls for cream cheese frosting; you better believe I would have included it if I'd had any cream cheese in my fridge.  Since I did not, a scoop of ice cream made an admirable substitute.
One of the best things about this cake is that you don't even have to break out your mixer; it all comes together with a couple of bowls and a spatula.  The bowls contain all the usual suspects: flour, baking powder, cinnamon, sugar, etc.  What makes the cake sing is chewy oats and (be still my heart) Bourbon-coated chocolate chips.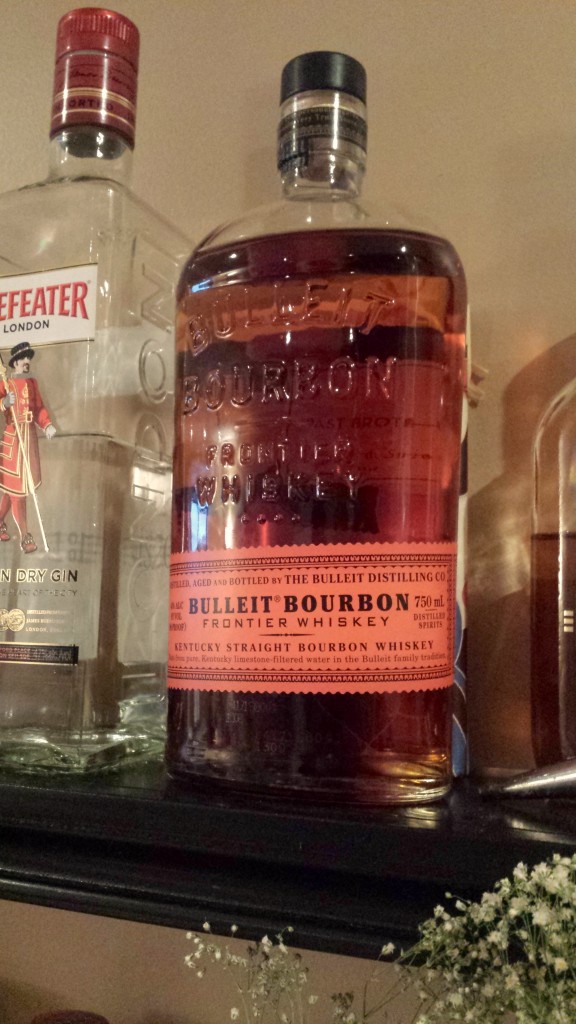 The purpose of the Bourbon, I must admit, is more functional than anything.  Coating the chocolate chips with flour prevents them from sinking through the batter and landing at the bottom of the cake pan, and the Bourbon helps the flour stick to the chocolate chips.  But still, doesn't it just warm your heart to know that there's a nip of Bourbon in there?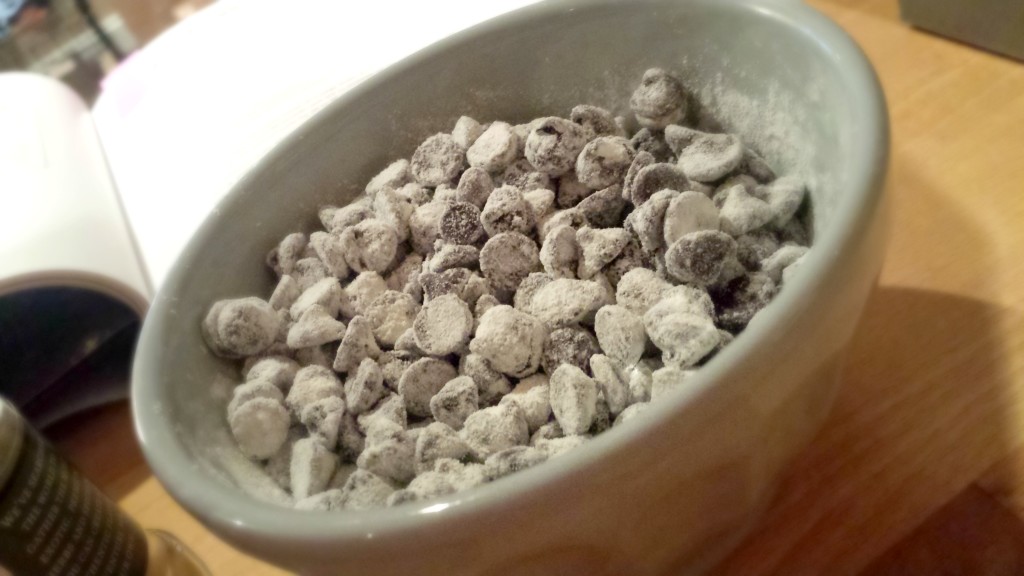 This cake has helped me conclude that there is absolutely nothing better on a snow day than the warm smell of chocolate, cinnamon, and Bourbon emanating from your oven (with the possible exception of the classic warm blanket-soft pup-sweet husband-couch combo– that one is hard to beat).  And the finished product is no joke, either; with a texture somewhere between a blondie and a cookie cake, it hits all the right chewy/sticky/cakey notes.  It's like all your favorite desserts rolled into one, with ice cream on top.
And it's a good thing I still have some of this cake left over, because today, Boston is a snow globe once again.  I love it.  It's gonna be great.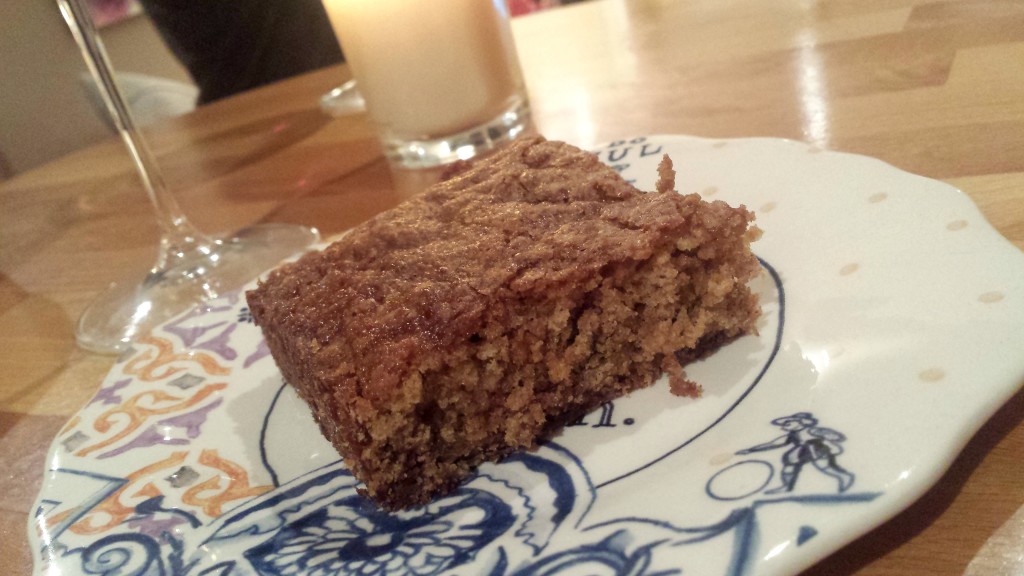 Oatmeal Chocolate Chip Coffee Cake
adapted from Baked Explorations
8 ounces chocolate chips
1/2 teaspoon Bourbon
1 1/2 cups plus 2 Tablespoons all-purpose flour
1 cup oats (I used Irish Oatmeal– I think it's safe to use whatever you have in your pantry)
1/2 cup unsalted butter, cut into small cubes, at room temperature
2 eggs, lightly beaten
3/4 cup packed brown sugar
1 1/4 cups granulated sugar
1/2 teaspoon salt
1 teaspoon baking soda
1 teaspoon baking powder
1 1/2 teaspoons cinnamon
Preheat oven to 375°F; position a rack in the center of the oven.  Butter the sides and bottom of a 9×13″ baking pan.  Heat 1 1/4 cups of water to boiling.
Place the chocolate chips in a small bowl and toss with the Bourbon.  Add 2 Tablespoons of flour and toss again to coat.  Set aside.
Place oats and cubed butter in a large bowl.  Pour the boiling water over the mixture, wait 30 seconds, and stir to moisten the oats and melt the butter.  Set mixture aside for about half an hour.
In a separate bowl, whisk the eggs, sugars, salt, baking soda, baking powder, and cinnamon until combined.  Gently fold in the remaining flour and then add the chocolate chips.  Pour the batter into prepared pan, and bake for 40 to 45 minutes, or until a toothpick inserted in the center of the cake comes out clean.
Cool cake in the pan on a wire rack for at least 30 minutes.  Serve with a scoop of your favorite ice cream.