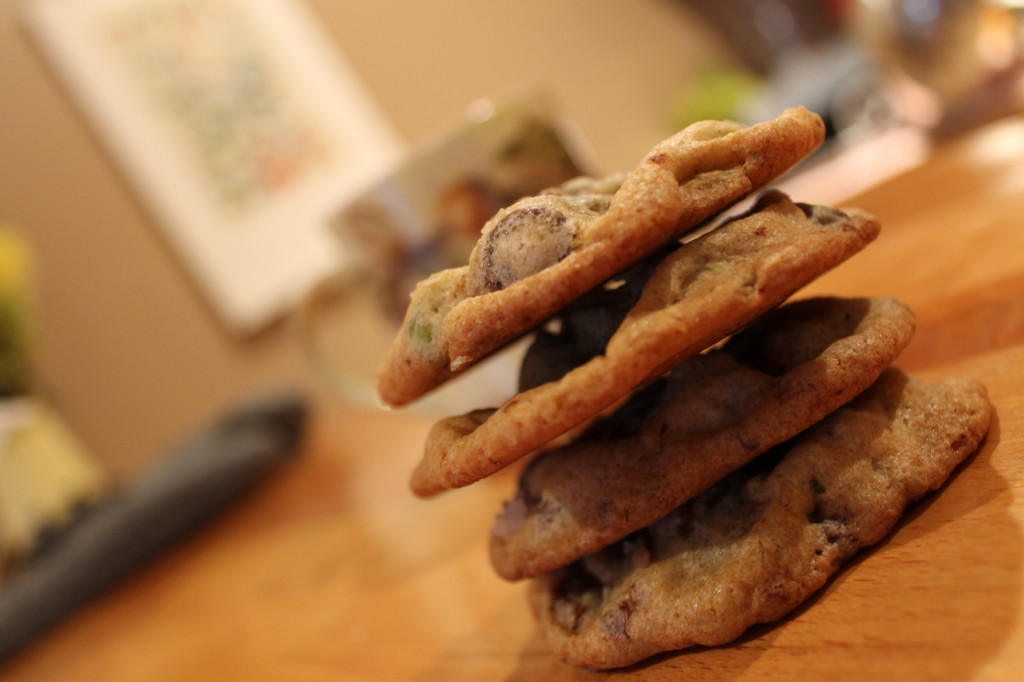 Greetings from the frozen wasteland that is the city of Boston!  We are currently digging out from under our fourth blizzard in as many weeks.  My positive-thinking initiative is still going, but this winter is really trying my patience.  I'd complain about the terrible (i.e. non-existent) public transit conditions and the subzero temperatures, but frankly, I'm just tired of it.  It's all anyone's talking about, and I'd just rather talk about cookies.
I made these on a Sunday afternoon, the day before Alex left town for a week.  I was stuck inside, I felt like baking, and I figured that a big batch of cookies would be ideal for sending off with Alex on his trip.  And it's a good thing I was able to pawn them off so quickly, because these are possibly the most addictive cookies I've ever made.  I don't even know how many I must have eaten fresh out of the oven, much less in the few days following.  These cookies take the fail-proof sweet and salty combination and amp it up– there's even a little smoky flavor in there for good measure.  That comes primarily from a sprinkling of smoked salt on each cookie, but I also threw in a chopped up bar of Mast Brothers vanilla and smoke dark chocolate, which is super delicious, but allllmost too dark for me to eat on its own.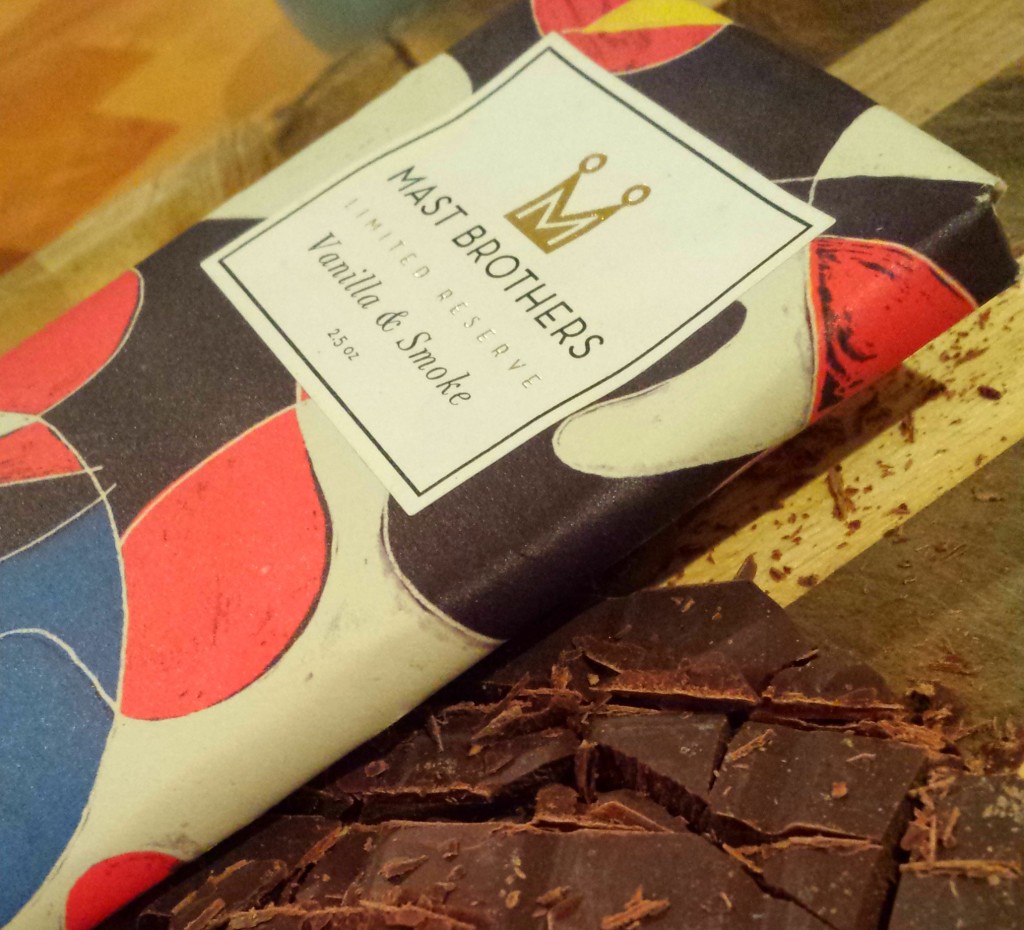 The only labor-intensive part of the cookie making process is shelling pistachios.  Yes, you can buy them pre-shelled, but I find that there are always a few bad ones that sneak in; if you buy them in the shell, then you have greater control over quality.  An 8oz bag will do the trick nicely.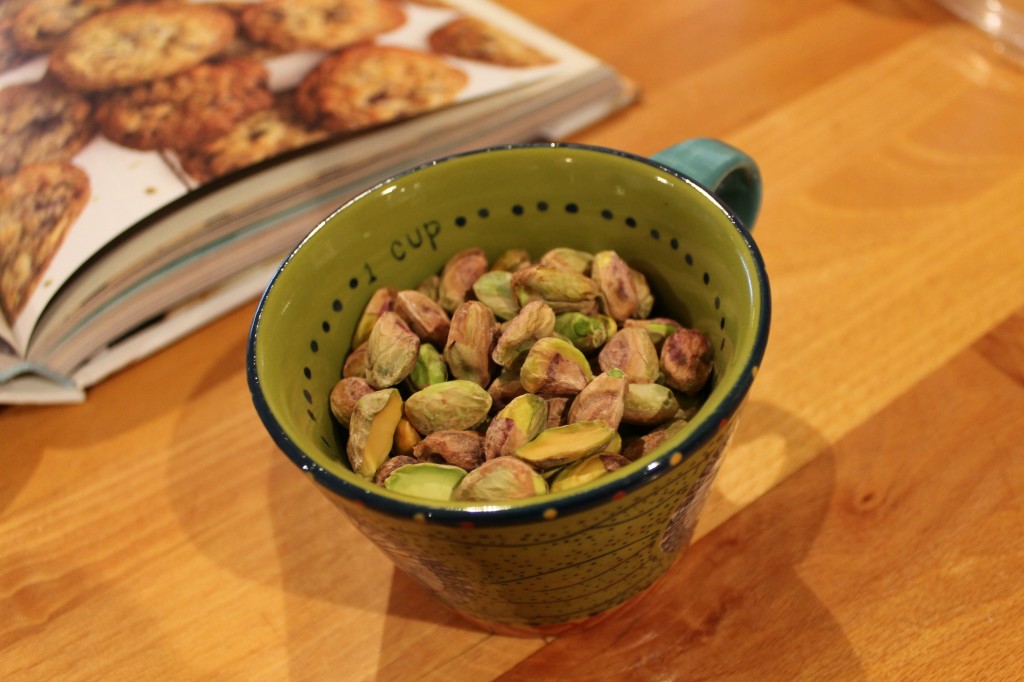 The icing on the cake, as it were, is the smoked salt that tops each cookie.  I used smoked Maldon, which is delightfully flaky and crunchy– it makes me wonder why every cookie doesn't have a sprinkle on top.
Only one thing can possibly make these cookies any better than they already are: bottomless hot coffee.  Ok, maybe two things: bottomless hot coffee, and a dog whose new favorite thing is burrowing only halfway under the blanket on the couch: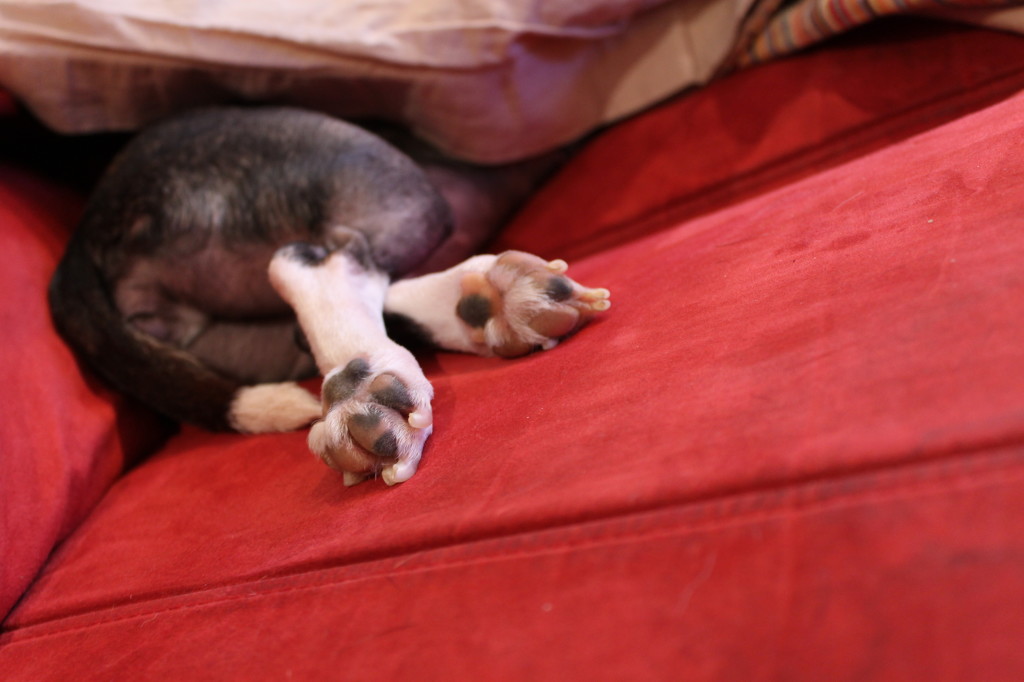 With these cookies in my baking arsenal, I am confident I will survive the rest of the winter– and maybe, just maybe, do it in style.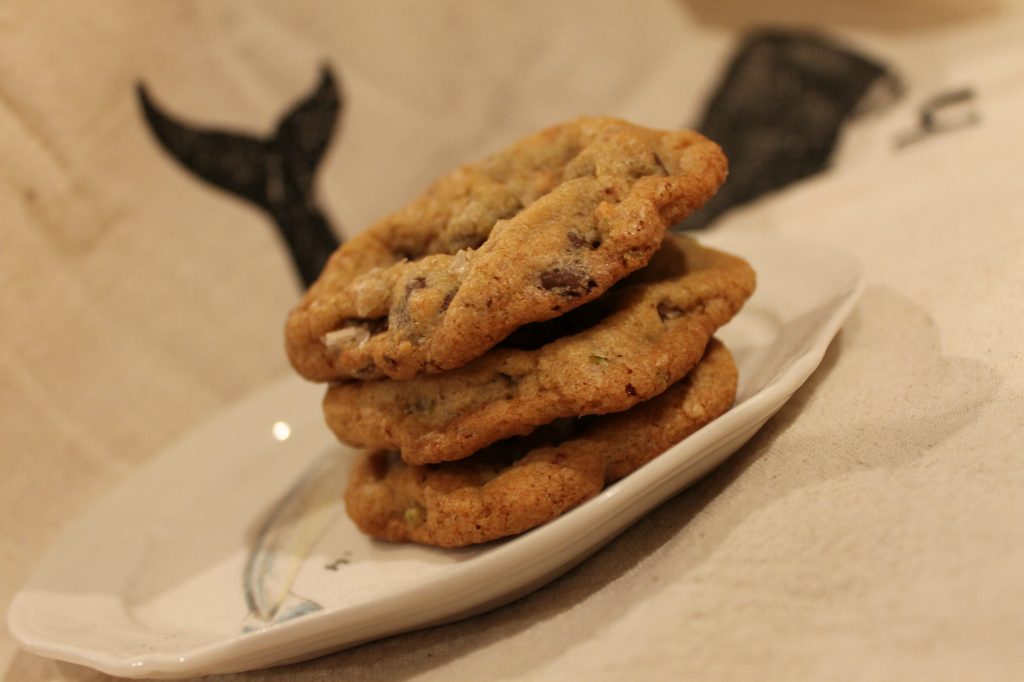 Chocolate Chip Pistachios Cookies with Smoked Salt
from Homemade Decadence
1/2 cup unsalted butter, at room temperature
1/2 cup granulated sugar
1/2 cup packed brown sugar
1 egg
1 teaspoon vanilla extract
1 1/4 cups all-purpose flour
1/2 teaspoon baking soda
1/4 teaspoon salt
1 1/2 cups dark chocolate chips (the darker the better)
1 cup shelled pistachios, coarsely chopped
smoked salt for garnish
Preheat oven to 350°F.  Line a baking sheet with parchment.
In the bowl of an electric mixer, combine butter and sugars and beat until pale and fluffy.  Add the egg and beat for about 1 minute.  Add vanilla and beat until incorporated.
In a medium bowl, combine flour, baking soda, and salt; whisk until combined.  Add the flour mixture all at once to the butter mixture.  Beat on low speed until just incorporated.  Beat in the chocolate chips and pistachios.
Spoon cookie dough onto parchment-lined baking sheet (about 2 Tablespoons per cookie, about 2 inches apart) and sprinkle with the smoked salt.  Bake 10 to 12 minutes, until cookies are just beginning to turn golden.