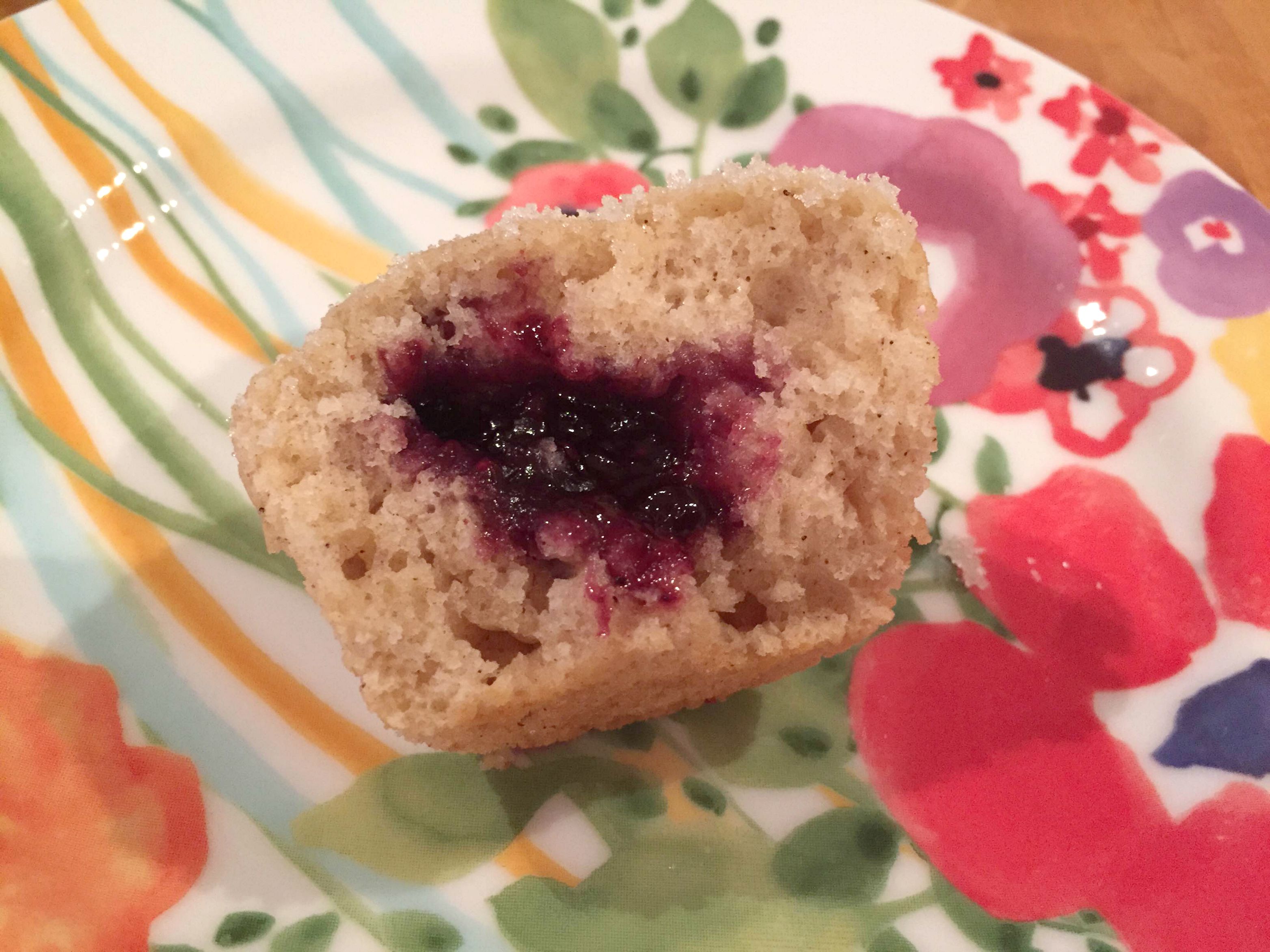 You may not believe me when I say this, but I have never been much of a doughnut person. It's not that I don't like doughnuts– who doesn't, really?– it's just that I can take or leave them. While I am totally incapable of turning down, say, a slice of cake with buttercream, I can walk past a box of doughnuts and not think twice about it. Or, at least, this was all true until I discovered jelly-filled doughnuts.
I should stress that the jelly-filled doughnut in question was not your standard, mass-produced Dunkin' variety. (Say what you will, but I still don't get what the big deal is about Dunks.) Rather, it came from Flour Bakery, and it was about a month ago. I was at an event with a bunch of colleagues, and someone brought a variety of pastries for us to share; I tried to take a small chunk of the jelly doughnut and leave the rest for the others, but I ended up sneaking back to the food table every ten minutes or so, and before I knew it, I'd eaten the whole thing.
Fast-forward a few weeks to my birthday, when Alex gave me the Ovenly cookbook. I'd been hanging on to the library's copy for weeks; I renewed it as many times as they'd let me before I begrudgingly returned it, so I was thrilled to have a copy of my very own. The next time I made brunch, the memory of Flour's doughnuts was still fresh in my mind, but I was reluctant to spend the hours required to make a batch from scratch. Fortunately, Ovenly offers a solution: a quick muffin stuffed with jam and coated in sugar, which tastes unbelievably like a doughnut. And just like that, Alex doesn't want me to bake anything else, ever.
It turns out there are a few secrets to making a muffin taste like a doughnut, and the first is grated nutmeg. I can't put my finger on the reason why, but the toasty spiciness is completely reminiscent of fried dough. Second, when the doughnuts are cool enough to handle, a brushing of melted butter and a roll in sugar amps up the doughnut factor. (Sidenote: the original recipe calls for a cinnamon-sugar mix for the topping, but I used vanilla bean sugar instead. I took a bean whose seeds I'd used for another recipe, put it in a jar, and filled the jar with granulated sugar. A week later, voilà! Vanilla bean sugar.) And, of course, the jelly filling is crucial. I'm particularly fond of Bonne Maman jams; I've used both four fruits preserves (cherry, strawberry, red currant, and raspberry) and mixed berries preserves (stawberry, blueberry, blackberry, and raspberry) and found them both delightful.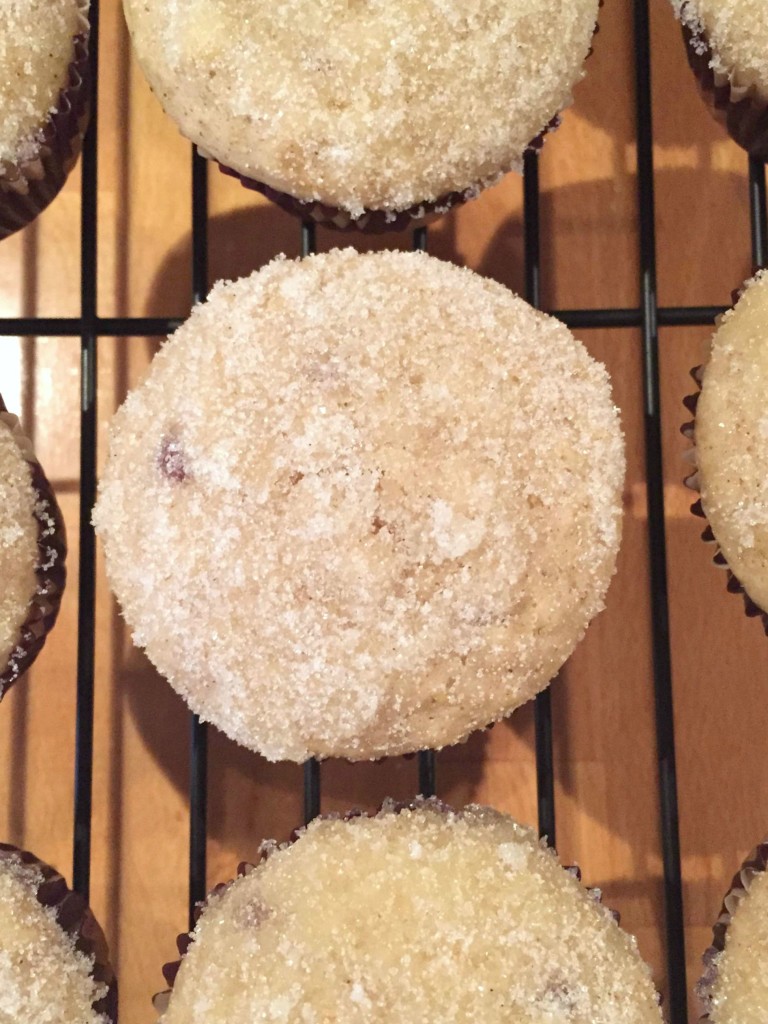 I've made these muffins three times in the last month. That adds up to thirty-six muffins over the course of less than thirty days. Fortunately, Alex and I have a number of hungry friends and colleagues who have eaten the bulk of the muffins for us. It's bittersweet, because I appreciate the savings in calories, but at the same time, I want ALL the muffins for myself. Life is full of conundrums, I suppose.
Jelly Doughnut Muffins
adapted from Ovenly
2 cups all-purpose flour
1 1/2 teaspoons baking powder
1 teaspoon freshly ground nutmeg
1 teaspoon ground cinnamon
1/2 teaspoon salt
3/4 cup sugar
1/4 cup canola oil
1 large egg
3/4 cup whole milk
jam of your choice, about 1/2 cup
2 tablespoons unsalted butter
1/3 cup vanilla bean sugar, or 1/3 cup sugar plus 1 Tablespoon cinnamon
Preheat oven to 350°F. Line a 12-cup muffin tin with paper liners.
In a medium bowl, whisk together the flour, baking powder, spices, and salt. Set aside. In a large bowl, whisk together the sugar, canola oil, and egg. Add the whole milk to the sugar mixture, and whisk until smooth.
Add the flour mixture to the egg mixture and stir gently with a spatula until just combined.
Fill each muffin liner with roughly 2 Tablespoons of batter. Spoon 1/2 Tablespoon of jam into each liner, being careful to keep the jam in the very center of the cup; try not to let the jam touch the sides of the liners. Top each cup with another 2 Tablespoons of batter.
Bake for 22-24 minutes, or until a toothpick inserted in the middle of a few muffins comes out clean.
Meanwhile, melt 2 Tablespoons butter in a small microwave-safe bowl on medium power; set aside and let cool slightly. Place vanilla sugar (or cinnamon-sugar mixture) in another small bowl.
Remove muffins from the oven and let cool slightly. Using a basting brush, coat the top of each muffin with melted butter, then roll in sugar, taking care to coat each muffin evenly.
Let cool, and try not to wolf them all down immediately.