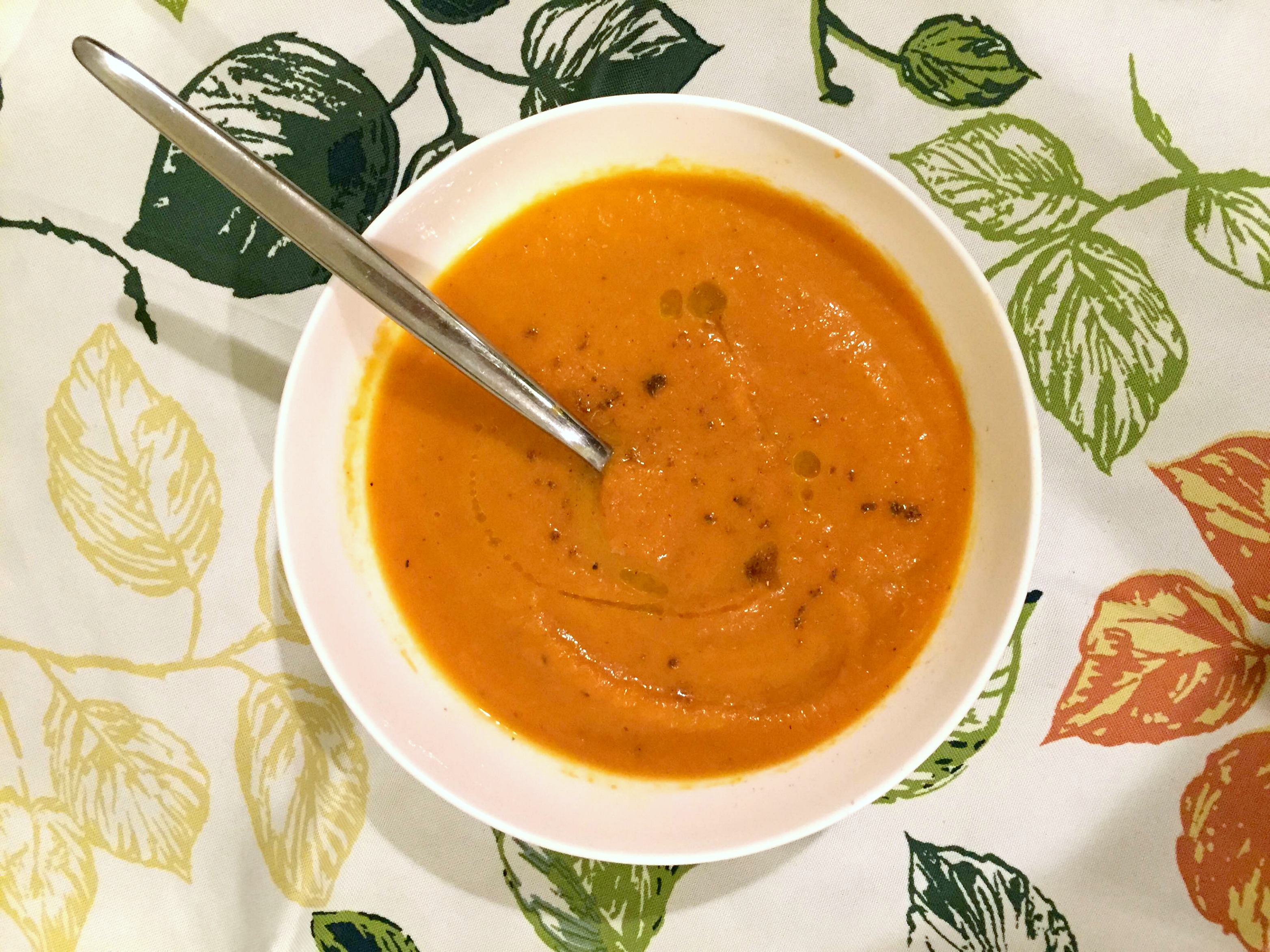 I have had some pretty unglamorous jobs in the food industry. I worked in the office of a peanut plant during the summer after my freshman year of college (specifically, in the division that sold the leftover peanut hulls– one of my office mates was constantly talking about "whole hulls," which in her Southern twang sounded like "hoe hulls"). I also washed dishes for a small catering company while I was between jobs a few years ago; once you've washed dishes in a professional kitchen, you'll never eat another restaurant meal again without thinking about the person in the back doing dish duty. But the least glamorous job I've had, by far, was my brief stint at a certain soup-sandwich-salad joint which shall remain nameless. It wasn't particularly challenging work, but there was one time when I somehow managed to douse myself in salad dressing, and another time when a customer yelled in my face for slicing his bagel in half, and another time when a different customer coughed directly into a wadded-up bill in her hand and then handed that same bill to me to pay for her food… I could go on. It was definitely the worst job I've ever had.
But I still have a small soft spot for that sandwich joint, because it was the place that first introduced me to butternut squash soup. That soup has been off the menu for years, but I ate it at every possible opportunity during college, and once I moved to Boston, I set to work in an attempt to replicate it. I found my ideal recipe in Cooking Light, which was my go-to source for pretty much all recipes at the time, and I've made it so many times that I can now do it entirely by memory. I've also learned to riff on it in seemingly endless ways, and this soup is one of my favorite riffs.
The beauty of this soup is that it requires only a handful of ingredients, all of which are cheap, and most of which you probably have on hand most of the time. It also happens to be vegan, if you're into that sort of thing… though I have also topped this vegan soup with crumbled bacon, so there you go.
The first step in this process is to brown a handful of vegetables: a diced onion, and bunch of carrots in this case (though I have had equal success with butternut squash, sweet potatoes, and a mixture of all three). Once that's done, add broth to cover the veggies and leave it alone for half an hour or so.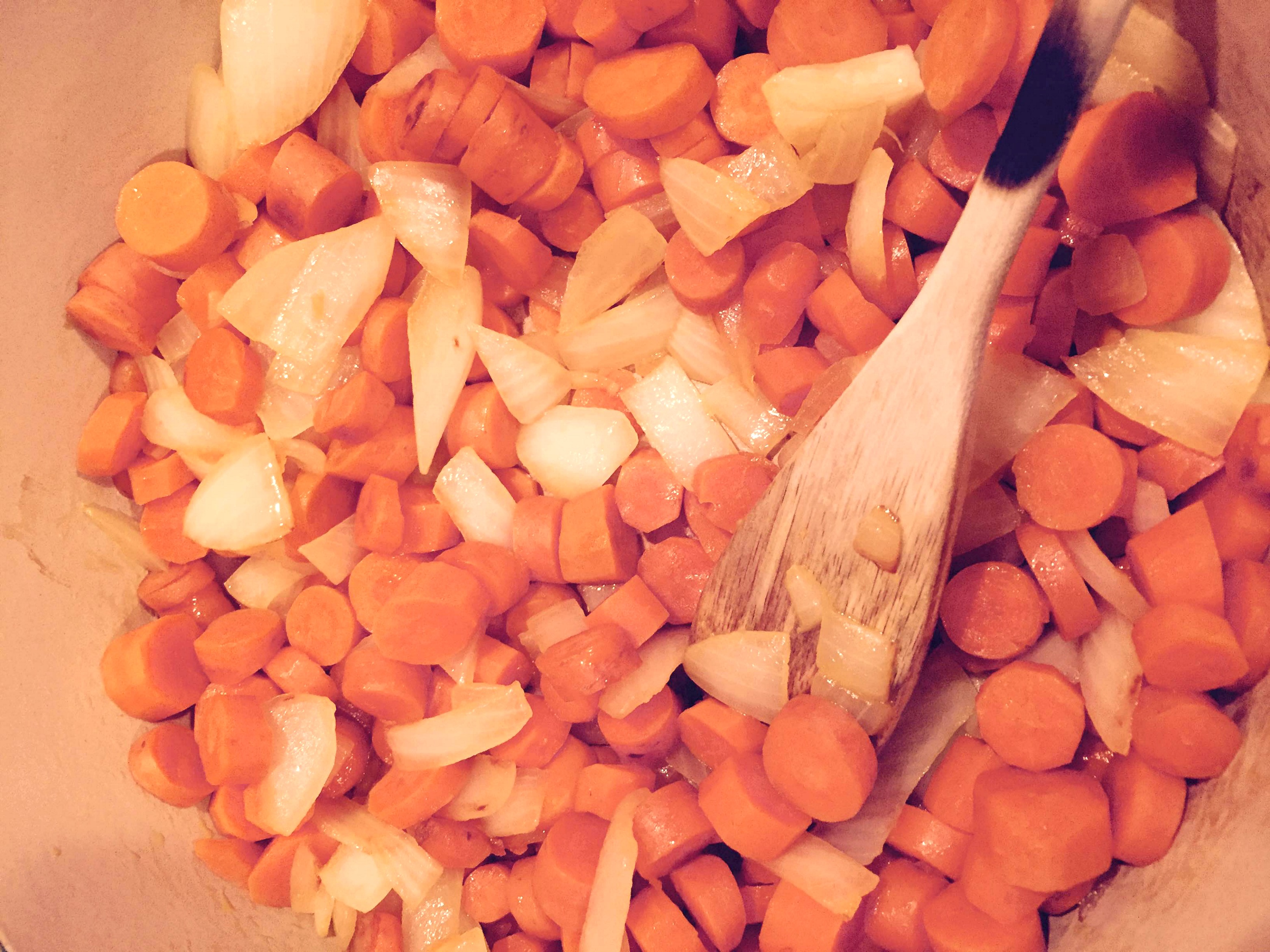 After that time, the veggies should be deliciously soft and fragrant; all that's left to do is add a touch of coconut milk (or any other cream or dairy product you have on hand; I often use half-and-half), transfer it to a blender, and purée. If you have an immersion blender, now would be a great time to use it. Also, I'm jealous.
And that's it. I like to top every serving with a drizzle of good-tasting olive oil and a fresh grind of black pepper. Add a hunk of crusty bread on the side if you like, and round out the meal with a bone-warming glass of red wine, and you're done.
Here's hoping this soup carries you through many, many winters, just as it's done for me.
Carrot Coconut Soup
1 generous glug olive oil (at least 1 Tablespoon)
roughly 4 cups peeled, sliced carrots
1/2 cup diced sweet onion
2 1/2 cups vegetable broth
1/4 cup coconut milk
salt and pepper to taste
Heat oil in a medium saucepan over medium-high heat. Add carrot and onion and sauté for 10-12 minutes, until nicely browned. Add broth, cover the pot, and simmer for 30 minutes. Remove from heat and stir in coconut milk.
Place mixture in blender (work in batches if your blender won't hold it all) and blend until smooth. Taste, add salt and pepper if desired, and serve right away with an extra drizzle of olive oil.