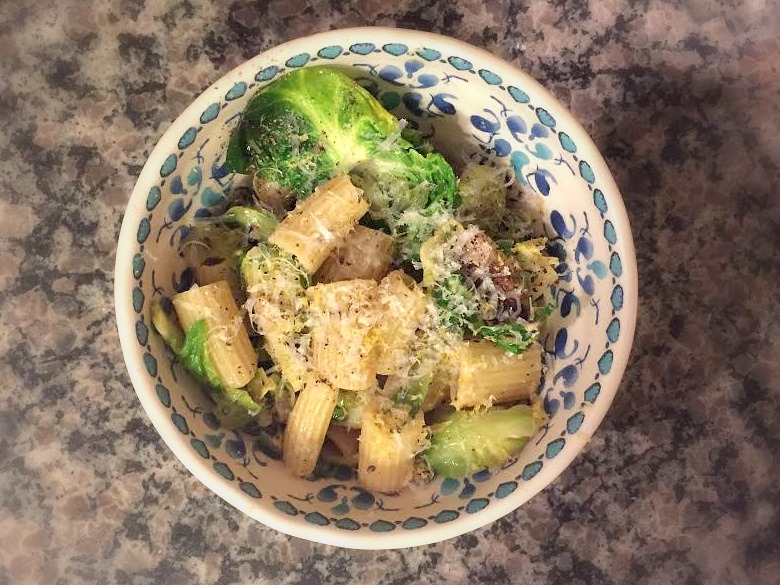 Every few months, I think seriously about cancelling my food magazine subscriptions. I still get a little jolt every time I open the mailbox and see those beautiful glossy covers, but lately, I find that I have less and less motivation to move beyond the covers and read the contents. Plenty has been said about the current state of food media– the big publications are all producing the same content; they're all starry-eyed over celebrity chefs; they all cater almost exclusively to wealthy-ish mostly-white young people in Brooklyn, San Francisco, or other appropriately hip locations; and so on. I certainly share some of those objections. I get annoyed when Bon Appetit gets obsessed with some new ingredient– usually an ingredient that isn't new at all, but is only recently trendy, like gochujang, sunny-side-up eggs, avocado toast, etc. I don't particularly enjoy extended raves about simple dishes that everyone knows, like Cacio e Pepe, which must be one of the oldest and simplest pasta preparations in the Western Hemisphere, but which BA has co-opted into a revolutionary new technique by verbing its name (real email subject lines: "Let's Cacio e Pepe Everything," and "How Did We Wait This Long to Cacio e Pepe Our Potatoes?" How indeed– it's butter, cheese, and pepper; end of ingredient list). I also didn't find it particularly cute that Food and Wine ran a monthly feature for at least a year in which celebrity chefs taught F&W's editor-in-chief the dos and don'ts of basic cooking—was no one else bothered by the fact that the person at the helm of one of the biggest food publications doesn't know how to cook??
But despite all my complaining, I have not yet cancelled. I haven't even unsubscribed from the emails with their annoying subject lines ("Yes, You Should Be Totally Obsessed with Buckwheat"). And there are two primary reasons for that: 1) A subscription is so cheap that, if I think I'll pick up more than one issue per year at a newsstand, it makes better financial sense just to subscribe; and 2) I've found quite a few really good recipes tucked in those pages. Yes, there are some months when I flip through the issue and toss it directly in the recycling bin, but other issues end up dog-eared and food-spattered in no time flat. I figure it's worth wading through the duds in order to find the gems.
One recent gem: this pasta, a simple, fast-cooking dinner that is so much more than the sum of its parts. Except for a bag of brussels sprouts and a single leek, the dish is composed entirely of kitchen staples, yet it tastes like something one of Bon Appetit's beloved celebrity chefs would probably put on a dinner menu for $18. (It also calls for white wine—that totally counts as a kitchen staple in my house.)
Aside from a little bit of chopping, this also comes together in no time. All you have to do is slice a leek, zest a lemon, grate some cheese, and quarter some brussels sprouts (peeling off a few outer leaves from each sprout first, so they can go in the pasta later). The cooking process is equally un-fussy; aside from the pasta, everything cooks in one skillet, and it doesn't require that much attention—the whole point of the brussels sprouts is to let them get deliciously charred.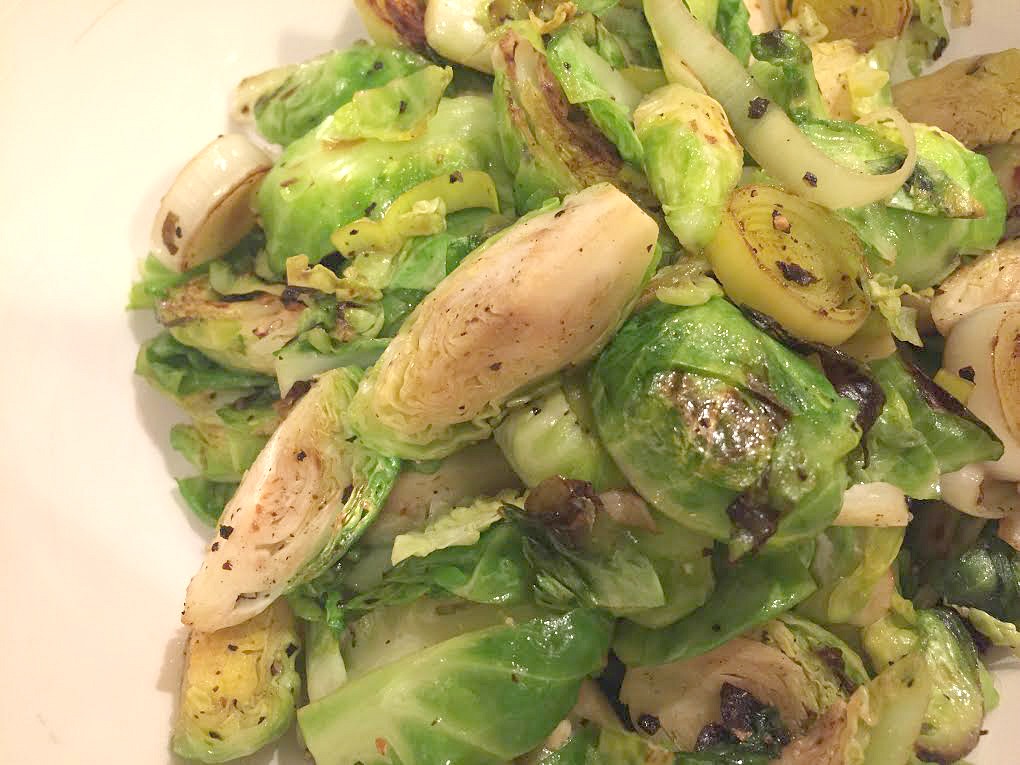 The finished dish is just about perfect: tender pasta coated with a lemony, cheesy sauce, with bitter, vegetal crunch from the sprouts and leeks. I really love that you get two totally different textures from the sprouts– the quarters are crunchy from the char on the outside but tender in the middle, while the loose leaves are fully soft and tender. Plus, the whole thing is just great to look at: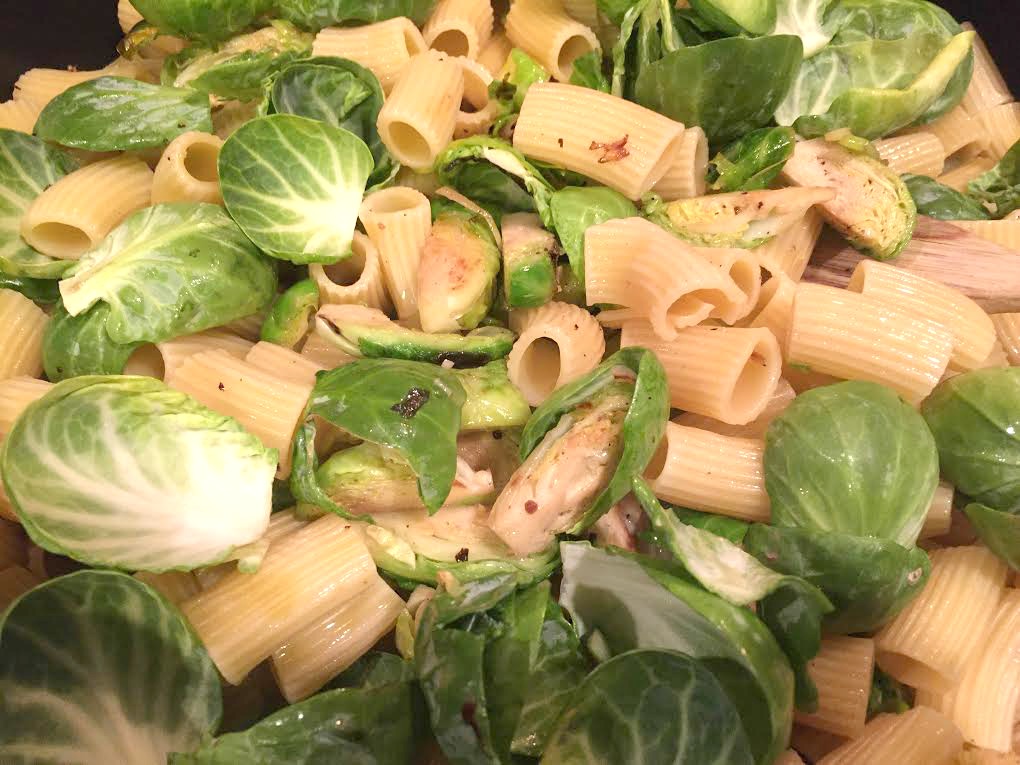 And, even though it's very food-maggy of me to close this out by suggesting that you #putaneggonit… it must be mentioned that any leftover pasta can be brought to fabulous new life by frying a slice or two of bacon, rewarming the pasta in a bit of the bacon fat, and topping with the crumbled bacon and a poached or fried egg. Some trends are trendy for good reason, it turns out.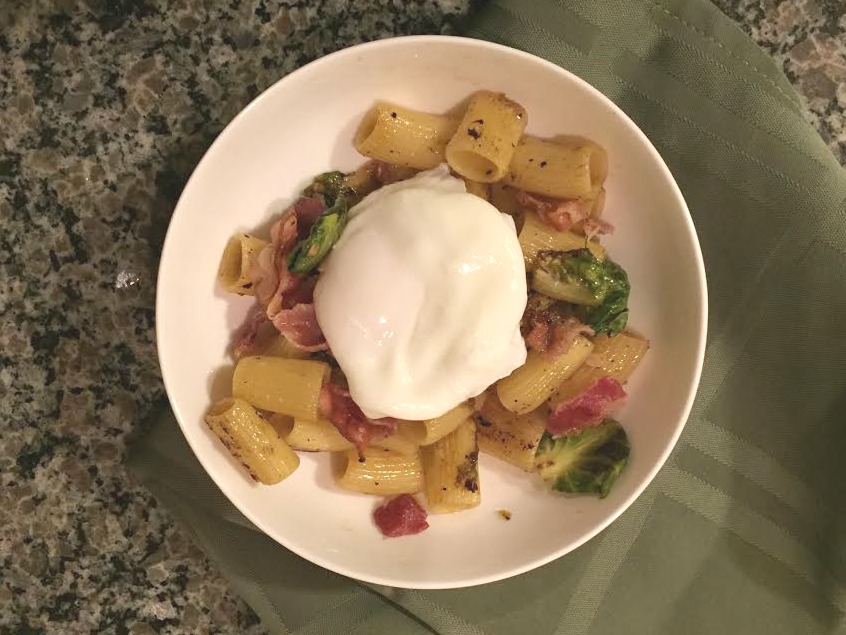 Pasta with Brussels Sprouts, Parmesan, Leek, and Lemon
from Bon Appetit
1 pound brussels sprouts
1 large leek, white and pale-green parts only
4 tablespoons olive oil, divided, plus more for serving
Kosher salt, freshly ground pepper
zest of 1 lemon, either cut into very thin strips or grated
4 garlic cloves, finely chopped
½ cup dry white wine
12 ounces pasta of your choice
2 ounces Parmesan, finely grated, plus more for serving
wedges of zested lemon, for serving
Trim brussels sprouts with a paring knife, then snap off several dark outer leaves from each; set aside. Cut sprouts into quarters (or halve if very small). Starting at root end, cut half of leek into ½"-thick rings, then chop remaining leek.
Heat 2 Tbsp. oil in a large skillet over medium. Add brussels sprout quarters and leek rings; season with salt and pepper and cook undisturbed until deep golden brown, about 3 minutes. Toss and continue to cook, tossing occasionally, until browned all over and tender, about 3 minutes more. Transfer to a medium bowl.
Set aside a little lemon zest for serving and add remaining zest along with chopped leek, garlic, and 2 Tbsp. oil to same skillet. Season with salt and pepper and cook, stirring often, until garlic and leek are golden, about 4 minutes. Add wine, bring to a boil, and cook until skillet is almost dry, about 3 minutes.
Meanwhile, cook pasta in a large pot of boiling salted water until very al dente, 8–10 minutes; drain, reserving 1 cup pasta cooking liquid.
Add pasta to skillet along with reserved brussels sprout leaves, brussels sprout quarters and leek rings, and ½ cup pasta cooking liquid; toss to combine. Bring to a simmer, then gradually add 2 oz. Parmesan, tossing constantly. Cook, shaking skillet to toss pasta and adding more pasta cooking liquid as needed, until pasta is al dente and sauce is thickened and glossy, about 3 minutes. Season with salt and pepper.
Divide pasta among bowls. Top with more Parmesan and pepper and reserved lemon zest; drizzle with oil. Serve with lemon wedges for squeezing over