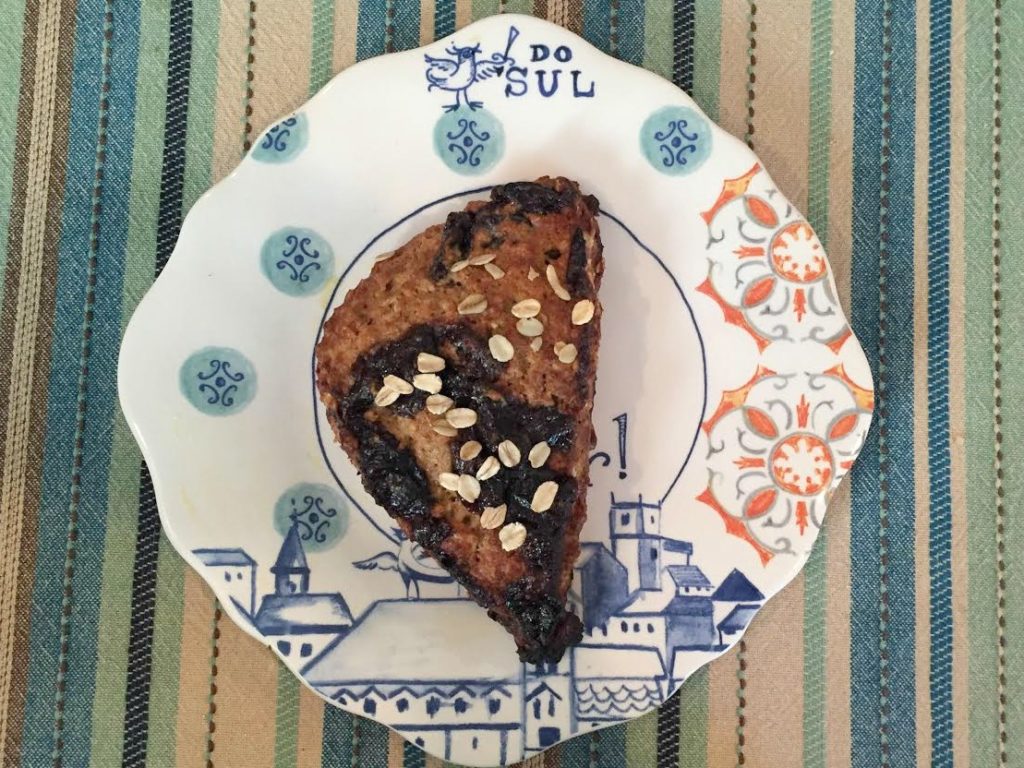 About this time last year, I realized that I didn't like my job. At all. I liked the people I worked with; by all accounts, my managers were pleased with my work; and I certainly couldn't deny that being surrounded by so many amazing cheeses, most of which would have been out of my reach otherwise, was a rare privilege. But I did not like my job. I hated the feeling of dread that churned in my stomach when my alarm clock went off in the morning and never really went away, even when I wasn't working. I hated that I let my feelings about work creep into my personal life and affect the way I treated others. I especially hated that my forearms were constantly covered in mite bites (which is  a real thing that happens when you spend a lot of time around cheese). But at the same time, I knew I couldn't up and quit, not with the specter of the holidays looming large. I mean, yes—I could have walked out at any time, but as I said, I liked my coworkers, and I couldn't stand the thought of leaving them in the lurch during the busiest time of year. So I decided to persevere through Christmas, and then find a way out.
To help me cope with the three months I'd assigned myself, I knew I'd need a bit of a boost. I'd been in the habit of listening to some pretty depressing music during my daily commute, which certainly wasn't helping matters, so I decided that step one was to put together a playlist that would put a bit more pep in my step. I present that playlist, titled "You Got This," to you now: read ahead, and judge me all you want.
I didn't expect I'd need this playlist again so soon, but for the past few weeks it's been on steady rotation once more. Things are completely up in the air in my current job, and I'm looking at the possibility of yet another big change in the near future. I'm feeling pretty calm about it, due in no small part to this excellent soundtrack, no doubt. But baking also helps. What else am I supposed to do, after all, when I don't really know if I'm losing my job or not, but have been told to camp out at home until further notice? What on earth could possibly be a better use of some unexpected time in the apartment, especially now that it's finally baking weather again?
By the way, I'm fully aware of how this recipe title sounds. I can just imagine the long-distance side-eye I'm getting from my brother-in-law at this very moment. Would it make you feel better if I called them plum scones? That's all prunes are, after all, and these are reconstituted in hot Earl Grey tea before they go into the dough. And as far as spelt goes: it smells like graham crackers and tastes like toasted nuts. Get outta here with your teasing.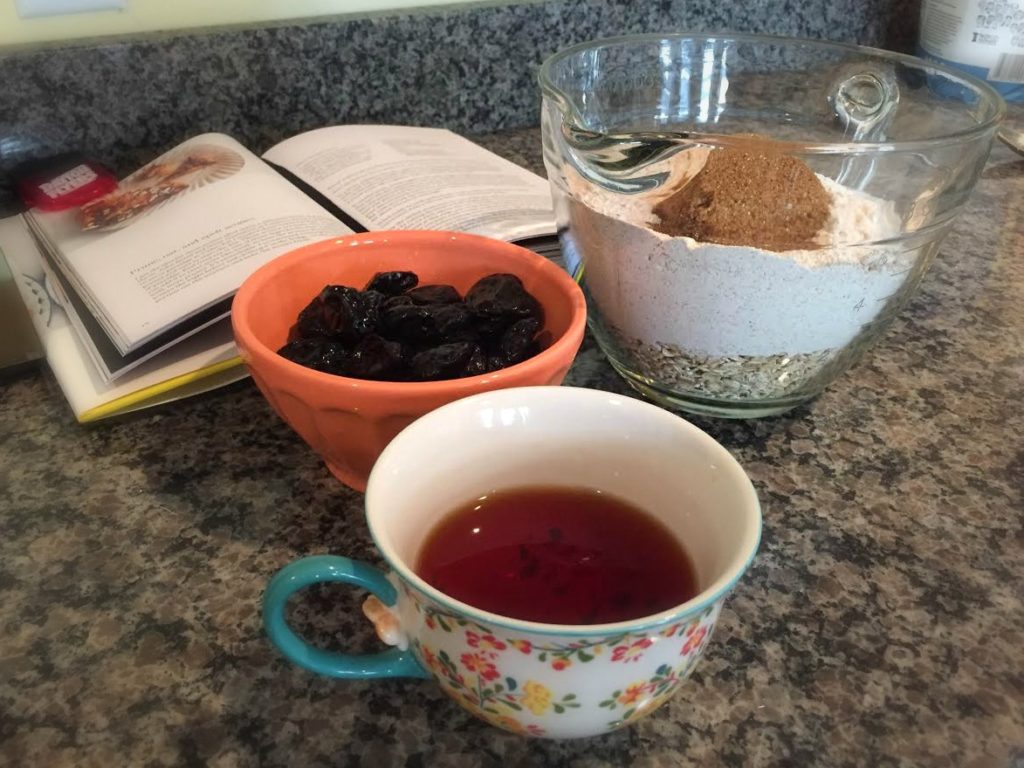 Putting together the dough for these scones was a little time-consuming. Much like biscuit dough, cold butter has to be cut into the flour mixture, which I still insist on doing by hand most of the time. It's not difficult by any means, but it is slow going and more than a little messy (especially when your kitchen is a little warm and the butter wants to melt in your fingers). Then, once you have your dough ready, you spread it out in a parchment-lined baking pan, tear the tea-soaked prunes apart with your fingers and press the pieces into the dough.  Last but not least, the syrupy tea left over from soaking the prunes goes on top of the dough. And then, the dough sits in the fridge overnight. All that work, and you're still hours away from a fresh, warm scone.
But in the morning, things get magical. You pop the dough out of the pan, parchment and all, and portion it into individual scones. And then– and this is my favorite part of the recipe– you bake only the number of scones you want, wrap the rest tightly, and freeze them for baking up later. So it's a lot of work in the beginning, but then, any time you want a fresh, warm scone, all you have to do is preheat the oven and pop one in, straight from the freezer. Think of all the up-front work as a gift to your future self.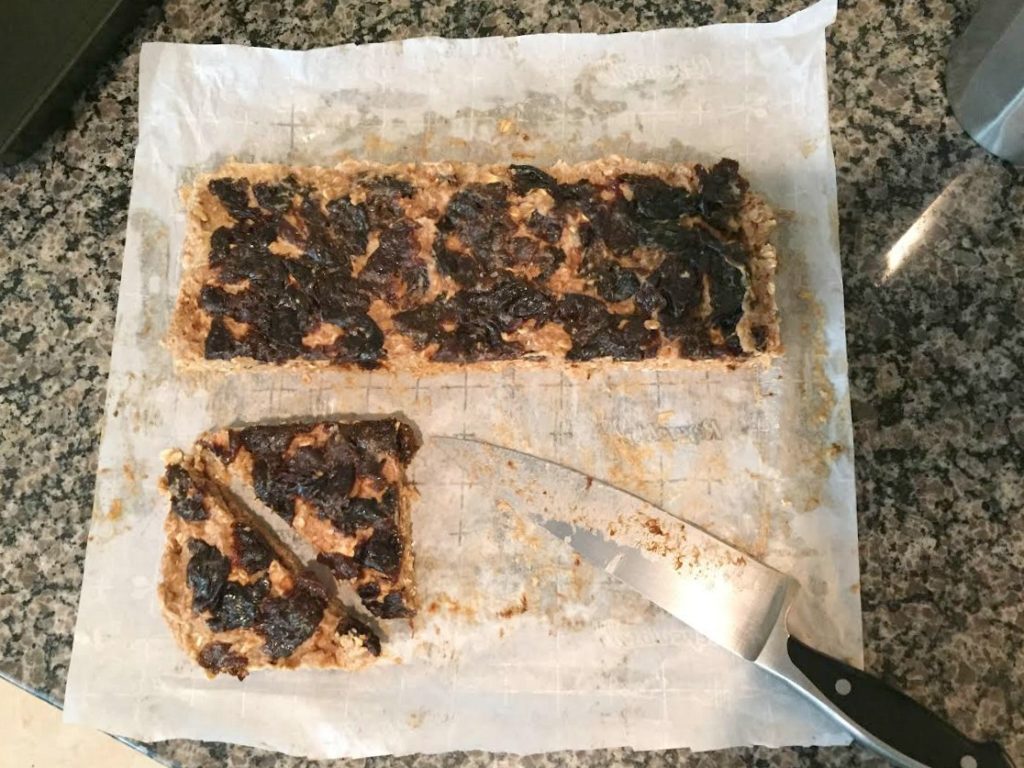 Another advantage of baking just a few scones at a time: I very nearly burned the first few I made, which would have been pretty sad if I didn't have several more in the freezer to help me tweak the bake time and temperature.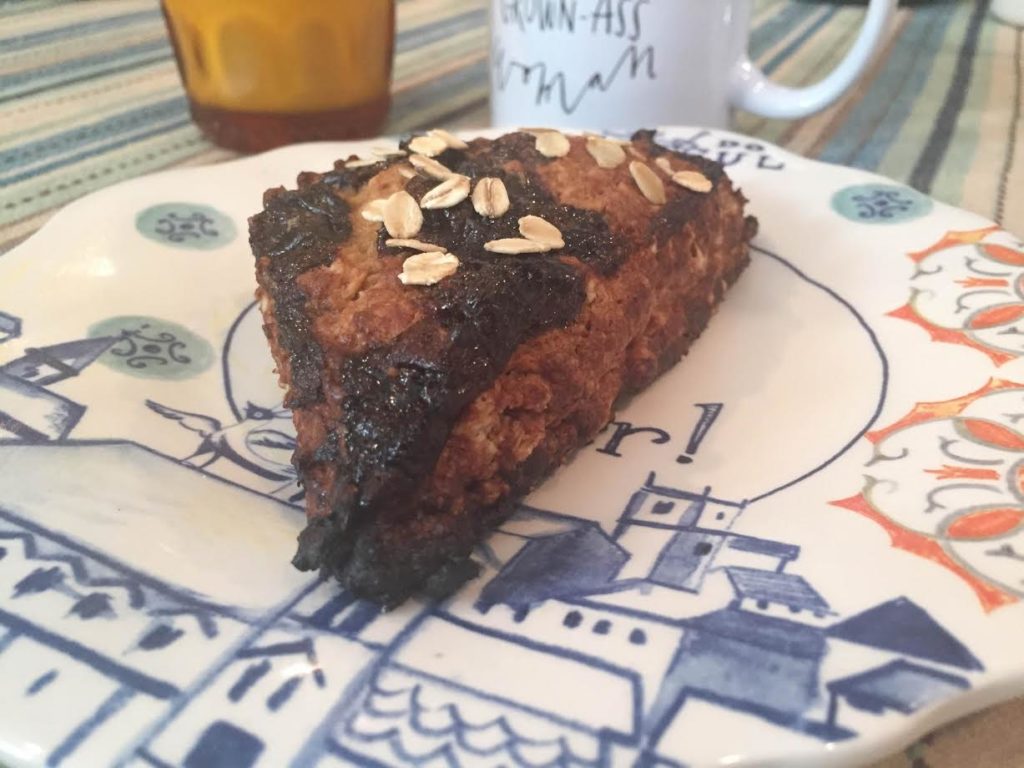 I hope to be back in a happy work groove before too long, but in the meantime, the kitchen groove will do just fine.
Prune, Oat, and Spelt Scones
adapted very slightly from the Violet Bakery Cookbook
4 Tablespoons brewed Earl Grey tea
10.5 oz pitted prunes
2 cups rolled oats, plus extra for sprinkling on top
3 cups whole grain spelt flour
1/2 cup light brown sugar
1 Tablespoon baking powder
1 teaspoon baking soda
1 teaspoon kosher salt
1 1/3 cups cold unsalted butter, cut into small cubes
2 eggs
2 egg yolks
4 Tablespoons honey
1 cup plain yogurt
Butter an 8×12″ baking pan and line with parchment paper. Put the prunes in a small bowl and pour the hot tea on top. Set aside.
In a large bowl, combine the oats, spelt flour, brown sugar, baking powder, baking soda, and salt, and whisk together. Using your hands, two forks, or a pastry cutter, cut the cubes of butter into the dry ingredients. Mix together until it resembles coarse meal.
In a separate bowl, whisk together the eggs, yolks, honey, and yogurt. Pour this into the flour-butter mixture and mix gently until just combined. Pour the mixture (it will be quite wet) into the prepared baking pan and spread it evenly. Tear the soaked prunes into small pieces and press into the dough, then pour the remaining liquid from the soaked prunes over the top. Tilt the pan to encourage the liquid to spread evenly. Cover the pan with plastic wrap and refrigerate at least 3 hours, or overnight.
When ready to bake, preheat the oven to 350°F. Line a baking sheet with parchment paper.
Pop the chilled dough out of the pan and cut into 12 triangles. (Cut the block in half lengthwise, cut each half into three squares, and cut each square diagonally into two triangles.) Place the scones you want to bake on the lined baking sheet, about 2 inches apart, and sprinkle with rolled oats. Bake for 35 minutes, or until golden. Wrap the remaining scones individually in plastic wrap and freeze until ready to bake.