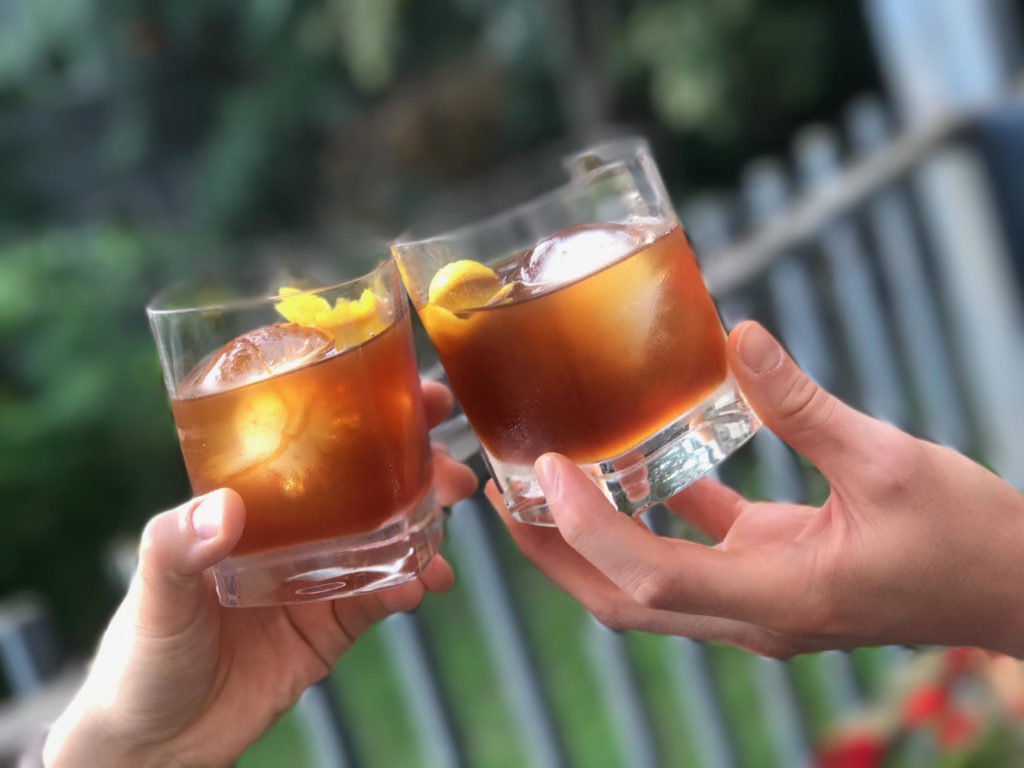 Last month, I turned thirty. Three-oh! Three whole decades! I'd been looking forward to this birthday for a while, so much so that I jumped the gun and started telling people I was thirty about a month early. I have high expectations for this decade; while my 20s were chock-full of good things (I moved to Boston! I married Alex! I got a dog! I ate my weight in amazing cheese!), they weren't exactly the most stable years. I'm hoping things settle down a little bit in the years to come. (Something tells me that there's no such thing as life "settling down," but one can dream.)
True to form, I spent the last few hours of my twenties baking; I made carrot cake from the wonderful, wonderful Brown Betty Cookbook (my first time making carrot cake, somehow), and, also true to form, forgot to document the process at all. You'll just have to trust me when I say that it was heaven on Earth. And if you like cake, you should go check out that book; I've baked from it several times in the last year or so, and everything has been perfect. Plus, the authors include stories and photos of the women in their family, after whom most of the desserts are named (examples: "Hattie Don't Play," a chocolate ganache cake; "Hey Thelma," a buttermilk cake with coconut frosting; and "Only For Eliza," a sweet potato cake I loved so much I made it twice in four days). It's so sweet, in every way.
A couple weeks after the cake, Alex and I had our first little fête of the summer. We've come up with a pretty nice dinner setup in our backyard, with a grill, a folding card table, some potted plants, and a string of Christmas lights around the porch railing, which just makes everything feel a little more magical. We've been eating dinner out there most nights over the past several weeks, even (especially?) when we have friends over. On this night, the menu included blistered shishito peppers, a pared-down version of Bon Appetit's brassicas bowl, and roast chicken (because when you're eating outside, it's ok if you heat up the kitchen a little). But, more importantly, it included a drink that has quickly become the Nishibun house cocktail. It's called the Smoke 'Em If You Got 'Em.
We got the cocktail idea from a trip we took to DC late this spring. Alex had a concert there, and it also happens to be the home of one of my oldest friends, Chris, so all the elements were right for a visit. Chris took us to Churchkey, where Alex ordered this drink; he was so enamored with it that we decided to take a crack at making it at home. All we had to go on was a snapshot of the drink description, so it took a little trial and error to figure out the right proportions, but we've landed on a version we like very much. It's not too sweet; it's a little bitter, but pleasantly so; and as the name suggests, it's deliciously smoky, thanks to the Mezcal. I took a sip of Alex's drink at Churchkey and decided that it's like all the good things about smoking a cigar, without actually having to smoke a cigar.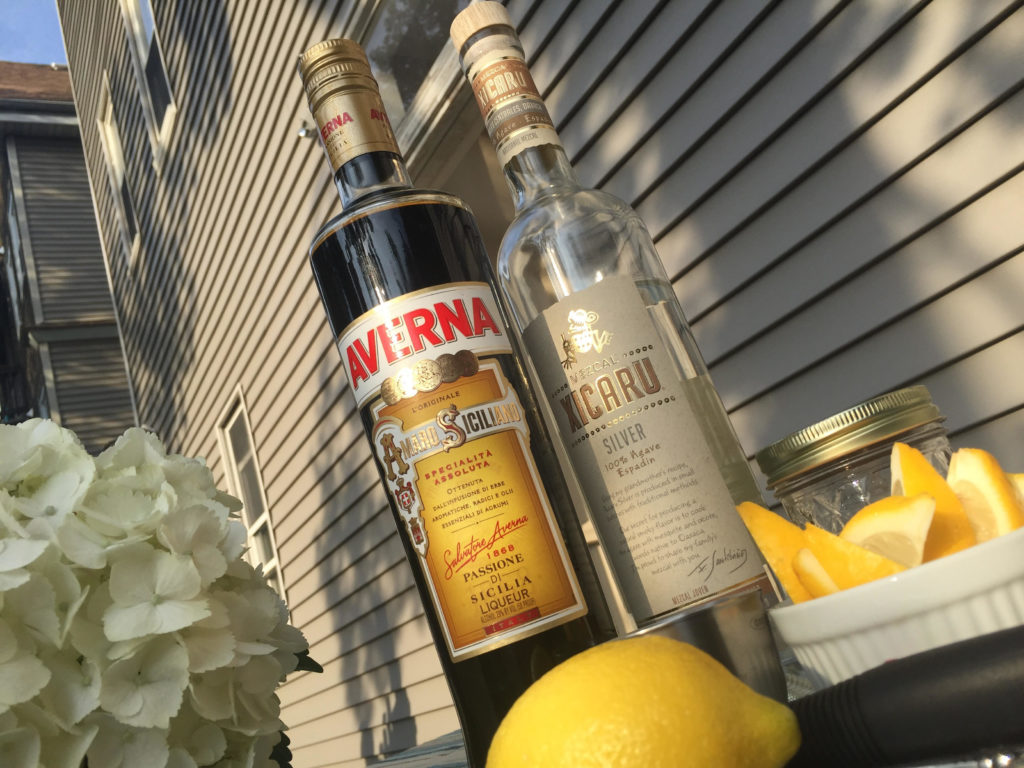 The only thing you have to make for this drink is honey simple syrup, which couldn't be easier: just mix equal parts honey and water in a saucepan, bring it to a simmer, stir, and let it cool. Done. Once that's made, all you have to do to make the drink is squeeze a lemon wedge over ice and open three bottles. Done and done.
It's officially the Summer of Mezcal at our place. Its smokiness makes it perfect for warm weather, maybe because it mixes so well with the smell of the grill and the lighter, more veggie-centric meals we prefer at this time of year. Although we're already in mid-July, and summer wanes fairly quickly in Boston, I'm looking forward to many more back porch evenings with friends, food, and a house cocktail in hand. Cheers.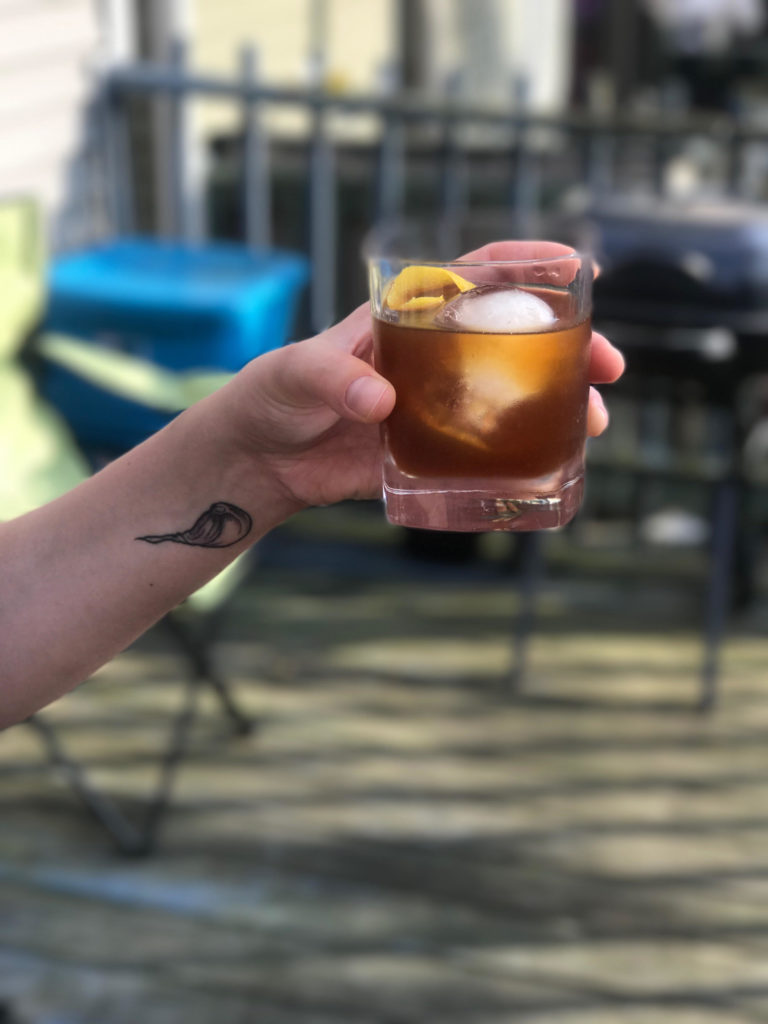 Smoke 'Em If You Got 'Em
inspired by the bar menu at Churchkey, DC
2 oz Mezcal
1 oz Averna (we've experimented with a couple different kinds of amaro, but Averna is our favorite)
scant 1/2 oz honey simple syrup*
about 1/4 oz lemon juice (we cut a lemon lengthwise into 8ths and use one wedge per drink)
1 strip of lemon zest, for garnish
Combine all liquid ingredients in a rocks glass over ice (an ice globe or a big chunk is especially nice) and stir to combine. Roll the lemon zest into a loose tube and squeeze over the drink, releasing the oils. Rub the zest over the lip of the glass, drop it in the drink, and enjoy.
*to make the honey simple, combine 1/2 cup honey and 1/2 cup water in small saucepan. Bring to a simmer over medium high heat, stir, and let cool. You can make this in any 1:1 proportion, but this amount keeps nicely in the fridge in a jam jar.