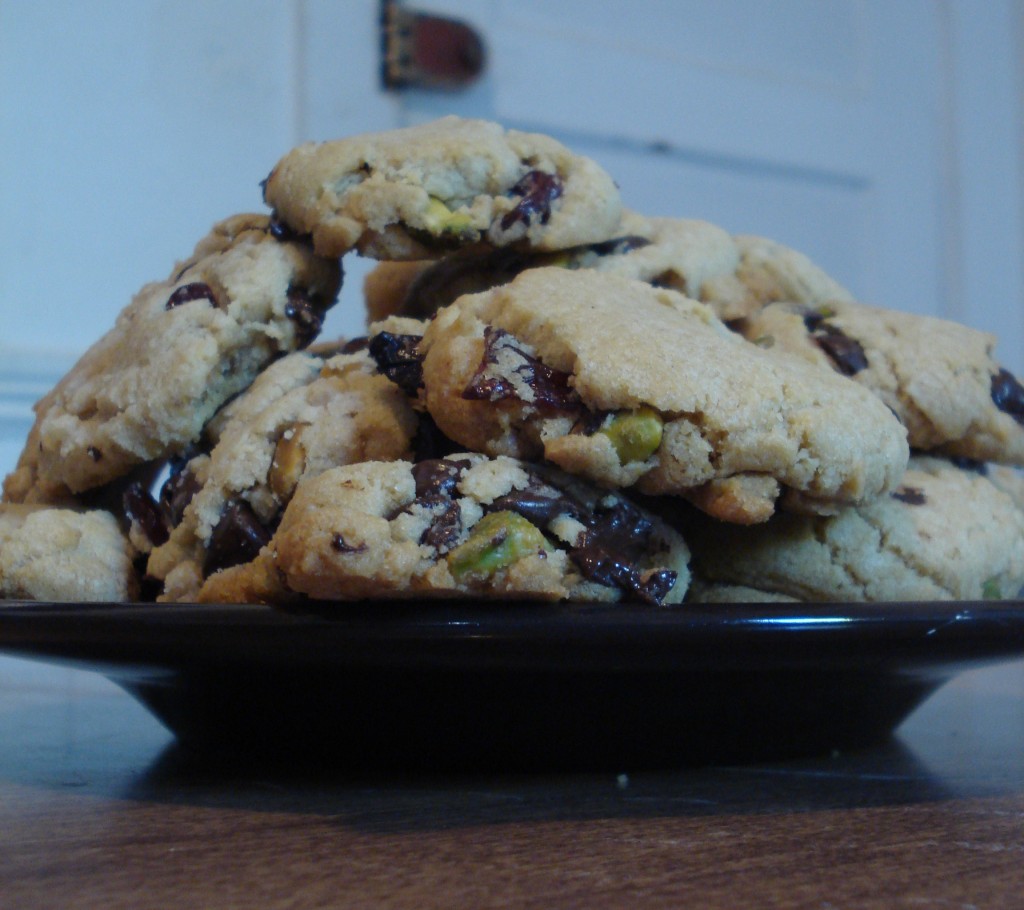 I remember the very first time I made cookies by myself.  I don't remember exactly how old I was, but it was during a break from school, and I was home alone, so I was obviously at that golden age where I no longer required child care but was still too young to get a job.  I had a hankering for cookies, but we didn't keep a lot of store-bought sweets around the house, and I didn't have a driver's license, so I had no choice but to make my own.  I wasn't about to use my mom's electric mixer, for fear of breaking it, so most of the cookie recipes I found in our stack of cookbooks were out of the question.  But then, in a spiral-bound paperback cookbook from some old church event, I found it—a sugar cookie recipe which not only called for the dough to be mixed by hand, but used self-rising flour.  There was no way I could mess that one up!
I remember how proud I was when those cookies turned out beautifully.  I was so excited that I also dug up a frosting recipe, whipped up a batch, and gave each cookie a generous dollop.  I couldn't wait for my parents to come home and see what I'd done—and that I hadn't burned the house down in the process.
To this day, cookies are still my favorite things to bake, and my weirdo brain is constantly coming up with ideas for new cookies when it should be focusing on other things; my very favorite recipe, which I hope to share here soon, is one that I dreamed up in chemistry class during college.  This recipe is less the result of divine inspiration and more an amalgamation of a trusty recipe and my favorite recent pantry items.
The key ingredient in these cookies is browned butter.  Browned butter should be every baker's secret weapon; it has the power to take just about any dessert from good to great.  And, it should be noted, browning butter will make your kitchen smell delectable.
Other than the browning of the butter, the dough comes together much like any other cookie dough: with sugar, eggs, and a flour mixture.  After your dough is mixed, throw in some (read: tons of) chocolate chips, a handful of dried sour cherries, and a smaller handful of pistachios.  It's such a festive, colorful combination!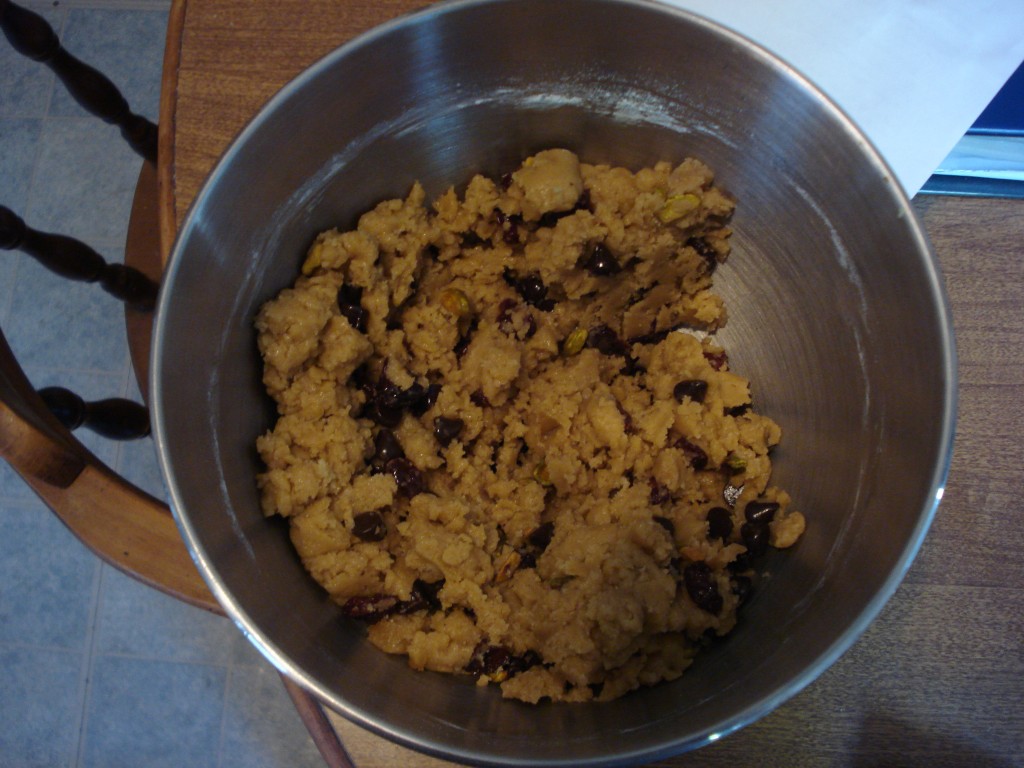 I find that a tablespoon is the perfect measure for cookie dough.  Just pack the dough into the spoon and drop it onto a pan lined with parchment.  Your cookies will be uniform and beautiful.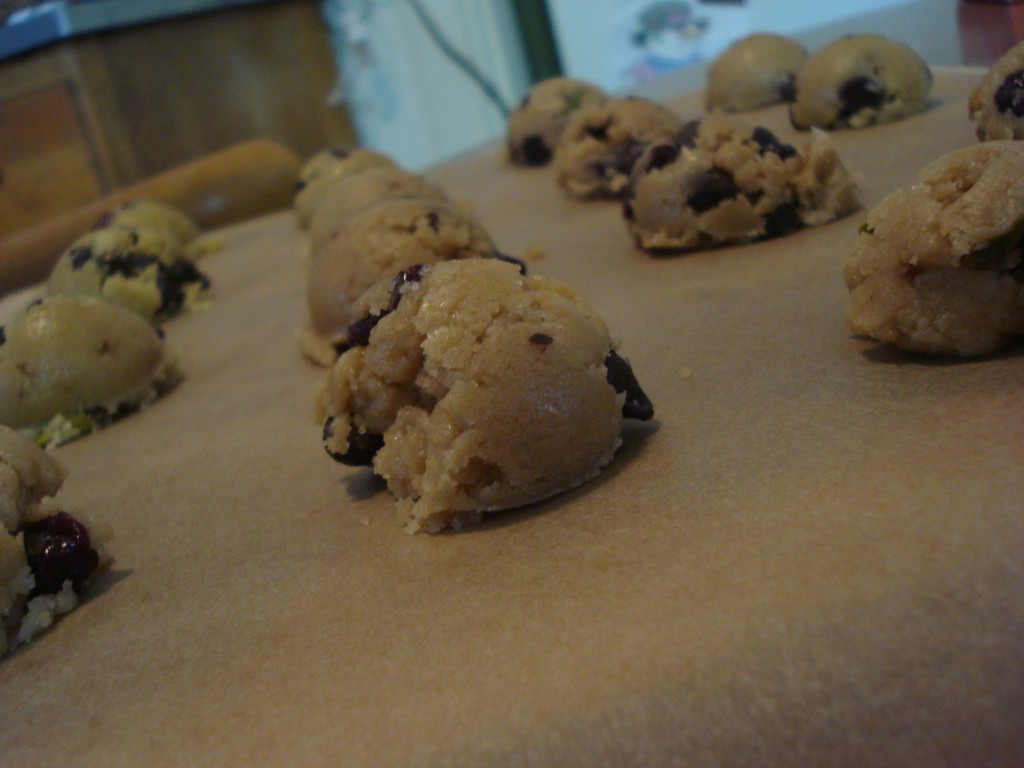 Sidenote: I really struggled with cookies for a while after moving to Boston and trying to bake with a gas oven for the first time.  My cookies always, always flattened out and stuck to the pan, no matter how much cooking spray I used, or how I tweaked the recipe.  I huffed and puffed and threw—not dropped, not tossed, but threw—a lot of cookies in the trash for a couple of years.  And then I tried lining my baking sheets with parchment paper.  And what d'you know, it worked.  Those cookies just slide right off.
I think the best thing about a fresh batch of cookies is that they're so incredibly shareable.  Roommates and families and friends all love fresh-baked sweets, and incidentally, so do strangers.  Obviously, you can't really go around these days giving mysterious bags of sweets to random people—at least, not without getting the authorities involved—but I'm sure everyone has a number of semi-strangers in their lives whose days would be brightened by a small, delicious gift.  I suggest the tailor who occasionally alters your clothes and always waves when she sees you pass by her shop, the barista who pours your morning coffee, or that guy who's always standing on the same corner outside of Trader Joe's selling Spare Change News.
But share the love quickly, before you give in to the temptation to scarf them all down yourself.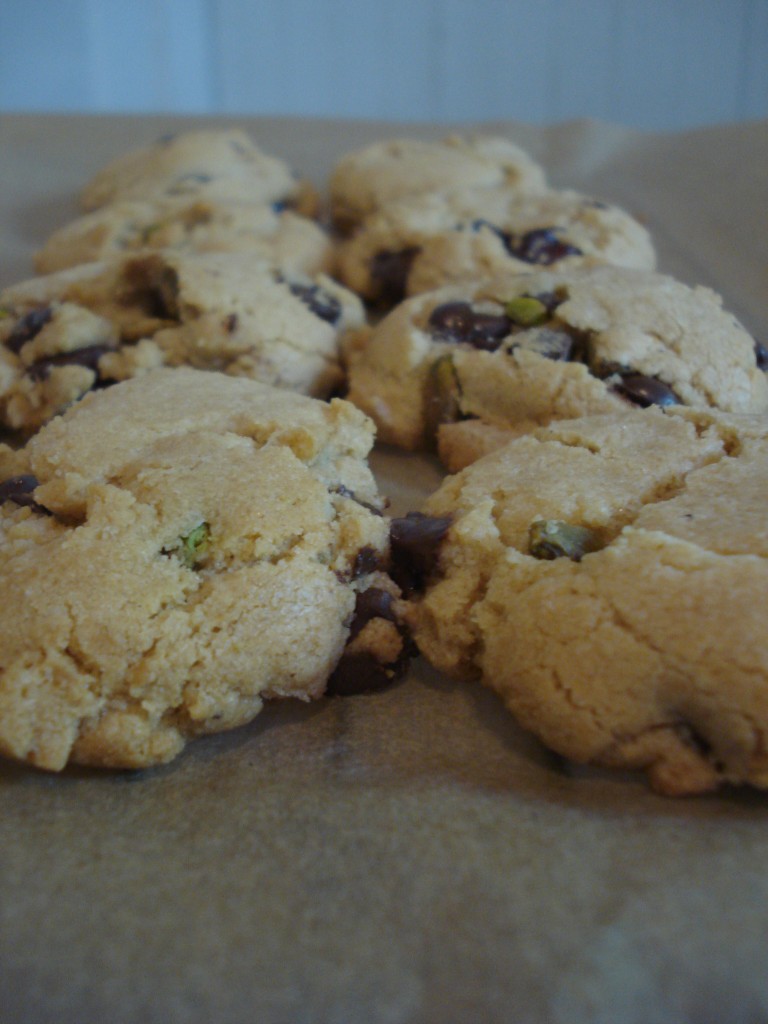 Chocolate Chip, Pistachio, and Cherry Cookies
1 cup (2 sticks) unsalted butter
1 cup granulated sugar
3/4 cup brown sugar
1 tablespoon pure vanilla extract
2 1/2 cups all-purpose flour
3/4 teaspoon baking soda
1/2 teaspoon salt
1 large egg
1 large egg yolk
1 cup chocolate chips
1/2 cup dried sour cherries
1/3 cup shelled pistachios
Preheat oven to 350 degrees F.  Line a baking sheet with parchment paper.
Melt butter in a medium saucepan over medium heat.  Continue to cook, watching carefully, as the butter starts to crackle and foam; remove from the heat when browned bits begin floating to the surface.  Immediately pour into a heatproof bowl to prevent it from cooking further, and set aside.
In a medium bowl, whisk together flour, baking soda and salt.  Set aside.
In the bowl of an electric stand mixer, fitted with a paddle attachment, measure granulated and brown sugar.  Add the brown butter and beat together.
Add the egg and egg yolk and beat on medium speed until the mixture becomes smooth.  Add vanilla extract and beat.
With mixer on low speed, add the dry ingredients.  Beat until just incorporated.  Remove the bowl from the mixer and fold in the chocolate chips, cherries, and pistachios by hand.
Drop rounded tablespoons of dough onto the prepared baking sheets.  Bake for 10 to 12 minutes, until golden brown around the edges; don't overbake.  Remove from the oven.  Allow the cookies to cool on the pan for 5 minutes, before removing to a wire rack to cool completely.