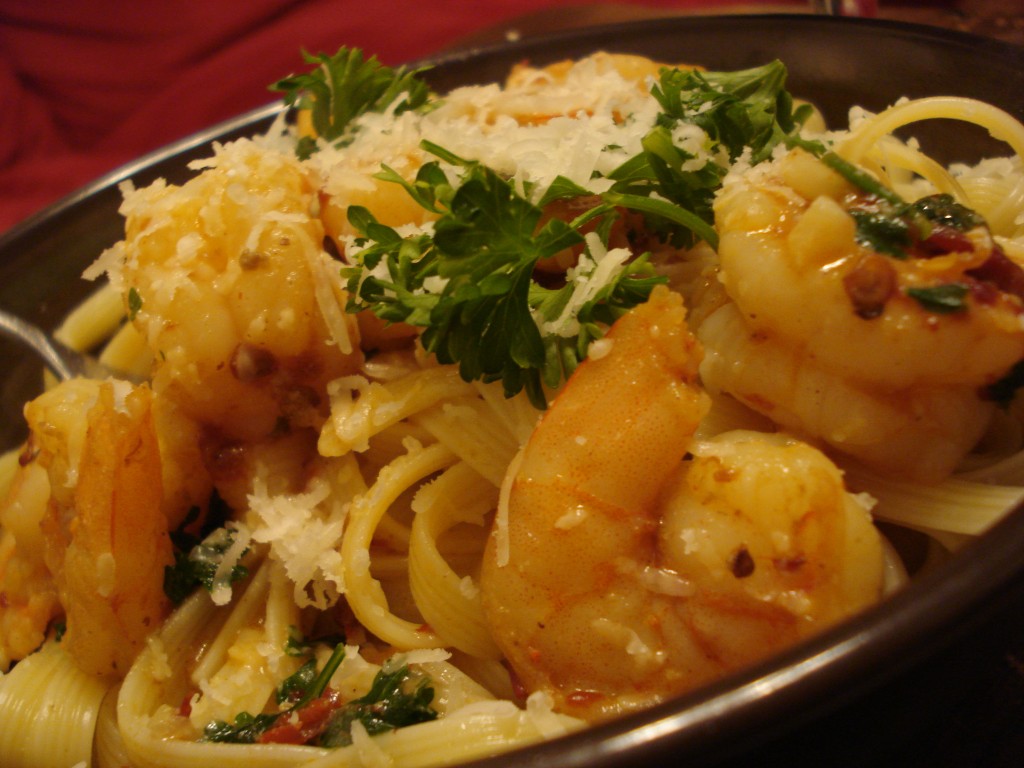 I've probably given the impression on this blog that I eat a lot of shrimp.  True, this is only the third time I've presented them, but given how small my blog is, and how much of it is focused on sweets, that's still a lot of shrimp.  The truth is that shrimp are a treat—a "sometime food," if you will—but I love them so much that on the occasions when I do make them, I just feel like I have to blog about them.
[Sidenote: I'm not in any hurry at all to have kids, but I fully expect watching Sesame Street with the young'uns to be one of the best parts of parenthood.  I challenge you to name another show that introduces kids to nutriton and Porgy and Bess simultaneously.]
This recipe is one my dad made frequently when I was younger.  I wouldn't really call it an authentic scampi; it has the requisite garlic, butter, and white wine, but it's also dressed up with a few other key ingredients, notably chipotle peppers.  And while I recognize that a distinctive feature of traditional scampi is the pool of butter in which the shrimp swim, I use about half the amount my dad's version calls for.  I can see him huffing and puffing right now, saying something like, "You need all that butter!  Grease keeps your joints oiled up!"  But you know what?  I stand by my lightened version.  It's delicious.
Of course, when a recipe starts with fresh minced garlic and herbs, it's bound to be delicious.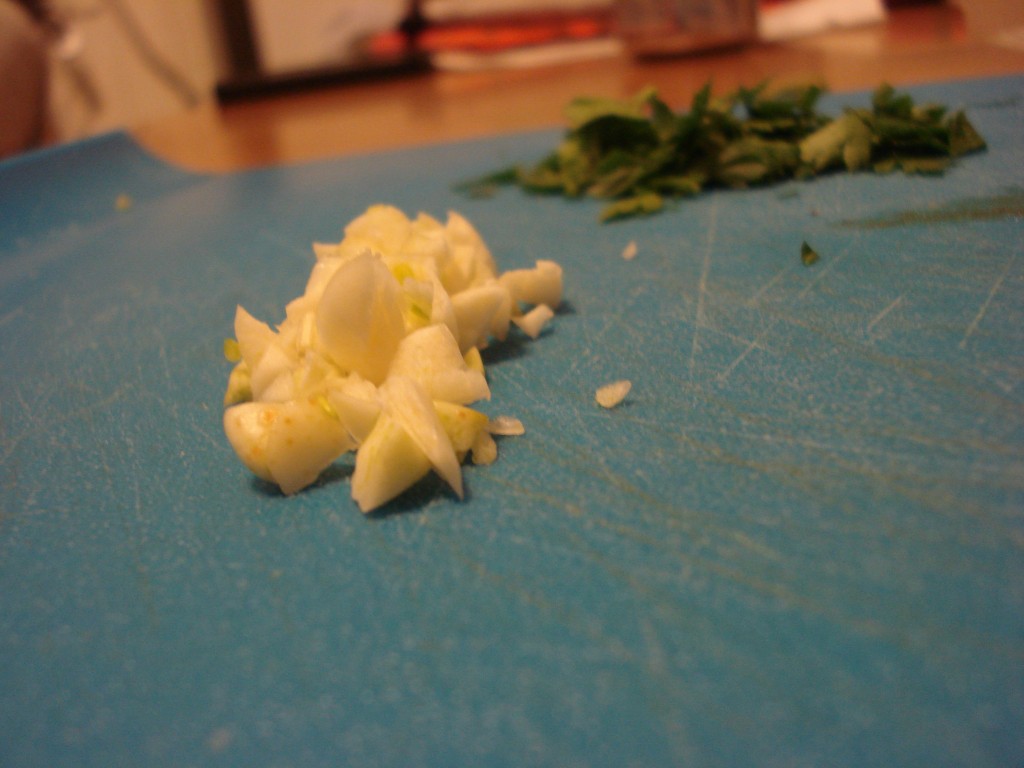 Here are the magic ingredients that give this recipe its punch: Worcestershire sauce, spicy mustard, and canned chipotle peppers.  It occurs to me that the original recipe calls for Creole mustard, which is not the same thing, but I always have spicy mustard on hand, so it stands in.  Maybe I'll try to get my mitts on some Zatarains, if I can find it in Boston.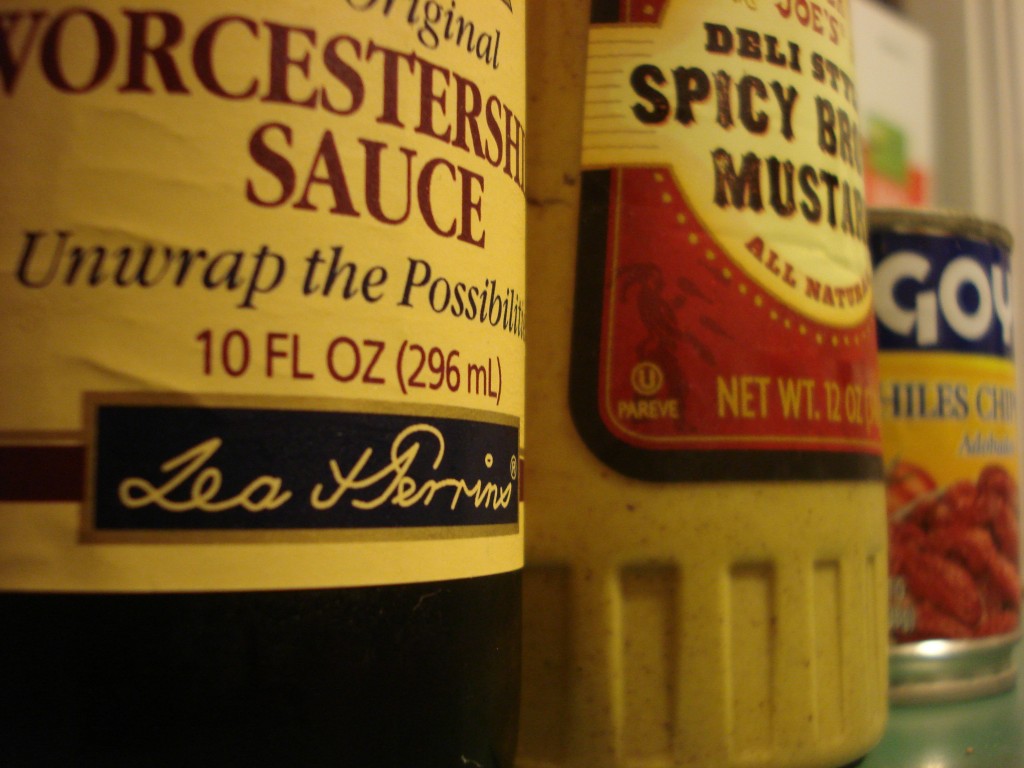 Pick a nice, dry wine to go in the scampi.  It'll also pair well with the finished product.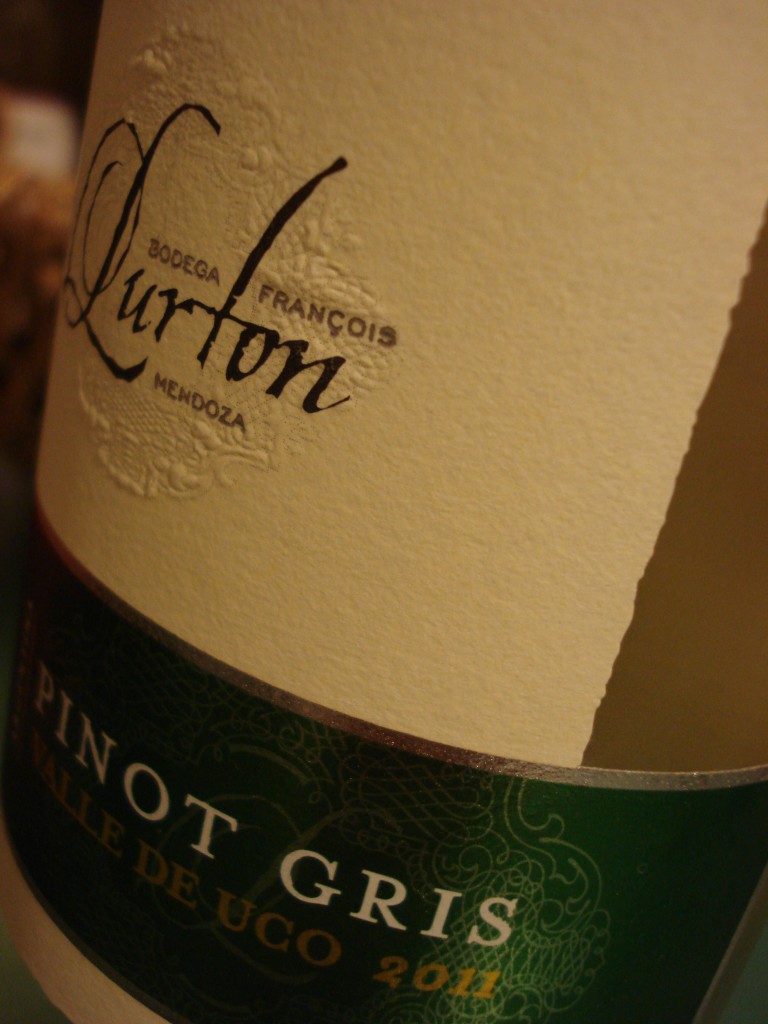 A final point about this dish: the type of pasta you choose makes a surprising difference here.  In the initial photo (from about two years ago), I used linguine.  In the photo at the bottom, I used tri-color rotini.  The advantage of the linguine is that it looks more elegant.  The rotini, however, is great because it has plenty of nooks and crannies to catch the sauce.  If I can figure out where on earth to find it, this fusilli looks like it would be just the solution.
In the meantime, just pick your pasta and dive on in here.  Treat yourself to some shrimpy goodness.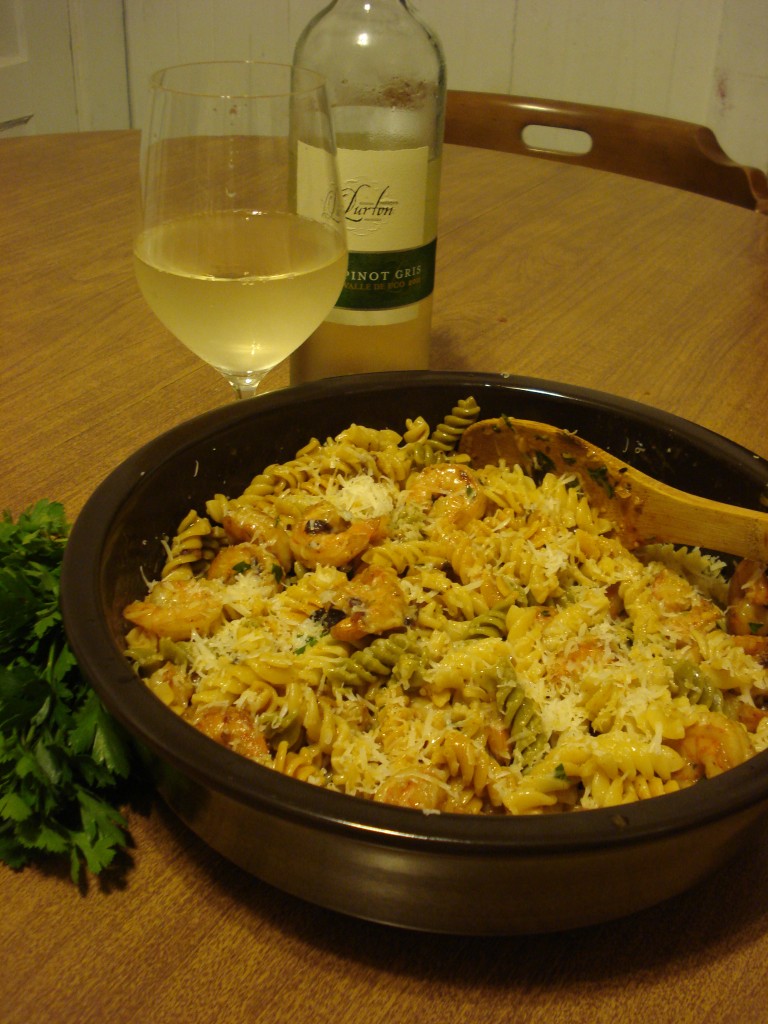 Spicy Shrimp Scampi
2 tablespoons olive oil
2 cloves fresh garlic, minced
1 to 2 tablespoons chopped chipotle peppers in adobo (Dad says, "1 tablespoon will be hot, 2 will be dynamite.")
1.5 pounds shrimp
1 tablespoon creole or spicy mustard
1 tablespoon Worcestershire sauce
1/4 cup dry white wine
1/2 stick (4 tablespoons) butter
1/4 cup chopped fresh parsley
1/2 cup fresh-grated parmesan cheese
1 package pasta of your choice, cooked
Heat the olive oil over medium heat in a large frying pan or wok.  Saute the garlic and chipotle peppers in the hot oil.  After about 3 minutes, add the shrimp and cook for 3 or 4 minutes more, until the shrimp just turn pink.
Remove shrimp and set aside.
Add the mustard, Worcestershire sauce, and wine to the pan; cook for about 3 minutes, stirring constantly.  Return shrimp to pan, and add the butter and parsley.  Cook for about 2 minutes, until butter has completely melted.
Pour the mixture over prepared pasta, add the parmesan cheese, and stir.  Garnish with extra parsley and grated parmesan.