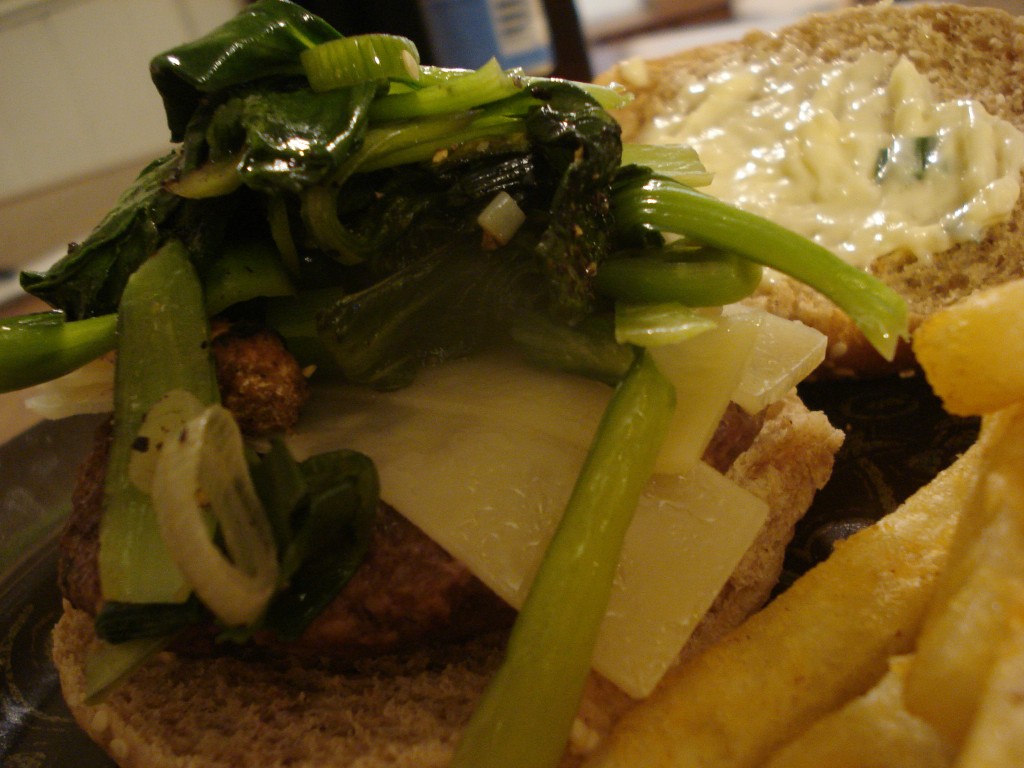 If there's one thing I've made abundantly clear with this blog, it is that I have a very deep appreciation for foods with bad reputations.  Thus, it should be a given that hamburgers hold a very special place in my heart, but to tell the truth, I've never really equated burgers with junk food.  That's probably because I was raised on handmade, from-scratch burgers that my parents prepared.  (Naturally, we ate at fast-food restaurants like most other families, but I was a diehard chicken nugget fan, so my non-homemade burger intake was remarkably low.)  There was just something inherently comforting in that magical combination of beef, bread, and condiments.
These days, I look at burgers as an empty canvas just waiting to be dressed up.  Although I'll never argue with good old-fashioned ketchup, mustard, and pickles, finding new ways to  accent the world's best sandwich is one of my favorite things.
This burger was born on the opening day of the Copley Square farmers market, one of my favorite things about Boston.  Of course, in late May, the pickings at the market are a little slim, but I still came home with a handful of good things, including green garlic (the shoot that grows above ground in addition to the tiny, baby bulb), shiitake mushrooms, and baby bok choy.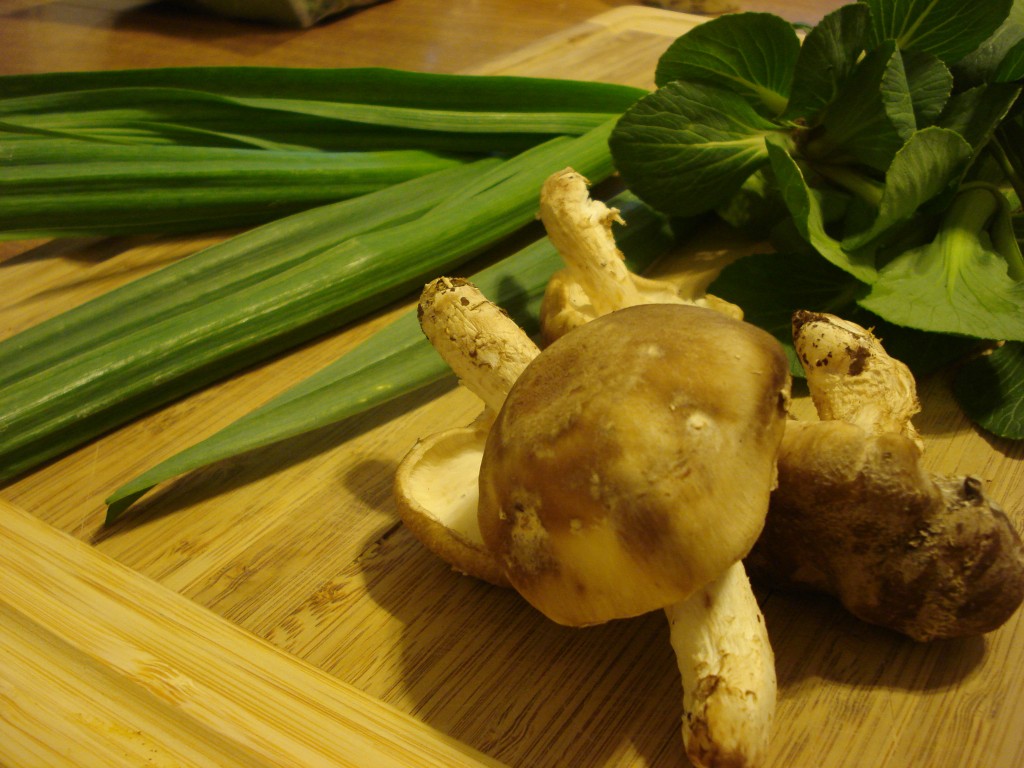 When your ingredients are this fine, you really don't have to do much to them in order for them to sing.  I sliced up a stalk of green garlic into rounds (much like a green onion), cut the shiitakes into thick slices, and cut the base off each baby bok choy to separate the leaves.  Then I sauteed everything in a bit of olive oil, and that was that.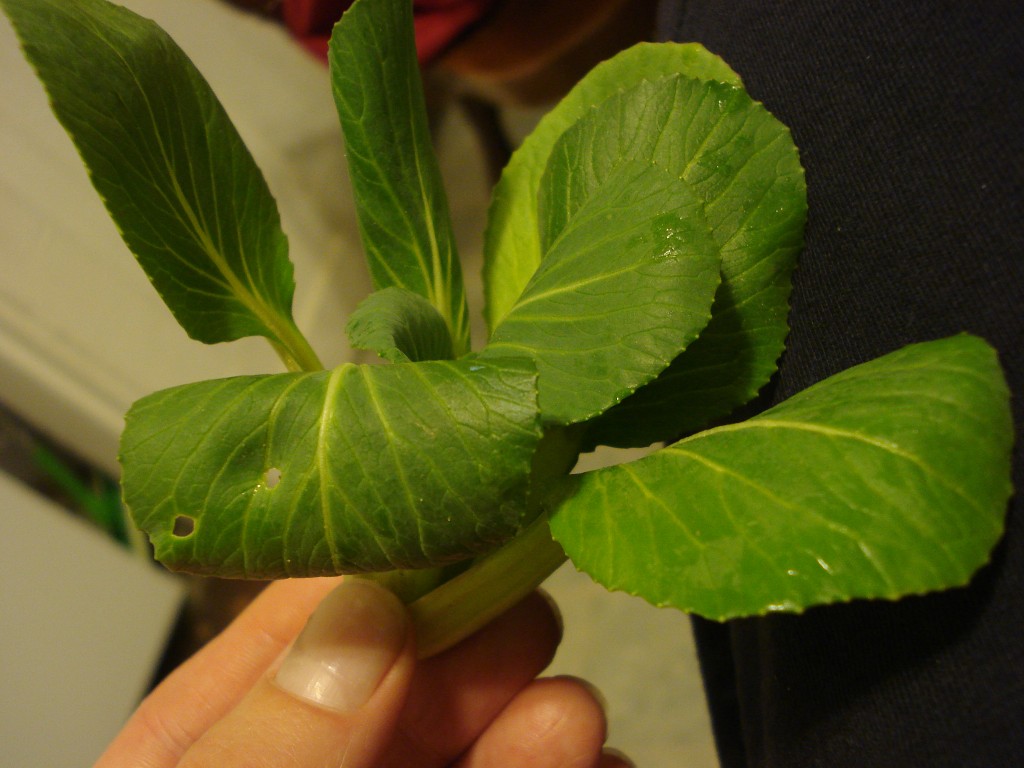 Not only does baby bok choy look like a perfect boutonniere, the bases look like little green roses. Could a single plant possibly be more precious?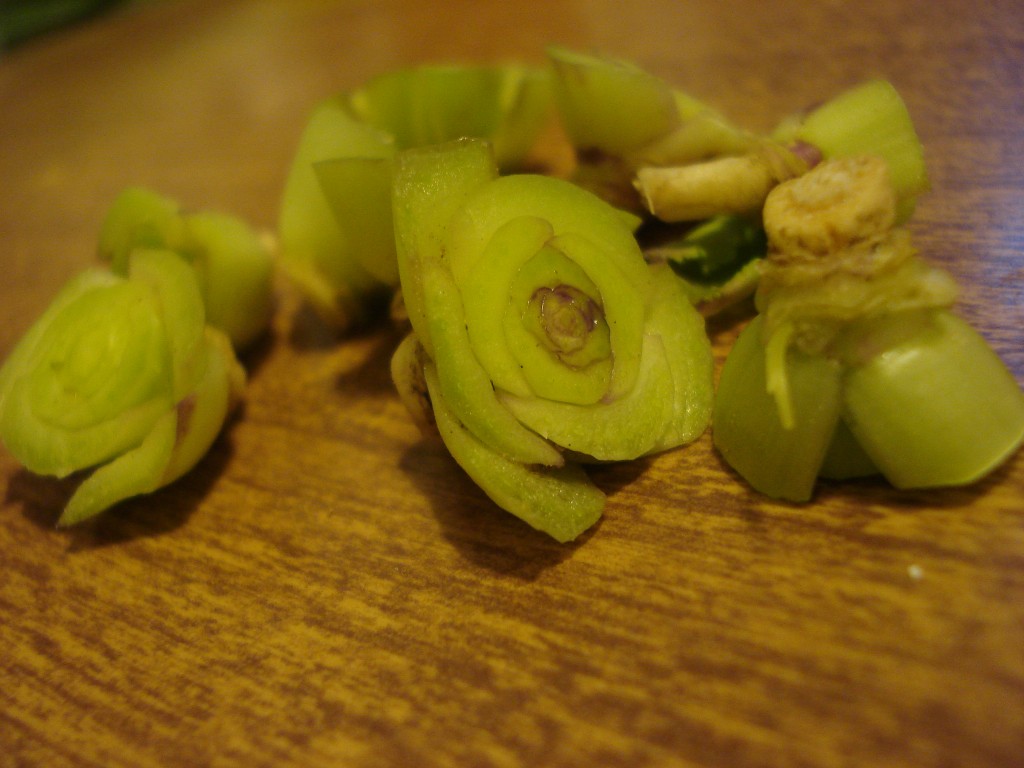 With such an unusual choice of toppings, these burgers need an equally special condiment.  I opted for garlic aioli.  Although a more skilled chef probably would have made this sauce from scratch, I just added a crushed garlic clove, a drop of olive oil, and a squeeze of lemon juice to a bit of mayonnaise.  Say what you will, culinary school folk– my aioli is just fine for my purposes.
How you choose to season your beef is entirely up to you.  For me, seasoning the meat is the trickiest part of the process, since I can't just keep tasting my raw beef until I get it right.  But in this case, I used a generous sprinkle of herbs de provence and several shakes of Worcestershire sauce.  The herbs complemented the beautiful green toppings, and the Worcestershire accented the meatiness of the beef (we do need to remember that we're eating meat here, after all).  And last, but not least, just before removing the hamburger patties from the stove, I topped them with thin slices of Gruyere cheese.  If these aren't the most elegant burgers you've ever had, I'll eat my hat.
Bok Choy-Shiitake Burgers
For the patties
about 1 lb. ground beef (the lower the fat content, the less your patties will shrink as they cook)
1 tsp herbs de provence (adjust to taste)
about 1 Tbsp Worchestershire sauce
salt and pepper
For the toppings
1 stalk green garlic, if available (2 or 3 thinly sliced garlic cloves will also work), sliced into thin rounds
about 1 cup baby bok choy leaves
about 1 cup sliced shiitake mushrooms
Gruyere cheese, thinly sliced
For the aioli
1/4 cup mayonnaise
2 large garlic cloves, pressed
1 teaspoon olive oil
dash of lemon juice
First, mix the herbs, Worcestershire, salt and pepper into the ground beef (I just use my hands).  Form into four patties, making them as flat as possible; they will plump up as they cook, and making the patties thin will help them cook more evenly.  Set patties aside.
Saute the vegetables in olive oil over medium-low heat; allow to cook until the mushrooms are tender.  Meanwhile, prepare the aioli by mixing all ingredients in a small bowl.
Cook the burger patties in a nonstick skillet over medium heat.  They will likely take about 5 minutes on each side for medium to medium-well; adjust cooking time to suit your preferences.  After you have flipped the patties, top them with the Gruyere cheese; it will be deliciously melted by the time the burgers are done.
Serve patties on toasted wheat buns, topped with the vegetable mixture and a dollop of aioli.