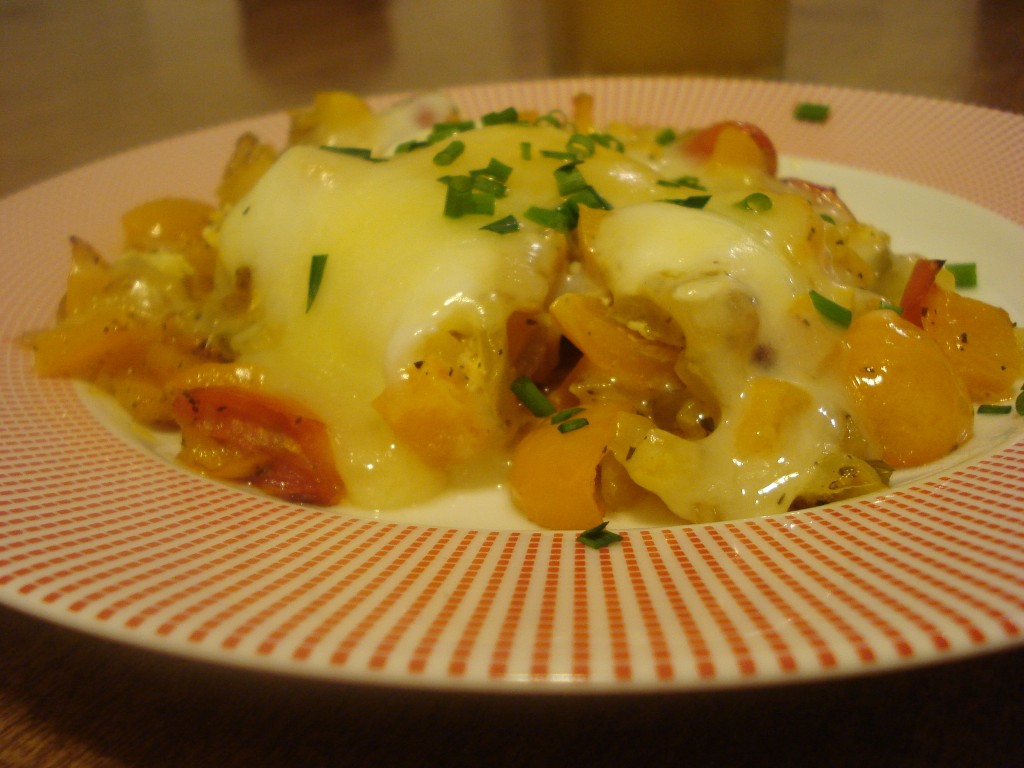 Alex and I are freshly back in Boston after several days in his hometown in Kentucky.  While we were there, we spent quality time with family, watched two good friends say their marriage vows, and of course, ate our collective weight in delicious, delicious food.  I had granola pancakes, which were larger than my face, mass quantities of amazing Indian food, and of course, a giant slab of wedding cake.  It was divine, but now my jeans are feeling considerably smaller than they were a week ago.  I may have to rename this blog "Notes on Celery" for a few weeks.
But before I start wolfing down leafy greens, let's talk about eggs and cheese for just a moment.  Do you ever have occasion to eat dinner at home alone?  It can be a tricky thing.  When I find myself alone at dinnertime, I'm reluctant to cook, even if I'm hungry.  But huevos rancheros are so easy and satisfying that there's really no excuse not to make them.  Don't baked eggs, veggies, and cheese sound better than a bowl of popcorn anyway?  I certainly think so.  Just look at this colorful spread!
I'm pretty sure there's nothing that smells more tantalizing than onions and garlic cooking in hot olive oil…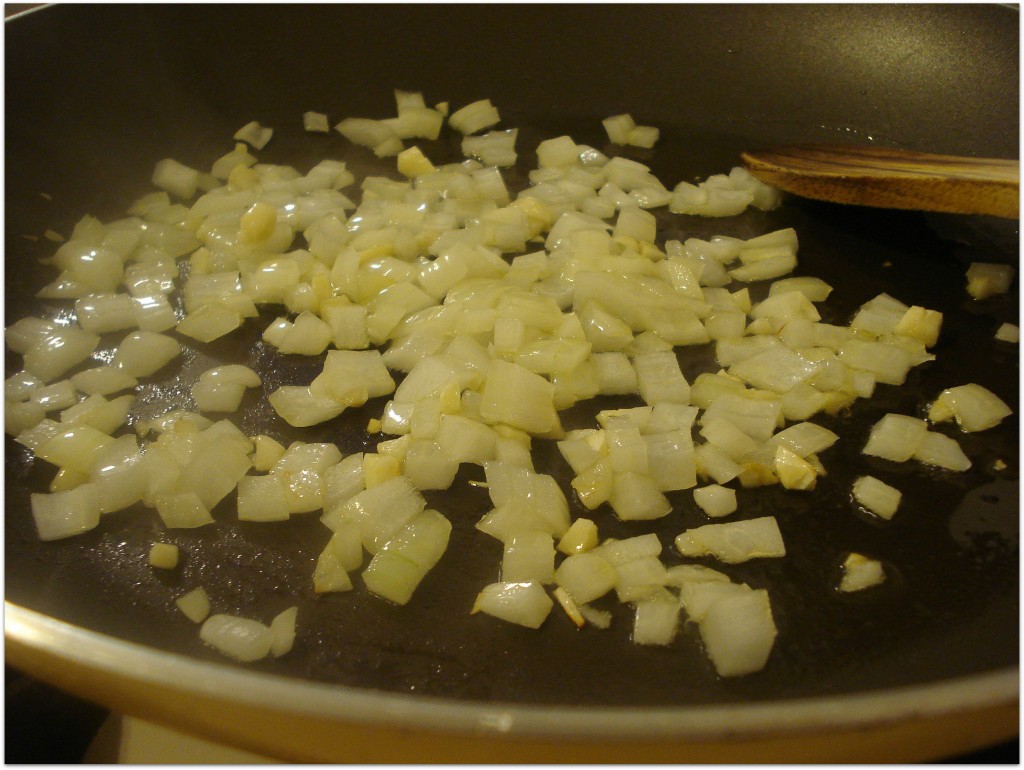 …unless, of course, it's onions, garlic, peppers and tomatoes cooking in hot olive oil.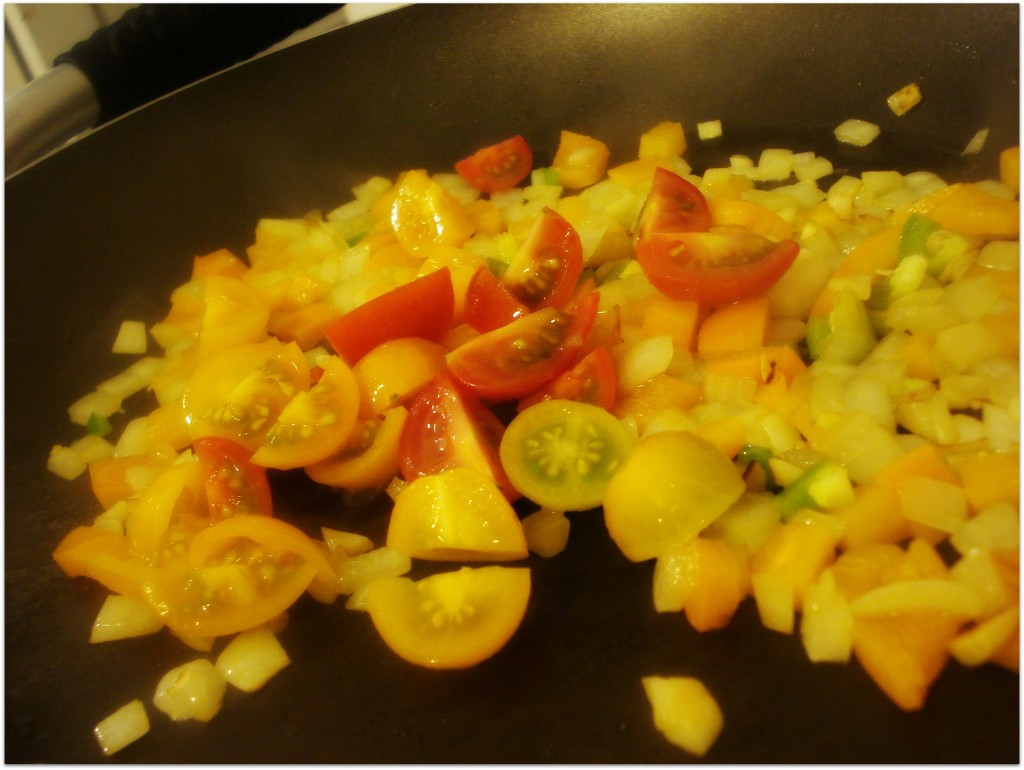 I realized after sauteeing the veggies that I probably should have cooked them in a pan I could transfer straight to the oven.  I ended up heating my iron skillet and then transferring the veggies into it, but cooking in the skillet in the first place would have saved a step.  If your skillet isn't a good single-serving size, just use a spatula to make a small bed of veggies in the middle of the skillet, like so: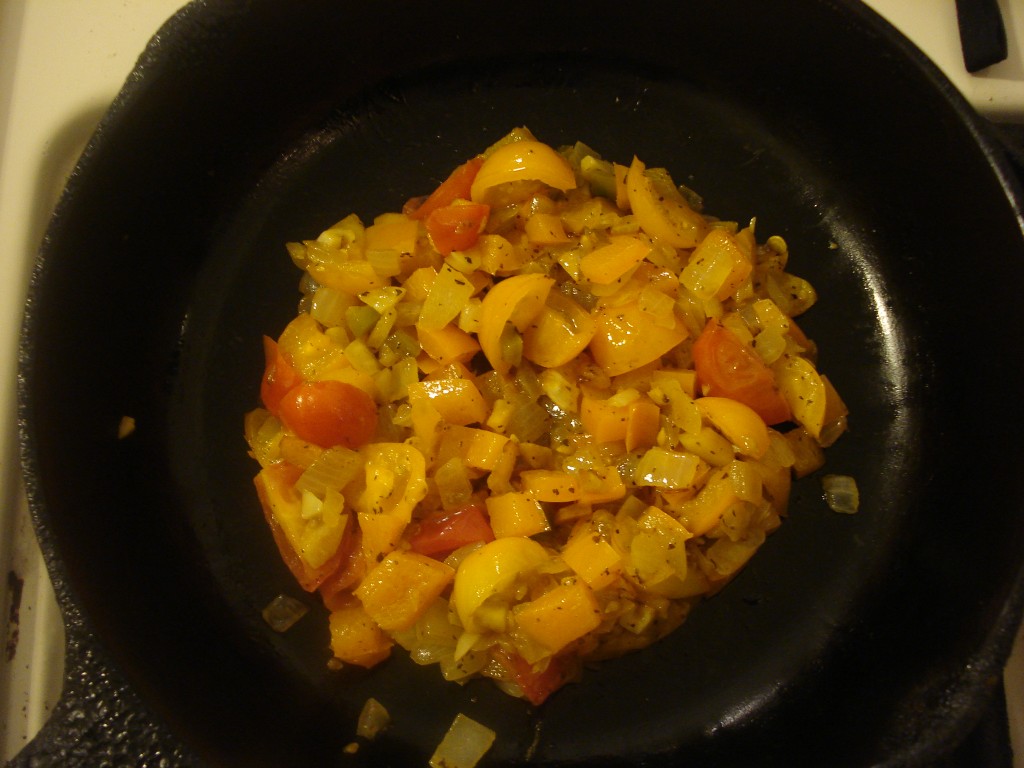 Make a little hollow in your veggie bed and crack an egg into it.  Pop the skillet in the oven, and cook for about 10 minutes, or until the egg white is cooked and the yolk is starting to set.  Sprinkle with cheese, and bake for about 3 more minutes, until the cheese melts and bubbles.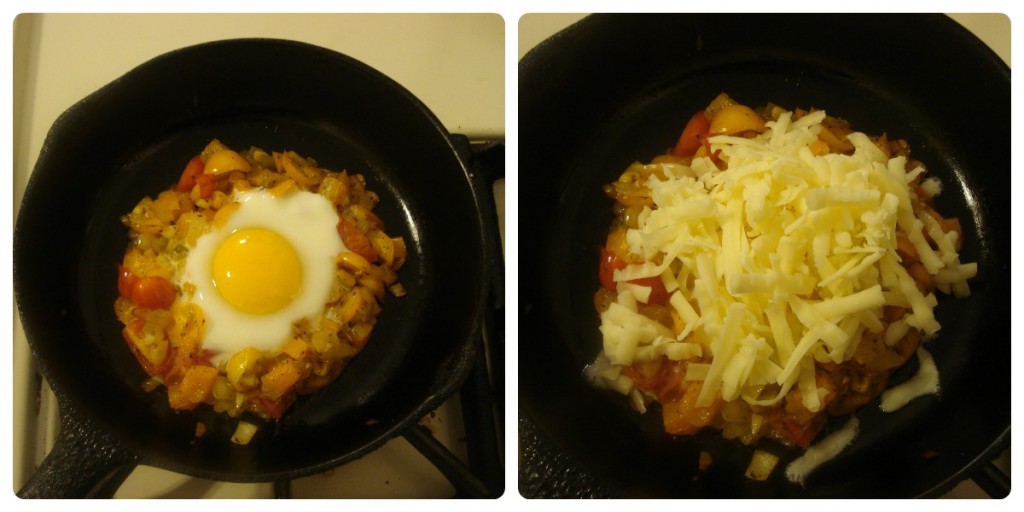 Finally, transfer to a plate, top with snipped chives, and dinner is served.  I suppose you could also make this for breakfast… that would make sense.
Now, if you'll excuse me… I'm going to go munch on some lettuce.
Huevos Rancheros
adapted from The Mexican Cookbook 
olive oil
about 1/4 cup minced onion
1 clove garlic, minced
about 1/4 bell pepper (any color), chopped
about 1/4 jalapeño pepper, minced (or a milder pepper, if you prefer)
a handful of cherry tomatoes, quartered
1/2 lime
pinch of oregano
salt and pepper to taste
1 large egg
about 1 oz. sharp Cheddar cheese, grated
snipped chives
1. Preheat oven to 350°.
2. Heat the olive oil in an oven-safe skillet over medium heat.  Add the onions and garlic and cook until softened, stirring constantly.  Add bell pepper and jalapeño and continue to cook until softened.
3. Add the tomatoes, lime juice, oregano, salt and pepper.  Cook until the mixture is soft and thickened, adding more lime juice if necessary to prevent sticking.
4. Make a hollow in the vegetable mixture and crack an egg into the hollow.  Bake in the preheated oven for 10 to 15 minutes, or until eggs are almost set.
5. Top with grated cheese and return to the oven for about 3 minutes more, or until cheese melts.  Transfer to a plate, sprinkle with chives, and serve immediately.