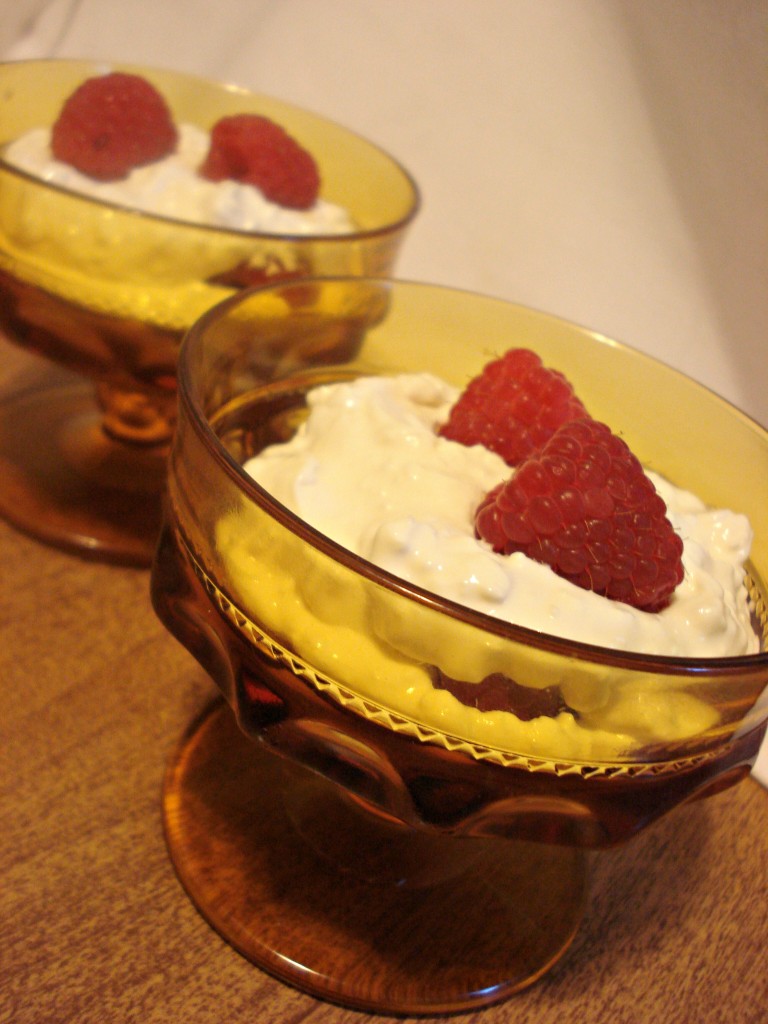 How can I put this without sounding like a broken record?  Ahhh… maybe I should just come out with it:  it's hot out there.  It hasn't been terrible so far.  I have a number of breezy summer dresses to help me beat the heat, and it definitely counts for something that I'm not spending this summer working an outdoor job.  But it's still pretty toasty in our apartment, and the oven and I are still steering clear of one another, for the most part.
In response to the heat, today I bring you one of my all-time favorite desserts, which happens to be ideal for hot weather: the berry and cream parfait.  This one is an all-around winner; it's inexpensive and easy to prepare, and it's also cool and refreshing, but still rich.  What more could you want?  (Personally, I could go for a clip of the scene from Shrek in which Donkey rants about parfaits, but this pitiful thing is the best YouTube has to offer.)
The cream is an easy mixture of cream cheese, yogurt, honey, and lemon zest.  I almost always make the parfaits with vanilla yogurt, but a couple months ago, I was introduced to Sophia's Greek yogurt, and this time I knew I had to use it instead.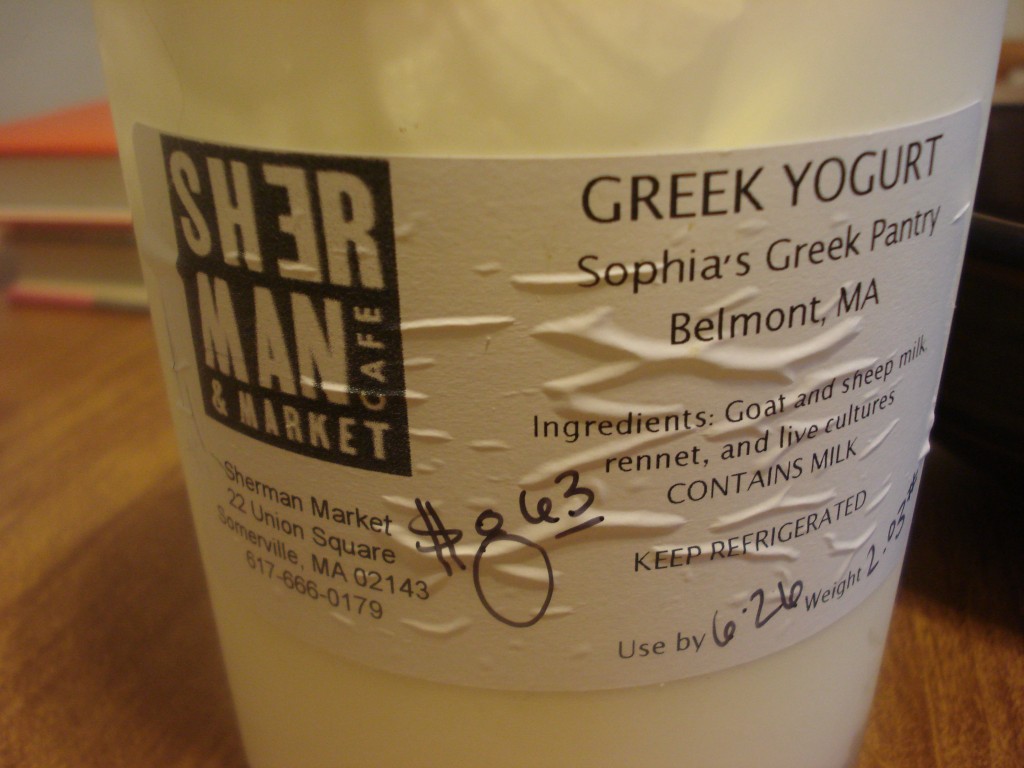 It doesn't seem quite fair to wax eloquent on this stuff, since it's only available at Sophia's Greek Pantry in Belmont, and at Sherman Market in Union Square.  I'm pretty sure that even my friends in Boston aren't crazy enough to make either of those hikes just for a carton of yogurt.  But oh, this stuff is magical.  It's so thick that you could hold a spoonful upside down, and it wouldn't even consider letting go of the spoon.  And the taste is simply out of this world.  It is unsweetened, so I had to compensate for that by adding more honey to the cream mixture, but since I know none of you are going to go out searching for Sophia's, we'll just ignore that little factoid and get on with the recipe.
The easiest way to make the cream is with an electric mixer, but on this particular day, I really didn't feel like hauling mine down from on top of the kitchen cabinets, so I elected to do it the old-fashioned way, with a whisk.  If you decide to go that route, just be sure to let your cream cheese soften first.  I neglected that step, and my cream didn't get as smooth as I would have liked (although I didn't really mind the little bits of cream cheese distributed throughout).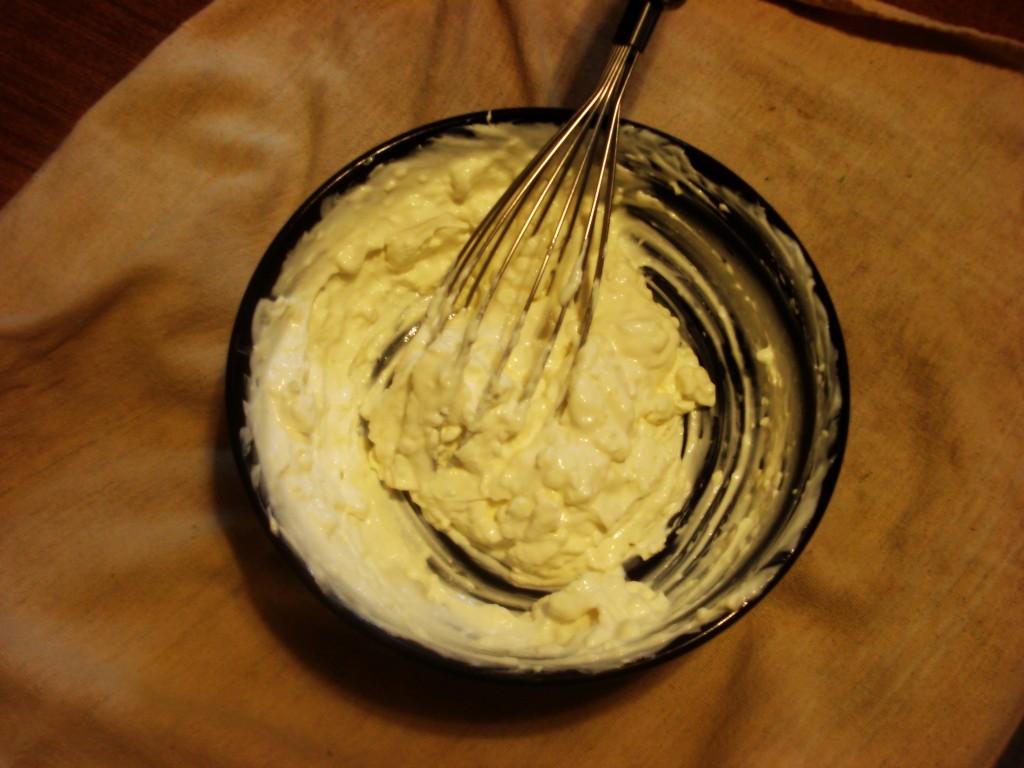 Of course, one of the best things about this recipe is that it just begs for variations.  You can mix up the fruit (actually, I almost always use blueberries), add nuts, or experiment with flavored yogurts.  That was actually my dad's idea.  He once made a variation with raspberry yogurt, and tossed in some chocolate chunks with the raspberries.  This basically means that I was out-sweet toothed by a guy who would rather have potato chips than dessert a good 90 percent of the time, but what can you do.
My favorite part about parfaits is serving them in glassware.  For this particular batch, I used some of my favorite squatty amber dessert dishes (more hand-me-downs from my Aunt Barbara), but they're equally adorable in martini glasses, champagne flutes, small Ball jars, you name it.  A mint leaf also makes a fantastic garnish, but my mint plant is currently shriveled up on the back porch.  Oops.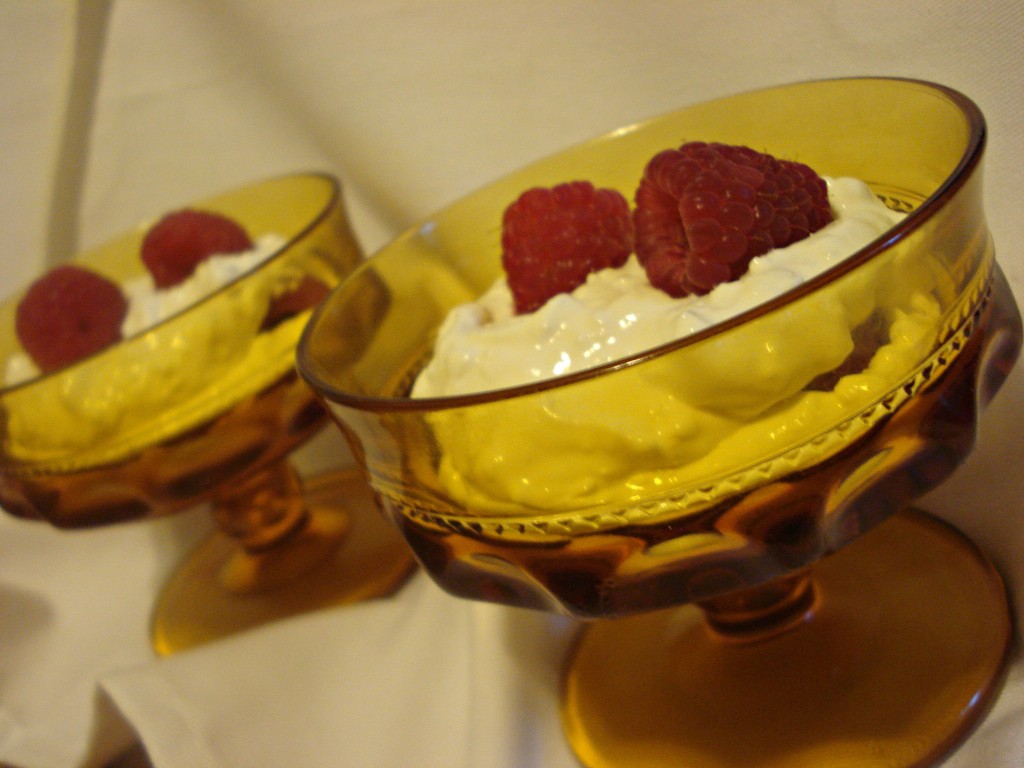 Fun fact: this is the dessert I made the first time I cooked for Alex.  And the rest is history!
Raspberry and Lemon Cream Parfaits
(serves 4)
4 oz. cream cheese, softened (neufchatel, or 1/3-less-fat cream cheese, works equally well)
3/4 cup vanilla yogurt
1 tsp. honey
1 tsp. grated lemon zest
2 cups fresh raspberries, or other fruit of your choice
Using an electric mixer, or a whisk, combine the first four ingredients until smooth.  Layer the cream mixture and fruit in four parfait dishes, wine glasses, or other glassware.  Chill until ready to serve.