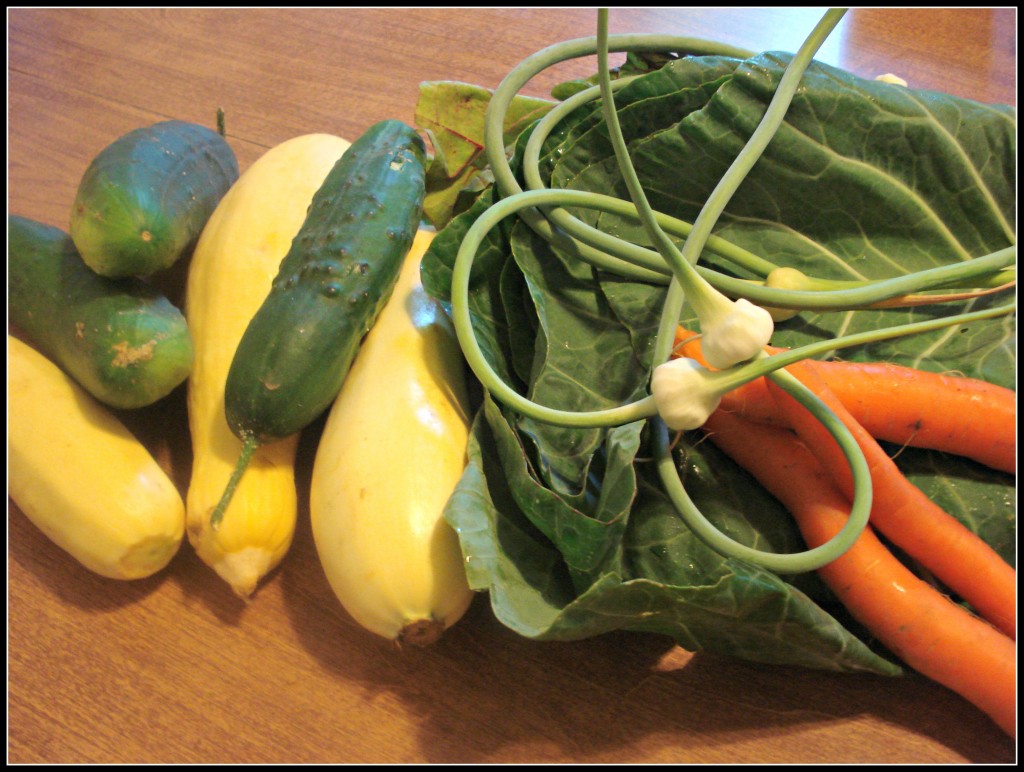 As I mentioned in last week's throw-together post, I have a lot of veggies coming my way this summer, thanks to a membership in the Red Fire Farm CSA.  CSA stands for Community Supported Agriculture, which makes the phase "CSA membership" a little problematic (maybe "farm share" would be better?).  But whatever you call it, the reality of heaping bags of produce coming into my kitchen every week is a pure joy.  It feels a little like Christmas, heaping all my weekly goodies onto the kitchen table, figuring out when to cook what, and trying to cram them all into our already tight fridge space.
There are definitely some challenges involved in CSA cooking, though.  I'm only three or four weeks into the membership, and I've already pulled a few things out of the box and wondered, "What the heck am I gonna do with that??"  And after three consecutive weeks of getting two heads of lettuce and a heaping bag of baby greens, I have basically exhausted my supply of salad-making creativity.
Although it's more difficult to let a grab bag of veggies plan my menu than to swing by Trader Joe's and just grab what I feel, I really like the way this new system is encouraging me to cook.  I'm now scouring cookbooks with a purpose (quick!  check the index for recipes with swiss chard!), but even more, I'm learning to experiment with my new ingredients, and cook creatively like I haven't had to before.  Here are just a few glimpses of what I cooked with last week's share.
I can't say that I had ever really craved mashed potatoes before last week, but for whatever reason, I really wanted gobs of fluffy starch, and nothing else would satisfy me.  I had a couple of potatoes on hand, including some tiny purple fingerlings, but I also remembered that I had a few more root veggies in the fridge, namely beets and kohlrabi.  I had originally planned to roast the beets and wilt their greens, then serve them both together with a bit of goat cheese.  But then I remembered that the oven and I aren't on speaking terms at the moment, so the poor beets languished in the fridge for over a week.  The kohlrabi had also been sitting around helplessly for several days.  Although I had seen kohlrabi many times at the farmers market, and the chefs used them frequently in the kitchen where I worked for a couple months, I still didn't really have a good idea of what they tasted like.  But, I reasoned, I could toss them into the boiling water with the potatoes and then mash everything together; that would meet my potato craving, add a little punch, and get the roots out of my fridge, all at once.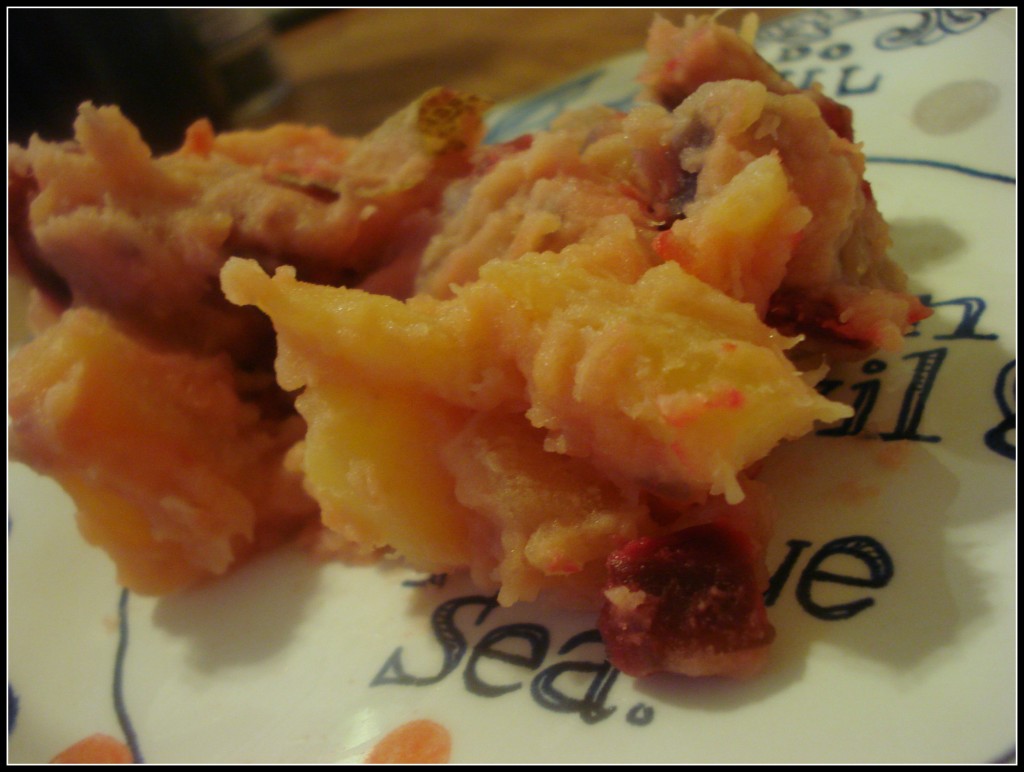 What a beautiful dish that was!  Since I don't have a potato masher, I used a slotted spatula to do the mashing, and left the mixture a good bit chunkier than normal mashies.  (Perhaps I should call them "prodded veggies" instead of "mashed.")  But I think that was a good call; it kept the beet juice from turning everything pink, but still lent a lovely color to the whole mix.  My only disappointment was that the kohlrabi flavor didn't shine through, so I guess I still don't really know what kohlrabi tastes like.  Maybe I'll soon get another batch to play with.
Although I made dinner out of a heaping plate of the mashies on the night I made them, the next day I wanted to dress them up a little bit for lunch.  I have to say, I'm pretty proud of this one: a warmed up plate of mashies topped with a fried egg, a bit of Gruyere, and a chopped up slice of bacon.  Be still my heart.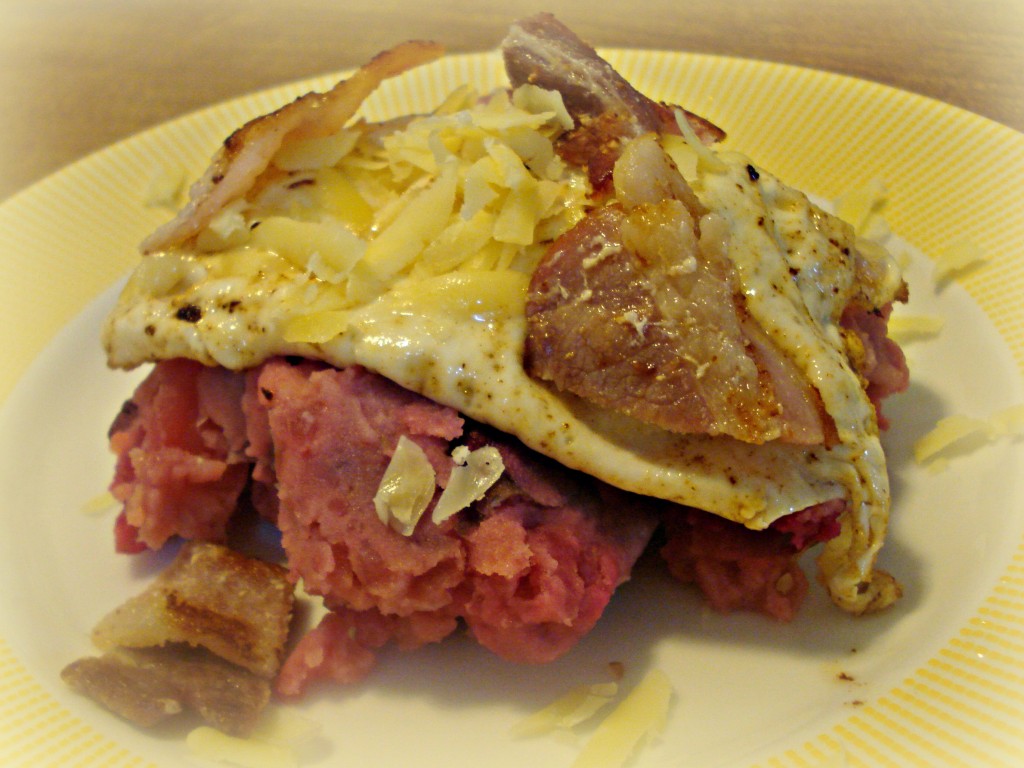 Another item I've gotten in abundance is yellow summer squash.  I will never, ever complain about getting boatloads of squash, as it happens to be my favorite vegetable, and possibly my favorite food.  I like it best the way my grandmother makes it: cut into slices, combined with a sliced onion, and cooked down with a little oil and water until it breaks down into a chunky puree.  It's humble and delicious and absolutely what I want to find on my dinner plate all the time.  I made a batch last week that actually tasted like Grandmother's, a feat I've never accomplished before.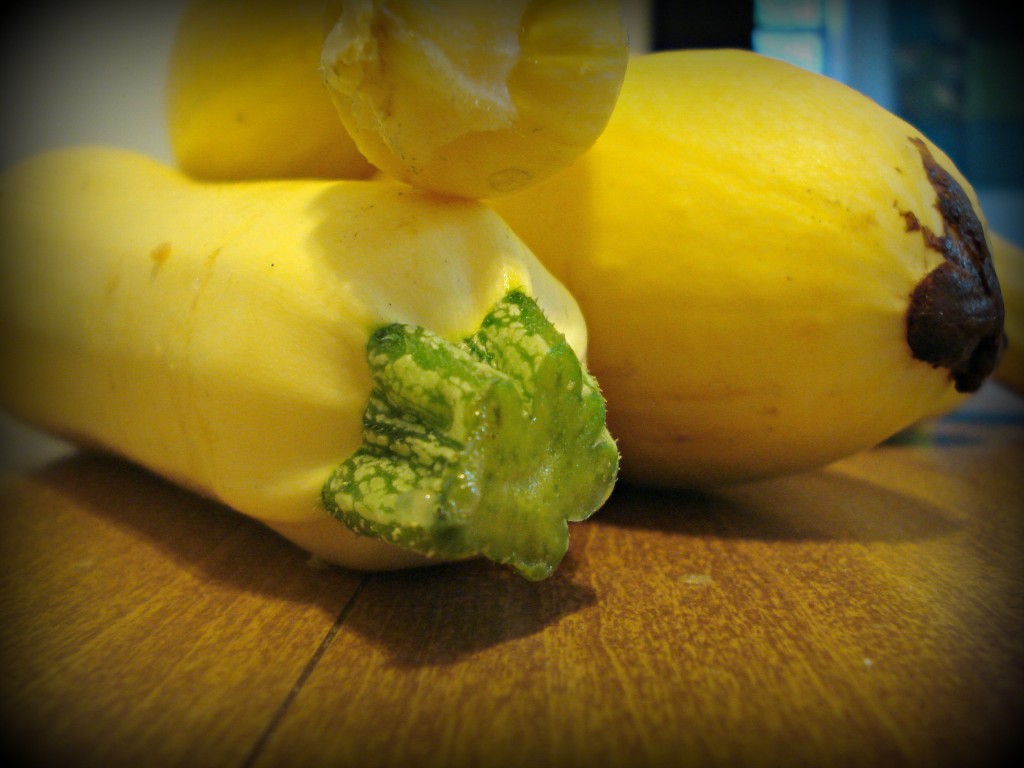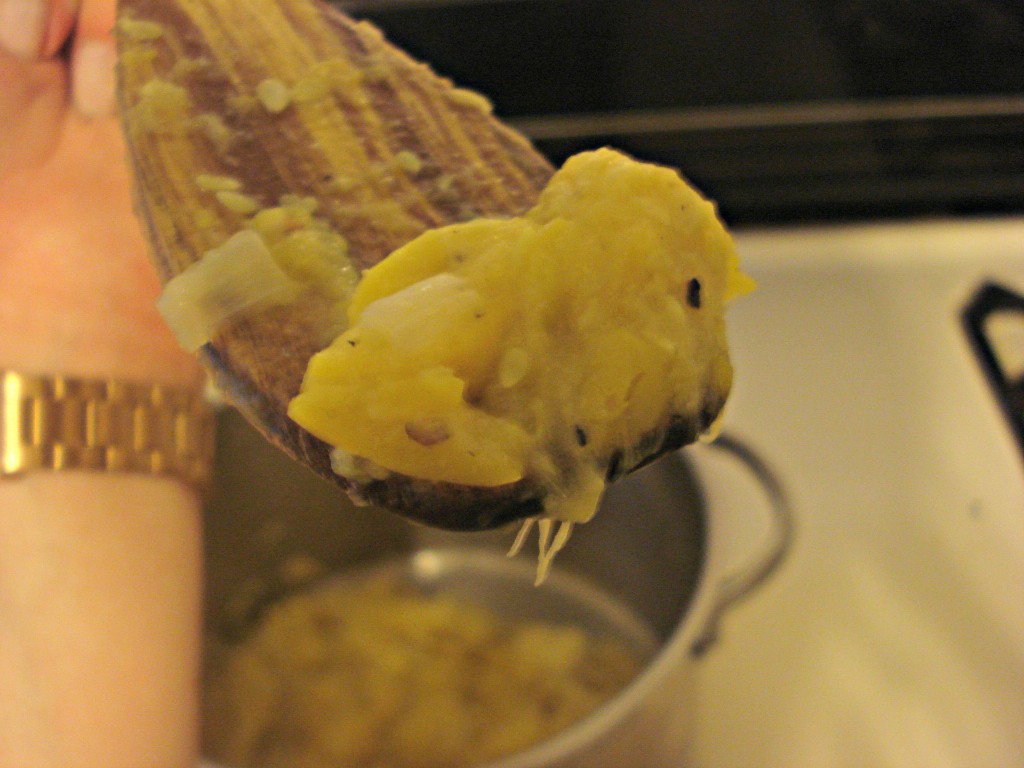 But given the enormous amount of squash I had in my kitchen, I was also eager to find new uses for some of it.  I remembered a recipe for squash chips floating around Pinterest for a while, and decided to give it a go.  The only tough part is slicing the squash into paper thin slices with a knife (add a mandoline to the list of kitchen tools I don't have).  But otherwise, all you do is put the slices on a baking sheet and pop them in a low oven for a stretch.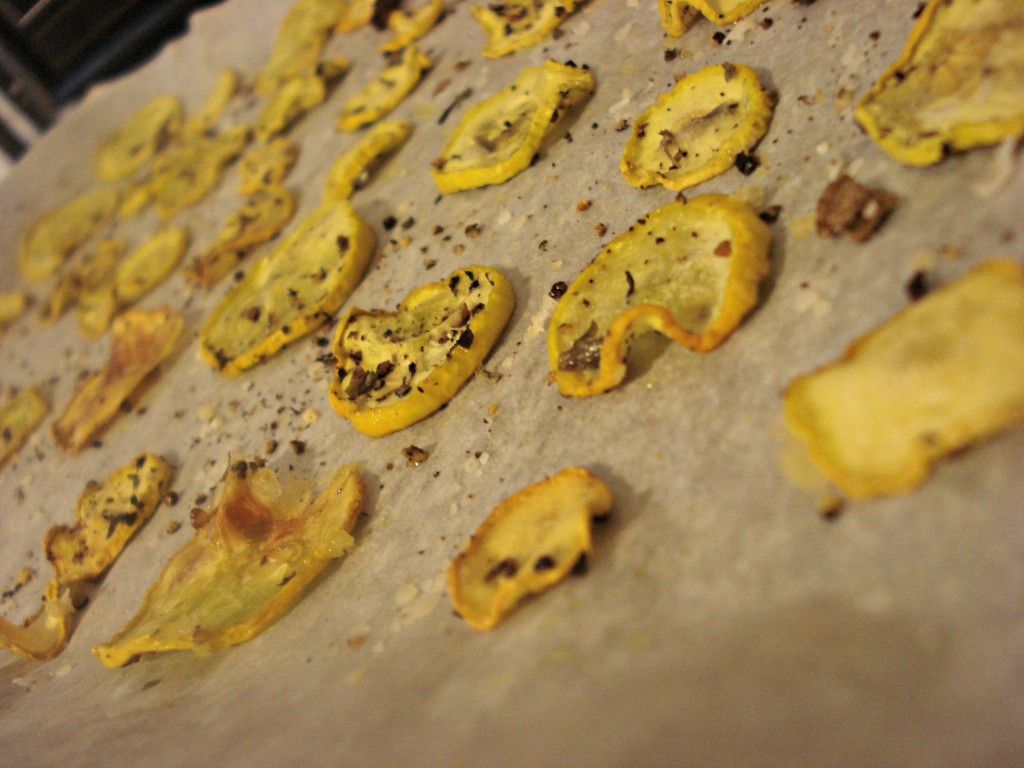 I also had the joy of using one of the fancy salts Aunt Teri gave me for my birthday (thank you!!) in this recipe.  I used the Porcini and Parsley salt for the squash chips, and it was totally delicious… except that I used way, way too much.  A little goes a long way, apparently.  But otherwise, this was an excellent use of my summer squash, which I will definitely try again (maybe with the citrus and fennel salt next time!).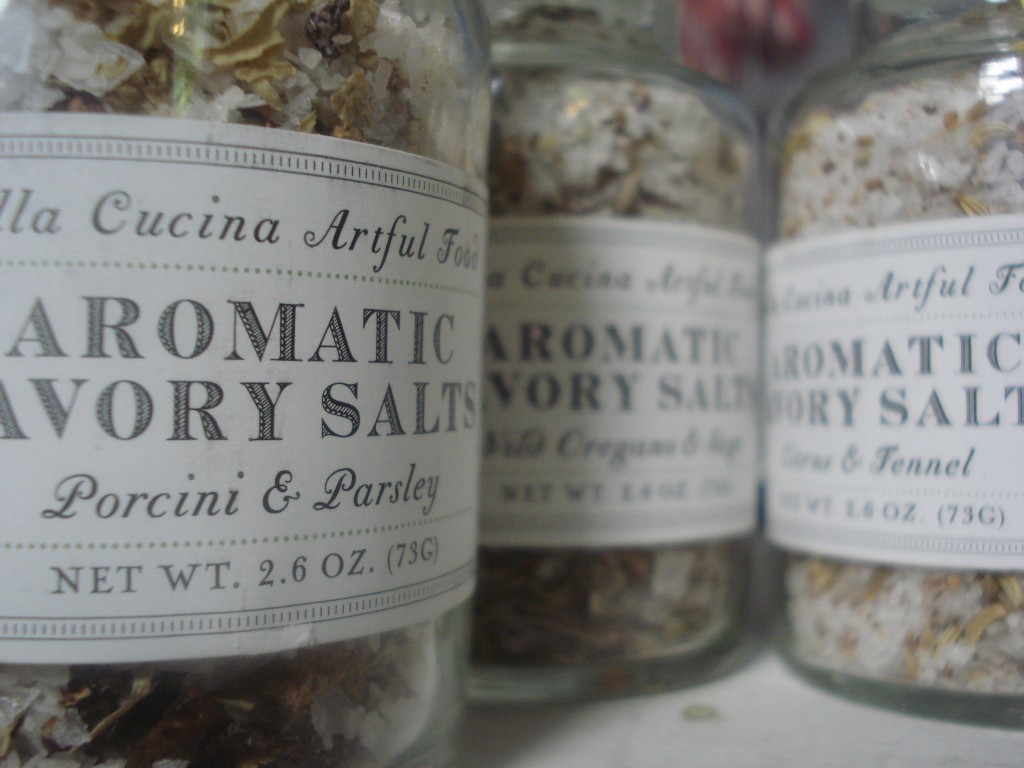 One thing that I haven't found a brilliant use for is cucumbers.  This is probably because I don't really like cucumbers that much (yes, I know, everyone likes cucumbers… I don't know what's wrong with me).  I'm thinking easy pickles?  Tzatziki sauce?  Maybe some kind of refreshing cocktail?  Any ideas?  Let me know!
Mixed Veg Mashies
Take whatever starchy/root veggies you have on hand (e.g. potatoes, beets, kohlrabi, celeriac, yams, etc.) and chop into chunks of similar size.  Boil in salted water until all veggies are easily pierced with a fork; drain and allow to cool slightly.
Add a pat of butter and a bit of cream cheese, and fold into the potato mixture.  Mash together with whatever tool you have that will do the job; taste and add salt and pepper, if desired.  Eat alone, or top with fried egg and bacon for an amazing meal.
Squash Chips
from Vittles and Bits
Preheat oven to 225 degrees Fahrenheit. Line a baking sheet with parchment paper or nonstick foil, and spray with canola oil. Set aside.
Slice squash into thin medallions, about the thickness of a quarter. (You can either use a knife & a very steady hand, or a mandoline slicer.)
Toss slices in olive oil until they're lightly coated, and arrange in a single layer on a baking sheet. Sprinkle with seasonings of your choice. (Err on the side of caution with the spices; the squash shrink a lot while baking, so they really won't need too much seasoning.)
Place in preheated oven and bake 45 minutes. Rotate baking sheet, and bake an additional 30-50 minutes, until chips are browned and crisped to your liking. These are best eaten within a couple hours of removing from the oven, as they start to get chewy if left out. One squash makes one serving (1/4 C. – 1/3 C. of chips depending on the size of your squash).