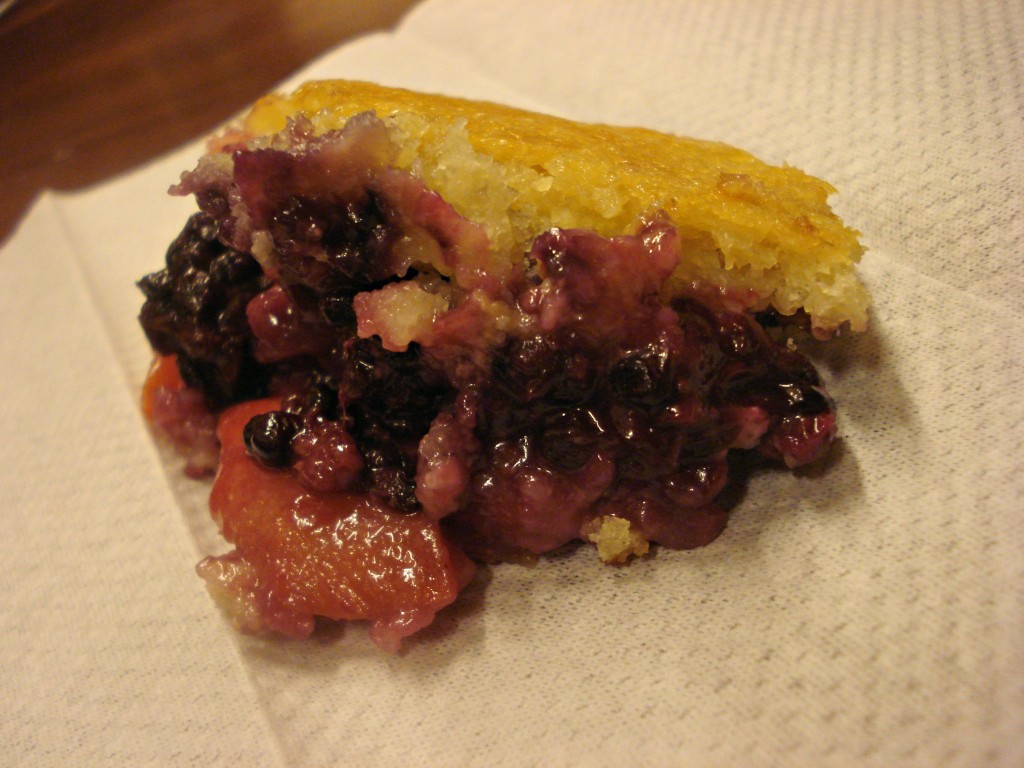 Here's the thing about avoiding oven use during the summer: I just can't do it.  Oh, oven, I can't stay mad at you!  I can, however, stay mad at upper-90 degree temperatures.  I'm convinced that summer is only fun for people with central air, pool or beach access, and sufficient free time to enjoy them.  Since I have none of the above, I say bring on the fall.
If there's one thing summer is good for, though, it's fresh produce.  Assuming you can get past the sweltering temperatures and oppressive humidity, there's nothing better than strolling through the farmers market and picking up armloads of gorgeous, superfresh fruits and veggies.  Though I've already talked at length about how great summer veggies are, the fruit is certainly no exception.  But I find it tough to use the fruit to its full potential, since most of the fresh fruit I buy goes directly from the shopping bag into my mouth.  This week, however, I managed to hang onto some peaches and blackberries long enough to turn them into my favorite cobbler.
This is one of my very favorite recipes, direct from Cooking Light circa 2008.  I found it back in my college days when I didn't have a kitchen, but still read cooking magazines from cover to cover and highlighted the recipes I wanted to try on my next trips home.  Since cobblers are a Southern staple, and since blackberries and fresh peaches are high on the list of my favorite fruits, this seemed like a no-brainer.  I can't even count the number of times I made this in my parents' kitchen– for after-dinner desserts, for parties, and to take to my mom's office and share with her coworkers.  So when my current coworkers decided to have a potluck at work a couple weeks ago, I knew this would be the perfect thing to bring.
It's hard to believe, given the heat, but Massachusetts peach season isn't quite in full swing yet.  There are plenty to be found at the market each week, but they're not yet the juicy, sweet specimens I like to eat raw and unpeeled.  Fortunately, this cobbler is very forgiving; it won't really matter if your fruit is a little on the tart side.  That said, this cobbler is fairly low-sugar, relatively speaking.  I wouldn't exactly call one cup a conservative amount of sugar, but as far as Southern desserts go, it could be much, much worse.
As with all cobblers, this thing is a snap to assemble.  All you do is prepare the fruit and toss it with some sugar, flour, and in this case, some ground ginger; stir together a quick batter; and pop the whole business in the oven.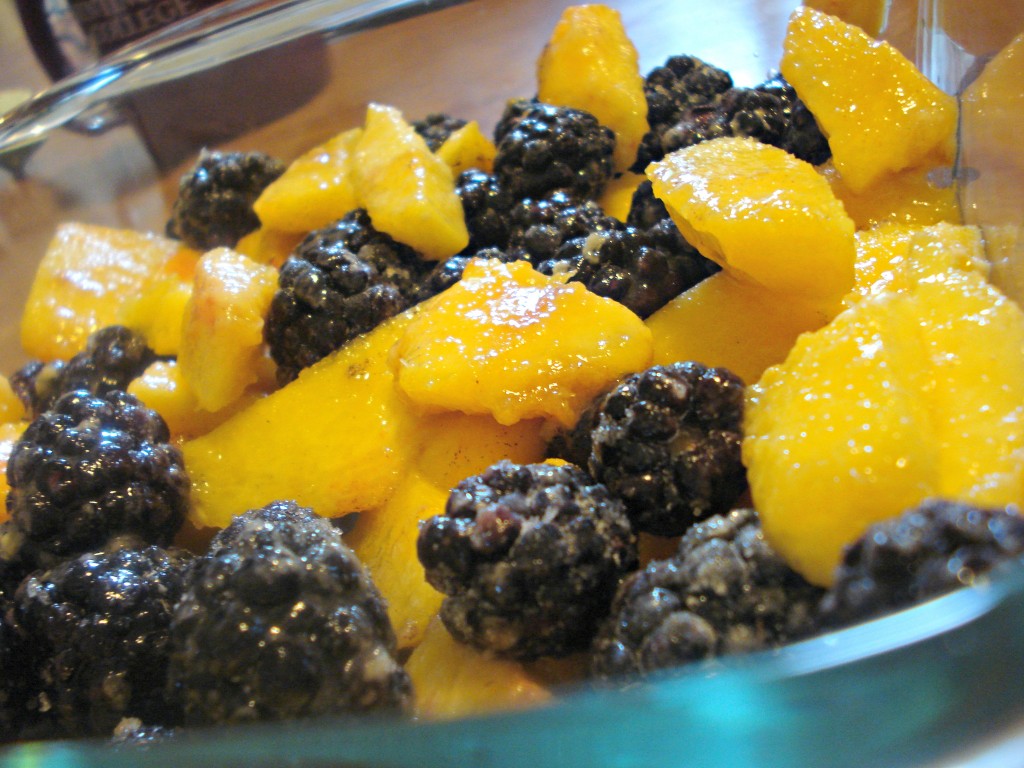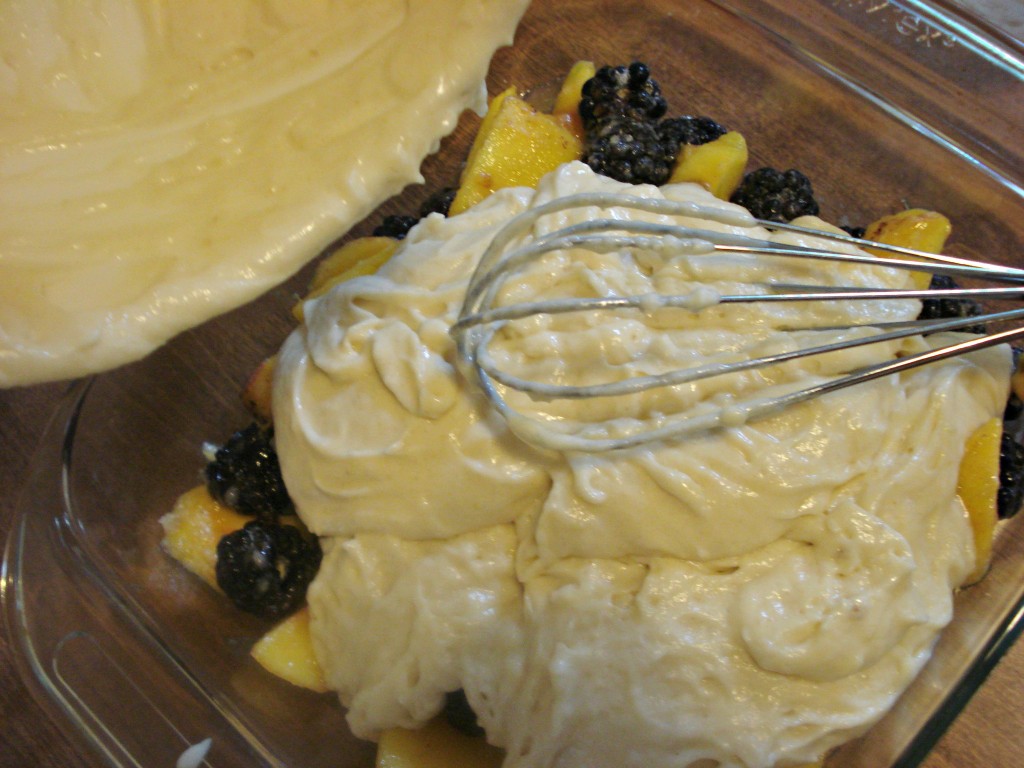 You'll want to stay nearby during the last several minutes of cooking.  The original recipe says to let the cobbler bake for an hour and ten minutes, but that results in a crust that's a little too brown for my taste.  I usually peek in the oven after about 50 minutes and go from there.
Also, you might have noticed that the top photo shows a hunk of this cobbler on a paper towel.  May I humbly suggest that, if you take this dish– or any dish– to a potluck, you also make sure there will be plates and forks?  Otherwise, you'll have to use the paper towel method of serving, or my favorite, the paper cone water cup method.  Although, I will say, enjoying dessert without utensils does lend a fun, eating-from-the-trough feeling that's usually frowned upon in adulthood.  So maybe you should skip the forks after all.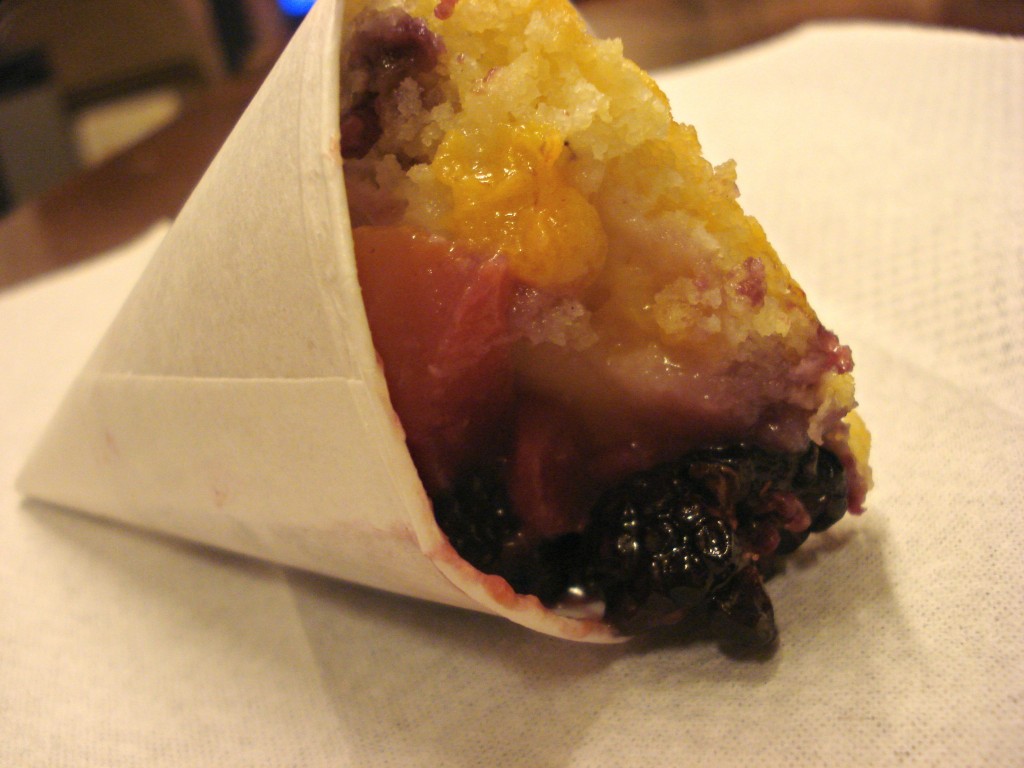 Peach Blackberry Cobbler
from Cooking Light
1/4 cup butter, melted and divided
3 cups sliced fresh peaches (about 1 pound)
2 cups fresh blackberries
1 cup plus 1 tablespoon all-purpose flour, divided (about 4 1/2 ounces)
1 cup sugar, divided
1/4 teaspoon ground ginger
1 tablespoon baking powder
1/4 teaspoon salt
1 cup 1% low-fat milk
Preheat oven to 350°.
Pour 2 tablespoons melted butter into the bottom of a 2-quart dish.
Combine peaches, blackberries, and 1 tablespoon flour in a large bowl; toss gently. Add 1/4 cup sugar and ginger; toss gently to combine. Pour peach mixture into prepared baking dish. Lightly spoon remaining 1 cup flour into a dry measuring cup; level with a knife. Combine 1 cup flour, remaining 3/4 cup sugar, baking powder, and salt in a large bowl, stirring with a whisk. Add remaining 2 tablespoons melted butter and milk, stirring with a whisk. Pour batter evenly over fruit mixture.
Bake at 350° for 50 minutes to 1 hour, or until golden brown.