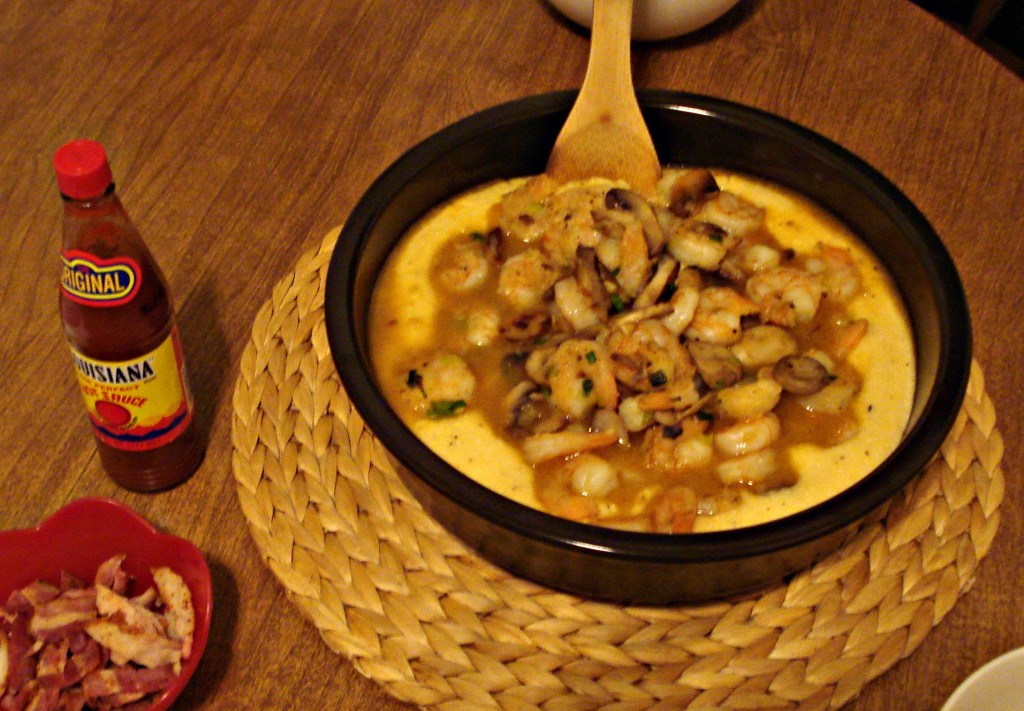 I don't want to pretend that this is an age-old family dish that I've been eating as long as I can remember, or that it reveals some truth about my life and my past.  Sure, I grew up eating grits pretty regularly, and just the knowledge that grits are iconically Southern kind of made them part of my identity.  But cheese in grits didn't happen too often in my house, and adding shrimp was not an option I even knew existed until recent years.
I am so glad this dish came into my life.  It's rich enough to feel like an indulgence but simple enough to pull off on a weeknight.  And, if you have a couple of friends over and split the cost of the ingredients, you're looking at an affordable treat. (Shoutouts to Joe, Olivia, Sarah, Chris, and Alex, all of whom have shared this meal with me at some point in the last two weeks.)  It's an ideal combination of comfort food and slightly-fancy food, and it's just the ticket during these cold, cold weeks.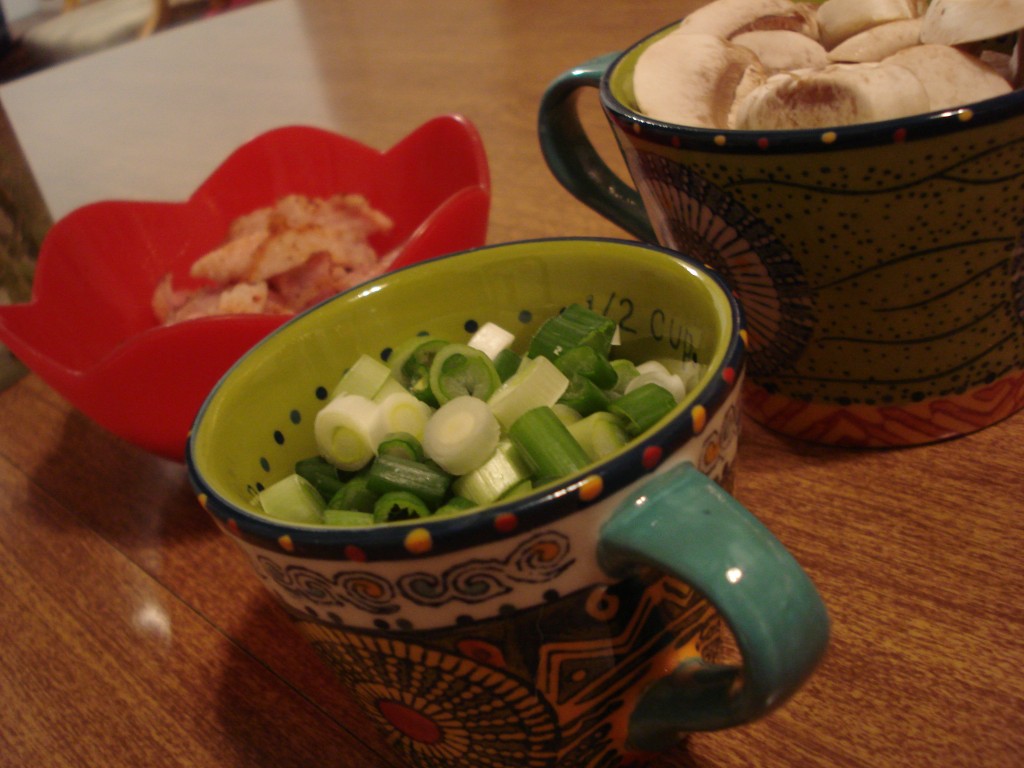 Is it weird that I really like slicing green onions?  There's just something about the fact that they come out in perfectly round little wheels… and the fact that they look smashing in these measuring cups.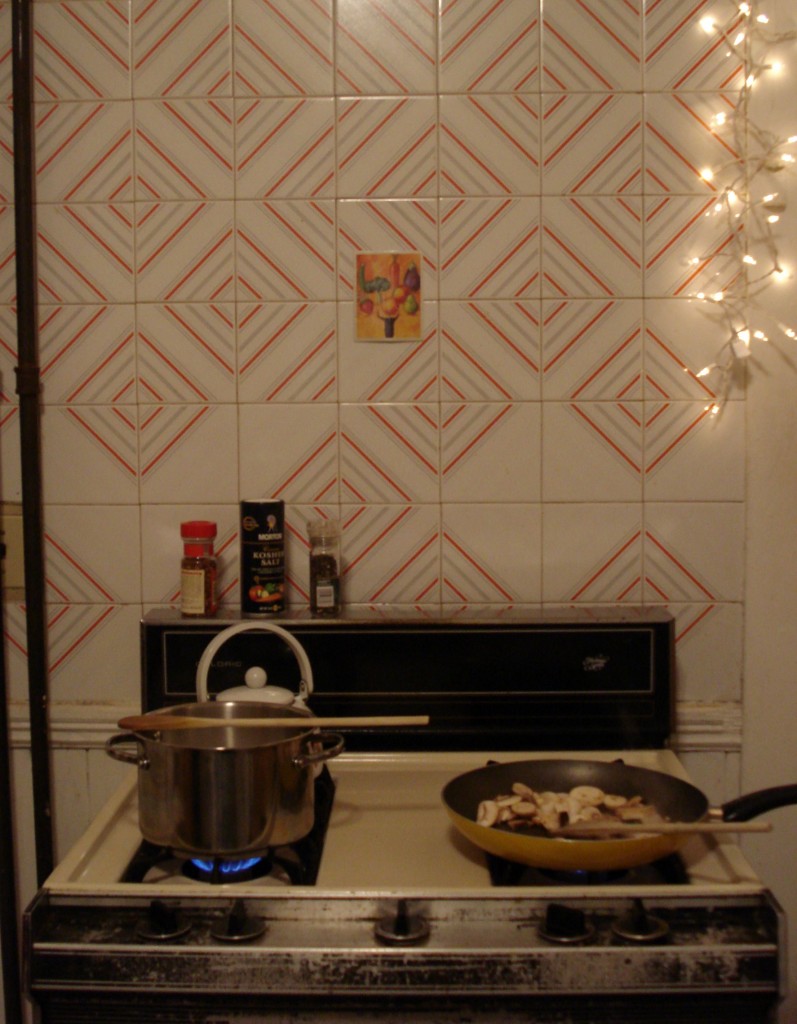 What doesn't look smashing is the backsplash behind our stove.  I like to hypothesize about what went wrong when these tiles were being installed.  Maybe the builder only had a few tiles to work with, and slapped them up in whatever haphazard pattern he could come up with.  Maybe two people were applying the tiles at one time, and only when they met in the middle did they figure out what a mess they'd made.   Or maybe it was just intended to be a conversation piece.  If that's the case, then it worked.
I'm also unsure about the origins of that postcard in the middle… it was there when I moved in.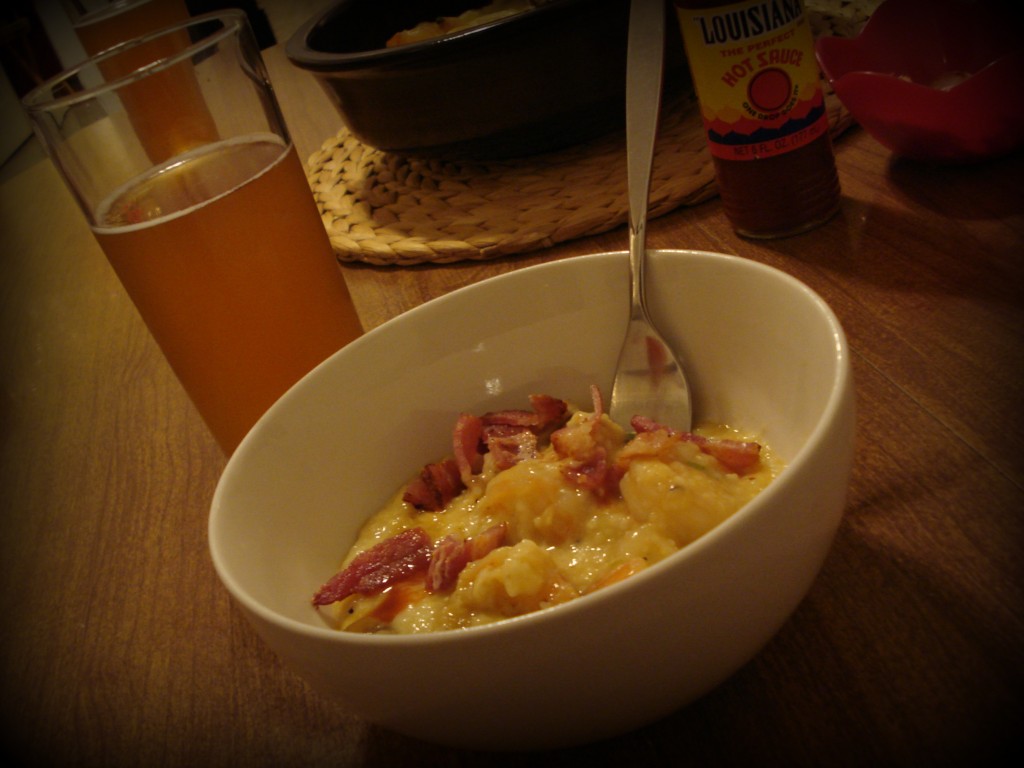 Since my own photos don't do justice to the wonder that this dish is, allow me to share this one from the holidays: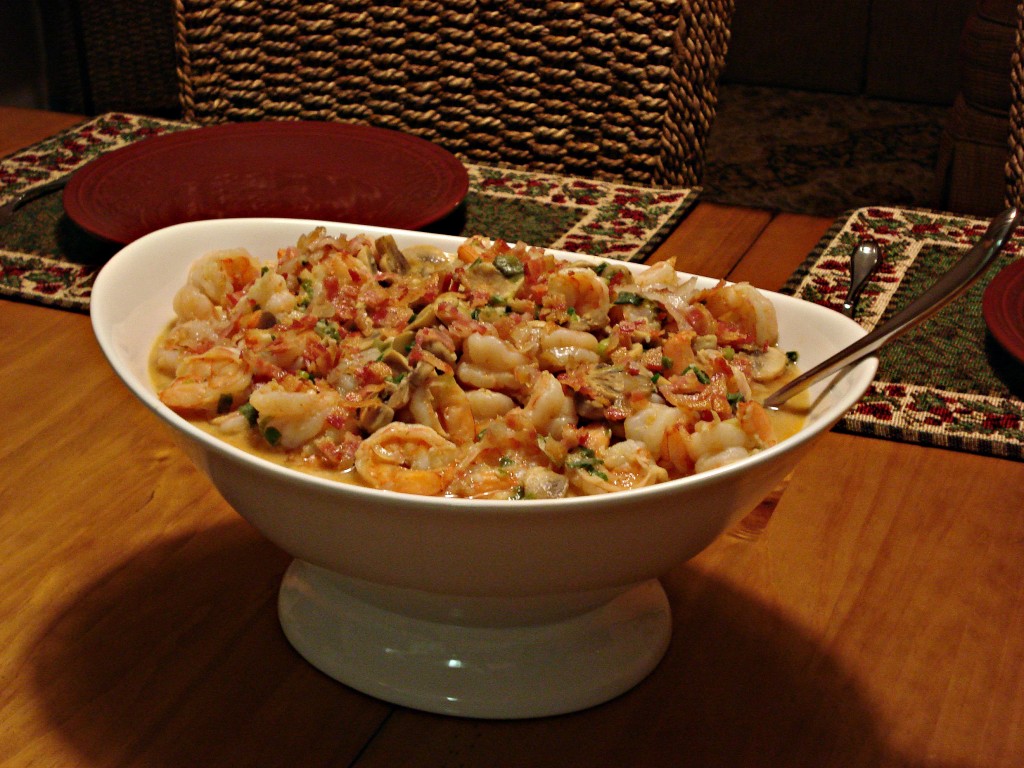 This is my dad's batch.  Much more attractive.  Dig in, y'all.
Shrimp and Grits
from Southern Living
2 bacon slices
2 pounds unpeeled, medium size raw shrimp (I used frozen)
1/8 teaspoon salt
1/4 teaspoon pepper
1/4 cup all-purpose flour
1 cup sliced mushrooms
2 teaspoons canola oil
1/2 cup chopped green onions
2 garlic cloves, minced
1 cup low-sodium, fat free chicken or vegetable broth
2 tablespoons fresh lemon juice
1/4 teaspoon hot sauce
Cheese grits (recipe below)
Cook bacon in a large nonstick skillet over medium heat 10 minutes or until crisp; remove bacon, and drain on paper towels, reserving 1 tsp. drippings in skillet. Crumble bacon.
Peel shrimp; devein, if desired. Sprinkle shrimp with salt and pepper; dredge in flour.
Sauté mushrooms in hot drippings with oil in skillet 5 minutes or until tender. Add green onions, and sauté 2 minutes. Add shrimp and garlic, and sauté 2 minutes or until shrimp are lightly browned. Stir in chicken broth, lemon juice, and hot sauce, and cook 2 more minutes, stirring to loosen particles from bottom of skillet. Spoon shrimp mixture over hot Cheese Grits; sprinkle with crumbled bacon.
Cheese Grits (I suggest getting one of your sweet dinner guests to prepare these for you while you watch over the shrimp.)
14 oz. low-sodium fat-free chicken or vegetable broth
1 cup fat-free or low-fat milk
1/2 teaspoon salt
1 cup uncooked quick-cooking grits
3/4 cup (3 oz.) shredded sharp cheddar cheese
1/4 cup freshly grated Parmesan cheese
1/2 teaspoon hot sauce
1/4 teaspoon ground pepper
Bring first 3 ingredients and 1 1/3 cups water to a boil in a medium saucepan over medium-high heat; gradually whisk in grits. Reduce heat to low, and simmer, stirring occasionally, 10 minutes or until thickened. Stir in Cheddar cheese and next 3 ingredients.