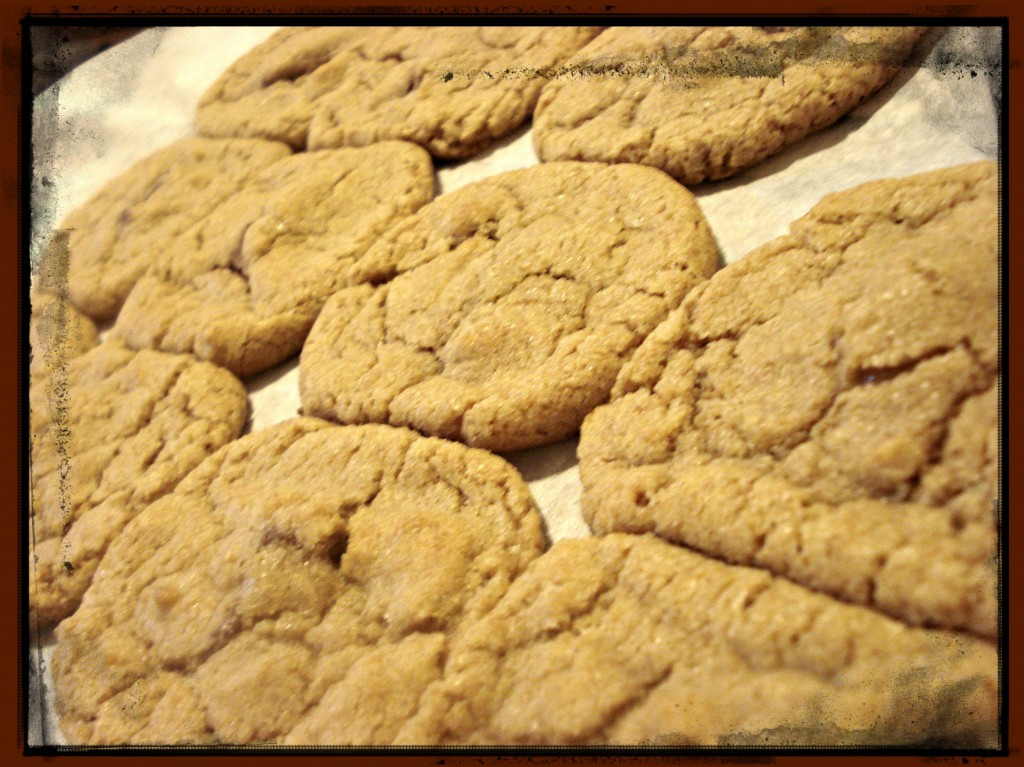 When I was a junior in college, I decided I wanted to major in biology.  Yep– junior year.  Better late than never, right?  Fortunately, I'd already taken all of my required courses, and I had half of about three different majors, thanks to my first two years of dabbling in everything.  That meant that I could take on my new major halfway through college without having to push back my graduation date at all, provided that I was willing to eat, sleep, and breathe biology for my final two years of school.  And sure enough, my first semester as a bio major consisted of nothing but science classes, plus lab from 1:00 to 4:00 every afternoon except Friday.  It was exhausting, even for a nerd like me.
The one time during the week that I allowed my mind to wander was during chemistry class, which happened on Monday, Wednesday, and Friday mornings at 8 am.  As much as I loved chemistry in high school, in college, it just made my eyes glaze over.  And it wasn't because of the early start time, because I was an insufferable early bird back in those days.  You know– the kind who didn't even need coffee in order to have a spring in her step at 7am on a weekday.  (I'd like to get a little bit of that pep back, please and thank you.)  For whatever reason, I just couldn't focus in that class.  Not on chemistry, anyway.  I found that what I usually thought about during those lectures was cookies.
This was about the time that I really fell in love with cooking and baking.  I had mastered my mom's tried and true cookie recipe by that point, but I was just beginning to experiment with new recipes and ideas, and devouring food magazines in a single sitting.  One particular day in chemistry class, I was thinking about a particular cookie I wanted to invent.  I knew I wanted to work whole wheat flour into the mix, but I still wanted it to be a bit of an indulgence, as all cookies should be.  I had just discovered this fancy new chocolate-hazelnut spread called Nutella (it was new to me, at least) during a weekly grocery run.  Maybe I could add that to the cookies!  I made a mental note of that idea and tried my best to focus on the lecture at hand, but my brain would not let go of this imaginary confection.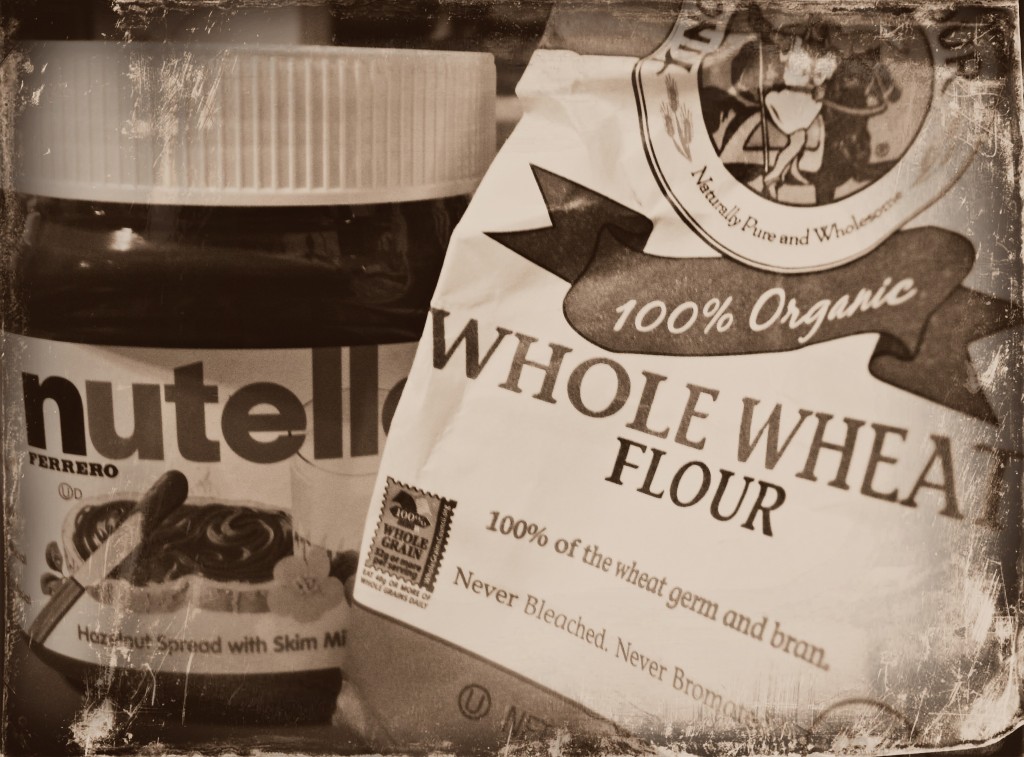 Shortly after that epiphany in chemistry class, Alex and I took a weekend to drive down to my parents' house.  I think I remember that the weather prevented us from getting out and doing anything, so to stave off boredom, I decided to get in the kitchen and bake something.  And why not go ahead and try this new cookie idea?  I consulted Cooking Light for a basic sugar cookie recipe, tweaked it here and there, and ended up with the cookie that might just be my proudest accomplishment.
Once you've made the dough, you roll it into balls about the size of a golf ball, and flatten it out with your palm.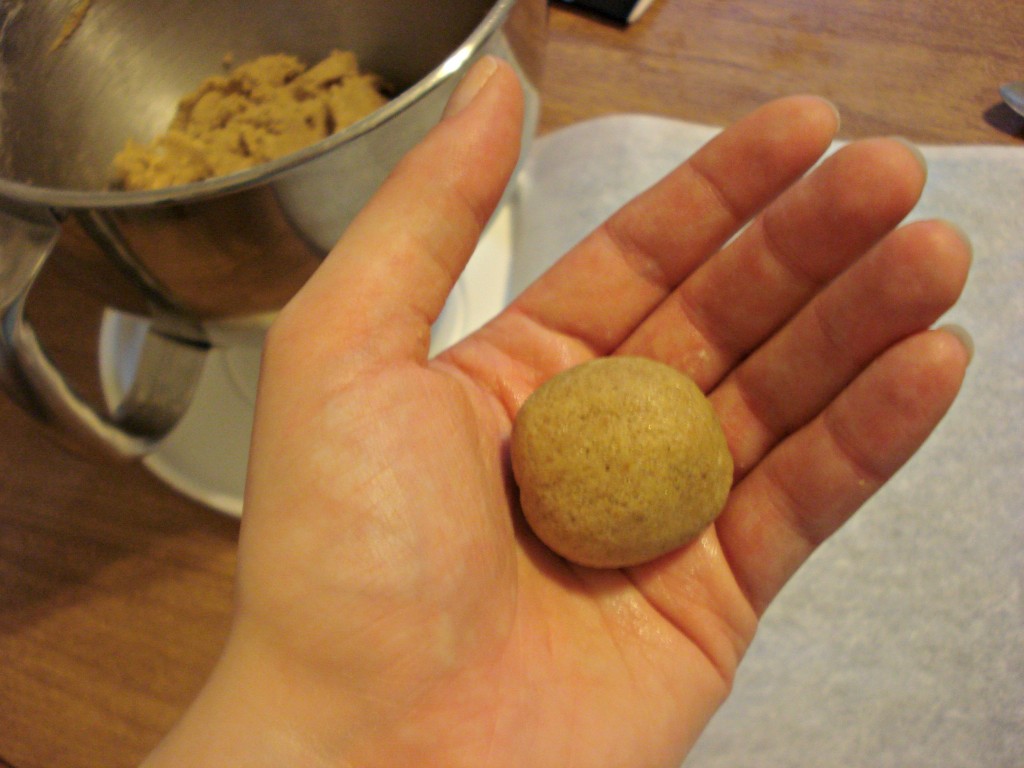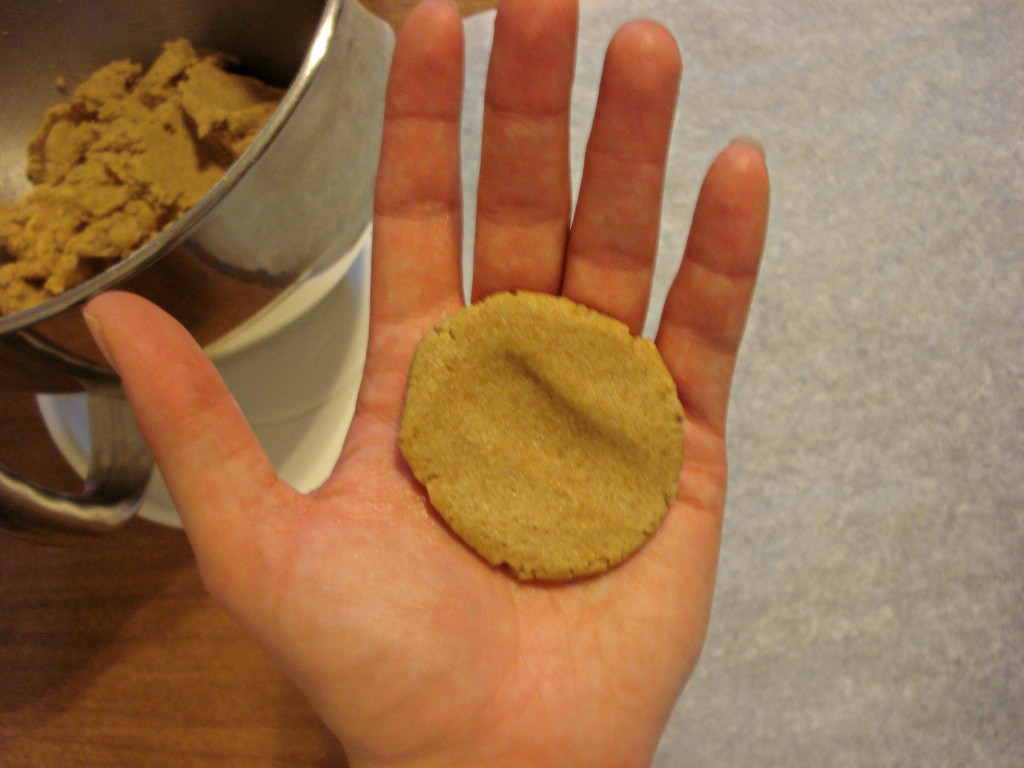 If you have a piping bag, use it to put about a quarter to half of a teaspoon of Nutella in the center of your dough circle.  If you don't have a piping bag, no problem; that's what spoons are for!
Wrap the edges of the dough around the Nutella, and make sure there is no Nutella peeking out.  You don't want it to burn or dry out.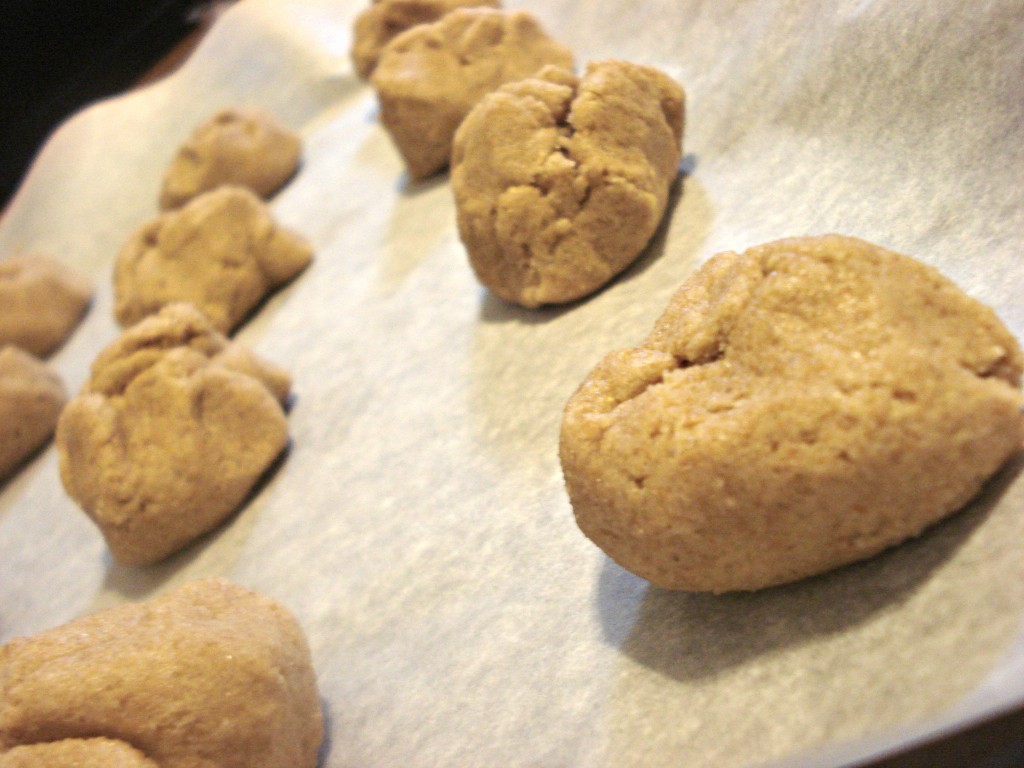 This has to be the ultimate cookie in my book.  The whole wheat flour gives the cookies plenty of body; the edges are crispy, but the centers are deliciously chewy.  And the creamy, sweet Nutella is the perfect complement to the wholesome heft of the flour.  I'm honestly so proud of these that I was hesitant to share the recipe– but then again, what good is a killer cookie recipe if I'm the only one who will ever use it?  Even at 25 years old, I'm still learning about sharing.
And speaking of sharing, the one and only catch to these cookies is that they do not store well, so they're best eaten on the day they're baked.  Best to invite some friends over to share the wealth.  And the recipe.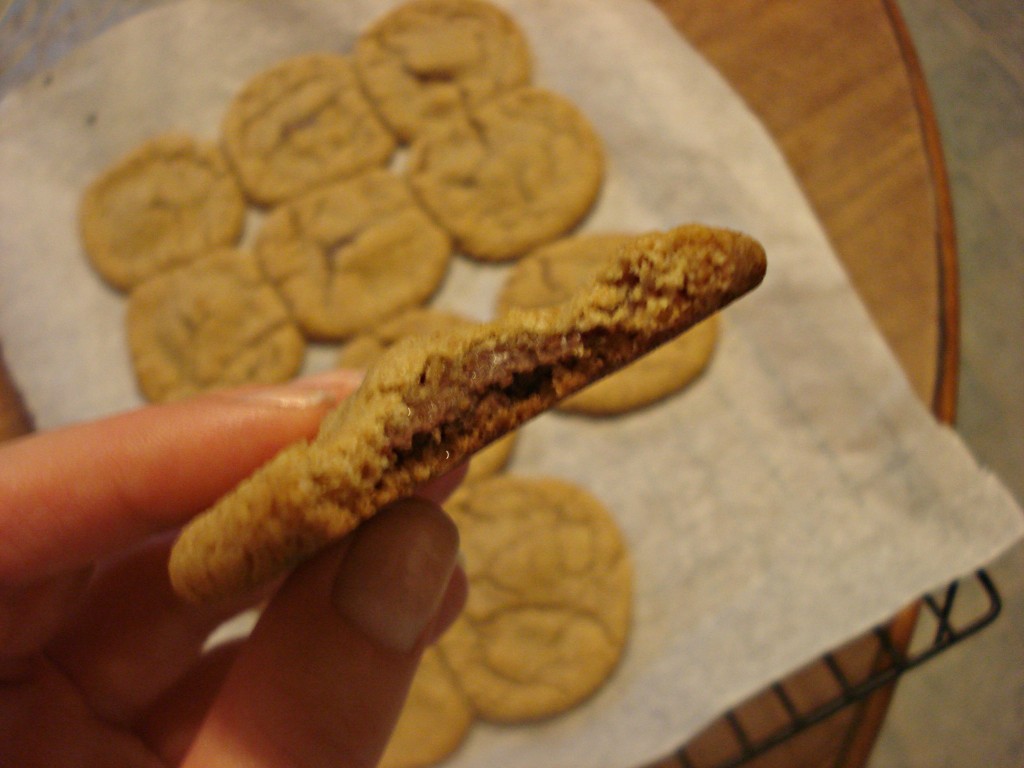 Whole Wheat Nutella Cookies
3/4 cup sugar
2/3 cup light brown sugar
1/2 cup butter, softened
1 tsp vanilla extract
1 large egg
1 1/2 cups whole wheat flour
1 tsp baking powder
dash of cinnamon
1/4 tsp salt
about 1/2 cup Nutella
Preheat oven to 400º.
Combine sugars and butter in a medium bowl, and beat with a mixer at medium speed until light and fluffy.  Beat in vanilla and egg.
Combine flour, baking powder, cinnamon, and salt; add flour mixture to butter mixture and beat well.
Form about a tablespoon of dough into a ball, and then flatten by gently patting with your hands.  Spoon or pipe a small amount of Nutella into the center of each dough disk, then fold the edges of the disk around the Nutella, making sure all the filling is covered.
Bake for 10-12 minutes, or just until the cookies start to brown.