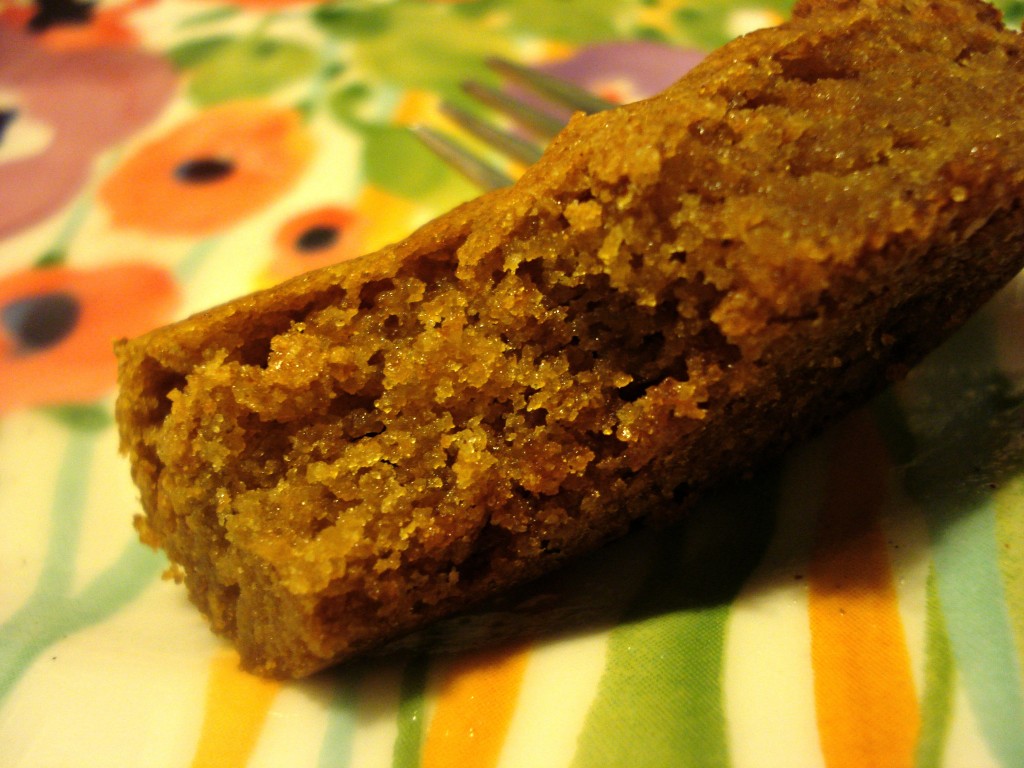 Clearly I've been feeling all kinds of nostalgic lately, especially in the dessert department.  The only sweets I've made in the last month are old favorites from my pre-Boston days, and here I am with yet another.  It's not like I have any shortage of dessert cookbooks lying around, but what can I say?  I've just been hankering for the old faithfuls lately.  Temperatures are high, energy is low, and I'm more than happy to fall back on recipes I could probably bake with my eyes closed.
These blondies are nothing if not faithful.  The recipe is so simple, you can probably throw them together without even making a trip to the store.  The batter comes together with just a quick whisk, and they bake up in half an hour or less.  But the finished blondies really are something special.  They're rich and dense, with layers of flavor from the browned butter and the whole wheat.  And with fresh fruit and a bit of ice cream?  Be still my heart.
I labored for a long time over what to call these blondies.  "Strawberry Blondies Forever" has a certain appeal, but considering how delicious these would be with a number of other fruit options, the name is somewhat limiting.  Any suggestions?
This recipe was my first introduction to browned butter, and I quickly learned that it's best to brown the butter before you do anything else.  Freshly browned butter is obviously scalding hot, and you'll want to give it plenty of time to cool before mixing it with the eggs in the batter.  When your butter is nicely browned, pour it into a heat-safe container, and it should be perfectly cooled by the time you've mixed your other ingredients.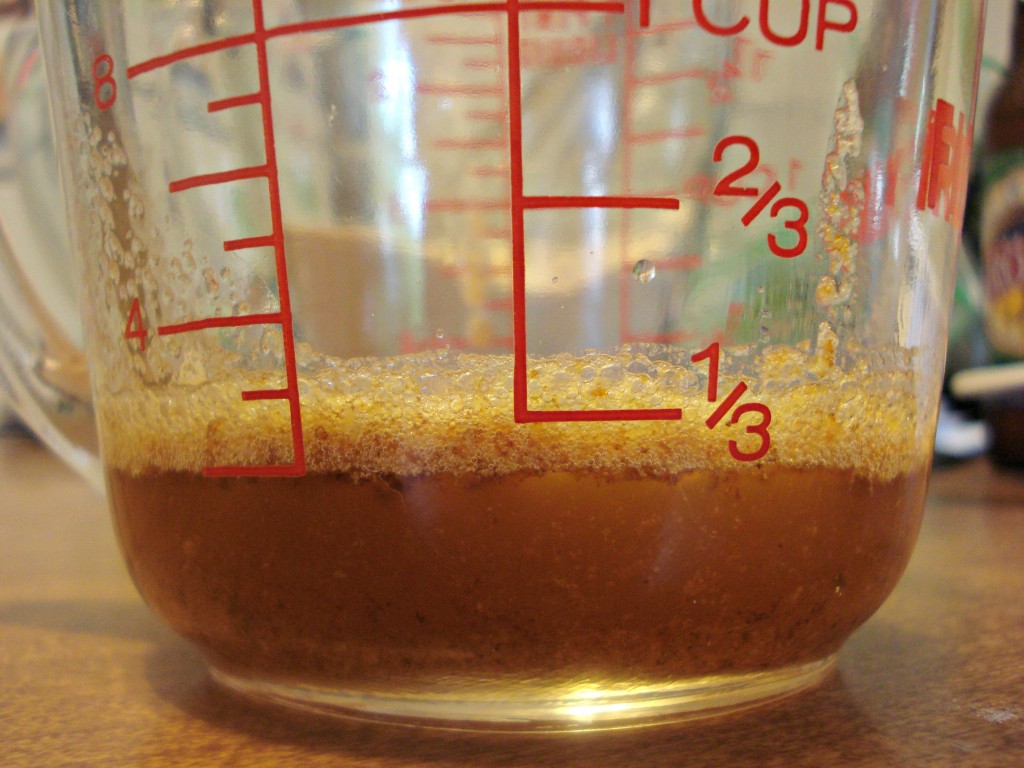 Thanks to the brown butter, the batter you'll end up with is a gorgeous caramel color, and also very sticky and thick.  You may need to use a buttered spatula to spread it into the baking pan.  You also might notice that the batter makes a very thin layer in the pan; that's ok.  It'll rise a good bit during baking.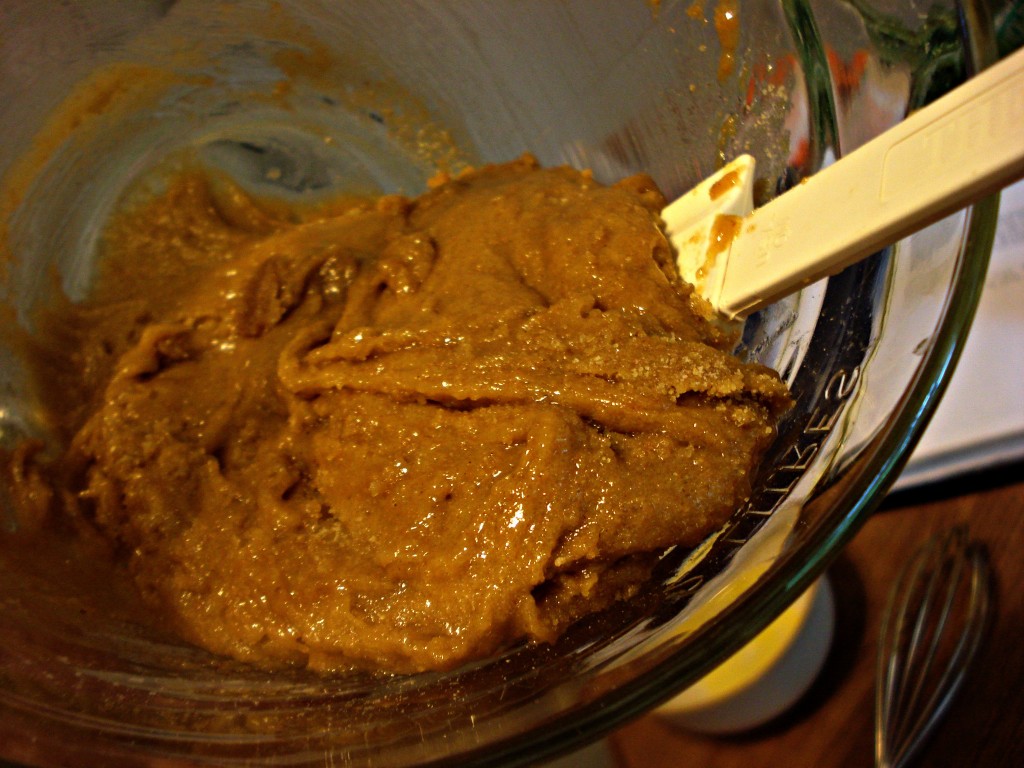 The finished blondies are a dream come true.  They're beautifully chewy and soft, with a perfect hit of rich, buttery taste.  They make a perfect dessert at any time of year, and, incidentally, a very good breakfast when you're running late and snatch one from the pan on your way out the door.  Nostalgia never tasted so good.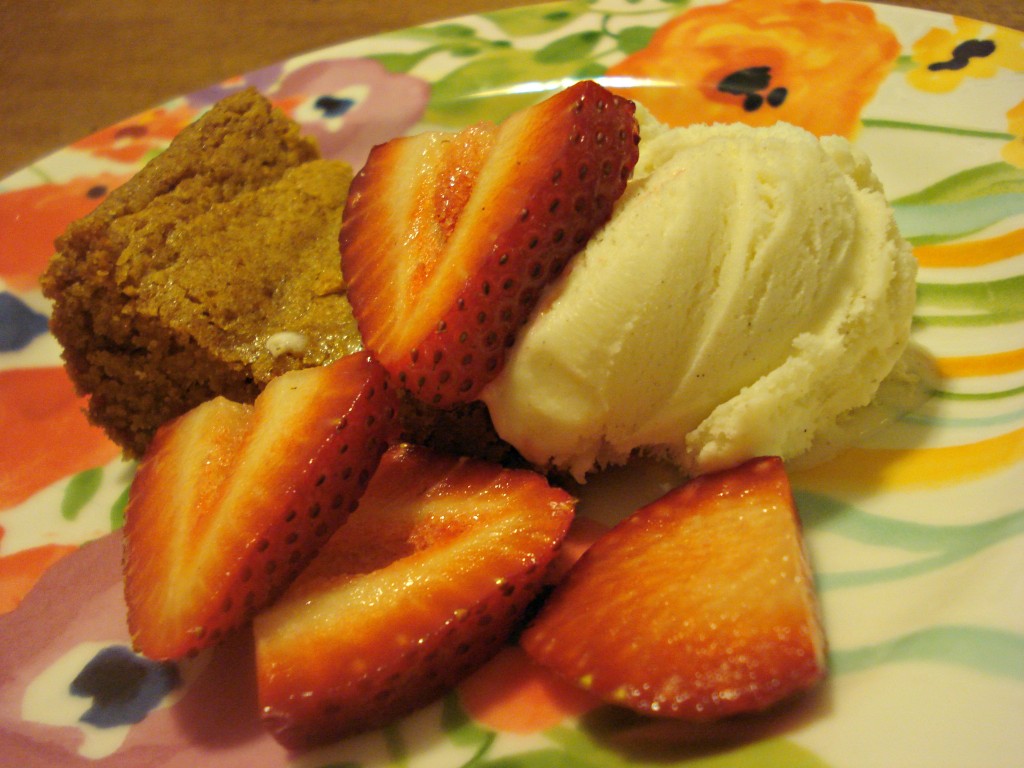 Browned Butter Blondies
adapted from Cooking Light
1/2 cup all purpose flour
1/2 cup whole wheat flour
3/4 cup firmly packed brown sugar
1 teaspoon baking powder
1/4 teaspoon salt
5 tablespoons unsalted butter
1 large egg
1 large egg white
cooking spray
Preheat oven to 350.
Place butter in a small skillet over medium heat.  Cook until the butter crackles and browns, but don't let it burn– keep a close eye on it while cooking.  Remove from heat and pour into a small bowl; let cool for at least 10 minutes.
Combine flour, brown sugar, baking powder, and salt in a large bowl.  Combine cooled butter and egg in a separate bowl, stirring with a whisk. Pour butter mixture over flour mixture, and stir just until moistened.  Spoon batter into an 8″ square baking pan coated with cooking spray and smooth top with a spatula.
Bake at 350 for 30 minutes, or until a cake tester inserted in the center comes out clean.  Serve with fresh fruit and ice cream, or whatever topping suits your fancy.