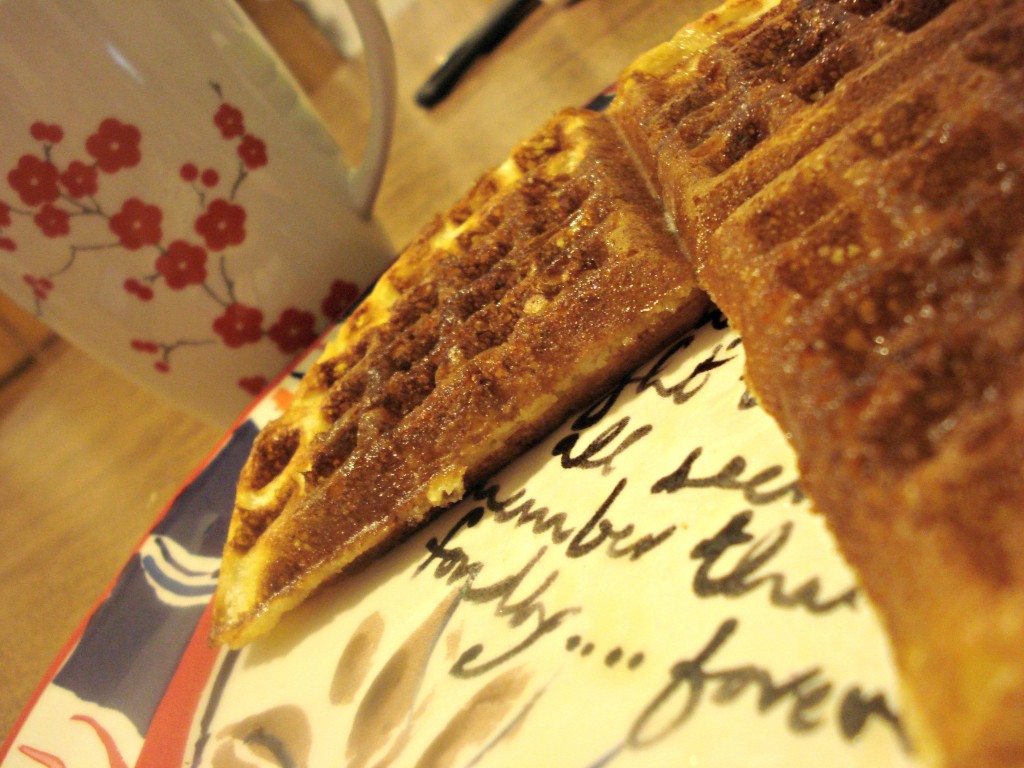 For the past few weeks, I have been obsessed with Project Runway.  And I mean obsessed with a capital O.  We're only on episode four of the current season, but so far, those few episodes have done nothing but whet my appetite for more.  Fortunately, in addition to its many other charms, the Boston Public Library has multiple copies of almost all the previous seasons on DVD, so when I found myself home alone one evening last week, I was able to sit down with a glass of wine and hours and hours of runway footage.  Just perfect.
In general, I have nothing but scorn for reality TV.  I have some choice words about television shows that basically reward people– women and girls especially– for behaving badly, which is another post entirely.  But Project Runway is my one indulgence, and one that I'm clearly not ashamed to own.  Getting on the show requires real talent, and even though some interpersonal drama does creep in from time to time, it still manages to be a show that rewards creativity, perseverance, and quick thinking.
So, obviously, that has a lot to do with waffles, right??
Well, actually, it does.  The designers' mentor on the show, and all-around guy-I'd-love-to-have-dinner-with, Tim Gunn, is famous (infamous?) for his catchphrase, "make it work."  And this was a recipe in which I really had to make it work.  From a time crunch to ingredient substitutions to bad blog photos, I just had to shrug my shoulders and roll with it.
The beauty of these waffles is that the batter has to be mixed ahead of time and refrigerated overnight, so in the morning, all you have to do is heat the waffle iron and grab the batter out of the fridge.  However, this could also be considered the downfall of this recipe.  What if you suddenly realize that it's getting close to midnight and you're super tired, but you haven't made the batter yet?  You have two choices, really: say "forget it" and go to bed, or sling all the ingredients together in a sleepy near-stupor.  I went for the latter.  As you can see, it was not an attractive process.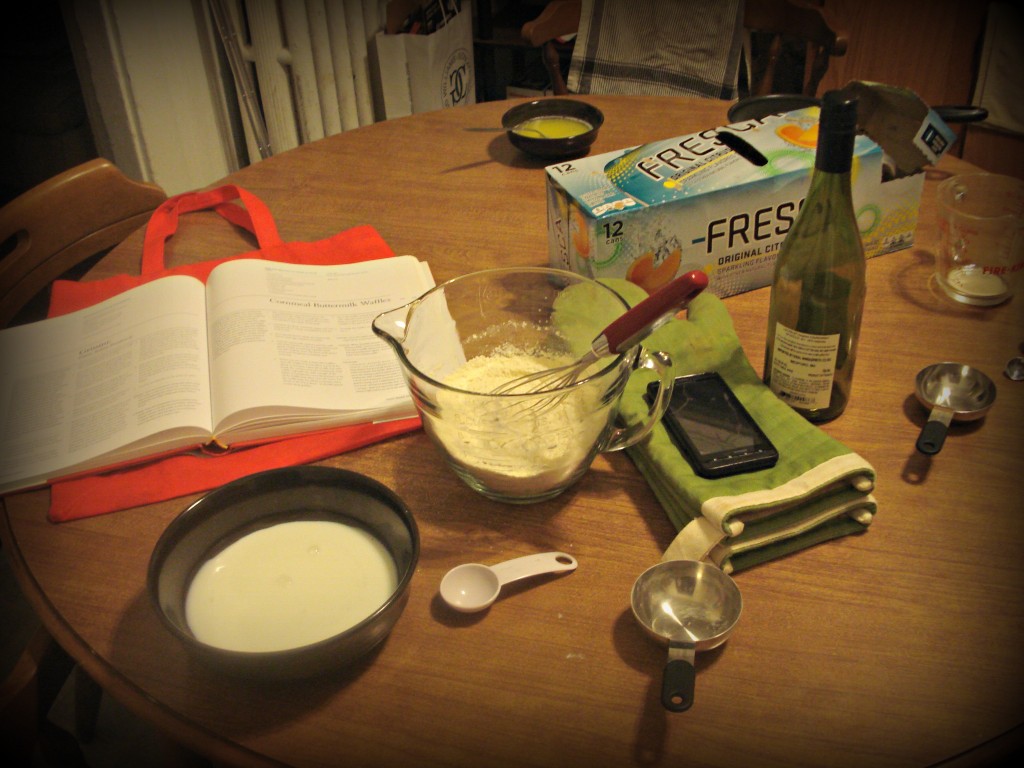 Why did I even have the oven mitts out??  And why haven't I taken the empty wine bottle off the table?  We drank that with dinner three days ago.  Oh, and the cookbook is sitting on top of a shopping bag because the table was sticky, and apparently I couldn't be bothered to clean it off before mixing.  Oh man.  Life is messy.
Also, while I was getting my ingredients together, I realized that I didn't have any cornmeal.  I did, however, have a bag of polenta in the pantry, and since polenta is basically just a more finely ground cornmeal, I decided I'd rather give it a shot than walk to the store… which would have been closed by then, anyway.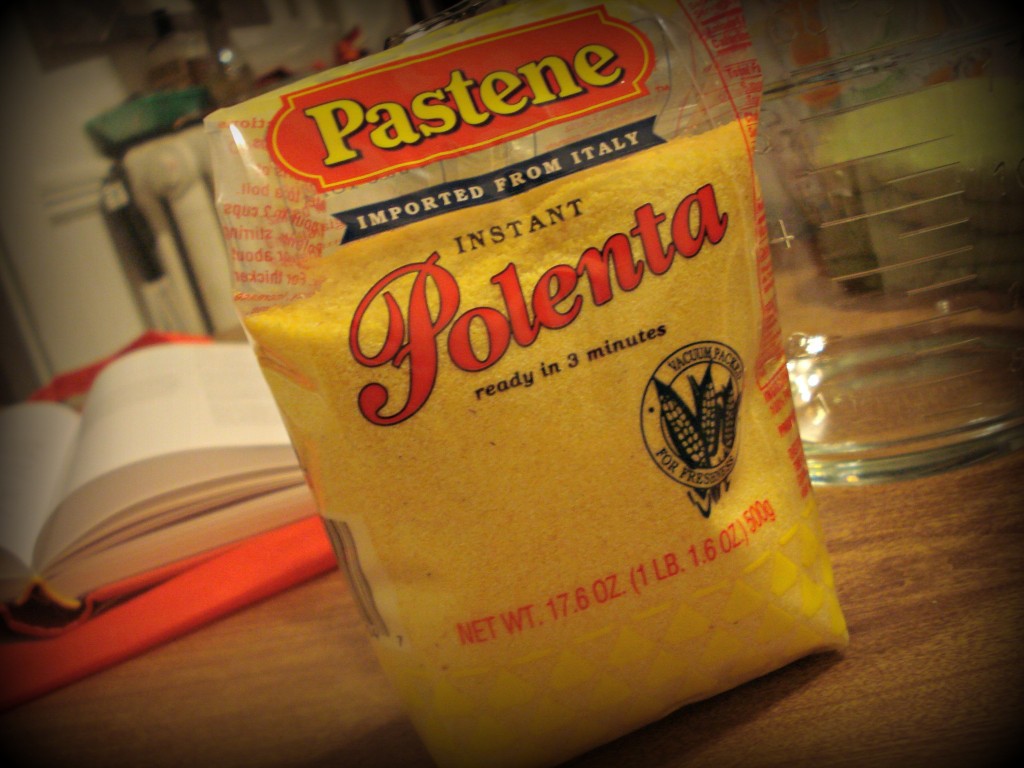 I have to tell you, waking up in the morning is much, much easier when you know that you're about to dig into a fresh waffle without even dirtying the kitchen.  And these waffles are fantastic.  They have a wonderful, crispy outside, and the polenta adds a delicious crunch to every bite.  They're only slightly sweet, which means you could eat them for breakfast with maple syrup and fruit, or you could pile them up with bacon and cheese for an amazing savory meal.  Or you could top them with pesto and prosciutto… or use waffle sections as sandwich bread… the possibilities are endless.
Come to think of it, I have some leftover batter in the fridge, and I was already thinking about borrowing another season of Project Runway to watch tonight, so… I think I just made myself some Wednesday night plans.  Make it work, indeed.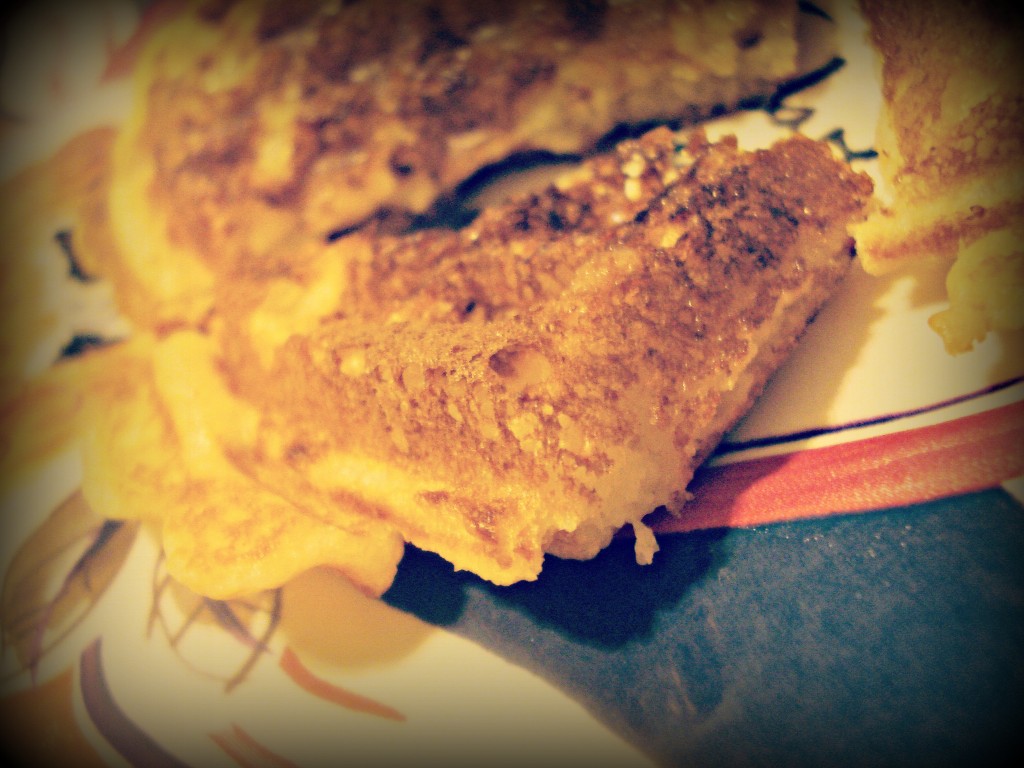 Yeasted Polenta Waffles
adapted (slightly) from The Modern Baker 
1 cup whole milk
1 teaspoon active dry yeast
1 1/2 cups all-purpose flour
1/3 cup instant polenta
1 tablespoon sugar
1/2 teaspoon salt
1/4 teaspoon baking soda
1 cup buttermilk
6 tablespoons unsalted butter, melted
The night before you intend to serve the waffles, heat the milk in a small pan to just lukewarm, about 110°F.  Pour it into a small bowl and whisk in the yeast.
Combine the flour, polenta, sugar, salt, and baking soda in a large mixing bowl (preferably one with a lid), and stir well to mix.
In a separate bowl, whisk the buttermilk, butter, and eggs together smoothly.
Add the buttermilk mixture and the milk and yeast mixture to the dry ingredients, and gently whisk everything together until smooth.  Cover the bowl with lid or plastic wrap and refrigerate until morning.
When you are ready to bake the waffles, simply follow your waffle iron's instructions and cook to your desired level of doneness.
*If you don't have a waffle iron, this batter makes delicious pancakes, too.