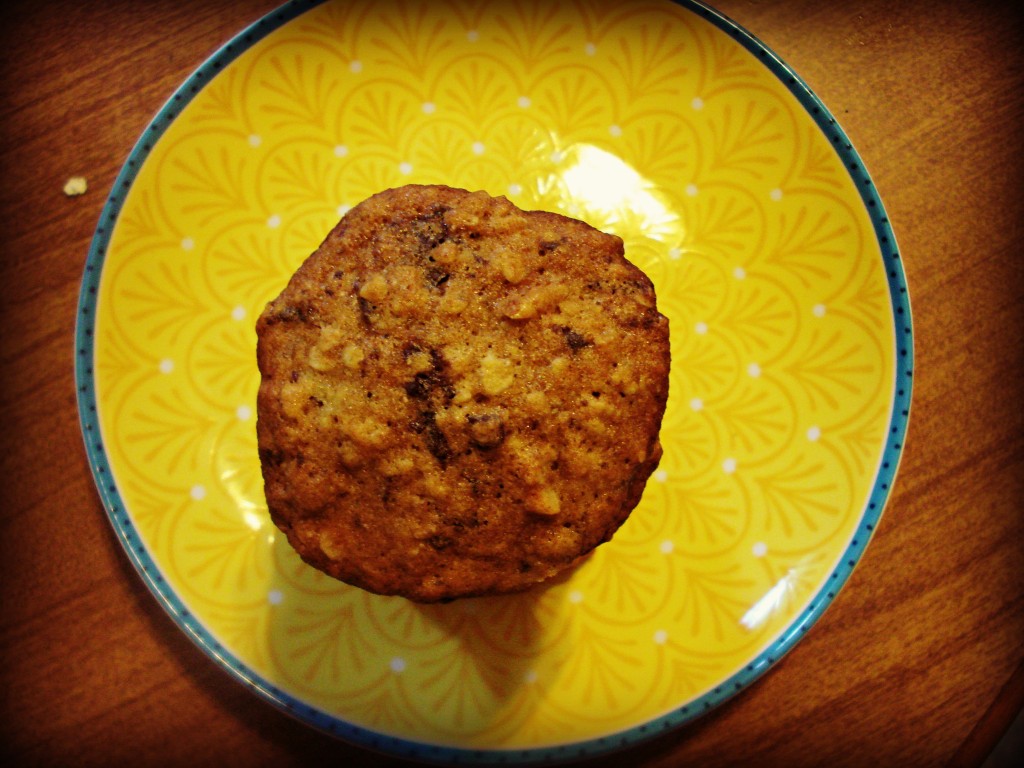 One of the electives that I took in grad school was a food history class, which functioned not so much like a class, but rather like a really intense book club.  When the professor handed out the syllabus on the first day, the reading list included not only a new book for each weekly meeting, but another long list of books that we were instructed to divvy up among ourselves and read independently.  The longest book we were all required to read was Vestal Fire, by Stephen Pyne, which weighed in at an astounding 680 pages (I'll let you take your own guesses as to whether or not I finished that book in a week).  But, despite the insane workload, that still turned out to be my favorite class of my grad school career, especially since it culminated in a team cooking project.
The book that I chose to read from the classwide list was Banana Cultures by John Soluri.  It was a history of the banana industry in Honduras, and an examination of bananas' integration into American society.  Until I read that book, it hadn't even occurred to me that the 19-cent bananas I take for granted in my local Shaw's would have been unidentifiable to my relatives only a few generations ago.  And, apparently, the Chiquita Banana character was invented to help introduce bananas into American households.  You can still find several of the old Chiquita ads on YouTube (some of which, in retrospect, are pretty offensive), which offer recipe ideas that incorporate bananas.  Here's the original, family-friendly ad:
While I disagree with Ms. Banana's assertion that bananas are best when they're freckled, the overripe ones do make for excellent baking, so when I find myself with a bunch of brown-skinned bananas, I just have to grab some flour and sugar and give it a go.  Today I decided to go for Martha Stewart's banana chocolate chip cookies, which her cookbook describes as a cross between banana bread and chocolate chip cookies.  It's a spot-on description.  And it doesn't hurt that these are just about the easiest cookies ever to make.
Martha Stewart calls for chocolate chunks in this recipe, and while you could easily substitute chocolate chips– or those premade Tollhouse semisweet chunks– I strongly encourage you to buy an 8 oz bar of chocolate, or a box of Baker's chocolate squares, and chop them up yourself.  There's just something immensely satisfying about using your good knife to break down a bunch of delicious dark chocolate.  And, if you go with the Baker's squares, you get the bonuses of convenient, 1 ounce squares with an attractive embellishment on each.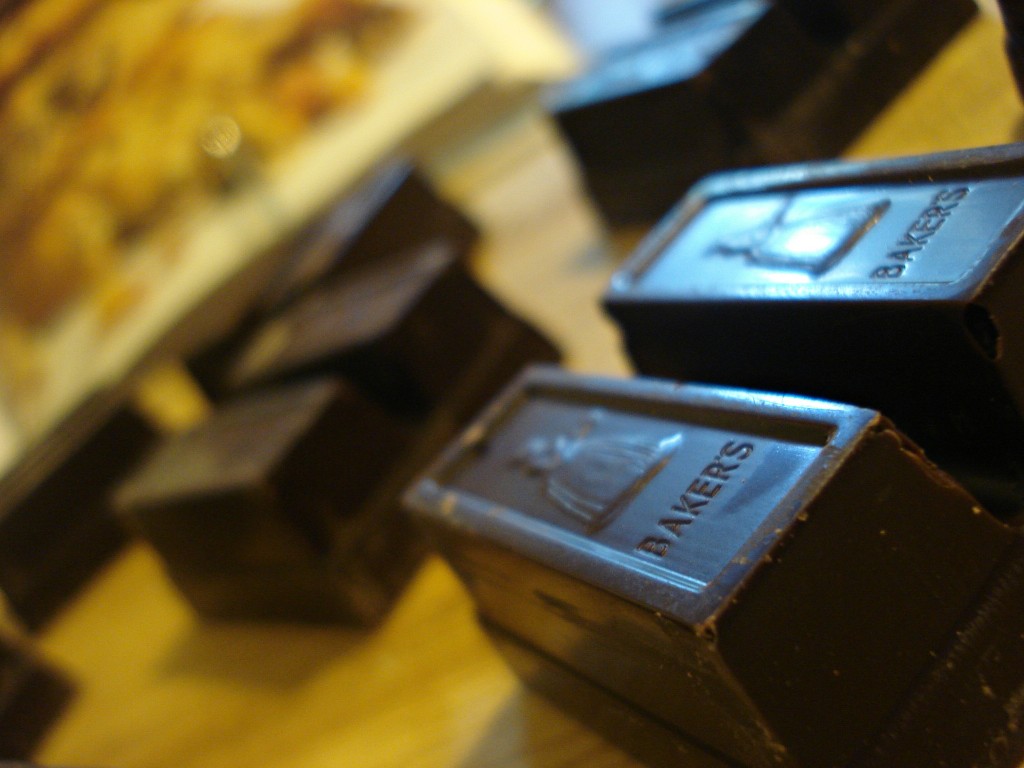 I've also seen recipes that recommend sifting your chopped chocolate through a large-holed strainer to get rid of the tiny, tiny chocolate shavings that come off each chunk.  Supposedly, this results in a cleaner looking cookie, since the chocolate will be confined to the individual chunks.  Personally, I think this is silly.  So what if the body of your cookie has some chocolate flecks in it?  You can go ahead and sift the chocolate if you want, but just remember, in the immortal words of the great Mitch Hedberg, "That robs you of chocolate!"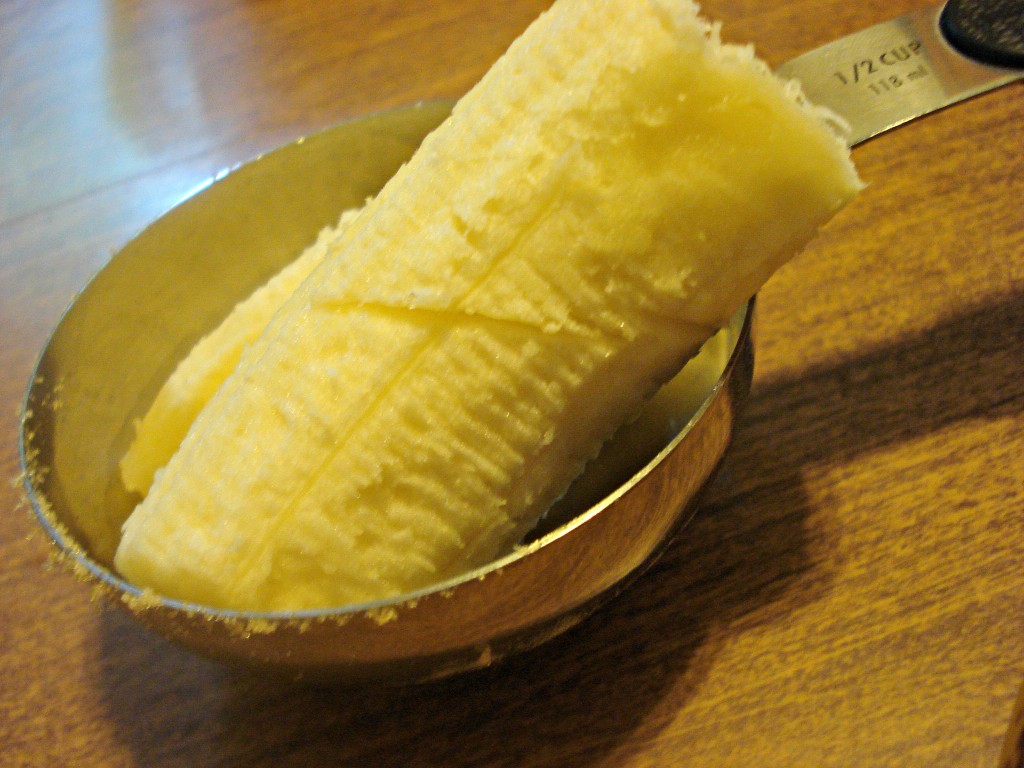 The great thing about using mashed bananas in baking is that it allows you to cut down on sugar.  This recipe uses only a half cup of granulated and a half cup of brown sugar, which is a pretty modest amount, given how many cookies it makes.  The banana provides enough sweetness that you won't even notice the rest of the sugar is missing.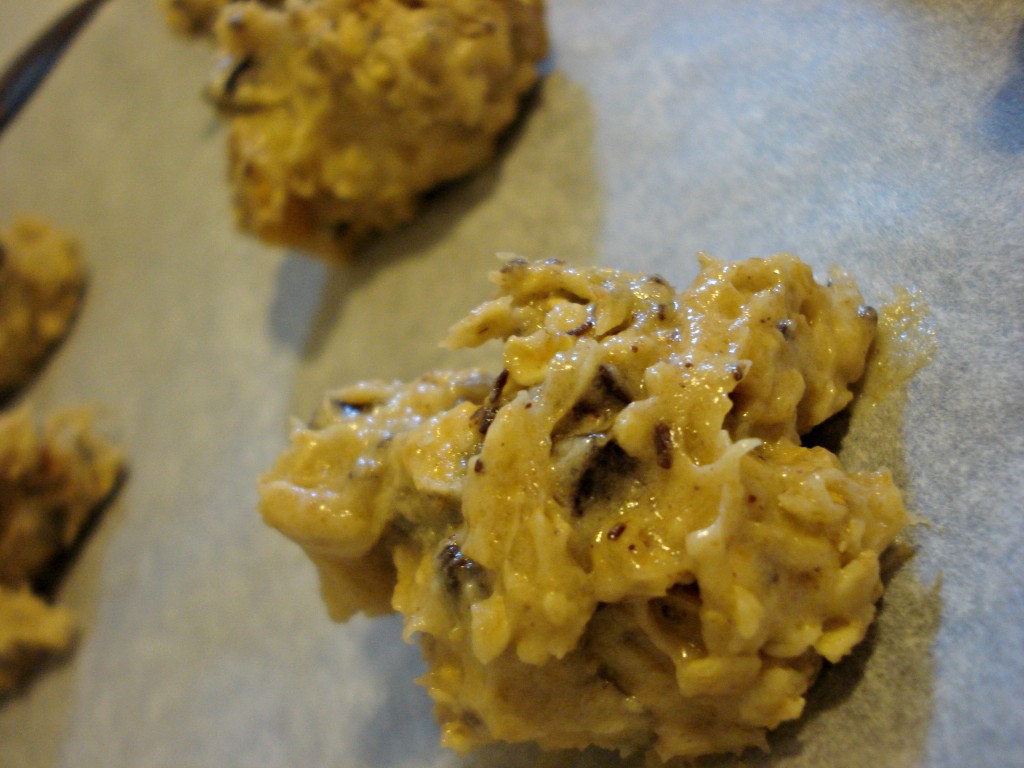 Once you have your batter assembled, go ahead and eat a heaping spoonful– um, I mean, drop it by the tablespoonful onto a parchment-lined baking sheet and pop it into a 375 oven.  I'm normally a fan of slightly underbaked cookies, but with these, you can really afford to let them get good and brown.  The final texture of the cookies is deliciously cakey, so the extra crunch on the edges is a welcome contrast.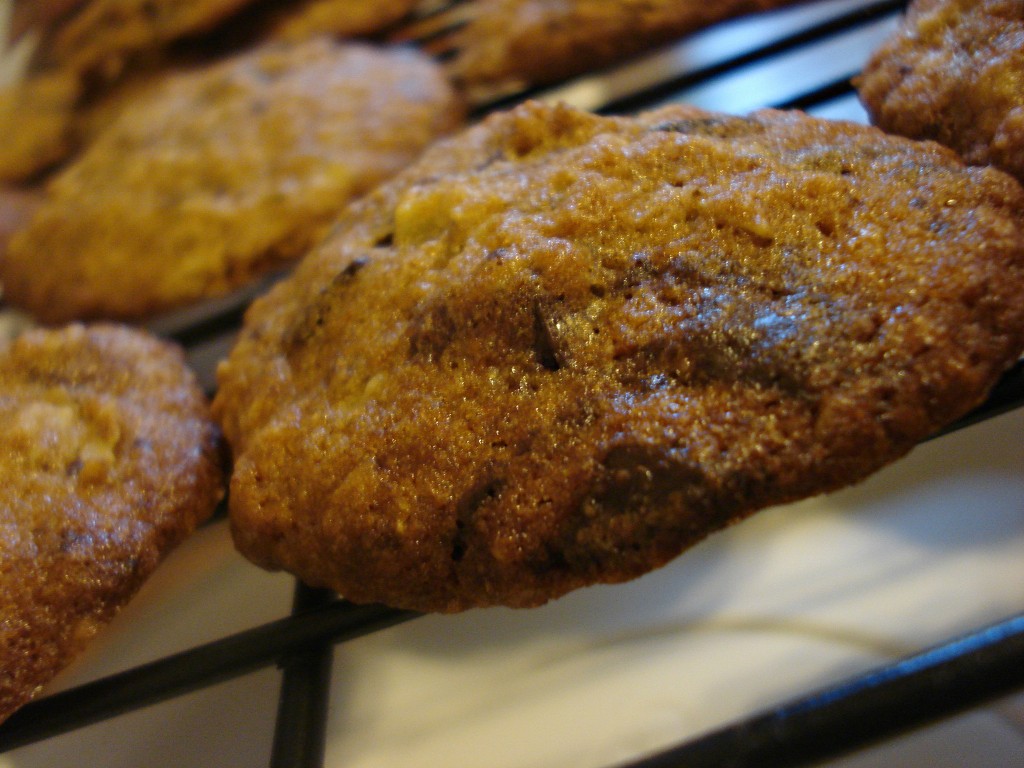 The only downside to this recipe?  I had about five speckled bananas this morning, and this recipe only used one.  So it looks like there's even more banana baking in my near future.  Can't say I'm too broken up about that.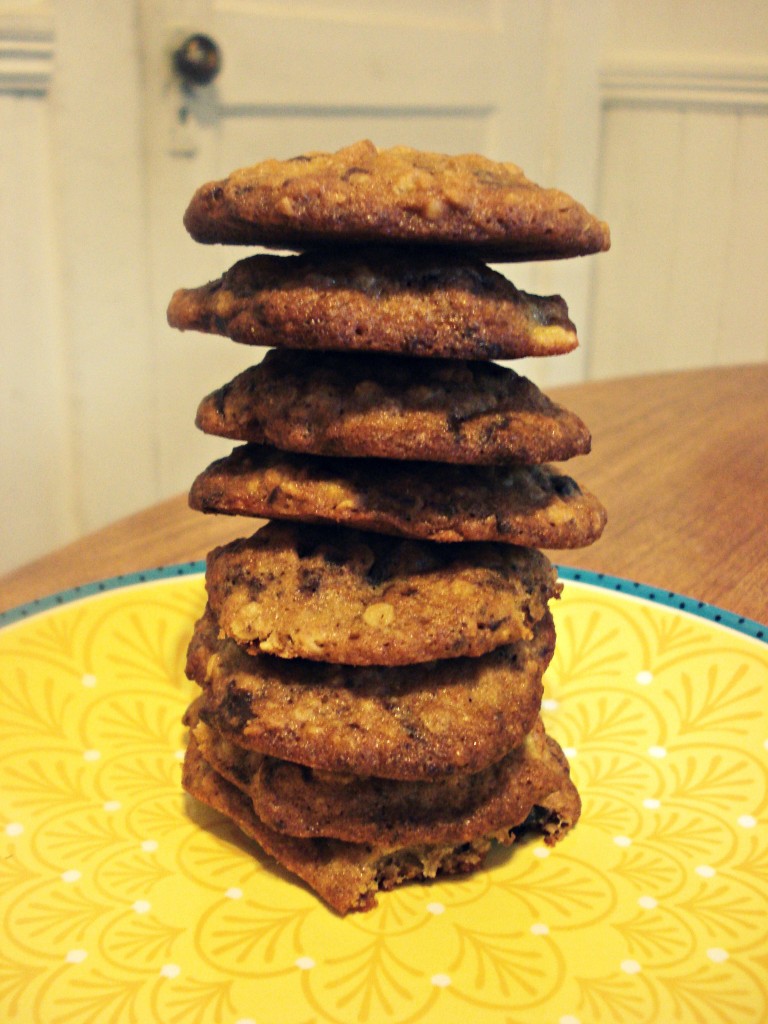 Banana Oatmeal Pecan Chocolate Chunk Cookies
adapted ever-so-slightly from Martha Stewart
1 cup all-purpose flour
1/2 cup whole wheat flour
1 teaspoon salt
1/2 teaspoon baking soda
3/4 cup (1 1/2 sticks) butter, room temperature
1/2 cup granulated sugar
1/2 cup packed brown sugar
1 large egg
1 1/2 teaspoons vanilla extract
1/2 cup mashed ripe banana (about 1 banana)
1 cup rolled oats
8 ounces semi-sweet chocolate chunks
1/2 cup coarsely chopped pecans
Preheat oven to 375 F. Whisk together both flours, salt, and baking soda in a bowl.
Put butter and both sugars into the bowl of an electric mixer; mix on medium speed until pale and fluffy.  Reduce speed to low, and add egg and vanilla; mix until combined.  Mix in banana.  Add flour mixture; mix until just combined.  Stir in oats, chocolate, and pecans.
Using a tablespoon, drop dough onto baking sheets lined with parchment paper, leaving about an inch and a half between cookies.  Bake until golden brown, about 12 or 13 minutes.  Let cool on sheets for about five minutes, and then transfer to a wire rack to cool completely.