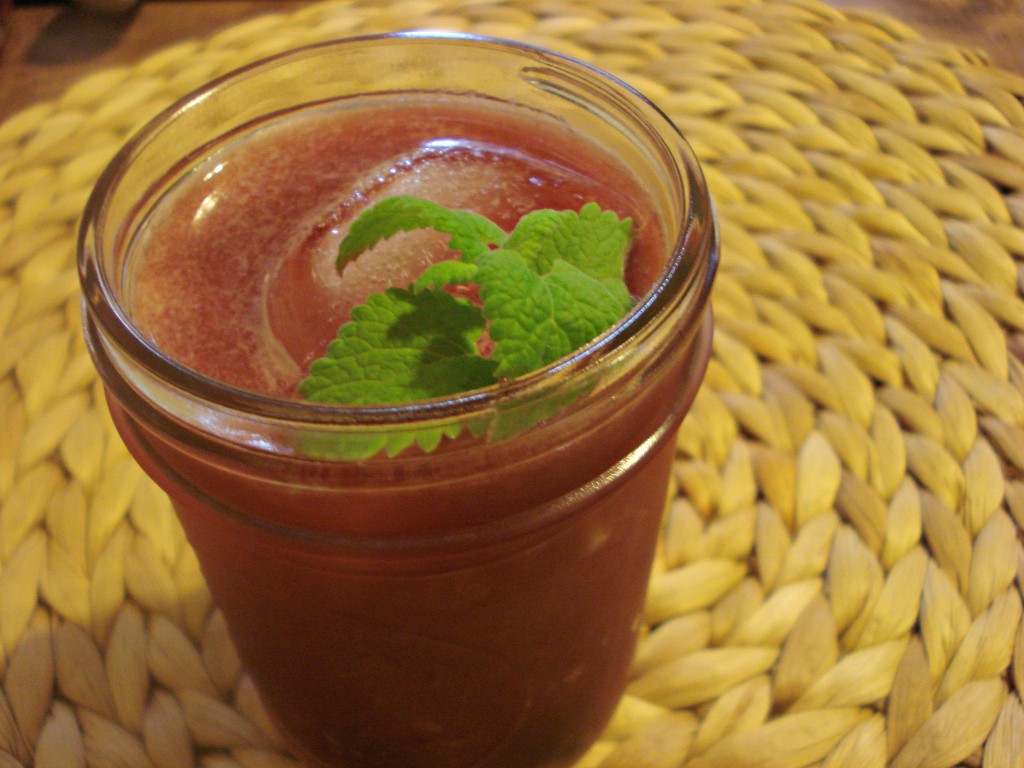 Well, friends, this is a momentous occasion, indeed: Notes on Sugar's very first cocktail post.  I haven't exactly beaten around the bush about my affection for bourbon-based drinks; if you'll recall, my very first post involved a big, fat bottle of Woodford Reserve and a Manhattan that had very little to do with the actual recipe.  But a whole post about a drink?  This feels odd.  Odd in a good way.
And, it should be noted, this is also probably the first post that has the potential to inspire a healthy dose of sophomoric giggling.  I wouldn't even bring this up in the first place if it weren't for the fact that the name "Coxsackie" has a very special place in my heart, precisely because it's so laugh-inducing.  You see, a little over three years ago, I moved from Southeast Alabama to Boston with Alex and Mollie, our former classmate and first roommate.  We brought an inordinate amount of stuff in a 17-foot U-Haul truck, which means that we basically drove over 1200 miles in a gas-guzzling big rig with a passenger area roughly equivalent to the back seat of a minivan.  (Mollie had it even worse, because she had to drive an additional two-and-a-half hours to meet Alex and me in central Alabama before we officially hit the road.)
Over the course of our three-day road trip, the three of us got to know each other very well.  We did a lot of chatting, a lot of singing at the top of our lungs, and at least a little bit of veering off course to find the nearest Chipotle locations.  It was honestly a great adventure, even though it was also very tiring.  By the third and final day of the trip, we were exhausted, and getting sillier and sillier by the minute.
We had finally made our way to New York State, and we had already begun to notice how strange some of the town names were.  Canandaigua?  Schenectady?  Irondequoit??  As funny as the names were, it wasn't until we approached the umpteenth tollbooth of the trip that we spotted the strangest town name of all, right there on our toll ticket: Coxsackie.
As Mollie and Alex dissolved into giggles, we decided we had to commemorate this experience somehow, some way.  But we'd have to forfeit the ticket at the toll booth, so our only way to keep the memory alive was to snap a quick photo of the ticket.  Mollie was in the drivers' seat, so I scrambled to find my camera before we arrived at the booth.  As luck would have it, my camera started malfunctioning as soon as we pulled up to the booth, so Mollie was forced to stall while I struggled to capture the photo.  Fortunately, making idle, yet incredibly charming conversation, is a forte of Mollie's, so it was no problem.  "Oh, hello!  How are you today?  Long trip for us so far.  Where are we, anyway?"  She did beautifully, and I got my photo: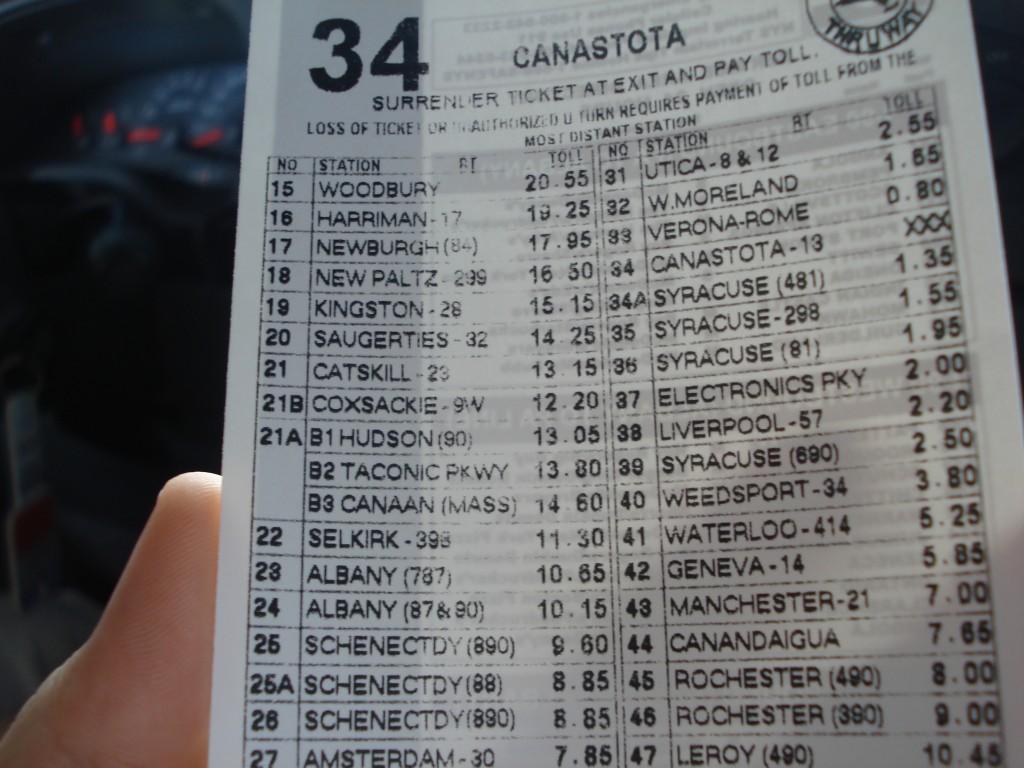 It was much, much later that I stumbled upon this drink recipe, and as soon as I saw the name, I knew I had to give it a shot.  Looking at the ingredients list, and discovering that it contained a number of my favorite things, only sweetened the deal.
The original drink recipe (from the fabulous book Bitters: A Sprited History of a Classic Cure-All) uses fresh sour cherries in the drink and to make the cherry syrup that gets shaken in, but I took a different (easier, cheaper) route and used bottled Morello cherries from Trader Joe's.  I imagine most grocery stores sell some variety of canned or bottled sour cherries in syrup– just don't use Maraschinos.  They'll be way too sweet for this drink.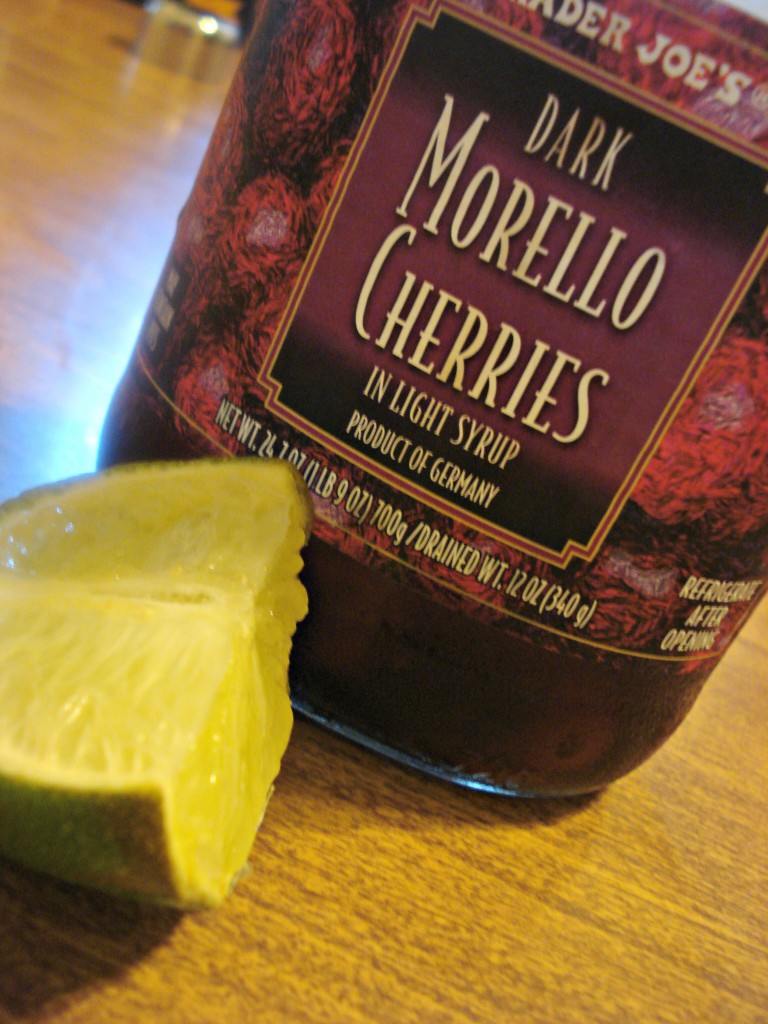 Other than the cherries, you'll need some good-quality bourbon (Knob Creek and Woodford Reserve are the favorites in my house, but I have a soft spot for Maker's Mark and Bulleit, too), Angostura bitters, some fresh mint springs, a few lime wedges, and fresh ginger ale.  If you can get your hands on some fancy-pants extra spicy ginger ale, do it!  But I couldn't, so I just used Canada Dry.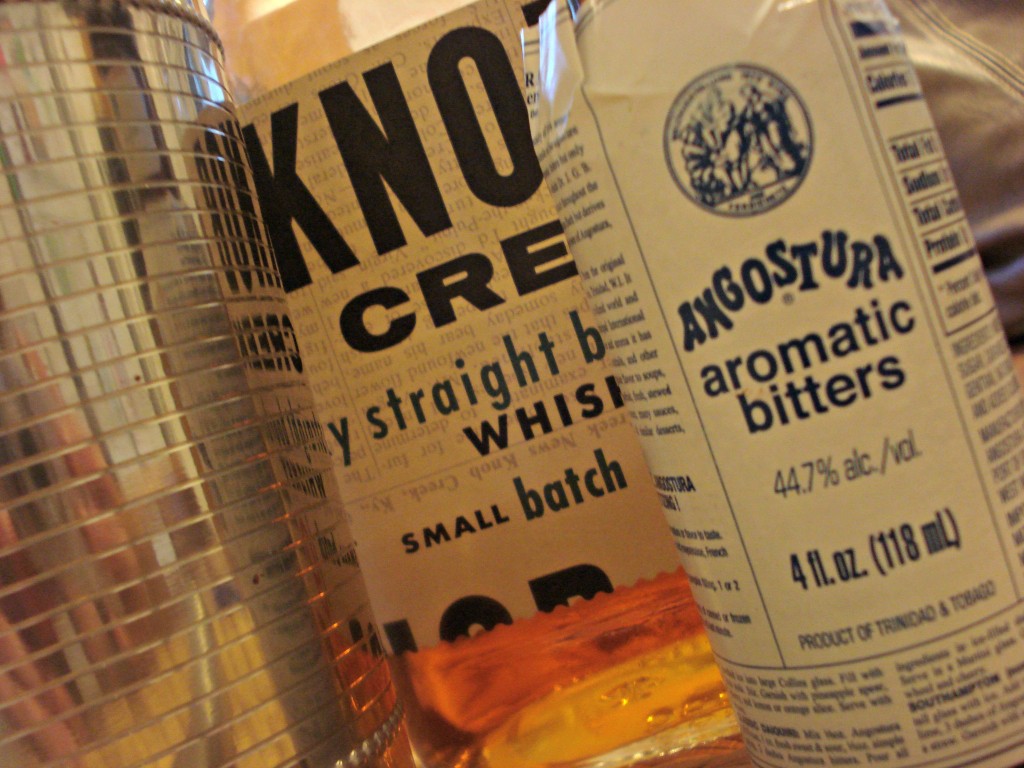 Your first step is to combine a lime wedge, three mint sprigs, four sour cherries, and about 3/4 ounce of the jarred cherry syrup in a shaker.  Use a muddler to mash everything together, as the book says, "into a syrupy, aromatic mash."  (If you don't have a muddler, use the blunt end of a kitchen utensil, or the back of a spoon.)  Add 2 ounces of the bourbon, a few shakes of bitters, and plenty of ice, then give it a few vigorous shakes.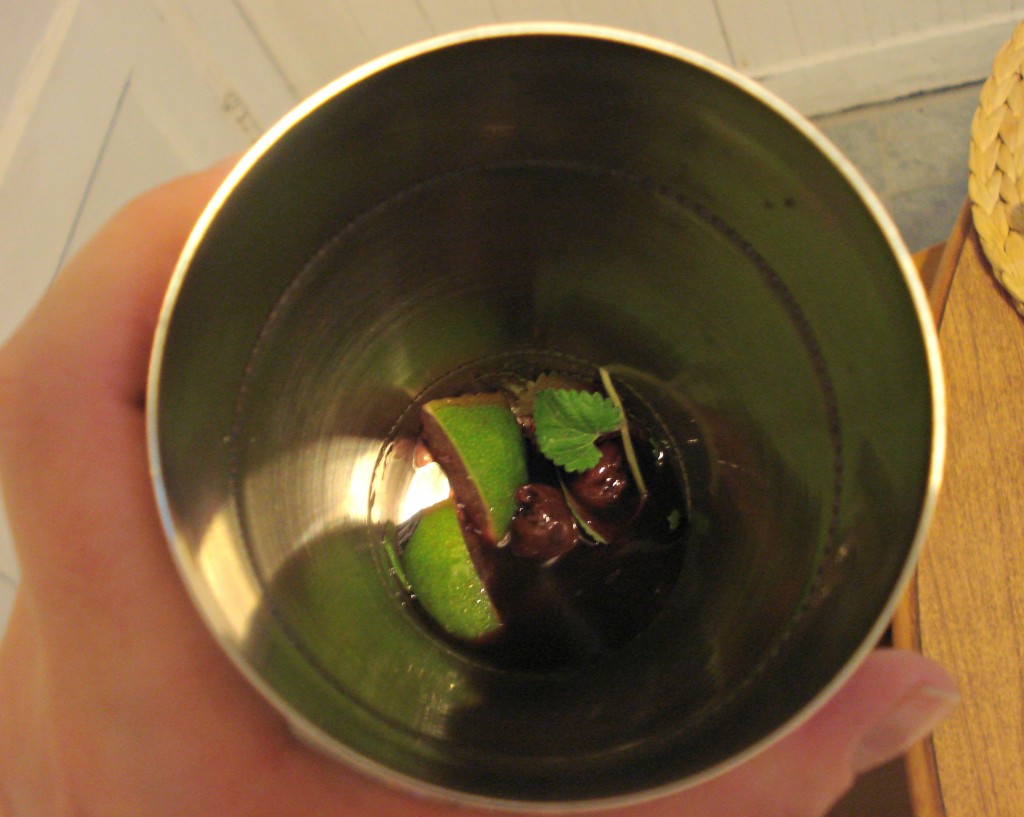 Post-shake, the contents of the shaker will be very thick and pulpy.  You should double strain it into a bigger container before putting it in your glass.  If I'm making two drinks at a time, which is usually the case, I like to strain the mixture into a big glass measuring cup; that makes it easier to pour equal-sized drinks.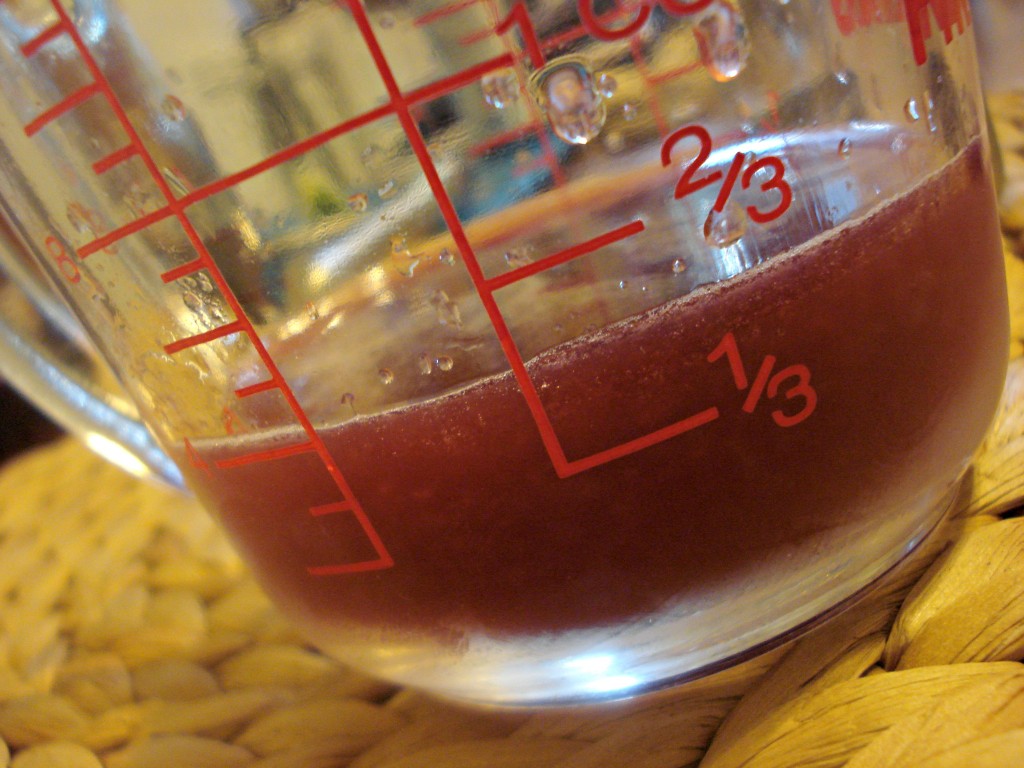 Once the mixture is strained, pour it over ice, and top it with the ginger ale; garnish with a couple more cherries and a sprig of mint.  It's a delicious, refreshing drink– sweet, but not too sweet, and the flavors work together perfectly.
And it's worth pointing out that, although you could serve this drink in any glass that floats your boat, a mini Mason jar is a delightfully hipster choice.
Drink up!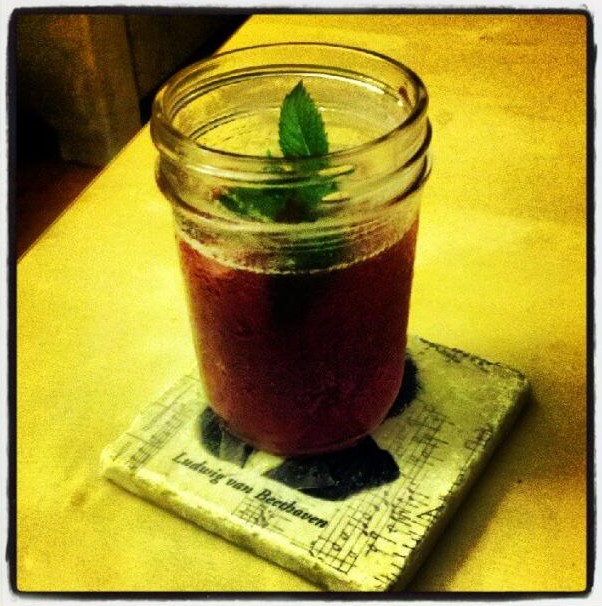 Coxsackie Smash
adapted from Bitters: A Spirited History of a Classic Cure-All
1 lime wedge
3 sprigs fresh mint
4 sour cherries (such as Trader Joe's bottled Morello Cherries)
3/4 ounce sour cherry syrup
2 ounces bourbon
4 dashes Angostura bitters
ginger ale
Combine lime wedge, mint, sour cherries, and syrup in a cocktail shaker.  Muddle until the mixture is fragrant and well-mashed.  Add the bourbon and bitters, then fill the shaker with ice and shake vigorously.
Pour over ice, and top with a splash of ginger ale.  Garnish with two extra cherries and a sprig of mint.