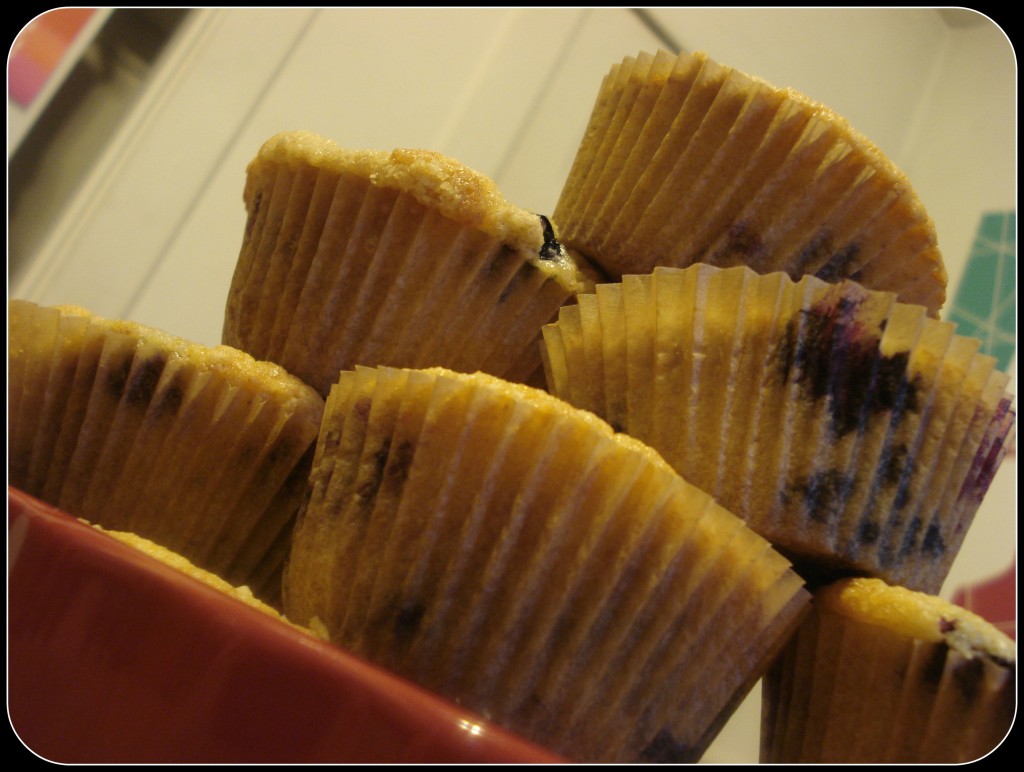 I know, I know.  Muffins again.  I just made muffins two posts ago, and here we go again.  And it's not even an original recipe, or an adaptation of a recipe.  I lifted it straight from Joy the Baker.
But let me just tell you, these are the most incredible blueberry muffins in the world.  And that's no exaggeration.  I've made these muffins at every opportunity since I first discovered the recipe, and they've been a hit every single time– almost everyone dubs these the best blueberry muffins they've ever had.  I'd like to say this is because I'm such a wonderful baker, but I really have to give Joy the credit for this one; she's come up with the perfect recipe.  It avoids all the common pitfalls of blueberry muffins (too sweet, too sticky, too boring), and instead delivers perfect texture and flavor, plus a crumb topping.  In short, it tastes exactly like you want a blueberry muffin to taste.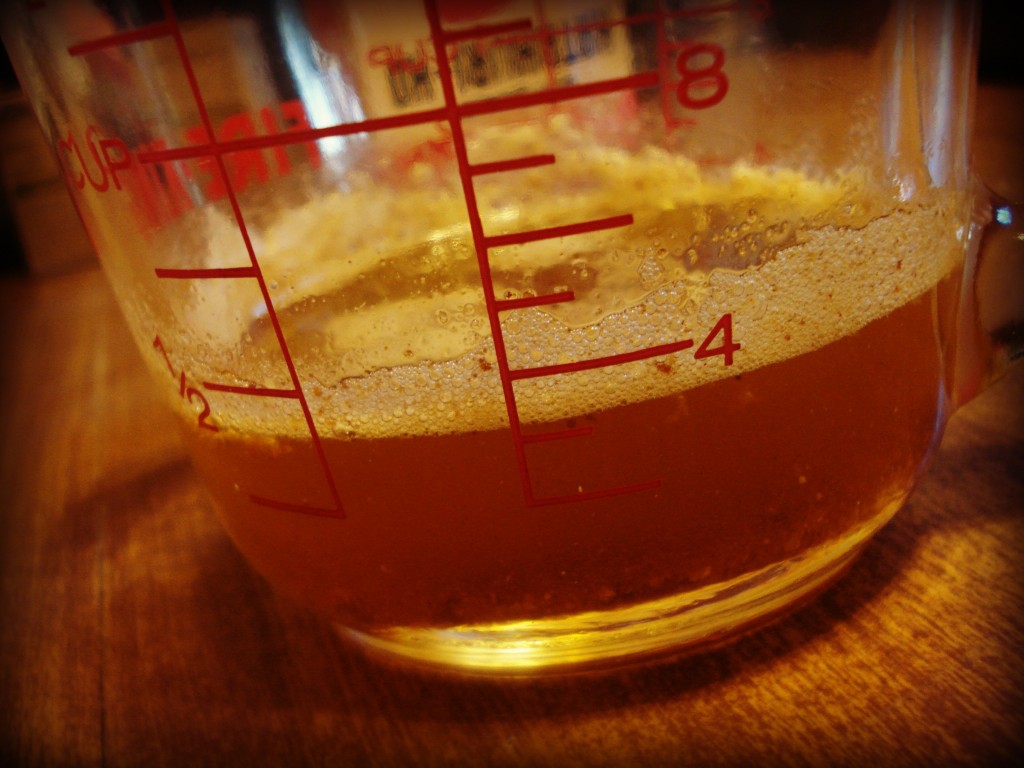 The trick, of course, is browned butter.  The trick is always browned butter.  I've blabbed about browned butter many, many times, so I'll save you the speech.  Just know that it will make every dish, sweet or savory, about 10 times more amazing than it would be otherwise.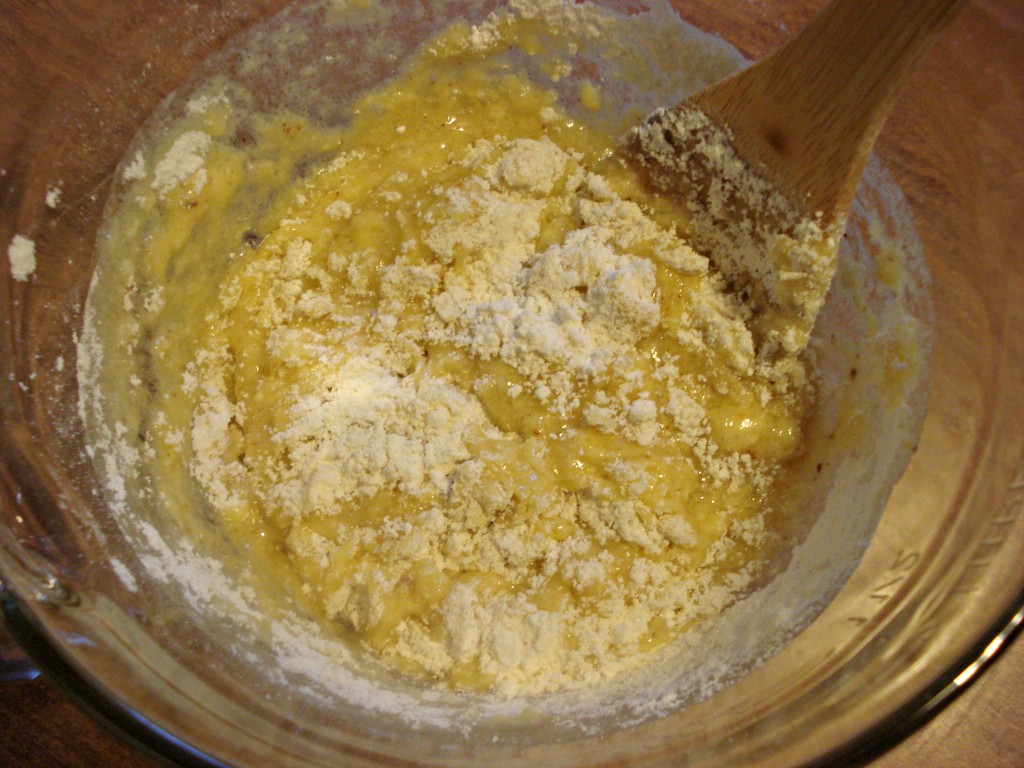 If there's anything more lovely than the sight of batter being mixed, I don't know what it is…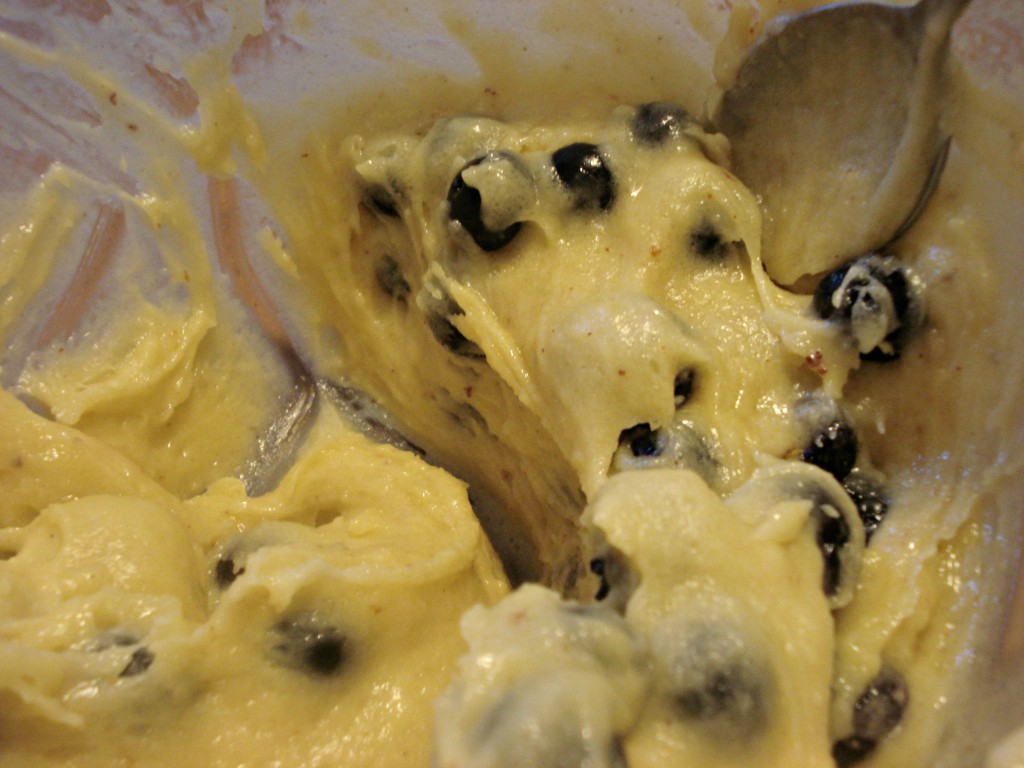 …unless, of course, it's the sight of batter with blueberries folded in.  And WOW, do these muffins have a lot of blueberries.  The recipe calls for two cups, to be exact.  For this batch, I accidentally bought half that amount, and each muffin still contained ample fruit.  However, I still highly recommend cramming the full amount of blueberries in the batter– and you'll definitely want to use muffin liners, too, or your muffin tin will be a berry mess when you're done.
Now, these muffins do involve a crumb topping.  However, you may notice a lack of crumb topping on the muffins in my photos.  Turns out there's a small trick to making crumb topping: you have to use cold butter.  I accidentally left mine out on the counter while I was mixing the batter, so by the time I got to the topping, the butter, flour, and sugar just combined into a paste that was nearly impossible to crumble onto the muffins.  I tried to make it work anyway, but without success.  Oh well.  These were still the best muffins ever, even without an official crumb topping.  Have I mentioned that these are the best blueberry muffins in the world?  I have?  Sounds like my work here is done.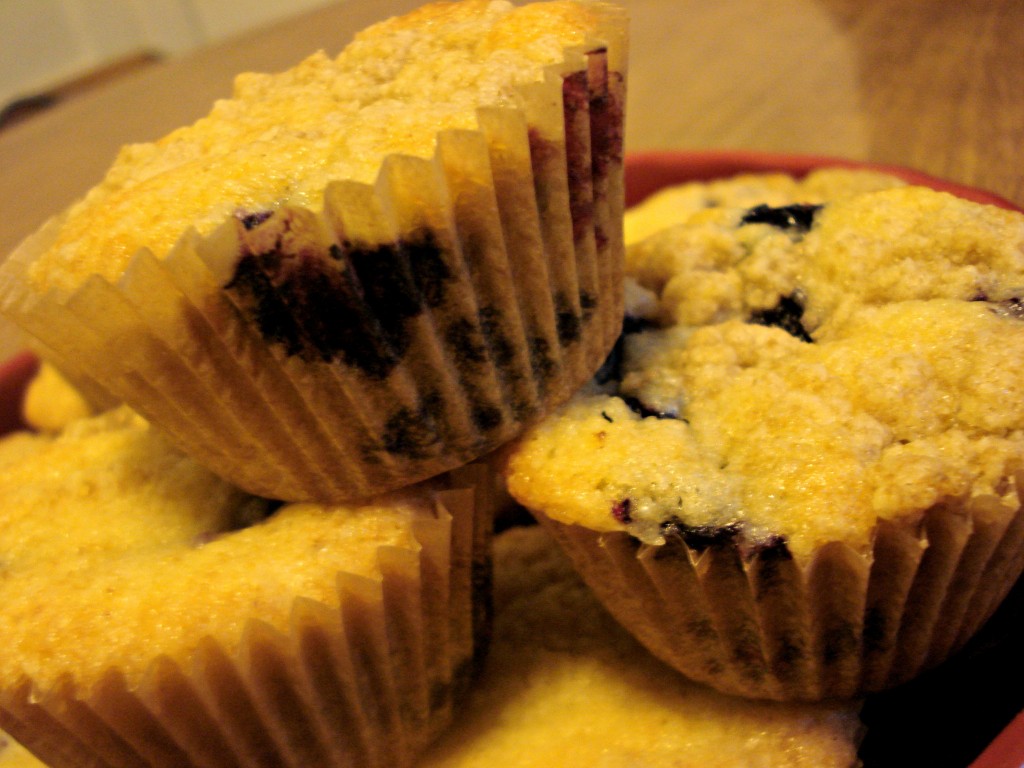 Joy's Best Blueberry Muffins
from Joy the Baker
For the Muffins:
7 Tablespoons unsalted butter
1/3 cup whole milk
1 large egg
1 large egg yolk
1 teaspoon vanilla extract
1 1/2 cups all-purpose flour
3/4 cup sugar
1 1/2 teaspoons baking powder
3/4 teaspoon salt
2 cups fresh blueberries
For the Topping:
3 Tablespoons cold, unsalted butter, cut into 1/2-inch cubes
1/2 cup all-purpose flour
3 1/2 tablespoons sugar
Put a rack in the upper third of the oven and preheat oven to 375 degrees F.  Line muffin pan with paper or foil liners.
Melt butter in a small saucepan over medium heat.  Keep an eye on the butter.  Melt and cook down the butter until little brown bits appear in the pan.  The crackling will subside and butter will begin to brown fairly quickly after that.  Keep a close eye.  Remove from heat.
Whisk milk, egg, yolk and vanilla until combined.  Add the brown butter and stir to combine.
Whisk together flour, sugar, baking powder and salt in a medium bowl  Add milk and butter mixture all at one and stir gently to combine.  Gently but thoroughly fold in the blueberries.
Divide the batter among muffin cups and spread evenly.
To make the topping, combine all of the ingredients in a bowl and rub together with your fingertips until crumbly.  Sprinkle evenly over the batter in the cups.
Bake until golden and crisp and a wooden pick inserted into the center of a muffin comes out clean, about 18-20 minutes.  Cool in pan on a rack for 15 minutes then remove from the pan.  Serve warm or at room temperature.