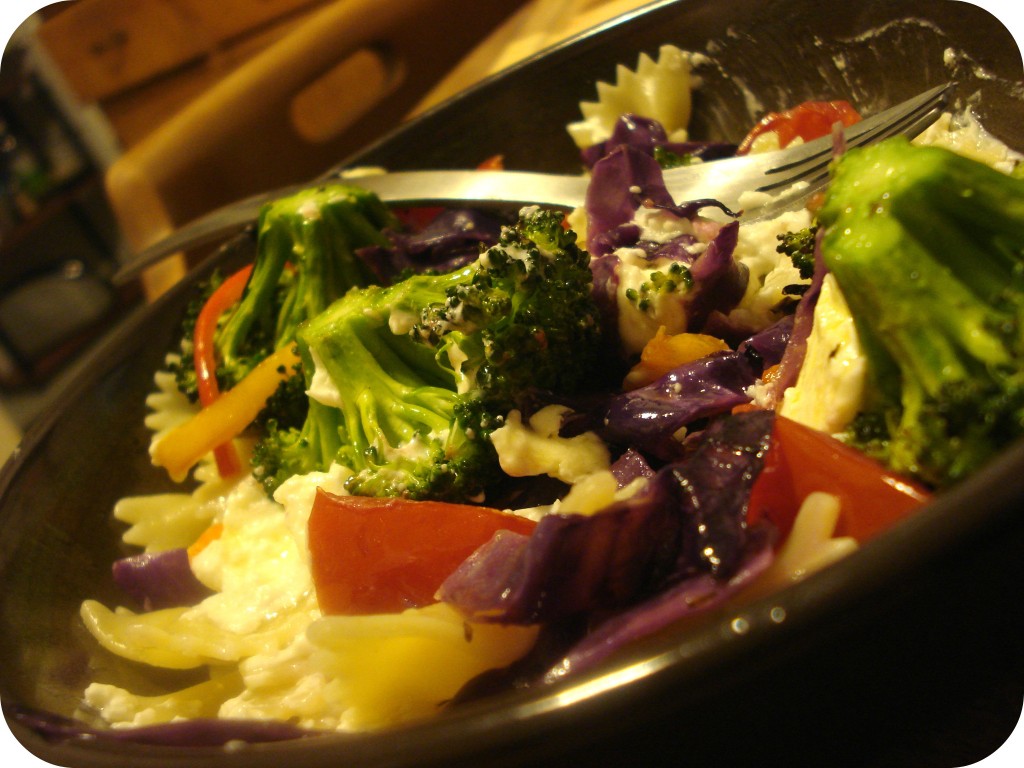 Where should I begin with this recipe?  I could tell you about how easy it is to prepare: boil pasta, roast veggies, top with cheese, and eat.  I could tell you about how flexible the recipe is: a quick dig through your crisper drawer will probably produce enough different veggies to pull it off, and while I'm partial to the particular feta that I'll rave about momentarily, you could still substitute a number of other cheeses.  I could mention that this is an ideal dinner to make when you're dining alone.  I could also tell you what a lovely dinner is made by a rainbow of fresh produce… but in this case, I think a picture would be more effective.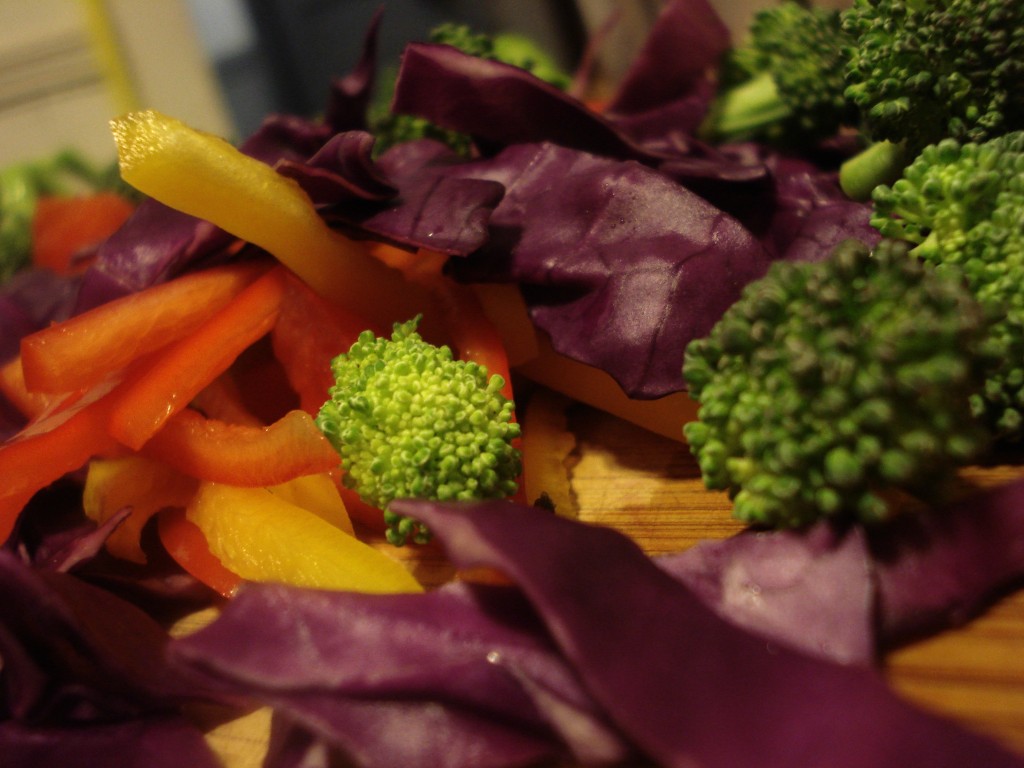 I'm in the last couple weeks of my CSA now, which means that after about half a year of a weekly assortment of the freshest produce around, I'll have to go back to supermarket shopping… or remembering to go to the farmers market.  Womp womp.  Best to make the most of these last weeks by cramming as many veggies in my body as I can manage, I think.
While I'm sure some of my fellow CSA members have probably hit on all sorts of creative uses for the veggies in our boxes, I still think the best way to prepare almost all of them is with a quick douse of olive oil and and a few minutes in a hot oven.  That's especially true for broccoli; the feathery ends get slightly crispy as they roast, and they retain more of their flavor this way than when steamed.  In addition to broccoli, this batch of roasted veggies included shredded purple cabbage, thinly sliced carrots, sweet red and yellow peppers, and whole grape tomatoes.
As much as I love farm-fresh veggies, the real star of this dish, for me, is the cheese.  It doesn't seem quite fair to rave about a fancy Australian cheese that's probably fairly difficult to track down, but I stand by it.  I carry it in my cheese case, so if anyone is really, really hankering for it by the end of this post, well, just let me know.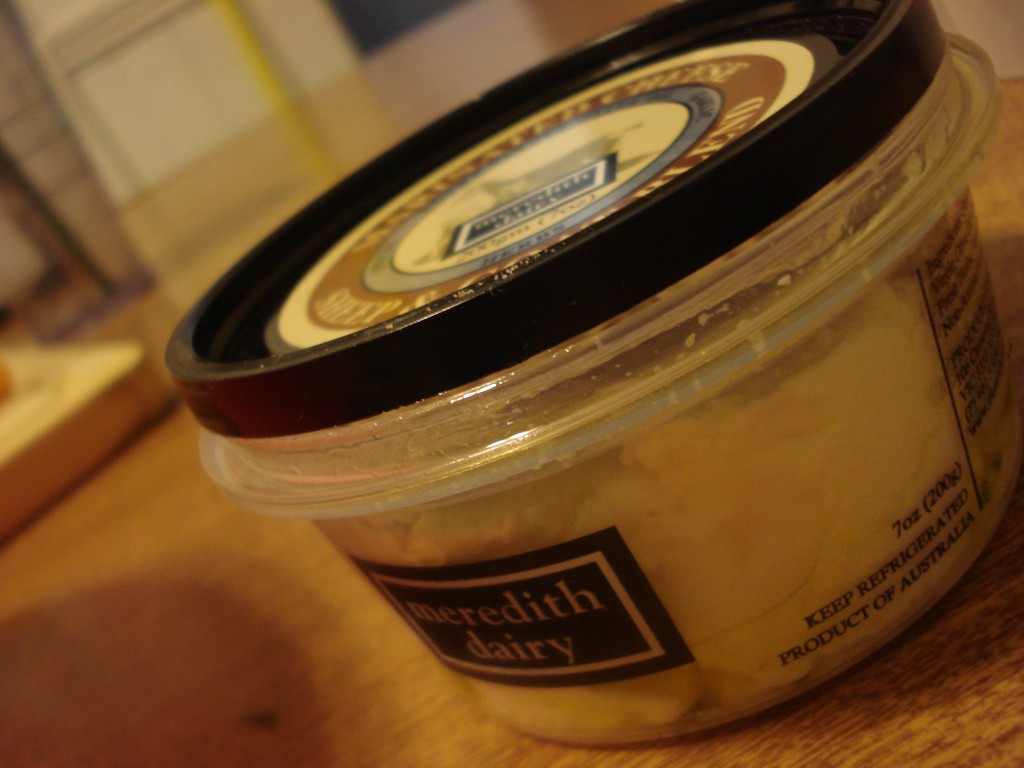 There are a lot of special things about this cheese.  Because it's made with sheep and goat milk, it has a rich, full flavor unlike most other fetas, and a creamy, spreadable texture.  And, as if that weren't enough, it's marinated in a mixture of olive oil, thyme, and peppercorns.  Not only does the herby oil infuse the feta with flavor, it also functions as its own tasty ingredient.  Guess what kind of oil I used to toss my veggies before roasting?  Yup.
As far as the cooking process is concerned, you could practically do this with your eyes closed.  All you have to do is boil any kind of pasta you like while your chopped veggies roast in a 400° oven.  They'll probably finish cooking at about the same time.  Drizzle a little herbed olive oil over a bowl of pasta, top with whatever amount of veg you like, and finish with a few dollops of feta.  It's warming, comforting, easy, and attractive.  And if that doesn't sound like an ideal dinner, then I don't know what does.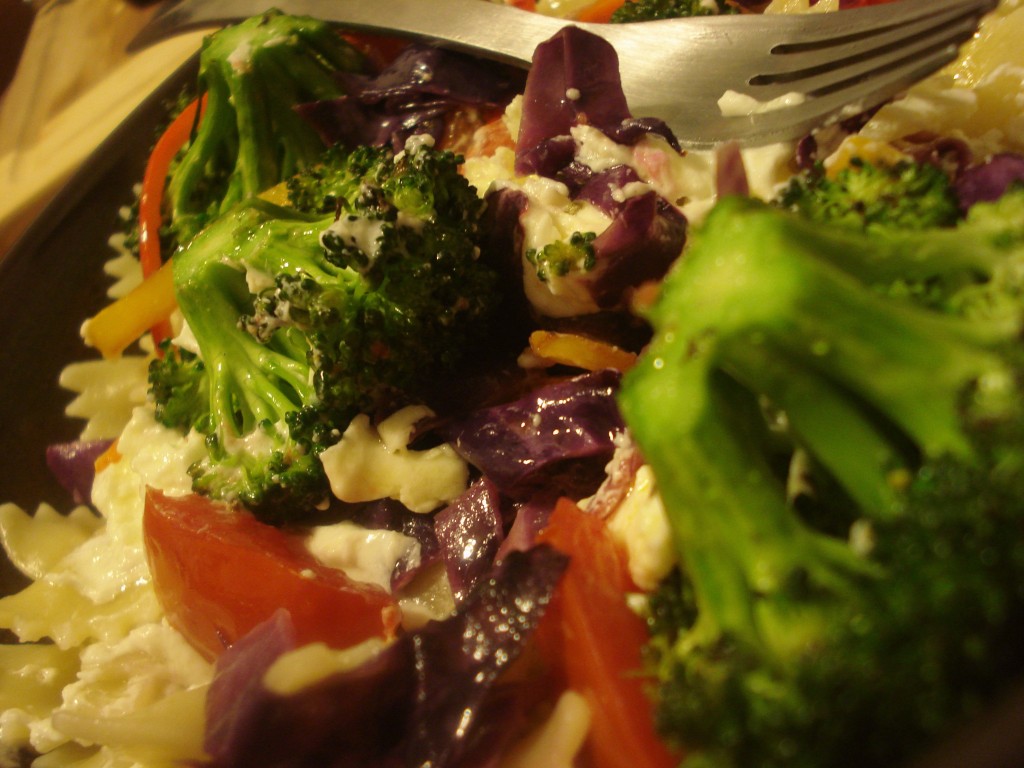 Roasted Veggies and Feta over Pasta
Preheat your oven to 400°F and set a pot of water to boil while you chop a variety of veggies into bite-sized pieces (use whatever you like, and whatever is fresh and in season).  Toss the veggies in a little bit of olive oil– preferably an oil that's infused with herbs or spices.  Spread them in a single layer on a baking sheet lined with parchment.
As you add the pasta to the boiling water, put the veggies in the oven.  The veggies will be done in about 10 to 15 minutes; the pasta, of course, depends on what shape you use.  (I like bow-tie, and it has about the same cooking time as the veggies.)
Drain the pasta, top with a drizzle of oil and a heap of veggies.  Add to this a few dollops of marinated feta, or the softest, creamiest feta you can find.