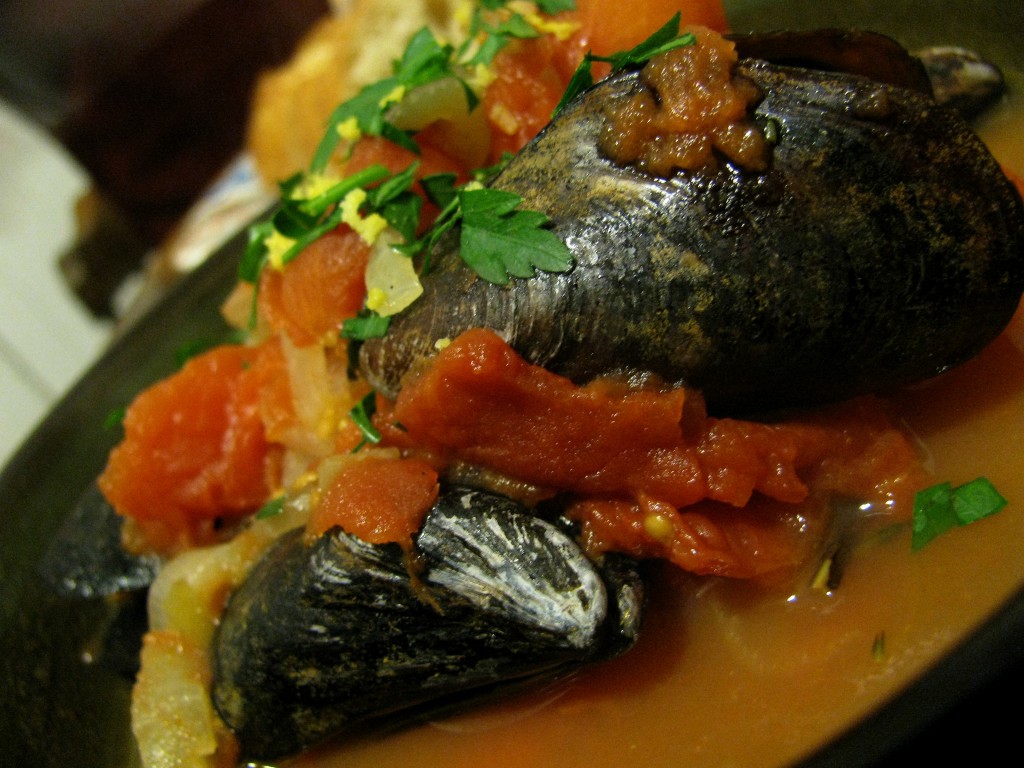 I want to be sure to choose my words carefully here, so as not to sound complaining or ungrateful, but this has been the most unrestful October I have ever experienced.  For some reason, I always hold a very romantic idea of what Autumn in general, and October specifically, should be like.  That idea involves lots of solitary quiet time, walking through the woods and crunching through fallen leaves, curling up on the couch with a cup of hot tea, and that sort of thing.  It's a nice idea, but the reality is much more messy.  This October, there have been concerts to hear, parties to attend, friends to catch up with.  The fact that my schedule has been crammed full of fun events means that I have absolutely no reason to complain, and truth be told, however tired I was, and however much I might have whined in my head about having to leave the warmth of my apartment to go out and be social, I wouldn't trade any of the fun times I've had this month for a quiet night on the couch.  But nevertheless, I am tired.
Last week provided a rare weeknight at home without any commitments: no rehearsals for Alex, no after-work parties for either of us, no nothing.  Obviously, our only option was to celebrate our temporary freedom with a fancy-pants home cooked meal.  But after running around like crazy for weeks straight, the last thing I wanted to do was work myself into a tizzy in the kitchen, so I had to find a dish that would feel appropriate for a special occasion without requiring too much exertion.  Fortunately, I recently picked up a copy of At Elizabeth David's Table, which is all about making elegant food without too much fuss, and it contained exactly the recipe I was looking for: zuppa di cozze, a simple soup of tomatoes, herbs, white wine, and mussels.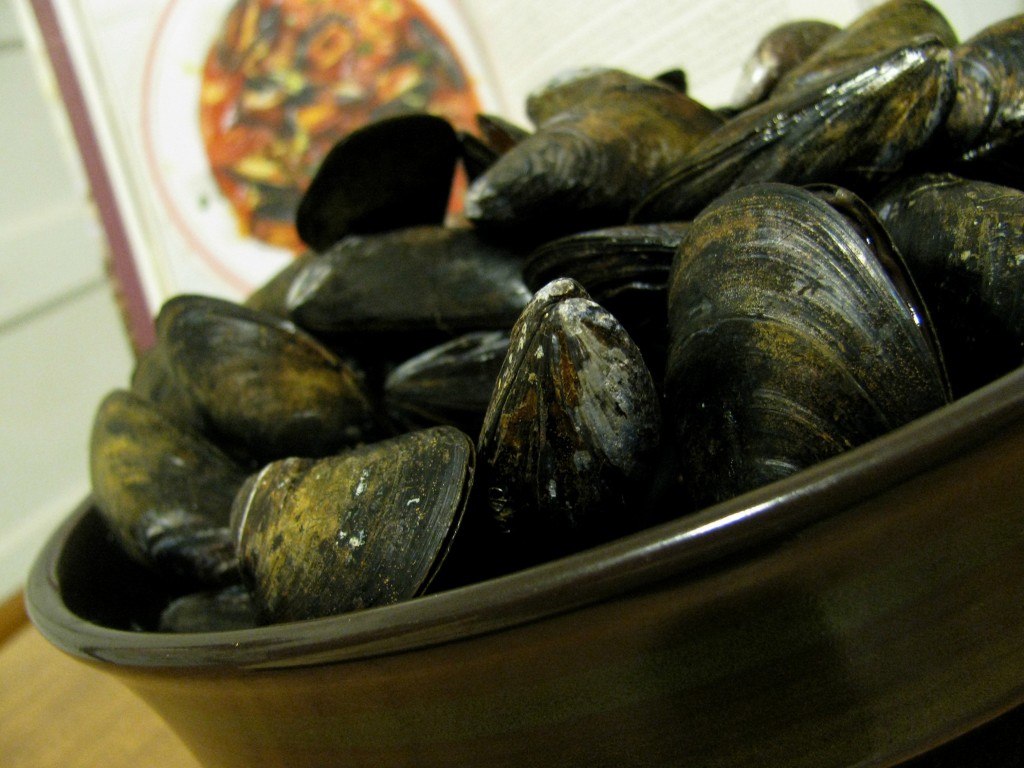 I've been on a bit of a mussel kick lately, which I blame largely on The Publick House.  I'm pretty sure I also blamed them for my mayonnaise obsession, which just goes to show you the intensity of my love for this restaurant.  One of my favorite things to order there is the moules frites, a big ol' pot of mussels with a side of shoestring fries.  They offer four different methods of preparation, ranging from Hefeweizen and pancetta to coconut milk and curry, but I can never get past the simple version with ale, garlic, and thyme.  Sometimes simple is best.  And this soup embraces the simple approach, with delicious results.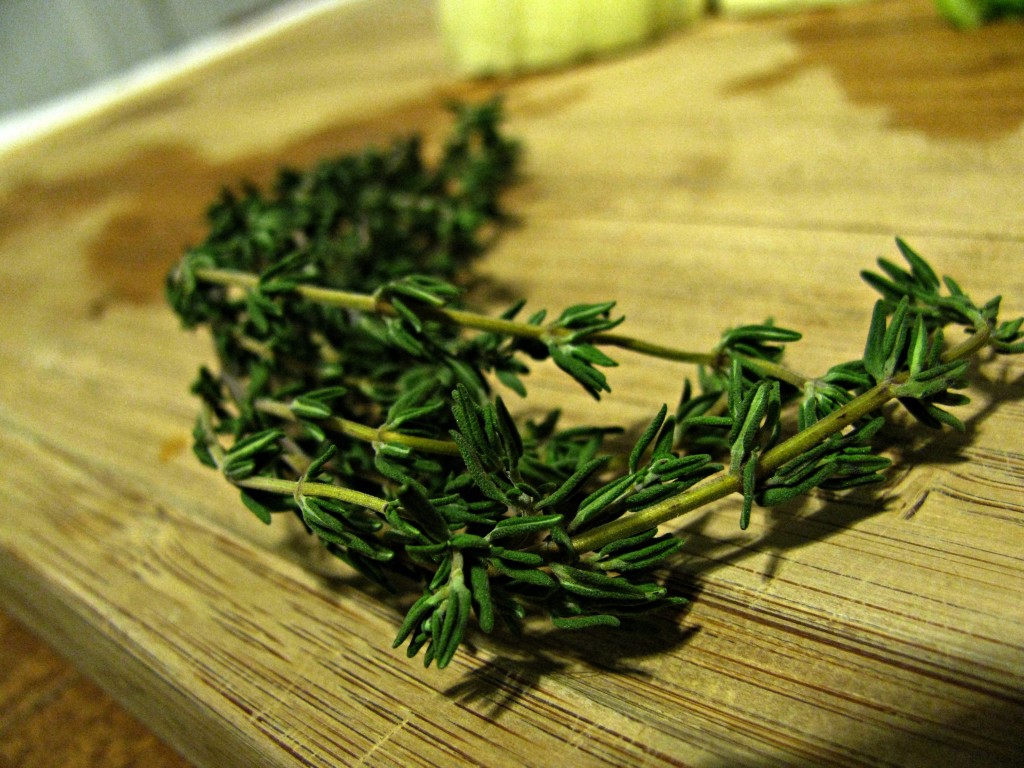 The most time-consuming part of this process was making the broth, and even that was easy.  After sauteing thinly sliced onion, a touch of celery, and some fresh garlic and herbs, I added some coarsely chopped canned Marzano tomatoes and a little bit of white wine, and let it stew for about half an hour.
Once the broth is made, all that's left to do is cook the mussels, which I'm entirely sure you could do with your eyes closed.  All you have to do is add your cleaned mussels to the pot, and let them cook until all the shells are opened, which takes about ten minutes.  You don't have to do a thing– just stand there and watch.  Or stand there and sip on some of the wine you used in the broth, if you prefer.
I'm pretty sure there's nothing more satisfying than a meal of simple soup and crusty bread with your favorite person after several exhausting weeks.  Even if it hasn't been exactly the October that I always envision, it's somehow turned out to be the one that I'll probably remember for the longest.  I'm so thankful I had the chance to spend time with so many friends in the course of so little time… and even more thankful that there was a quiet, delicious dinner at the end of that time.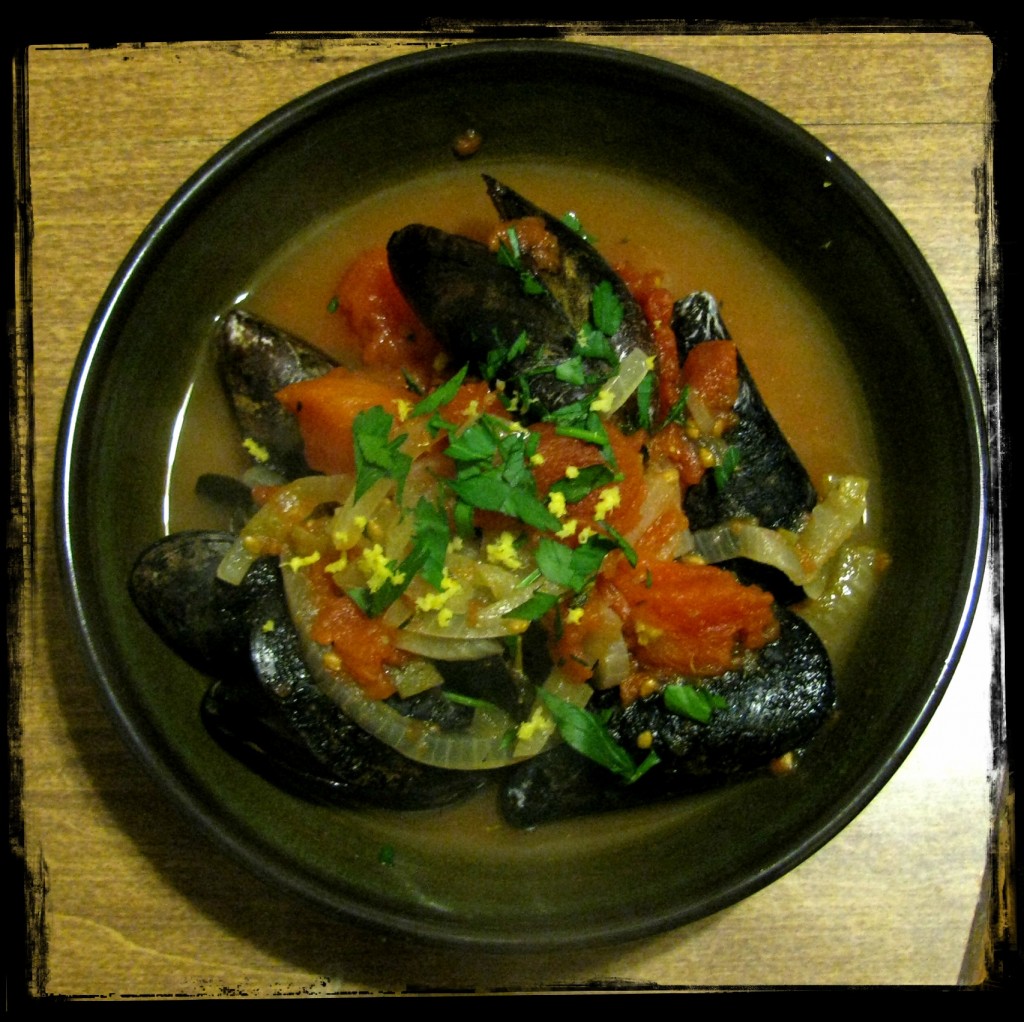 Mussel Soup
from At Elizabeth David's Table
Olive oil
1 yellow onion, thinly sliced
1 tablespoon minced celery
3 cloves garlic, thinly sliced
2-3 sprigs fresh thyme
freshly ground black pepper
2 lb tomatoes, skinned and sliced (I used canned Marzanos, but when they're in season, I'm sure fresh is better)
1/2 cup dry white wine
4 dozen mussels (about 2 lb)
fresh parsley
lemon peel
Cover the bottom of a large and fairly deep pan with olive oil.  When it is warm, add the onion, and as soon as the onion begins to brown, add the celery, garlic, thyme, and pepper.  Cook for a minute or two, and then add the tomatoes and let them stew for 3 or 4 minutes. Add the wine, and let the mixture bubble for about 2 minutes before covering the pan and turning down the flame.
Cook until the tomatoes are almost reduced to a pulp, then pour in about a cup of hot water, or enough to make the mixture about the consistency of a thick soup.  Leave to simmer a few more minutes.
Add the cleaned mussels and let them cook fairly fast (over medium-high heat) until all are opened, which will take about 10-12 minutes.  Before serving, sprinkle with some cut parsley and a bit of fresh grated lemon peel.
Serve with crusty French bread and top-quality butter.