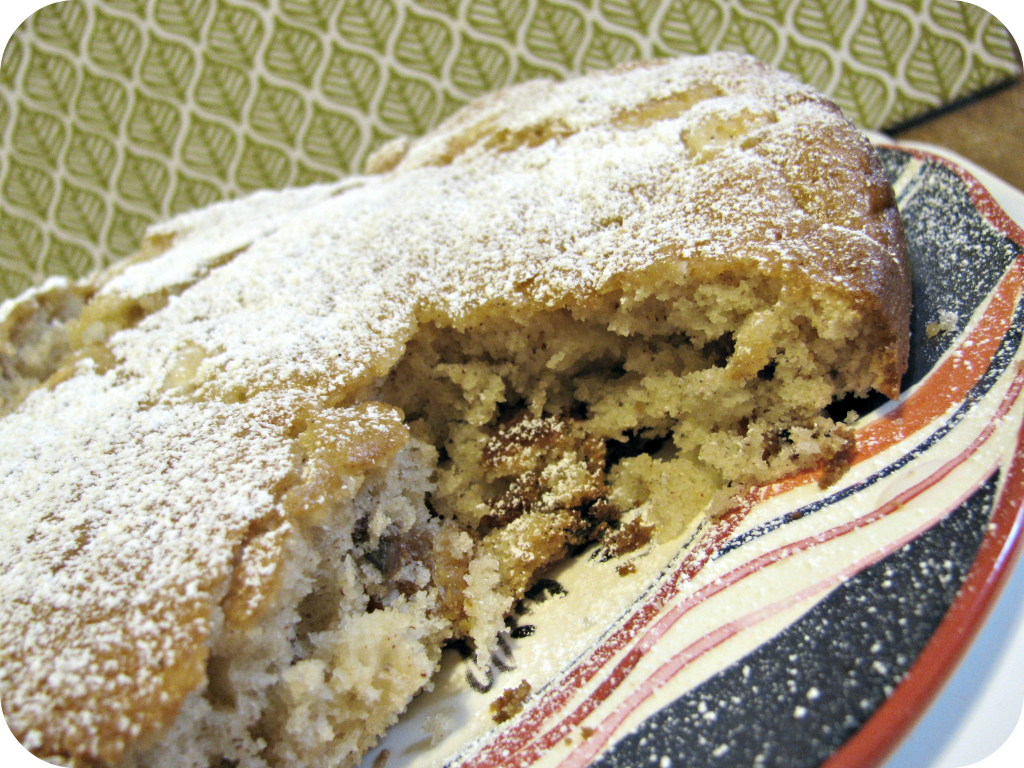 Every once in a while, I like to mix it up and share a cooking adventure that didn't turn out as planned.  I have a weird dream of turning "Notes on Sugar's Big Fat Failure" into a recurring segment, but to be honest, this cake wasn't bad enough to qualify as a big fat failure– or a failure at all, come to think of it.  This cake was delicious, and every bite was eaten.  It just happened that the process of making the cake was no picnic, and the final result was (obviously) not all that photogenic.
I'm convinced that there are strange forces at work in my kitchen that can tell when I'm trying to impress people, and do their dead-level best to sabotage me.  In this case, the people I was trying to impress were the parishioners at my church; a modest little ad in the weekly bulletin called out for people to bring in snacks for post-church coffee hour, and naturally, this seemed like the perfect opportunity to show off… um, I mean, graciously volunteer of my time and talent to the glory of the Lord.  Yeah, that's the one.
At any rate, last week I set my Sunday alarm clock extra-early so I could get to work in the kitchen and show up in the Parish Hall in my Sunday best, bearing a gorgeous little coffee cake, still warm from the oven, over which people would ooh and ahh reverently.  I picked a cake recipe that I'd made countless times, just to make sure there would be no last-minute mishaps.  But the mishaps found me anyway, starting from the very beginning.  When I first rolled out of bed, I realized that I had forgotten to buy apples the day before, and apples are a pretty crucial ingredient in any good apple cake.  But that was a quick fix, since the grocery store is a quick walk away, so with that problem solved, the baking commenced.  Everything actually went quite well until I tried to remove the cakes from their baking pans.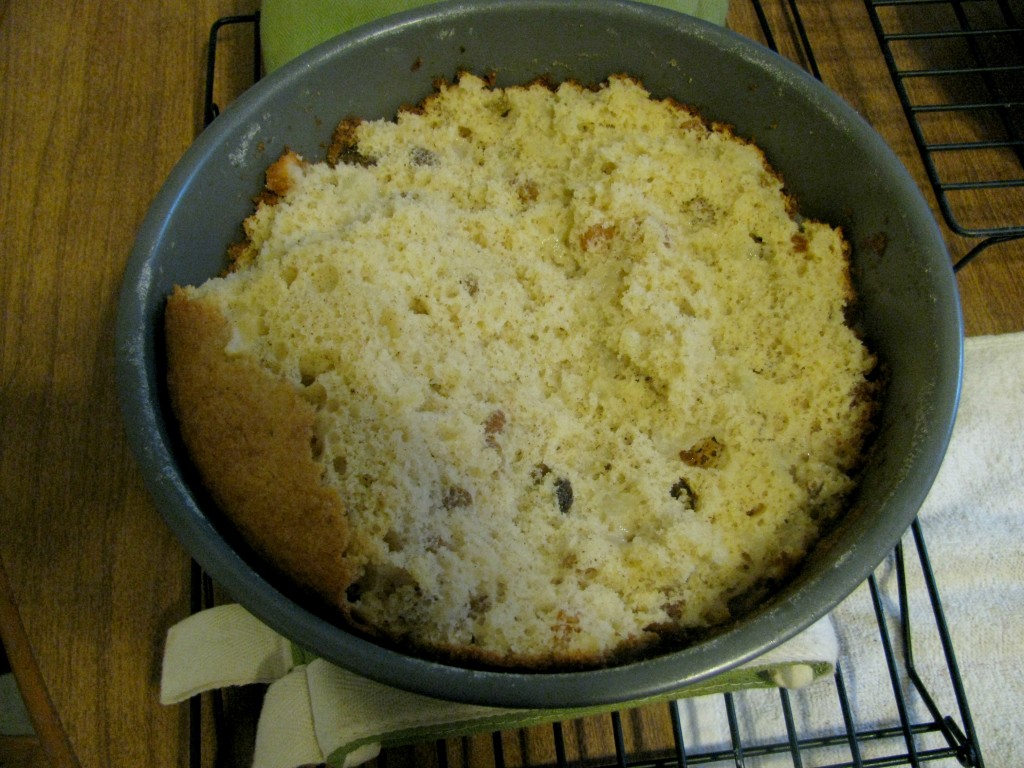 I had taken all the proper precautions!  First of all, these cake pans are non-stick.  Nothing should stick to them.  But just on the off chance, I had also doused the pans with Pam, and sprinkled flour on top of that, so if any pan should have defied a sticky cake, it was this one.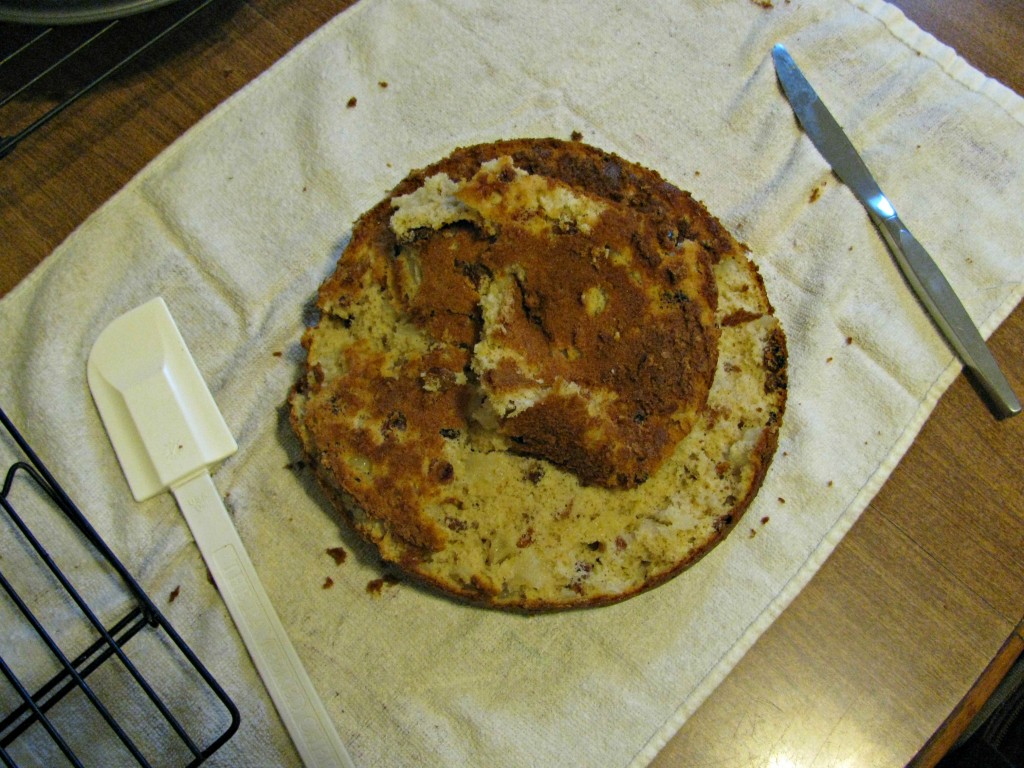 In general, I'm not much of a swearer.  But when I saw the mangled cake halves flop out of the pans and onto the cooling rack, I must confess that I had quite an assortment of rude words welling up in my brain.  I had to remind myself that cursing over a botched braggy church cake was all kinds of inappropriate (although, to be fair, our rector once accidentally said, "Merde!" during a children's puppet show, so take that however you like), and so I ended up just standing there glaring at the cakes in silence for a few minutes before I could even begin to form a backup plan.
Only one of the two cakes I made was even remotely servable, so I pieced it back together as well as I could and gave it a nice dusting of powdered sugar.  That covered up the ugly spots, giving the impression that I had a perfectly decent cake to offer.  So all that was left was to cut the cake into bite-sized pieces, and then I'd be good to go!  Unfortunately, in addition to being ugly, this cake was also on the fragile side, and was utterly unable to hold up to the knife.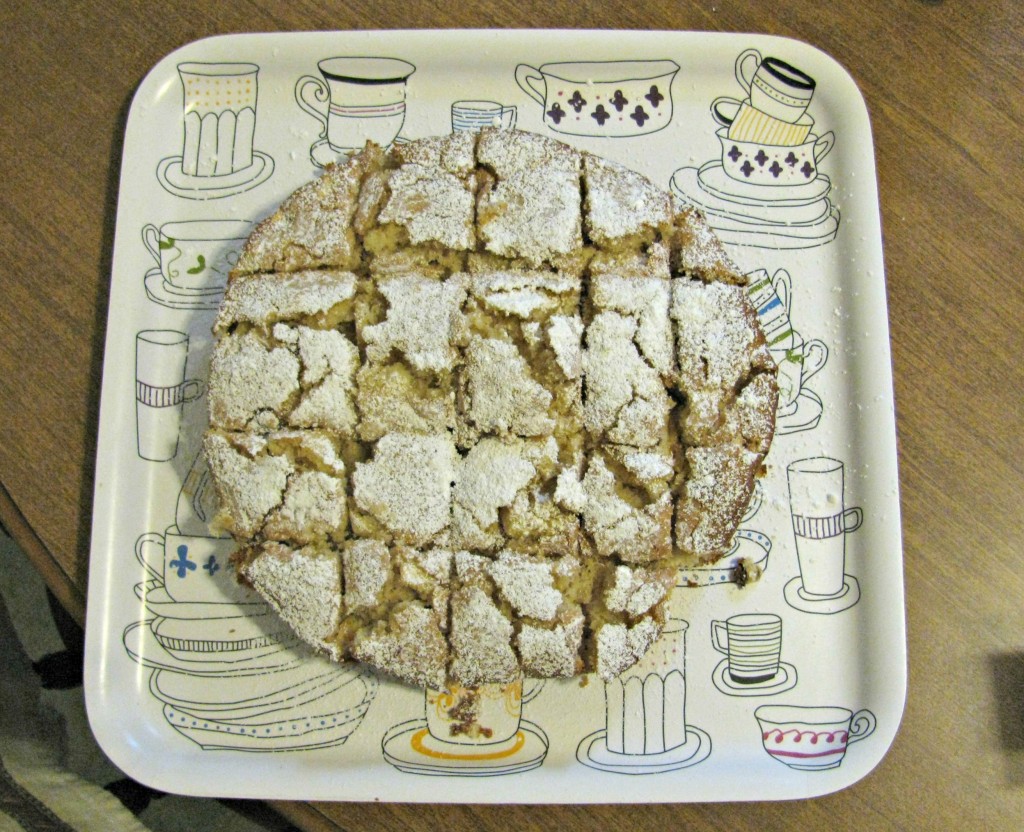 It almost looks like a loaf of artisan bread, right?  It is decidedly un-cakelike.  So at this point, I had to decide whether the taste alone was enough to make up for this ugly, ugly excuse for a cake.
I decided it did.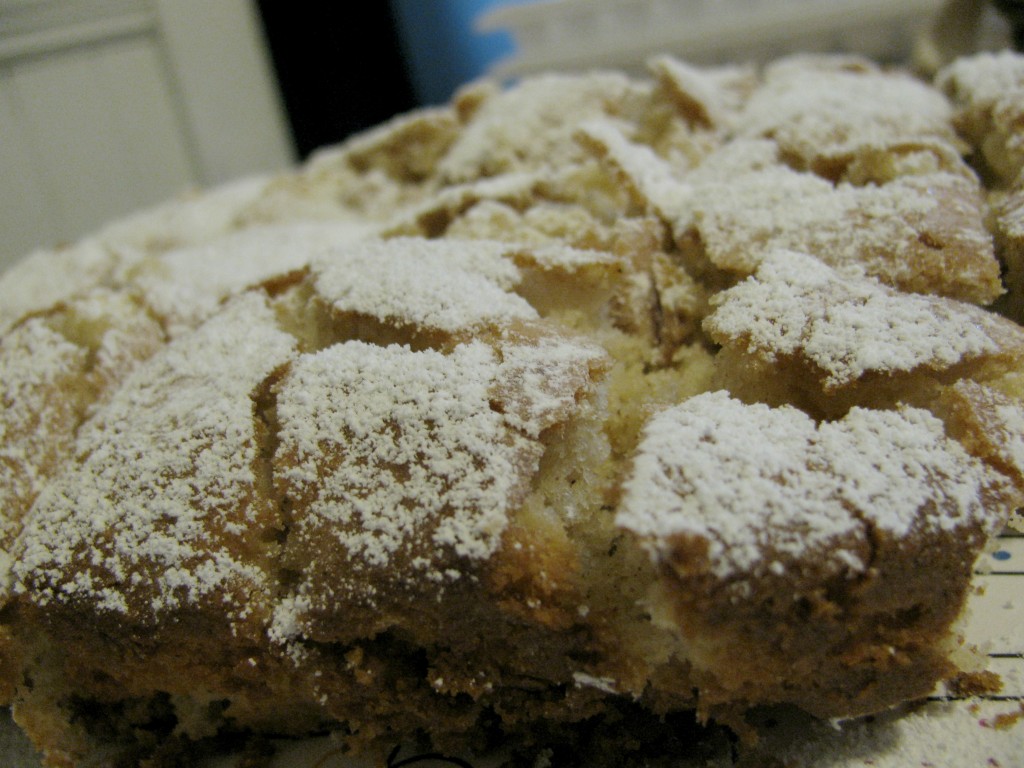 So it was, indeed, a moderately successful cake.  The cake that made it to church was eaten in a few minutes, and the mangled pieces that stayed home were finished off within a few days.  But since all less-than-stellar cooking experiences should end with a lesson learned, here is is:  always remember that pride cometh before a fall.  Plan your baking accordingly.
Autumn Apple Cake
adapted from Cooking Light
Makes one 9-inch cake, but the recipe can be easily doubled.  Supposedly.
1 tablespoon all-purpose flour
1 1/2 cups all-purpose flour
2 teaspoons baking powder
1/4 teaspoon salt
1/4 teaspoon ground cinnamon
3/4 cup granulated sugar
5 tablespoons butter, softened
1 teaspoon vanilla extract
1 large egg
1/2 cup 2% reduced-fat milk
1 cup finely chopped peeled Pink Lady apple (about 1 medium)
1/2 cup golden raisins
1/4 cup finely chopped pecans
powdered sugar
Preheat oven to 350°.
Coat a 9-inch round cake pan with cooking spray, and dust with 1 tablespoon flour.
Weigh or lightly spoon 1 1/2 cups flour into dry measuring cups; level with a knife. Combine flour, baking powder, salt, and cinnamon in a small bowl, stirring with a whisk. Place granulated sugar and butter in a large bowl; beat with a mixer until well blended. Beat in vanilla and egg. Beat in flour mixture alternately with milk, beginning and ending with flour mixture. Fold in apple, raisins, and walnuts. Scrape batter into prepared pan. Bake at 350° for 30 minutes or until a wooden pick inserted in center comes out clean. Cool 10 minutes in pan on a wire rack. Remove from pan; cool completely on wire rack. Sift powdered sugar over cake. Cut into wedges.