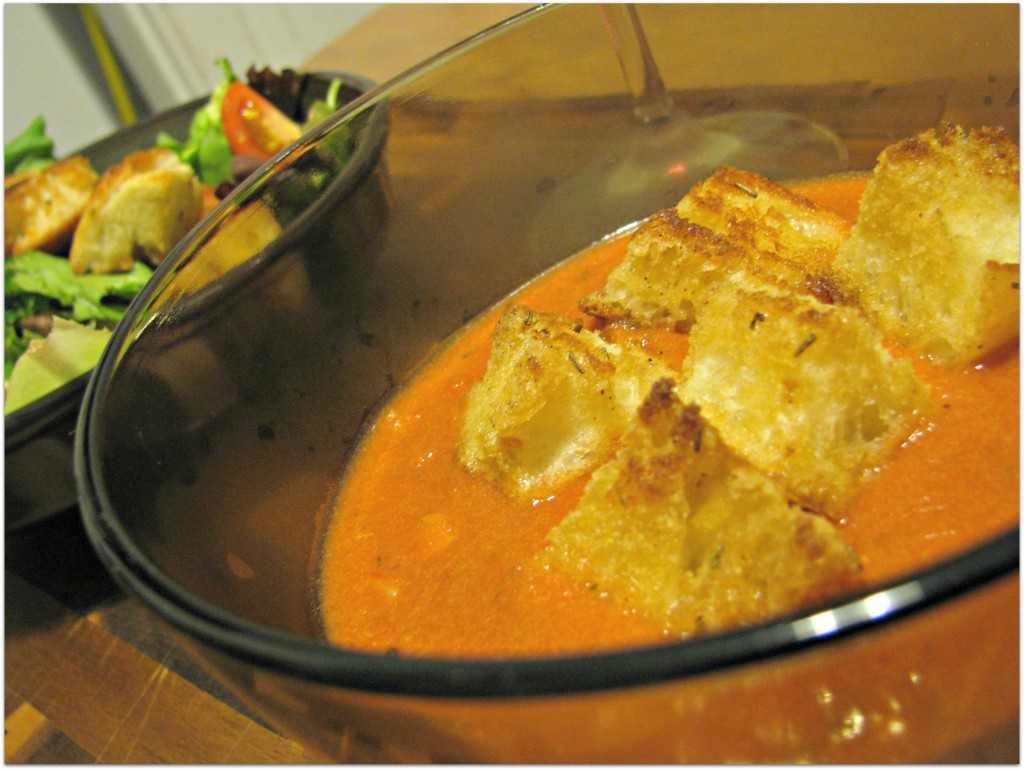 Christmas means a lot of things to a lot of people, but in my house, where Alex and another couple of roommates are singers, Christmas means gigs, and lots of them.  (I guess people just want extra music in their lives around Christmas.  Go figure!)  It's a fantastic time, but because of all the gigs, I frequently have to fend for myself at dinner.  Fortunately, I enjoy a little bit of solitary time, and cooking for one definitely has its charms.
For instance, I have lately been craving salad.  Yes, salad.  Not exactly your most craveable food, but maybe it's just my body's way of making up for all the cheese I've been wolfing down lately.  And when I start craving salad, inevitably, I also start craving soup.  While soup and salad is a perfectly respectable dinner in my opinion, I typically cook for people with appetites that call for something more than a bowl of leaves and a cup of broth.
When I'm home alone, though, there's nothing to stop me from making this my dinner.  It's a real pleasure to get in the kitchen after a long day at work and slowly, leisurely put together a comforting meal that's exactly what I want.  It's not as easy as takeout, but there's comfort in the process, and fantastic food at the end.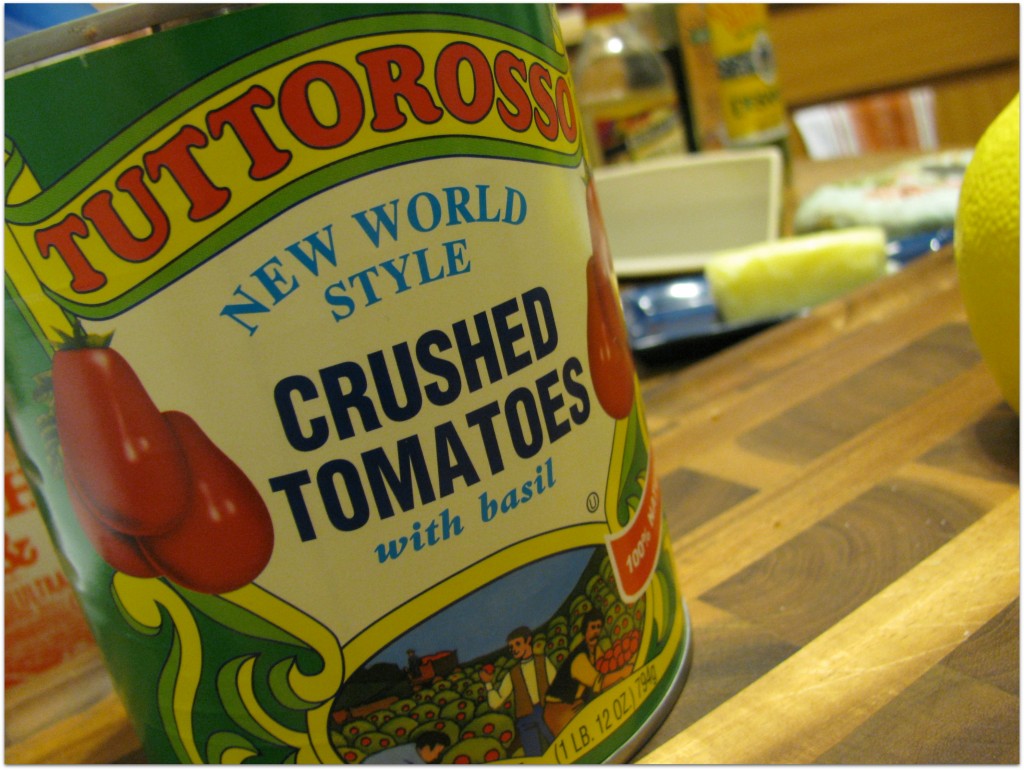 Since a good fresh tomato is impossible to find in December, this soup starts with a can of high-quality crushed tomatoes.  After sauteing onion and garlic in olive oil in a large pot,  just add the tomatoes, a little bit of balsamic vinegar, and some spices and let it simmer for about half an hour.
While the soup simmers, make a quick salad dressing.  Another recent food obsession for me has been Dijon mustard, which is excellent in vinaigrette.  My roommate just snagged some unusual mustards from Trader Joe's, and this one seemed appropriate for the meal, so I gave it a shot.  Delicious!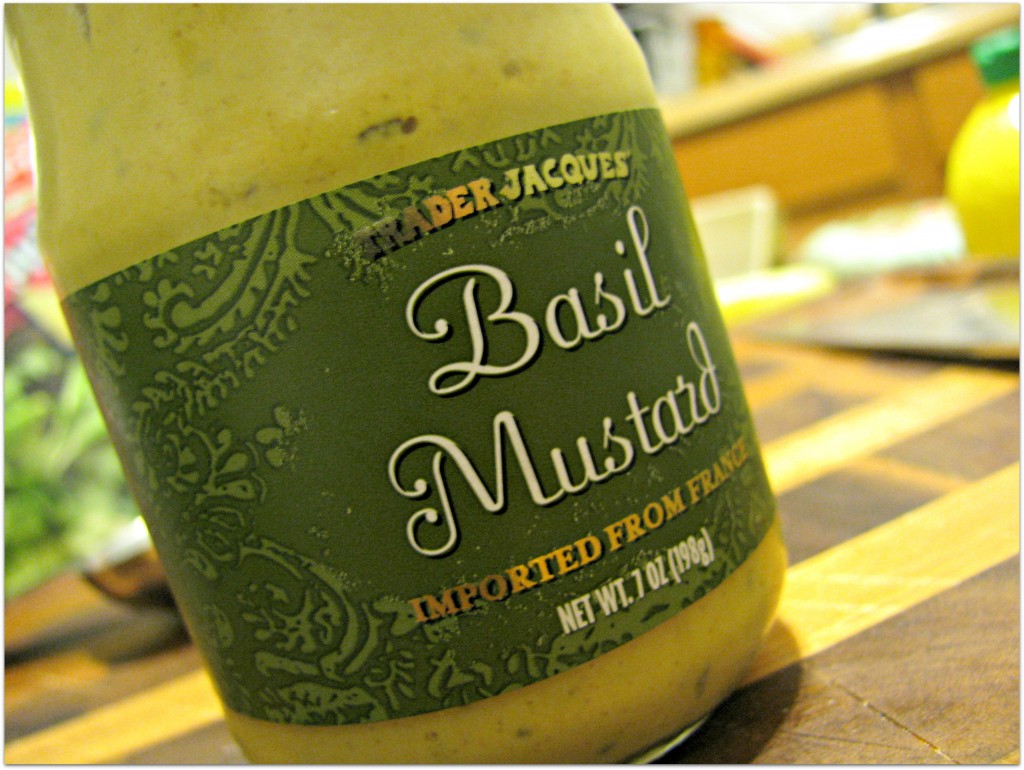 This dressing is super, super easy to make.  Pressed garlic, Dijon, lemon juice, and white wine vinegar are whisked together, and then, in a process very similar to making mayonnaise, olive oil is slowly beaten into the mixture.  It's easier than making mayo, because it doesn't really matter if the ingredients separate.  But if they don't, you end up with an emulsified, almost-creamy dressing that's tangy, a little spicy, and entirely addictive.  How could you not want salad all the time when this dressing is waiting for you in the fridge?
You could stop here with just the soup and the salad.  But I think both dishes are vastly improved by the addition of fresh croutons.  They are dangerously easy to make, and more delicious than any you'd get out of a bag.  Take a baguette, ciabatta, or any crusty bread you like, and break it down into bite-sized cubes.  I like to leave the crust on, but you could remove it if you want softer croutons.
Once your bread is cubed, melt a little butter in a skillet over about medium heat, and add a small amount of crushed rosemary and just a pinch of paprika.  (Seriously, just a pinch.  I went heavy on the paprika recently, and learned that–surprise!!–paprika is actually pretty spicy in large amounts.) Stir the spices into the hot butter, then add the bread cubes.  Let them cook for about five or six minutes, tossing a couple of times, until they're nicely toasted, then drain on paper towels.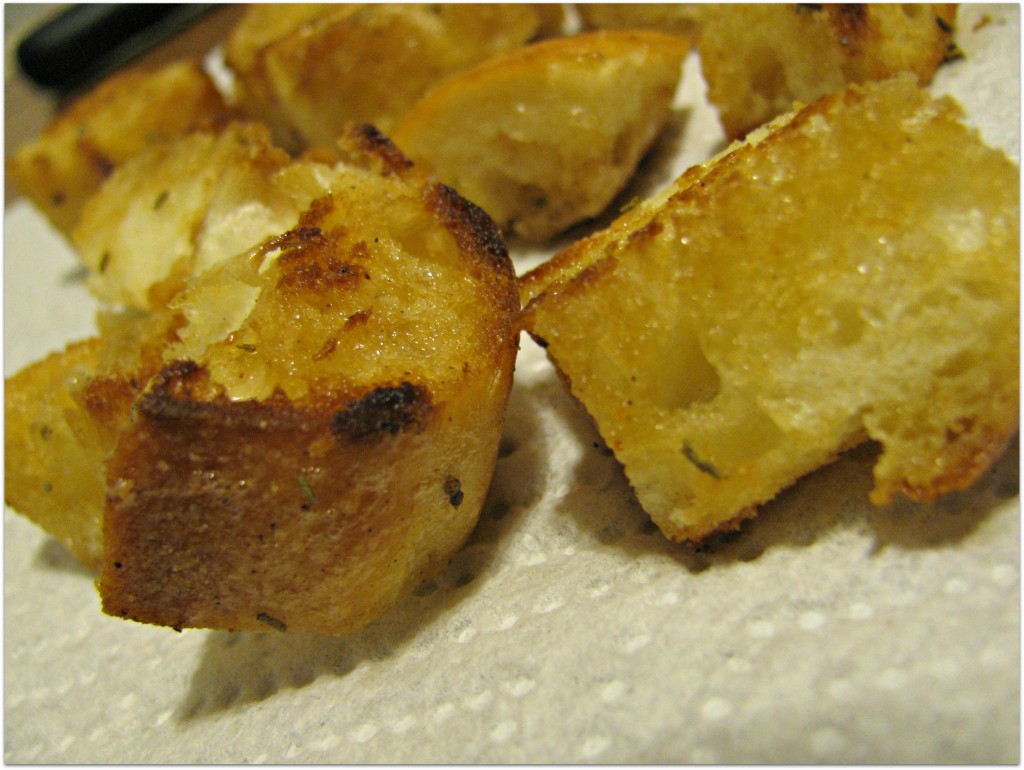 By the time you've made your vinaigrette and croutons, the soup is probably done cooking, so all that's left is to add a touch of cream, and then puree it (you could skip this step if you wanted).  Dress your salad, pour a bowl of soup, and heap croutons on top of both.  And voila, you have an absolutely perfect meal, just for you.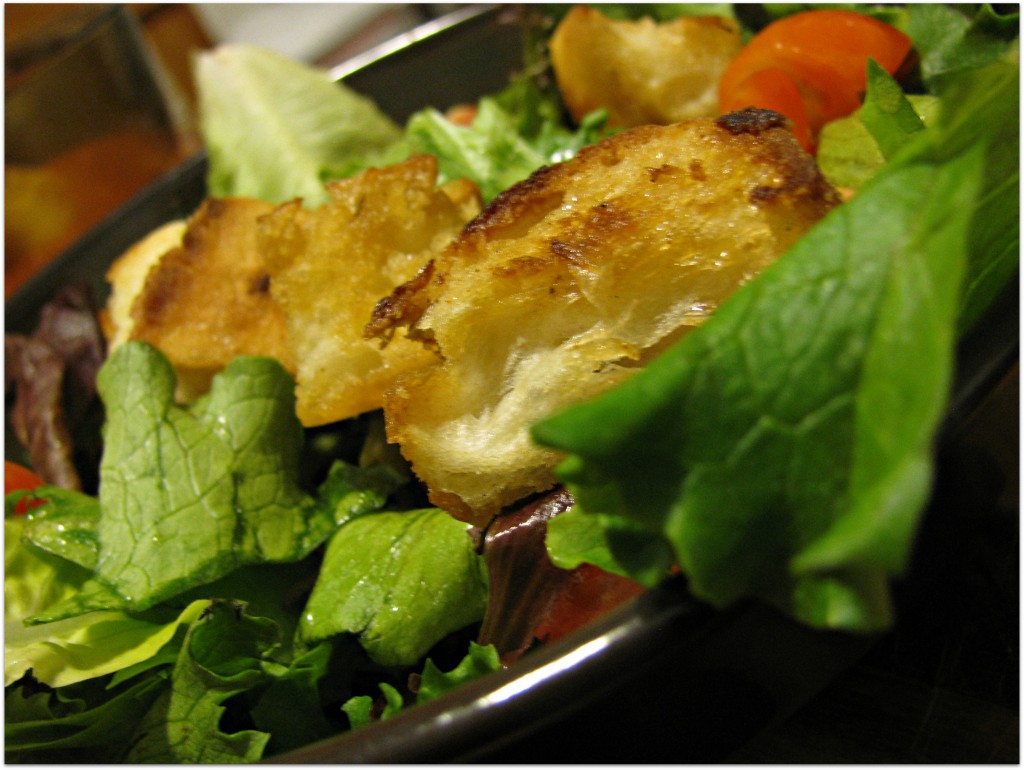 Creamy Tomato Soup
adapted from Cooking Light
Heat 2 teaspoons olive oil in a large saucepan over medium heat.  Add 1/2 cup chopped onion and 3 minced garlic cloves; saute until tender, about 3 minutes.  Add 1 28-ounce can of crushed tomatoes (the best you can find), 1 tablespoon balsamic vinegar, 1/2 teaspoon salt, 1/4 teaspoon crushed red pepper, and 1/2 teaspoon herbs de provence (or any mix of herbs you like).  Bring to a boil; reduce heat and simmer for about 30 minutes.  Place in a blender and process until smooth; return mixture to pan, stir in 3/4 cup of half-and-half, and cook until thoroughly heated.
Dijon Vinaigrette
from Bon Appetit 
1 tablespoon fresh lemon juice
1 teaspoon Dijon mustard
1 tablespoon white wine vinegar
1 garlic clove, pressed or finely minced
1/2 cup extra-virgin olive oil
salt and freshly ground black pepper
Whisk lemon juice, mustard, vinegar, and garlic in a small bowl.  Gradually whisk in olive oil.
Homemade Croutons
1 baguette, ciabatta, or other crusty bread, cubed
1 Tablespoon butter
1/2 teaspoon crushed rosemary
pinch of paprika
Melt the butter in a skillet over medium heat.  Add the rosemary and paprika, then add the bread cubes.  Saute until crisp, about five minutes, shaking the pan once or twice throughout.