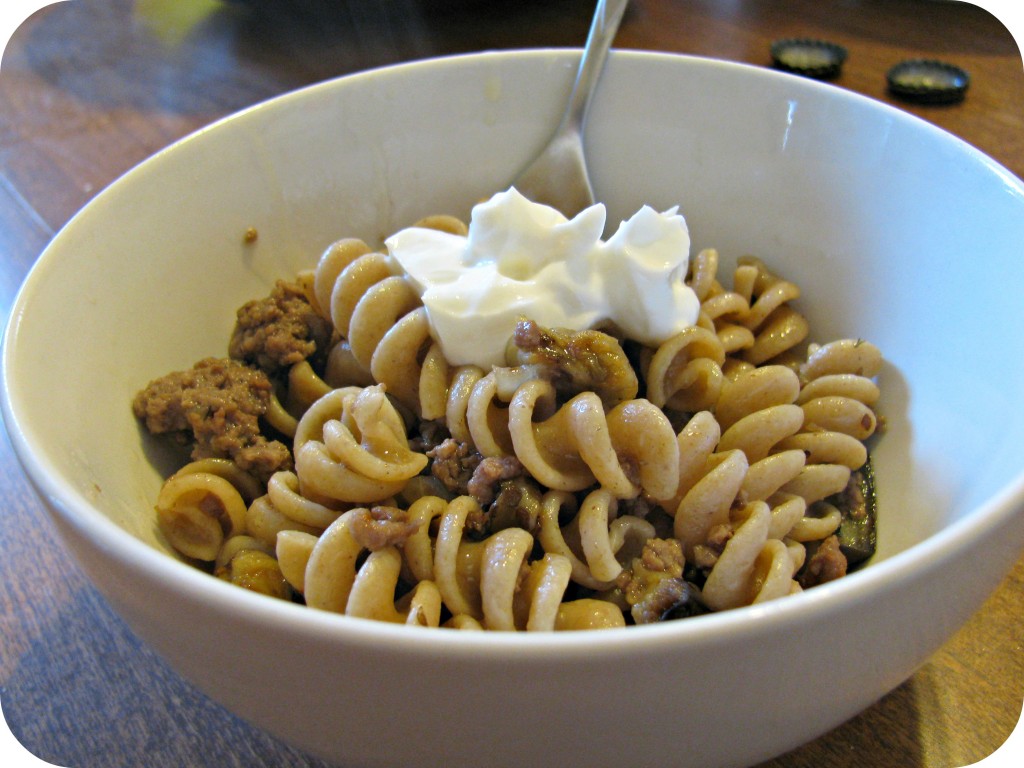 I have a weird relationship with eggplant.  I've always wanted to like it, but could never convince myself that it tasted good.  I know– normal people either like a food or don't, and they don't spend a lot of time worrying about it one way or another.  But when I encounter a food I don't like, I instantly begin to worry.  "But others like this food!  Why don't I?  What am I missing by not incorporating this into my normal eating habits??"
One good reason that I don't have a natural affinity for eggplant is probably that I had zero exposure to it growing up.  Whether my parents were anti-eggplant or just uninterested, I don't know, but I had never even tasted it until college, when it showed up in one of the dining hall's dubious lunches.  I have since learned not to try an unfamiliar food for the first time in a college dining hall.
I can't even put my finger on why I disliked it on my first several tries.  It's entirely possible–nay, probable– that I was preparing it poorly, which certainly had something to do with it, but beyond that, I couldn't say exactly how it tasted bad.  But I kept on buying it, and kept on trying to make it delicious.  All I knew was that my sources told me that eggplant should be soft, creamy, and delicious, and ding-dang it, I was going to achieve that by any means necessary.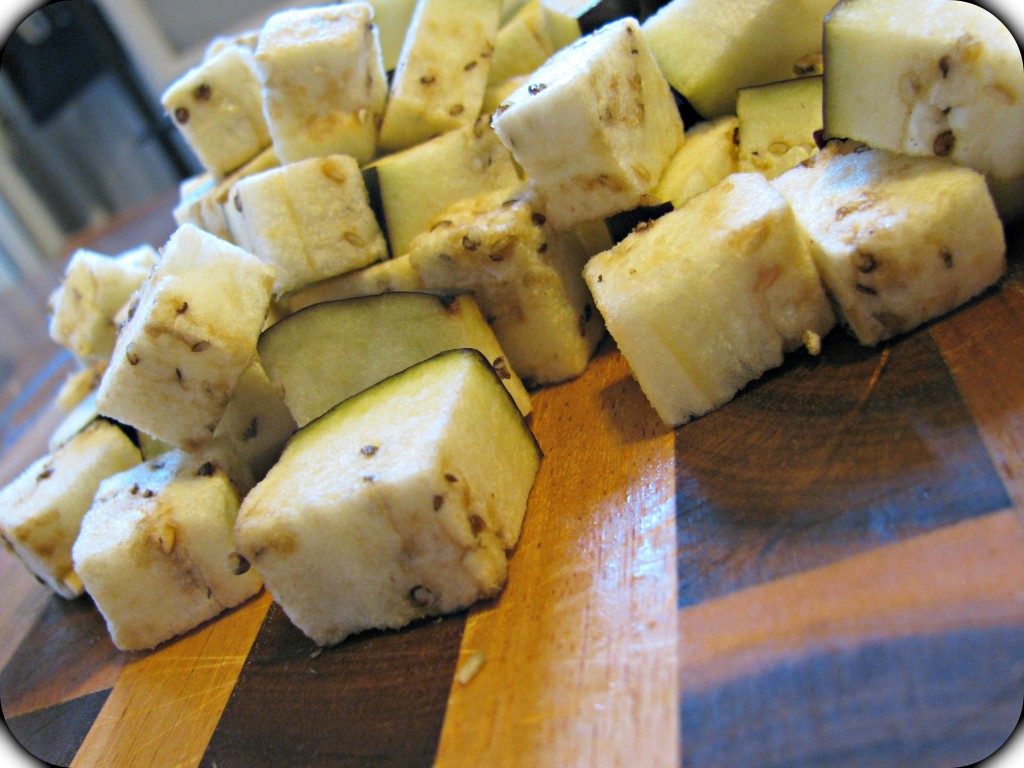 Turns out an excellent way to learn to like a new food is to pair it with one of your favorite foods.  When I spotted a recipe in one of my favorite cookbooks that combined eggplant with lamb, I decided to try it.  I ran the risk of ruining good lamb by adding eggplant to it, I knew, but it was worth a shot.  Besides, the cookbook author, Melissa Clark, has a magical way of making every recipe sound delicious and elegant, and part of my decision to make this recipe was probably due to the fact that I was hypnotized by her writing.
But I'll tell you what, I think I finally like eggplant.  All this recipe requires is that you douse it in olive oil (good start) and then roast it in a hot oven (good finish).  It does take on a silky, rich texture, just like the experts say it should.  And when it's tossed with herby ground lamb and whole wheat pasta and topped with a garlicky yogurt sauce, it's nothing short of perfect.  It also goes without saying that a dish that begins with minced garlic and shallots is probably going to be a hit with me.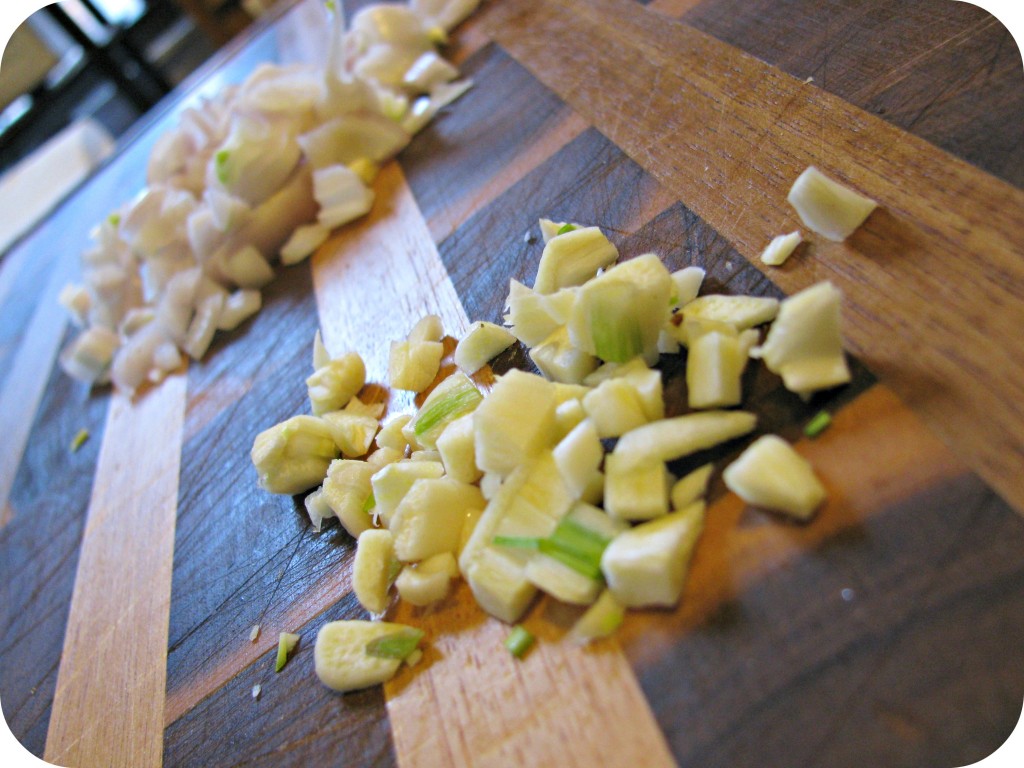 I did make a couple of important changes from Melissa Clark's recipe, which I think make the dish a bit healthier.  One is the whole wheat pasta.  I'm normally not a fan (I do love my simple carbs), but I really like the earthy, nutty flavor of whole wheat with the lamb.  It's a good match.  The other thing is, I think, absolutely necessary.  The original recipe inexplicably calls for six tablespoons– three quarters of a stick– of melted, browned butter to be poured over the whole shebang before serving.  Under normal circumstances, if I told you to eliminate browned butter from anything, you'd probably need to check me for fever, but in this case, I'm quite serious.  Unless you really do prefer your dinner to swim in a pool of butter, just skip it.  You'll get plenty of flavor (and, it should be mentioned, fat) from all the other ingredients.
Welcome to my regular cooking rotation, eggplant.
Herbed Lamb and Eggplant with Yogurt Sauce
adapted from In the Kitchen with A Good Appetite
1 large eggplant (about 1 pound), diced into 1/2 inch cubes
5 tablespoons olive oil
1/2 teaspoon salt
3 fat garlic cloves, minced
1 large shallot, minced
1 pound ground lamb
1/4 teaspoon red pepper flakes
freshly ground black pepper
1 1/2 tablespoons chopped mint or dill (or a combination)
1/2 pound whole wheat fusilli or other bite-size pasta, cooked according to package directions
2/3 cup plain Greek yogurt
1. Preheat the oven to 450°F.
2. Toss the eggplant with 4 tablespoons of oil and a large pinch of salt.  Spread on a baking dish lined with parchment, leaving room between the pieces, and roast until crisp and brown, 15 to 20 minutes.  Check often to prevent burning.
3. In a large skillet, heat the remaining tablespoon of oil.  Add 2 minced garlic cloves and the shallot and saute for 1 to 2 minutes.  Add the lamb, 1/2 teaspoon salt, red pepper flakes, and black pepper to taste.  Saute until the lamb is no longer pink, about 5 minutes.  Stir in the mint or dill and cook for another 2 minutes.  Stir in the eggplant, taste, and adjust seasonings, if desired.
4. In a small bowl, combine the yogurt, remaining minced garlic clove, and a pinch of salt.
5. In a serving bowl, combine the pasta and the lamb-eggplant mixture.  Serve with dollops of the yogurt sauce.