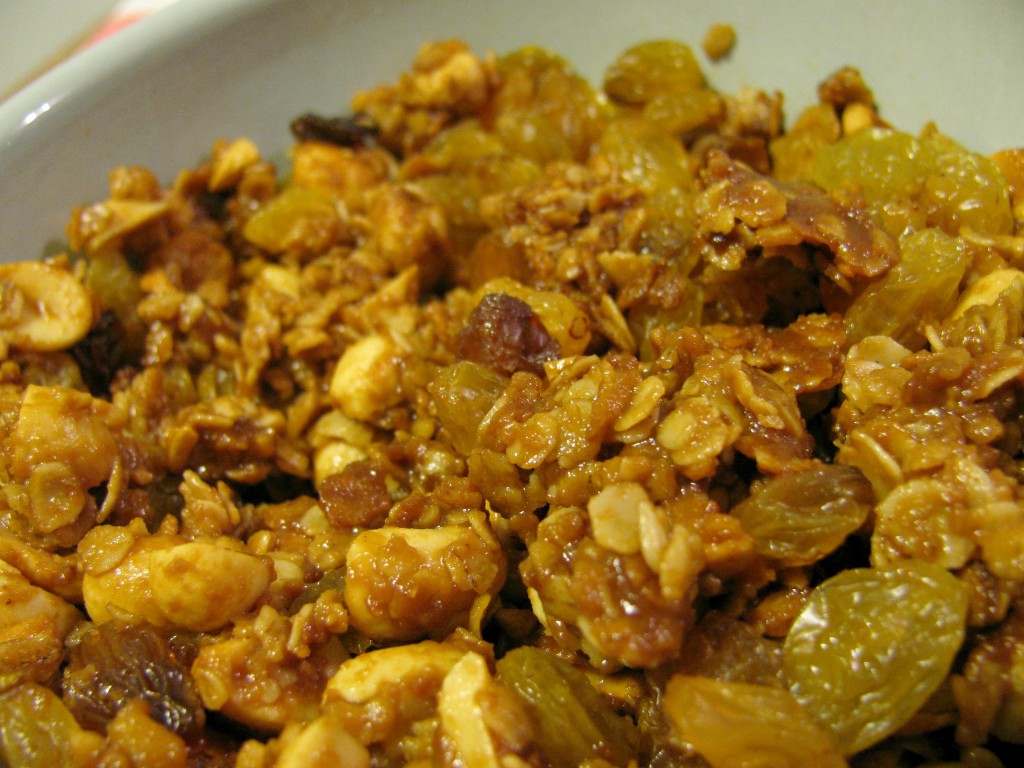 I have had granola on the brain for the past few weeks.  And, well, if I'm honest, for the past several years.  If I remember correctly, one of Alex's brothers used to call me "Granola" from time to time– more as a tease than a compliment, but I wore the name proudly.  Granola, after all, is a symbol for all that is good, healthy and earthy.  And I could really use a big dose of healthy in my life.
Thanks to my cheese job, I have been consuming a lot– a lot— of dairy products lately.  Last week, one of our regular customers caught me sneaking a bite of yogurt while crouched down behind my work space and accused me of eating butter with a spoon.  This could have just been a joke, except that this customer had just attended a butter tasting which I'd conducted a couple days before, where I had indeed offered spoons for those who wanted to ignore the hunks of bread and dive on into the butter.  I might have had several mini spoons of butter myself throughout the course of the tasting.  I make no apologies– real, artisan butter is dang tasty– but that comment made me realize that I should probably lay off the dairy just a bit.
Granola always seems like a logical choice when I'm looking for healthy, filling snacks (in this case, a healthy, filling snack to divert my attention from my recent cheese, yogurt, and butter regimen).  Unfortunately, store bought granola almost always disappoints.  First, there's the granola bar conundrum: the chewy varieties are almost always way too sweet and sticky, while the crunchy ones are typically oat bricks that put you in real danger of chipping a tooth.  Then there's bagged, loose granola, which just bores the pants off me.  I've never tried a prepackaged granola that I really liked.
As is typical with most underwhelming store-bought foods, granola is actually delicious when you take the time to make it yourself.  You have control over what goes in it (you don't have to pick out dried pineapple chunks if you never put them in in the first place!), and to some degree, how sticky or dry it turns out.  It also happens to be super easy to make; it only takes a few minutes to mix together the ingredients, and after a quick bake, you're all done.
Also, if you discover while collecting your ingredients that, say, you don't have any shredded coconut after all, or your wheat germ went stale months ago, it is absolutely not a big deal.  This isn't the kind of baking that depends on chemistry.  As long as you have the few basic ingredients, you're good to go.  I decided to leave out the coconut entirely– I'm not a huge fan anyway, and there was zero chance I was leaving the house in 10° weather to buy some– and instead of wheat germ, I just chopped a handful of cashews as finely as I could.
In this recipe, what binds all the dry ingredients is a mixture of peanut butter, honey, and a bit of cooking oil.  I found that the original recipe made a granola that was just a little too oily for my taste, so I cut it down in this batch.  The peanut butter and honey do a perfectly fine job of holding everything together; as far as I can tell, the oil just keeps the granola from being too sticky.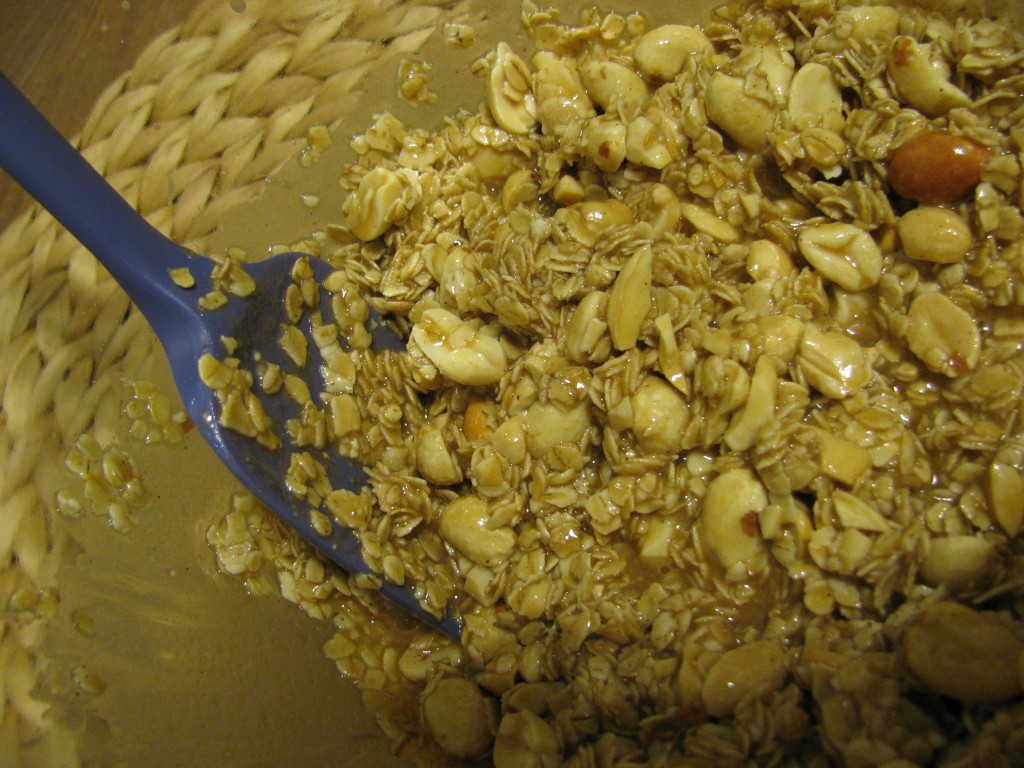 After all the ingredients are combined, the whole mixture gets spread on a parchment-lined baking sheet and popped in the oven for about half an hour.  The granola turns a beautiful golden brown, the oats and nuts get crispy, and your house will smell like heaven itself.  After it cools a bit, you can stir in any fruit, chocolate, or other additions that you don't want to dry out or melt in the oven, and ta-da, you're done.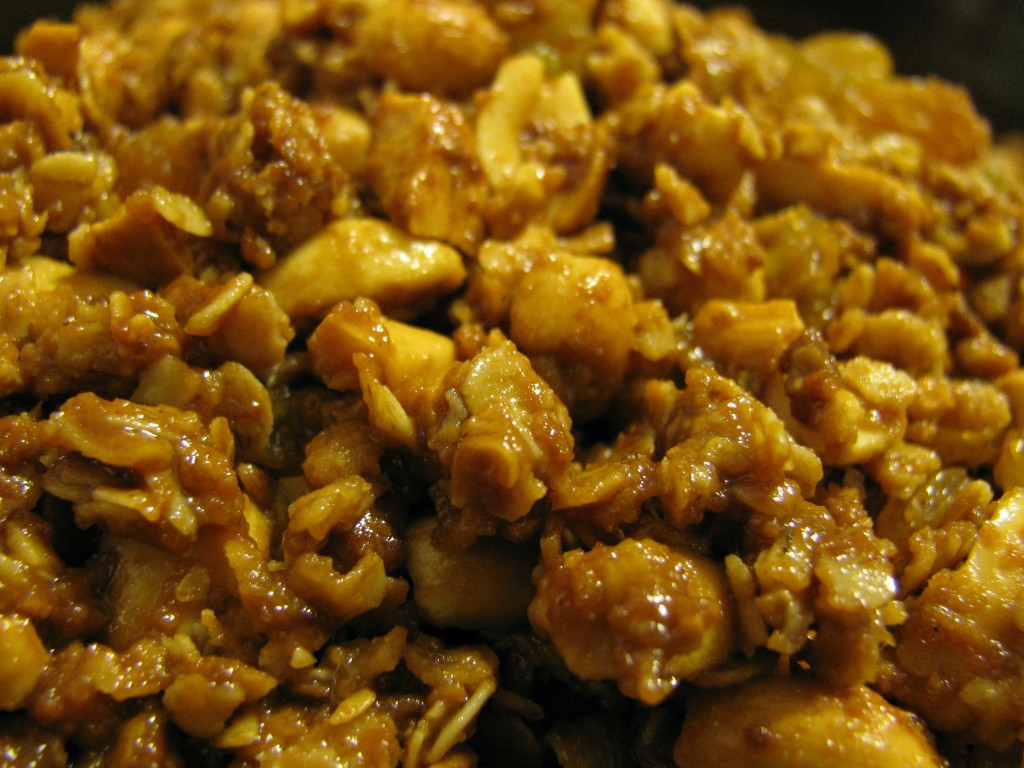 And, of course, it goes without saying that you can use this recipe as a template for whatever kind of granola you want.  While I love tossing in golden raisins and peanuts, you could easily use any kind of filler you like.  Pistachios and dried cherries?  Cranberries and pumpkin seeds?  You could also switch out the peanut butter and honey for almond butter and maple syrup… the possibilities are endless.
I'm happy to say that keeping a bowl of this granola on hand did help me curb my dairy snacking over the past week.  But, I should also admit that my favorite way to enjoy it is still with a dollop of plain Greek yogurt on top.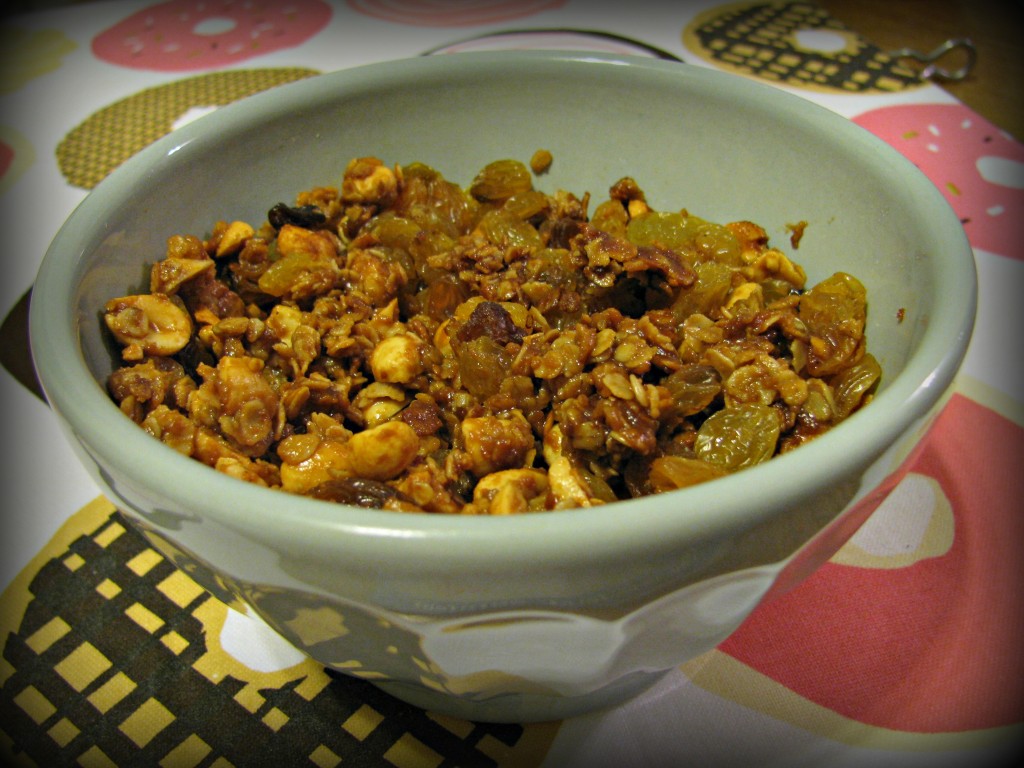 Peanut Butter Granola
adapted from The Peanut Butter & Co. Cookbook
3 cups rolled oats
1 cup roasted peanuts
1/4 cup finely chopped cashews
1/2 teaspoon cinnamon
1/2 teaspoon salt
3/4 cup canola oil
1 cup honey
1/2 cup smooth peanut butter
1 teaspoon vanilla extract
1/2 cup golden raisins
Preheat the oven to 300°F.  Line a baking sheet with parchment paper.
In a large bowl, combine the oats, peanuts, cashews, cinnamon, and salt.
In a small saucepan over low heat, combine the canola oil, honey, peanut butter, and vanilla.  Stir until the mixture is completely combined, but do not allow to simmer.  Pour the warm peanut butter mixture into the bowl with the dry ingredients and mix until well incorporated.
Spread the granola in the prepared pan and bake for 30 minutes or until golden brown.  Allow the granola to cool, then transfer to a bowl and stir in the raisins.