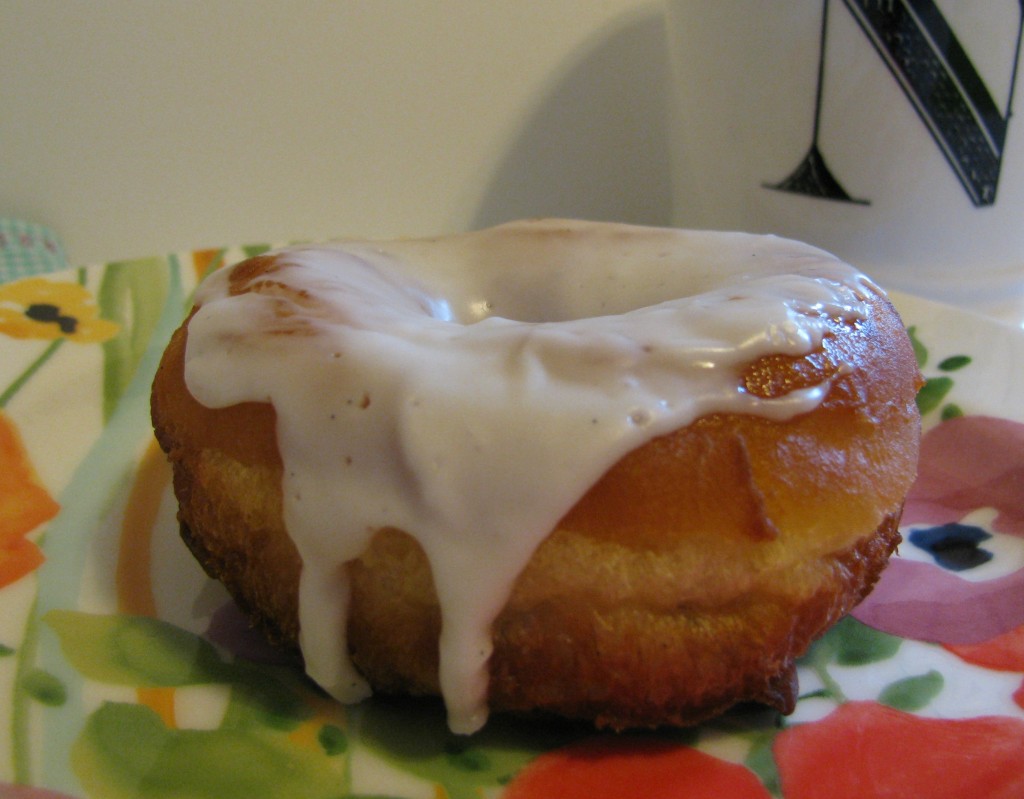 I think it's time for me to admit that I am an overachiever.  This isn't exactly news; my overachieving and its consequences have a long and well-documented history.  Exhibit A: in second grade I decided to write a report about my favorite bird—the blue-footed booby—just for the heck of it, and my teacher rewarded my studiousness by letting me read the report aloud to the class.  Apparently I was the only one in the room who thought "this report is about boobies" was a perfectly legitimate and not at all funny thing to say to a room full of seven-year-olds.  I still believe my teacher set me up for that one… she was laughing harder than any of my classmates.
The blue-footed-booby debacle, as embarrassing as it was, was just the beginning.  Overachieving has gotten me into some pretty tight spots in more recent years.  The problem isn't so much that I keep attempting things I can't achieve; it's that I routinely say yes to everything, completely disregarding the rules of time.  When an exciting opportunity comes along, I take it, and then I find myself portioning out my time in a completely irrational way in order to accommodate all the things I'm trying to do.  Sure, it is mathematically possible to work a full-time job and also take on an extra 16 volunteer hours every week, and still have some time left over for sleep, but is it wise?  Doesn't matter.  My brain doesn't care when it's in opportunity planning mode.
I should stress that I don't regret saying yes to any of the projects I've taken on.  Everything I'm committed to right now is something I really want to do, and as a friend pointed out recently, you don't get to complain about how busy you are if you're busy doing the work you've been studying and preparing and longing to do.  (He wasn't talking about me.  Wait, was he talking about me??)  But still… I'm tired, y'all.  In the words of the immortal Mitch Hedberg, "I'm sick of chasing my dreams, man.  I'm just gonna ask where they're going and hook up with 'em later."
And I'll tell you, there's nothing more annoying when you've been on your feet at work all day, you're tired and hungry, and you've still got three hours left before you can go home than hearing some pop star with a ukulele and a fat music contract telling you to slow down and live your life.  Oh, really?  I should just forget all my troubles and live in the moment, you say?  Come pull a few 10-hour shifts per week and tell me how fancy-free you feel after that!  (I'm looking at YOU, Jason Mraz!!)
You know what really helps to calm me down in times like this?  Doughnuts.
I should probably point out here that I really don't advocate stess-eating.  But if you make doughnuts from scratch, it's about a three-hour process.  The stress relief is in the making of the dough, the rolling and cutting of the doughnuts, and the dunking them in roiling boiling oil.  The actual doughnut at the end is just a bonus… a really delicious deep-fried bonus.
The recipe for these doughnuts came from the book Pure Vanilla, a baking book that really speaks to my heart.  I love, love, love vanilla and will choose it over chocolate almost every time.  But as you might expect, a book all about baking with vanilla goes beyond the use of standard vanilla extract; while some of the recipes call for vanilla ingredients I'd never even heard of (vanilla bean paste??), this one keeps it relatively simple with vanilla beans.  I know vanilla beans are kind of expensive, but a word in their defense: a little really goes a long way, and the beans are quite versatile; you can scrape the seeds out of the beans and use them in recipes, you can steep the beans in milk, coffee, bourbon…butternut squash soup…you name it.  They also smell and taste amazing—much more intensely vanilla than extract—and who can resist little flecks of vanilla beans peeking through white icing?  And, if you happen to live near a World Market (and if you do, you're probably in the South, in which case—I'm freezing up here dear God take me with you!!!), they sell vanilla beans for a steal in their spice section.  Have I convinced you to give vanilla beans a shot?  Well, whatever, let's move on to the recipe.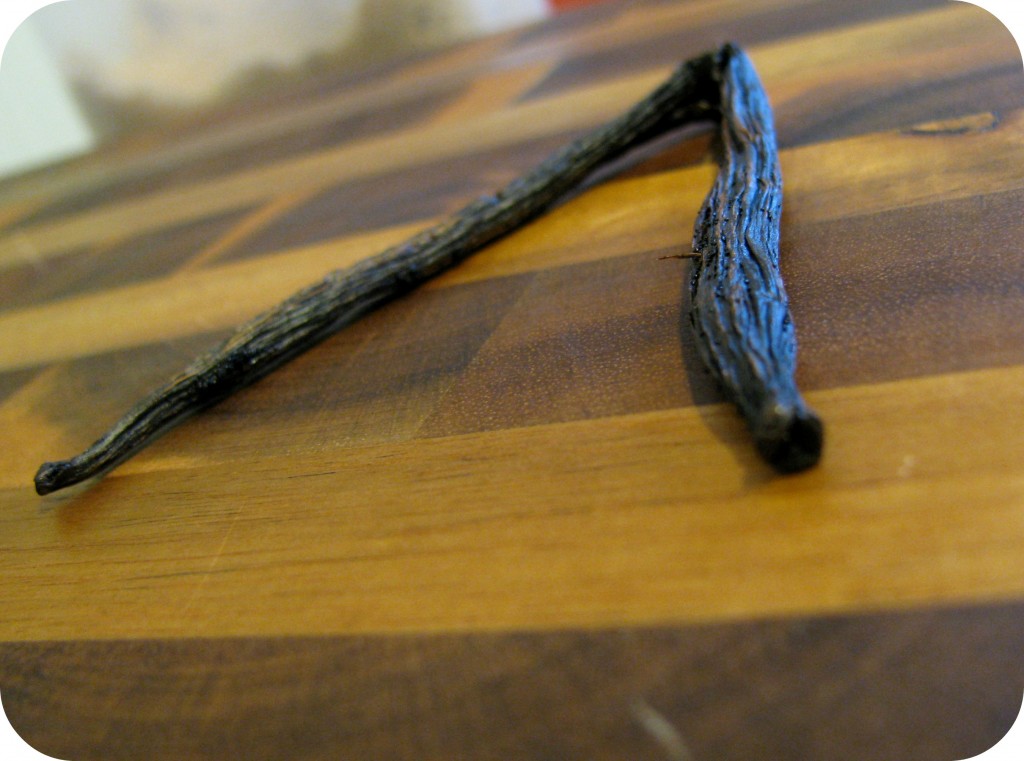 As far as baking with yeast goes, I think from-scratch doughnuts are pretty easy.  My theory is that anything deep fried and coated with frosting is bound to be delicious, so even if your dough isn't perfect, you'll still get a killer end result.  Another important point: while doughnuts fall squarely in the sweets category, the actual dough contains very little sugar.  It'll be sweet and yeasty sort of like pizza dough, but nowhere near cake batter territory.  But not to worry, the glaze will more than satisfy your sweet tooth.
Easily the most fun part of making doughnuts is rolling and cutting the dough.  The dough here should be super soft and stretchy, but not sticky.  When you're working the dough, don't be afraid to keep adding flour to keep it from sticking to any and everything; just add it little by little so you'll be sure not to overdo it.  Once you've got your dough rolled out, get to cutting.  If you don't have round cookie or biscuit cutters, no problem; I used a low-ball glass to cut out the doughnuts, and the coupler from a pastry bag to cut out the holes.  Improvise!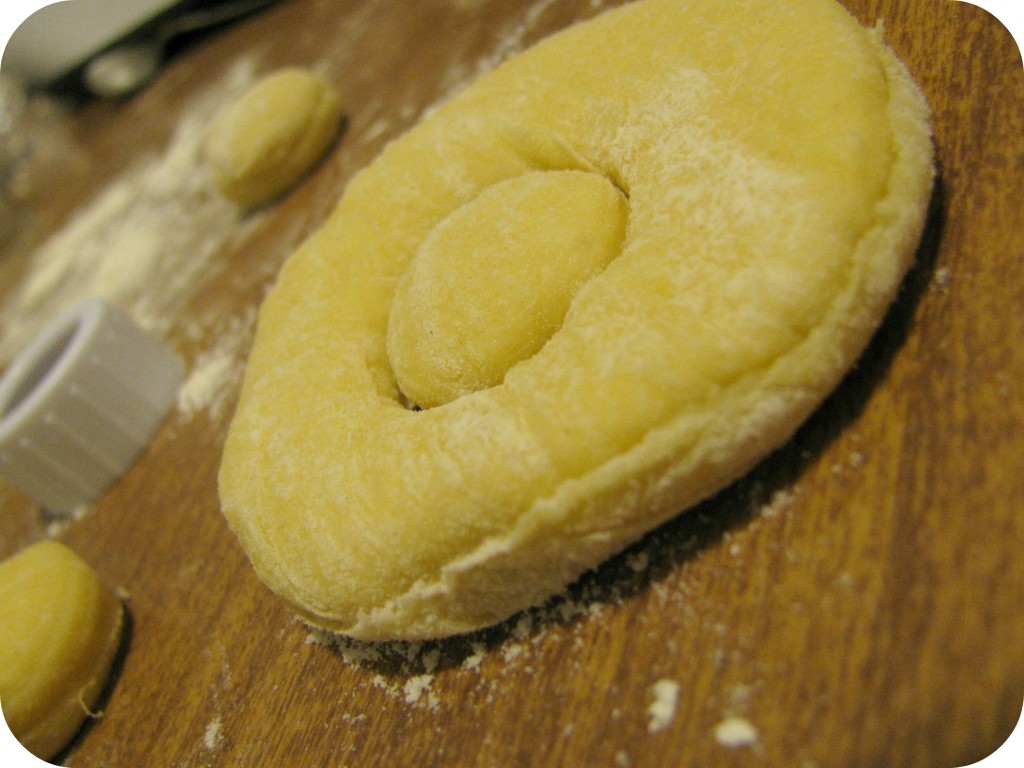 The second-most fun part of making doughnuts?  Frying doughnuts.  If you're afraid of frying, don't be.  It can seem intimidating, but as long as you have everything you'll need within reach and ready to go before you start, and you don't walk away from your hot oil until you're done with it (or wave your camera around when you should be tending the stove), you'll be in good shape.  Also, an apron helps if you're concerned about splatters.
Fill a sturdy pot with about three inches of cooking oil (I used canola).  Don't be tempted to skimp on the oil, or the doughnuts will sit too close to the bottom of the pan and burn.  Stick a candy thermometer in the oil and let it heat to 350°, and in the meantime, set up a frying station.  On one side of the frying pot, line a baking sheet with paper towels or paper bags; on the other side of the pot, gather all your doughnuts and holes on another baking sheet.  Then you can assembly-line the whole deal; easy as pie.
Once your oil hits 350°, gently lower a couple of doughnuts at a time into the pot.  They cook fairly quickly–only about 3 minutes per side, or until they're a gorgeous golden color.  Flip them only once; they'll get greasy if you move them around too much.  Use a slotted spoon to remove the beautiful golden doughnuts to the lined baking sheet, and repeat until all your dough is fried.  Keep an eye on the thermometer, too; if the oil gets too hot, lower the flame. (You'll notice that some of mine got a little over-browned.  They were still delicious.)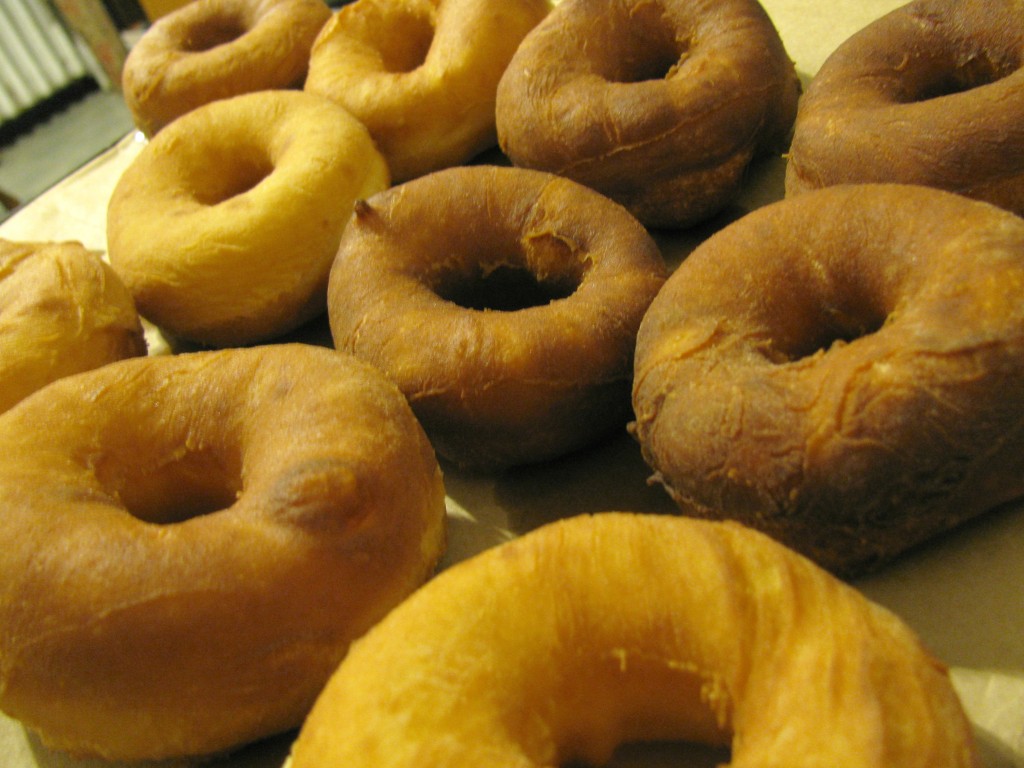 While your doughnuts are draining and cooling, mix up the glaze.  It's just a simple mix of powdered sugar, milk, and vanilla bean seeds.  I also steeped a piece of the vanilla bean in my milk.  Spoon the glaze on the doughnuts while they're still warm.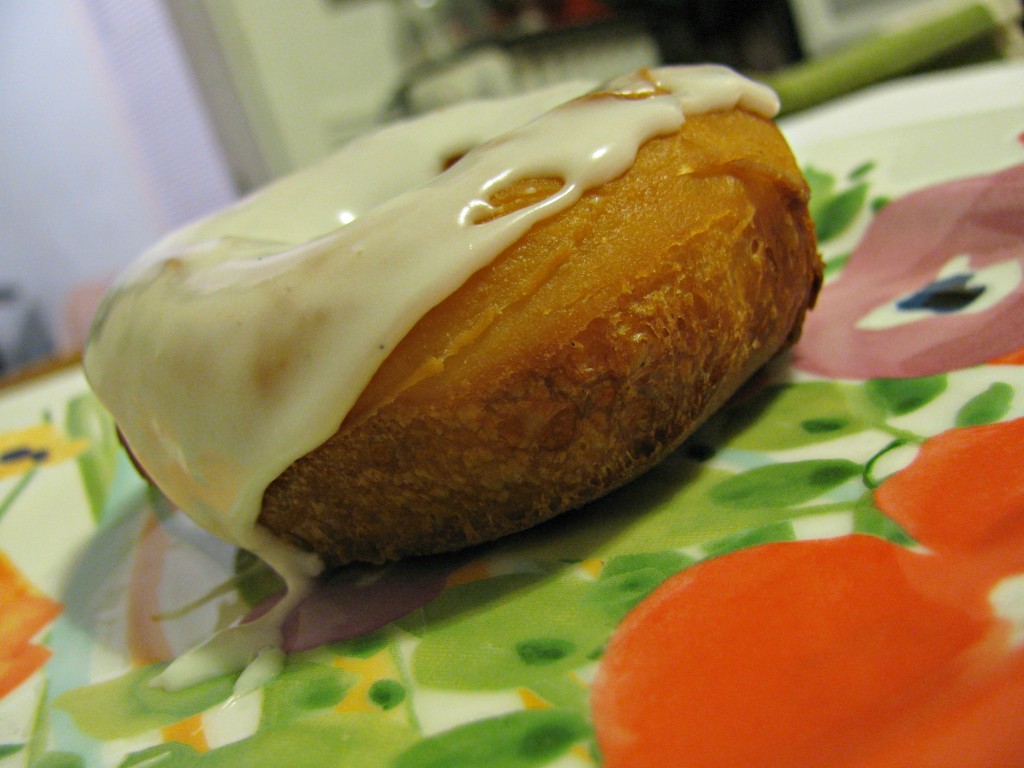 And, of course, what would doughnuts be without little doughnut holes?  These didn't survive long enough to be glazed.  Every time I dunked one of them in icing, it just magically made its way into my mouth.  Strange.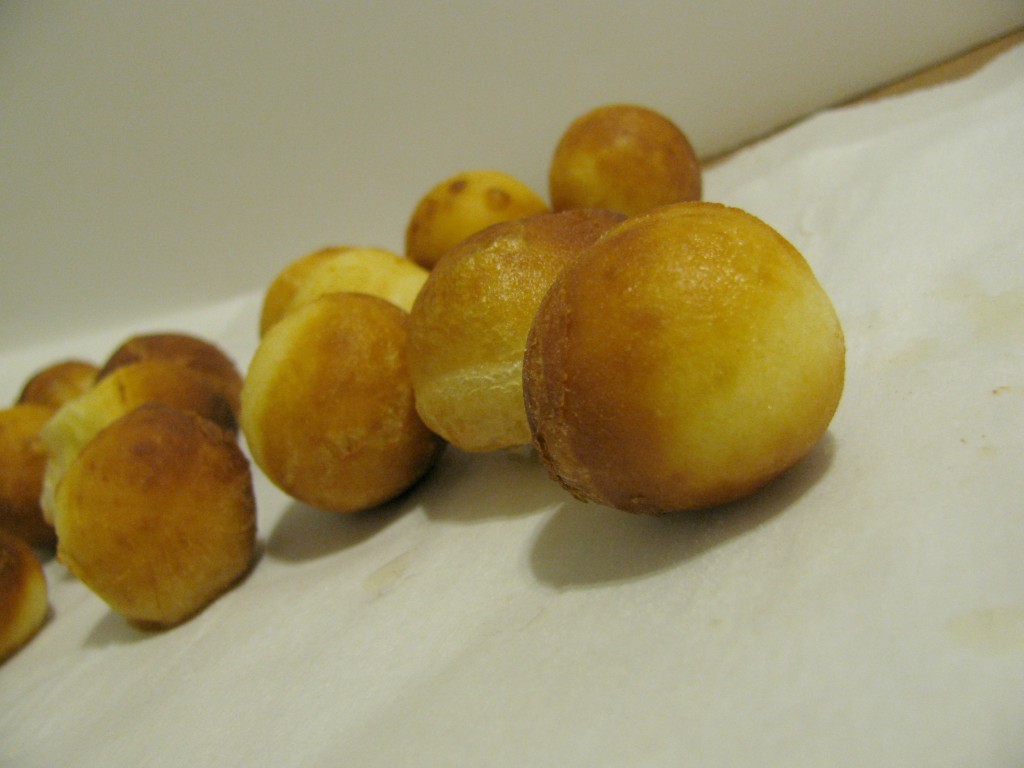 I think I have found my go-to stress-relief method.
It's also worth mentioning that I probably wouldn't have had this crazy doughnut-making whim in the first place if it weren't for Union Square Donuts, a brand-new business a friend recently started in Somerville.  I've been hearing about her fancy-pants doughnuts for weeks, and since I only cross the river into Somerville when forced (and since her doughnuts apparently sold out within two hours of opening  on the first day), this was the only way to feed the craving.  But if you happen to be in that neck of the woods, check it out!  Maybe I'll eventually get myself over there, too.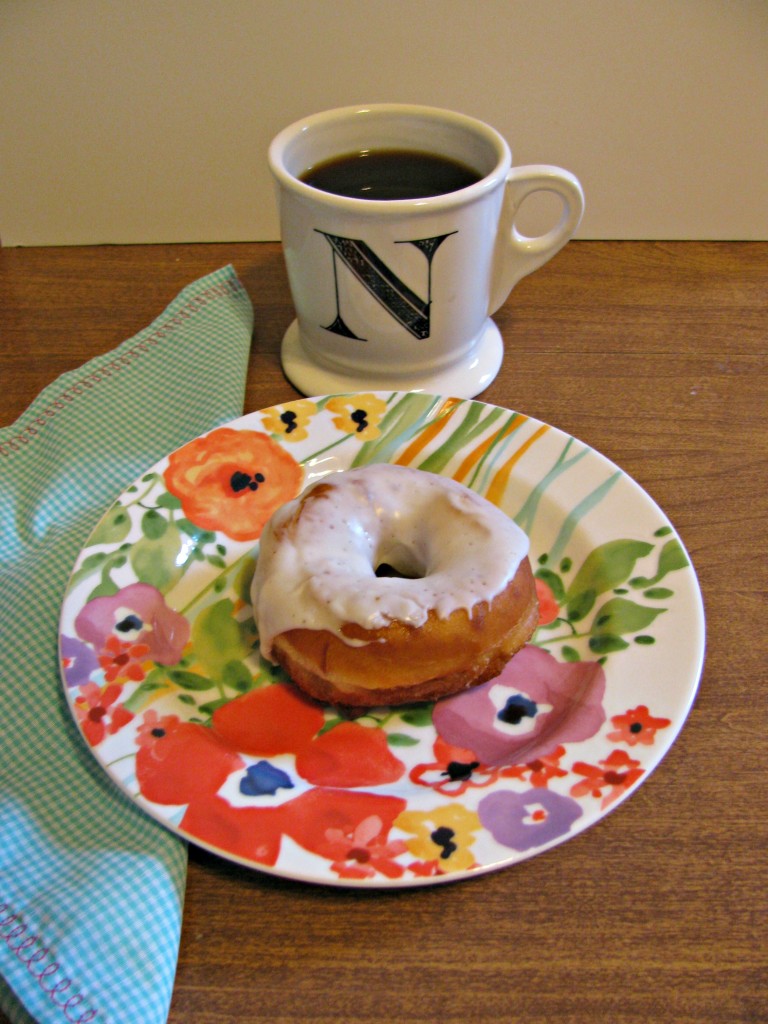 Doughnuts with Vanilla Bean Glaze
from Pure Vanilla
For the doughnuts
1 tablespoon dry active yeast
1/4 cup warm water
3 tablespoons granulated sugar, divided
1 cup whole milk, room temperature
1 tablespoon pure vanilla extract
seeds of 1/2 vanilla bean
3 large egg yolks, room temperature
1/4 cup butter, melted and cooled
3 1/2 cups all-purpose flour, plus more for kneading
1 1/4 teaspoons salt
For the glaze
1 1/2 cups confectioner's sugar
2 tablespoons whole milk
pinch of salt
seeds from 1/2 vanilla bean
In the bowl of a stand mixer, whisk yeast, warm water, and 1 tablespoon sugar together and let stand until foamy, about 5 minutes.  Whisk in the remaining 2 tablespoons sugar, milk, vanilla extract and seeds, egg yolks, and butter.  Begin mixing on low speed.
Add flour and salt and mix for 3 minutes, scraping down the sides of the bowl as needed.
Turn out dough onto a floured surface and knead several times, dusting with flour as needed.  Place dough in a large oiled bowl and cover with plastic wrap; let rest in a warm place for 1 1/2 to 2 hours, until doubled in bulk.
Turn out dough onto a floured work surface and roll to about 1/2 inch thick.  Cut out doughnuts (and holes!), place on a parchment-lined baking sheet, cover with a clean kitchen towel, and let rise for 30-45 minutes, until doughnuts have doubled in size.
Pour about 2 1/2 inches of vegetable or canola oil into a large pot and heat it to 350°F.  Fry doughnuts in batches of no more than 4 until they are golden brown, about 2 minutes per side.  Transfer to paper towels or paper bags to drain.
To make the glaze, whisk together confectioner's sugar, milk, salt, and vanilla bean seeds until smooth.  Spoon over warm doughnuts and serve immediately.