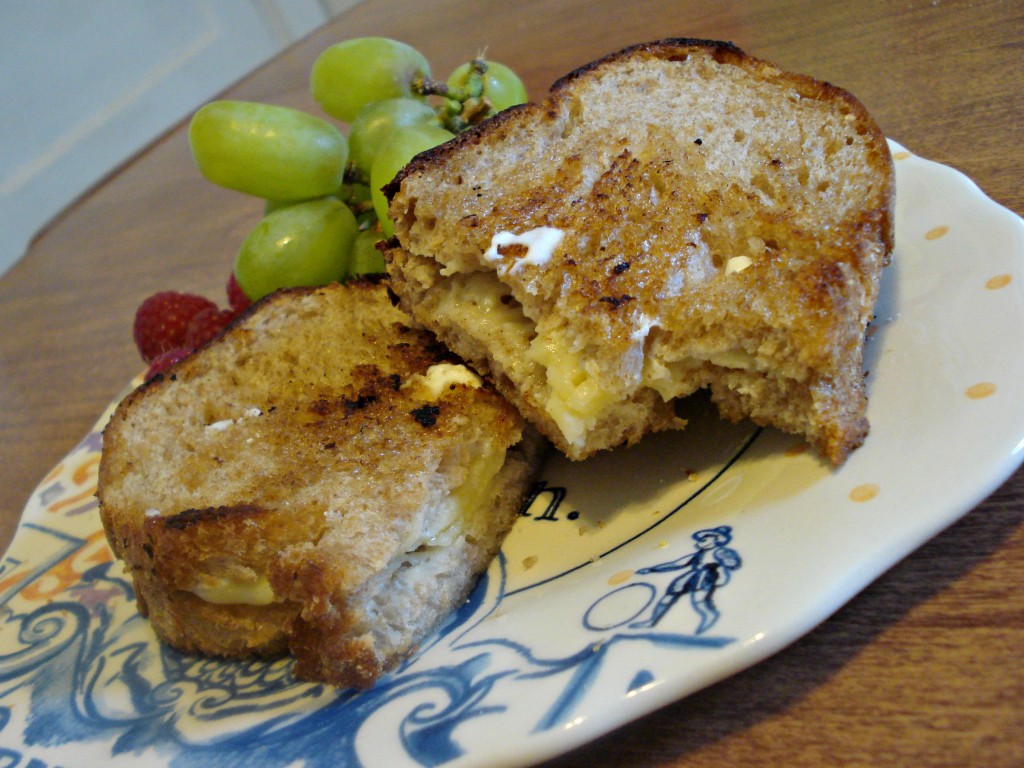 You would think that I'd be sick of cheese by now.
For the past three months, I have been sleeping and breathing cheese (and obviously eating it), not only at my cheesemongering job, but also as an intern at a cheese magazine.  When I'm not selling cheese, I'm writing about cheese.  I've got cheese on the brain, and increasingly on the hips.  And yet, given an afternoon alone and a kitchen to myself, what do I decide to eat?  More cheese.
It's late March in Boston, but Mother Nature still thinks it's January.  Springing the clocks forward created the visual illusion of springtime– the sun shines brightly on into the evening– but I'm not fooled.  It's still winter out there, and as much as I would love to feast on springy green salads and fresh pea tendrils, I would rather warm myself up with a comforting, melty cheese sandwich.  Besides, I can't very well give up my winter food, because I'm already faking spring in the wardrobe department.  Even though I see that there are snow piles everywhere and the Weather Channel is telling me plain as day that it's in the 30s outside, I WILL wear ballet flats, dangit, because if I have to put on my snow boots ONE MORE TIME, I will scream.
So that's why I'm feasting on grilled cheese these days.  It's effortless comfort food, and so easy to adjust based on what's in your fridge at a moment's notice.  For this sandwich, I checked out my cheese stash and came up surprisingly short.  I almost always have some leftover scraps of Grafton Village or Shelburne Farms cheddar from the ends of the blocks I break down at work, but this time I only had some Cabot Seriously Sharp which I had bought in a pinch at the grocery around the corner.  Fortunately, Cabot Seriously Sharp also happens to be seriously delicious, if a little lower-brow than the fancy raw-milk types, so I used it happily.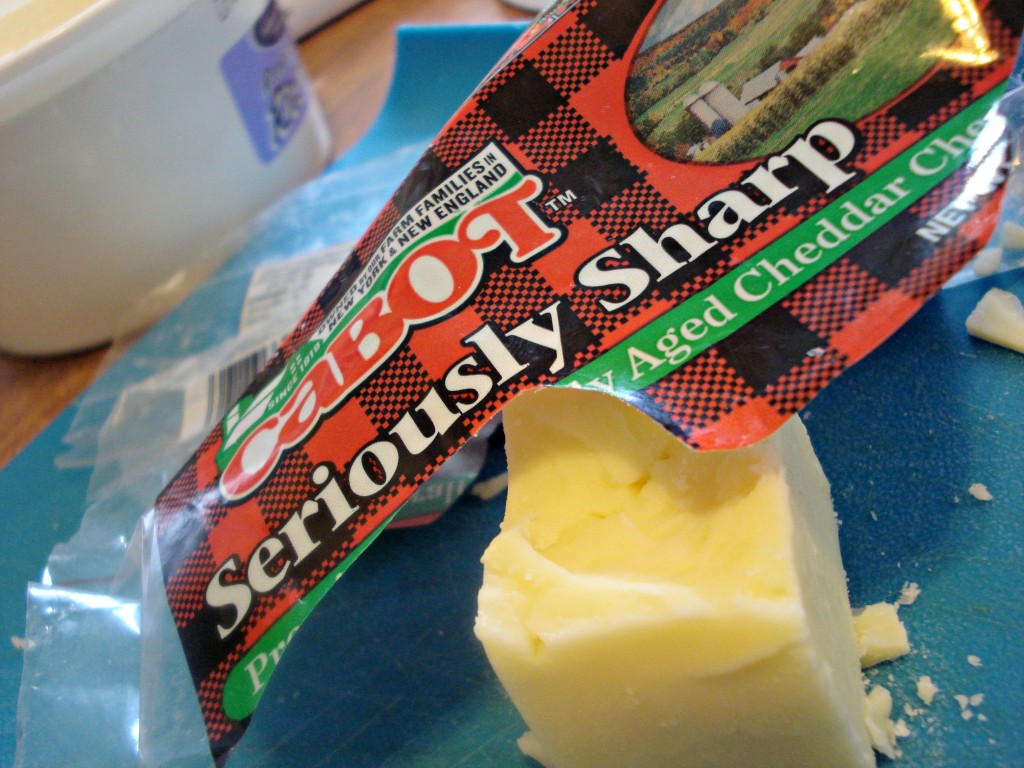 I also love spreading a soft cheese on one of the bread slices when I make grilled cheese.  The creamy, fluffy texture is a nice counterpoint to the oozy, melty cheddar and the crunchy bread.  One of my favorite sandwiches, from the now-defunct Clear Conscience Cafe in Central Square, used Boursin; you could also use a soft goat cheese.  This time my fridge yielded up ricotta– thank you, fridge!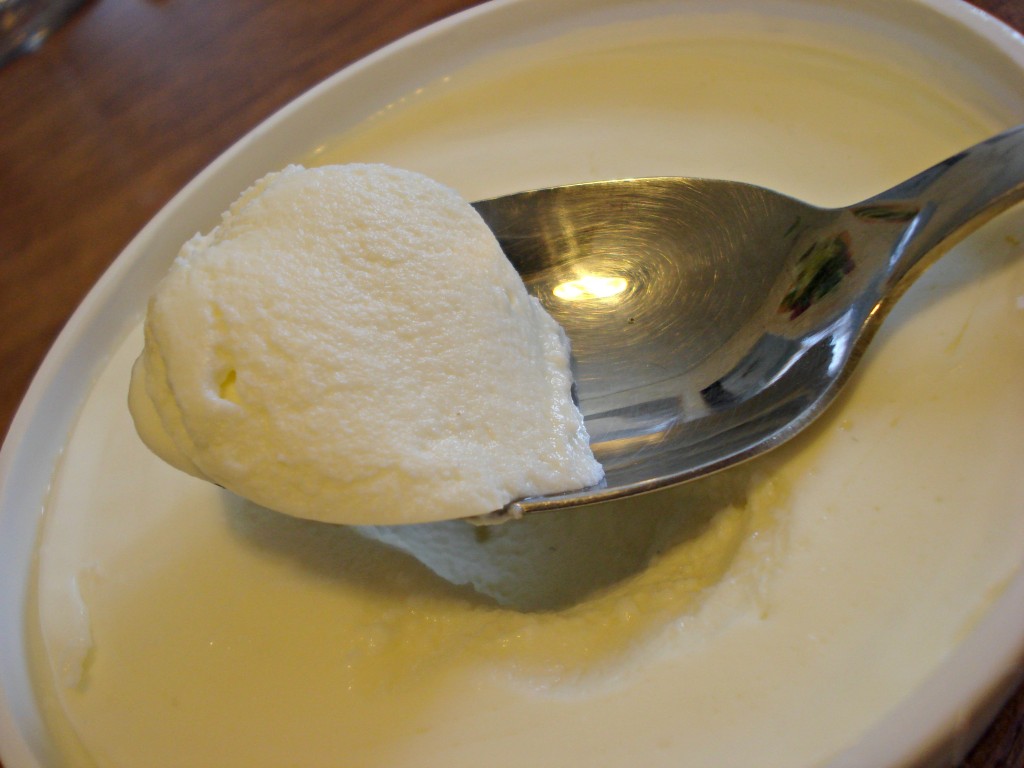 Actually, the fridge was just on a roll, because it also forked this over: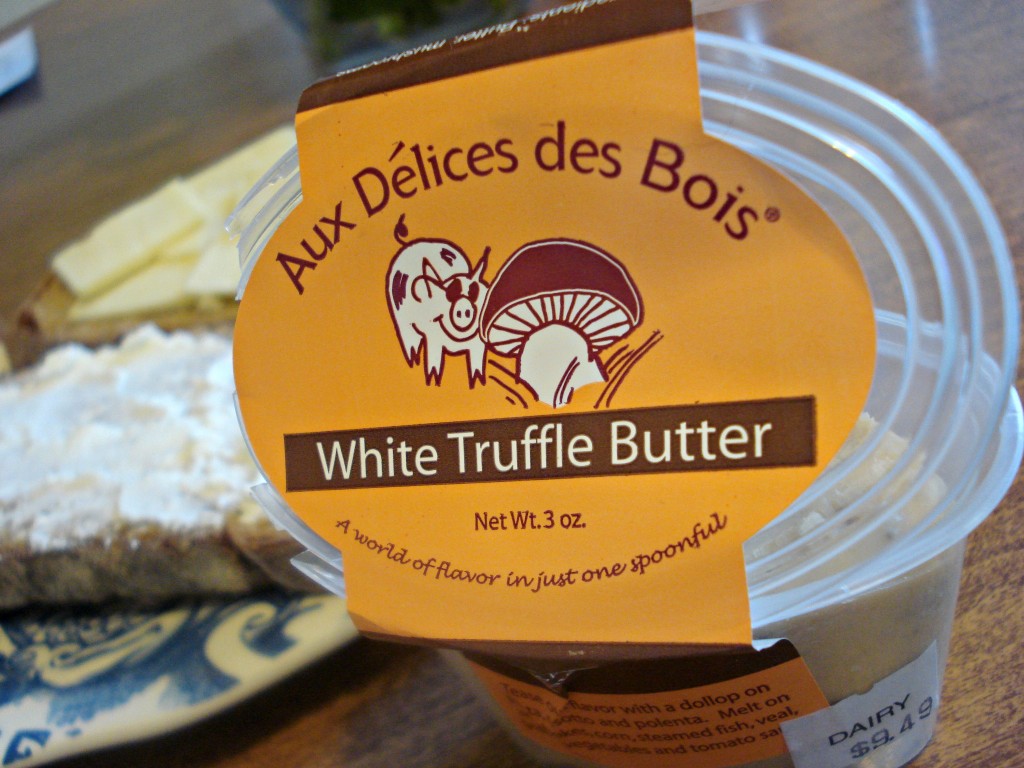 Mmmm… truffle butter is just about the best thing since normal butter.  It's decadent, earthy, and fragrant, and it added a little extra oomph to the sandwich.  Not enough oomph that I'd suggest you run yourself ragged trying to find it, but if you happen to have easy access to it, using it in a grilled cheese is fun and unexpected.
Everyone knows how to make a grilled cheese, right?  Hot buttered pan + cheese sandwich + flip once = grilled cheese.  Pretty near foolproof.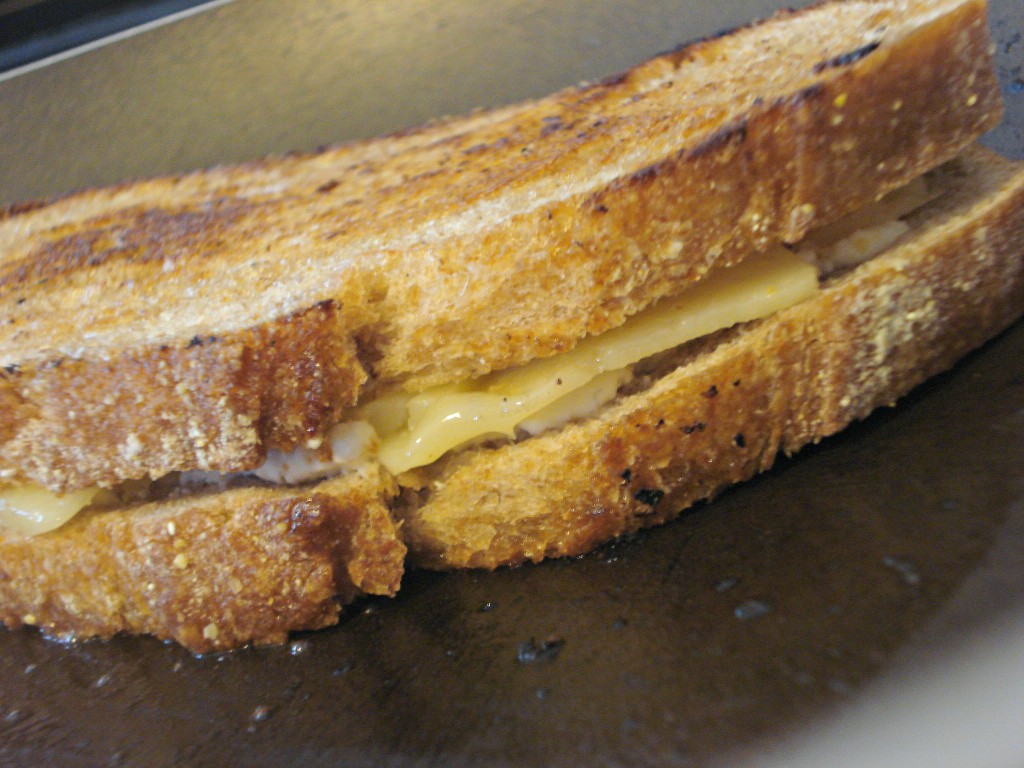 Where can I even begin with this sandwich?  I love the way the ricotta starts to seep through the holes in the bread, and the way its sweetness contrasts with the saltiness of the cheddar.  I love the crispy, almost-burnt edges of the bread.  I love that it comes together in about ten minutes and with only one pan to wash up.  I love that it warms me up on a stubbornly cold day.  And I love eating it at my desk, with a little fresh fruit and a small, lunch-appropriate glass of leftover white wine.  The only thing that could possibly make it better is a fresh-sliced summer tomato.  Oh, summer– let's meet in three months in my kitchen.  I'll bring the bread and cheese; you bring the tomato.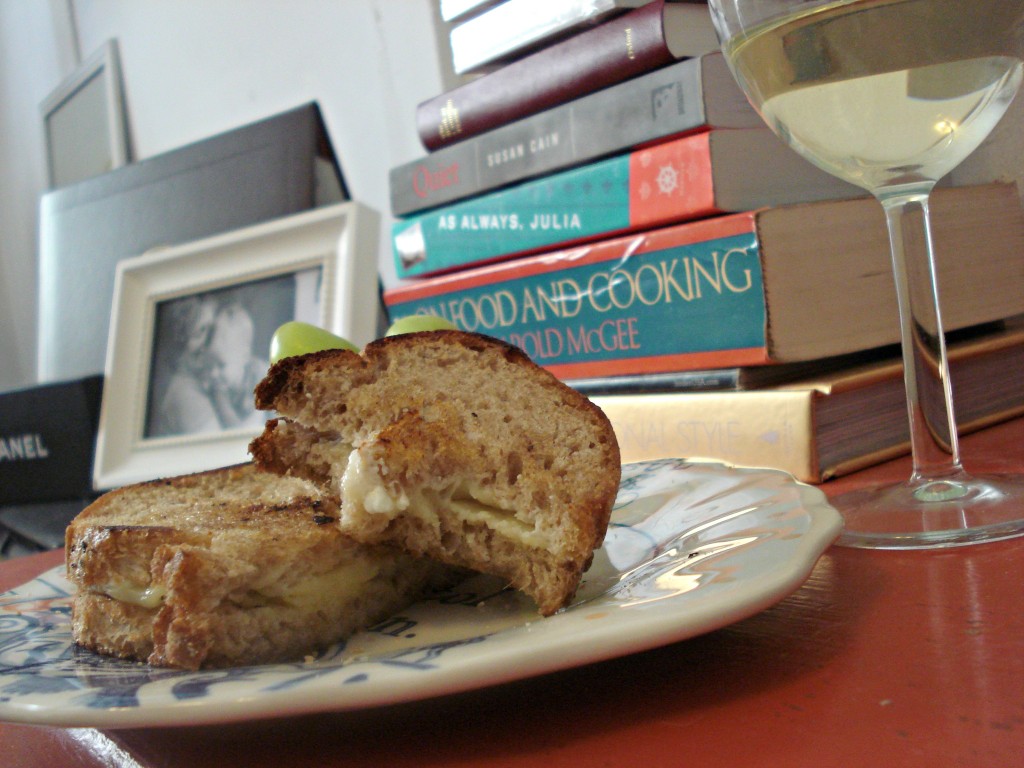 (Say hi to my mom and nephew in the picture frame on the left!)
Cheddar and Ricotta Grilled Cheese
two slices of your favorite bread (I used whole wheat)
several slices of sharp Cheddar cheese (use however much you like, but make sure you cover as much of the bread as possible with cheese)
about 2 tablespoons ricotta cheese
a pat of butter
Arrange cheddar slices on one slice of bread, and spread the ricotta on the other slice.  Sandwich the two pieces of bread together.  Melt butter in a skillet over medium heat; when melted and beginning to sizzle, add the sandwich to the pan.  Cook until the bread browns and the cheese begins to melt; flip the sandwich and continue cooking until the cheese is thoroughly melted.